We are reader supported and may earn a commission when you buy through links on our site.
Learn more
NordVPN Review (2021): Fast, Secure, Unblocks Netflix
NordVPN is an amazing all-around service that manages to stick to the basics without feeling too simplistic. It's got power, it's got speed, and it's got customizability, making it a superb choice for just about everyone.
Pros
Unblocks Netflix
No logs
Excellent software design with smart apps cater to both VPN newbies and power users
Specialized servers that provide double encryption and anti DDoS
Great speeds
Live chat support
Cons
No label on streaming servers
Kill switch on Android not available.
Want to see how the best VPNs stack up in real world performance tests? We took an in-depth look at NordVPN, one of the most popular VPNs around, and gave its top features a thorough testing. We looked at everything from download speeds to software installation, mobile apps, customer support, and security protocols to see how it compares to the competition. Read on for our complete NordVPN review!

NordVPN Overview
NordVPN has several amazing features that always get people's attention. The size of their network is definitely worth writing home about; at the time of publication it's well over 1,000 servers in 61 different countries. This variety opens up plenty of options for fast connections and region-free internet surfing. NordVPN also takes advantage of this by providing specially tuned servers that deliver better encryption, DDoS protection, fast P2P downloads, and more.
Some of NordVPN's most notable features include:
Custom software for smartphones, desktops, and tablets that provides an easy-to-use VPN experience.
Unlimited server switching and up to five simultaneous device connections.
Unlimited bandwidth and no restrictions on torrent or P2P downloads.
Low-priced subscription plans are some of the best in the business.
Installing NordVPN – Fast and Smart
Getting started with NordVPN is a piece of cake. Once you've created your account you can switch over to the downloads screen where everything you need is laid out in a tidy grid. All major operating systems and device platforms are supported, often with both custom software and OpenVPN support. If you need alternate set-up files or want to use L2TP protocols, you can download the configurations right away.
Platforms supported by NordVPN:
Windows 10, 8, 7, Vista, XP (custom app, OpenVPN GUI)
Mac OS (custom app, Tunnelblick)
Linux (.ovpn config file)
Android (Google Play custom app, .apk download, OpenVPN)
iOS (app store download, OpenVPN)
Router (DD-WRT, Tomato)
RaspberryPi (.ovpn config file)
Android and iOS users can access the NordVPN app for their device through Google Play and the iTunes App Store respectively. Android users also get a standalone .apk file to download and install manually.
Using NordVPN
NordVPN has one of the most attractive interfaces around. It defaults to the server map screen that displays your physical location on a fun and slightly abstract illustration of the world. Server locations are marked with pins. You can click one to connect to the fastest server in the country, or scroll around and take a look at the submarines and ships floating in the pale blue ocean. Your choice!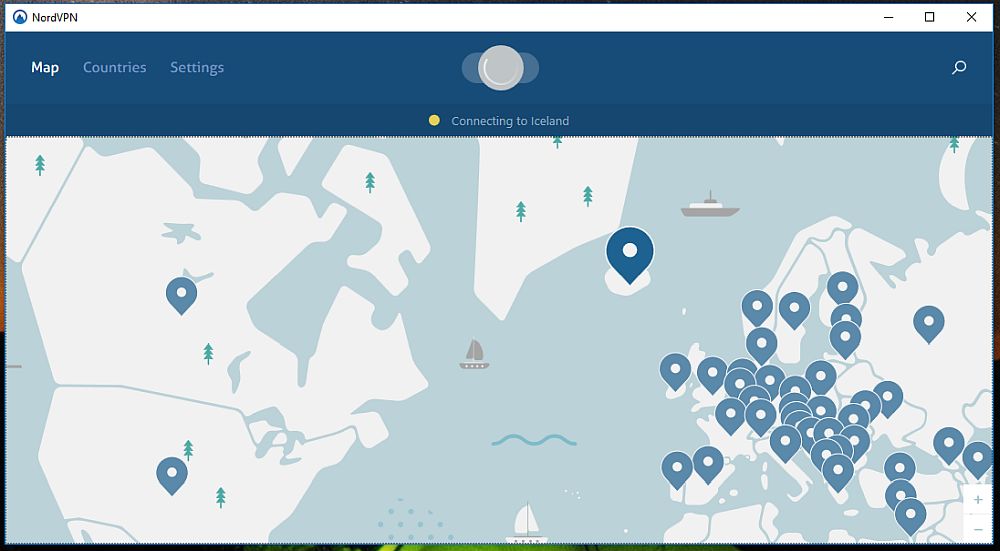 A quick connect option is available as soon as you boot up NordVPN. You can also switch over to the server tab for complete control over where you connect. This sleek section lists the company's network alphabetically by country. Clicking a list item automatically connects you to the fastest server in the area, but you can also hover the cursor and choose the menu icon for more detail. Taking a look at the country's offerings reveals a ton of useful information. You can sort them alphabetically, by load percentage, or even by distance. NordVPN is one of the only VPNs that gives a precise mile/kilometer count of how far you are to the server.
At the top of the server tab are NordVPN's unique server offerings, including anti DDoS, dedicated IPs, double VPN, onion over VPN, and P2P-tuned servers. We'll discuss these in more detail below, but for now we'll say it's great having these at the top of the list, as power users will be making frequent use of them.
When you're connected the NordVPN software shows a big white and green power button slid to the "on" position. Just below it shows your new IP and displays the country you're connected to. We couldn't find information on the specific city location of each server, but when it comes down to it, that doesn't really matter. NordVPN makes it extremely easy to get the fastest connection every time you log in, and that's what's important.
NordVPN – Software Settings
If you opt to use NordVPN's custom desktop software, you're in for a treat. Not only is it well-designed and extraordinarily easy to use, it's also got a ton of useful options you can dig into for deep customization. By default, you'll be able to take a look at your account details, a system connect log, and scroll through a handful of basic software options. The kill switch toggle is here (and off by default), as are things like automatic updates and automatic reconnect.
Scroll down to the bottom of the "general" section and you'll see a link labeled "advanced options". Click it, then click the "I know what I am doing" warning to get access to the real goodies. Here you can toggle the server list and map tabs, which is a great way to change the experience if you're setting up NordVPN for a friend who isn't as computer savvy. With both of these off, only the automatic quick connection option will be available, making it laughably easy to log in and start using the VPN with the best connection.
A couple of security options are just below the advanced settings. The first is a simple toggle between TCP and UDP protocols. UDP is generally faster, but TCP is helpful in case you're having issues with your connection. Custom DNS settings are also available, just in case you don't want to use NordVPN's servers.
If ISP throttling or government level censorship is a problem, NordVPN offers an "obfuscated servers" switch that lets you blast through firewalls and access the open internet no matter where you travel, even in places like China. It can slow your speed down significantly, but slow access is better than no access.
Mobile VPN Apps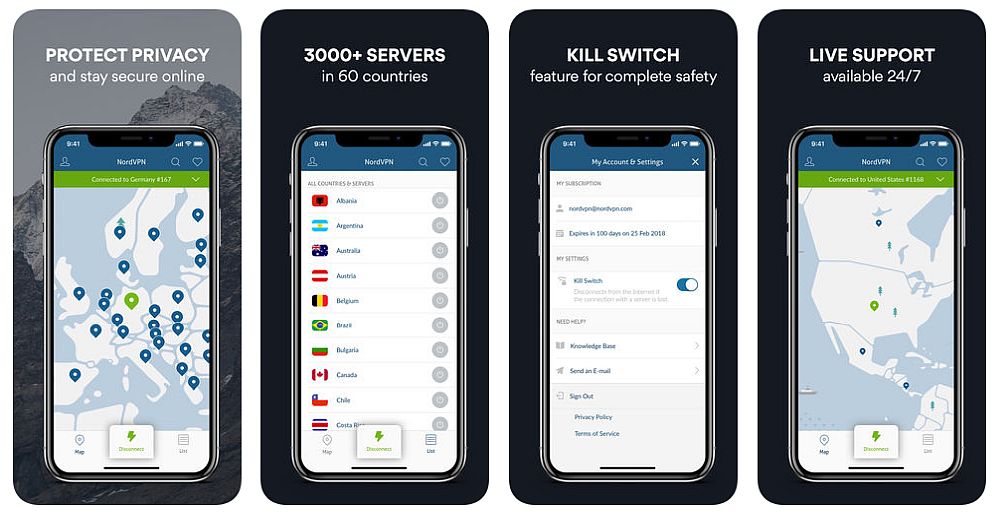 The biggest challenge in creating mobile apps is finding the perfect balance between convenience and a wealth of features. It's rarely easy to use something as intricate as a VPN while you fumble through menu items on a small touch screen. NordVPN did an incredible job with its mobile software. We thoroughly tested the Android app and loved everything we encountered.
Most of the desktop software's main features made the transition to mobile. As soon as you start the app you'll see Nord's map, complete with the entire server network laid out with pins on each country. Tap one to bring up a small menu that lets you automatically connect to the fastest server. You can also take a look at the individual nodes within the country, presenting a list that's sortable by distance, load, alphabetical, or recommended.
If looking at a map isn't your thing, NordVPN's app also features a full server list you can browse at your leisure. The specialty servers are at the top with things like double VPN, anti DDoS, and so on, with the rest of the countries listed alphabetically. You won't have any sorting options here, but along with the map you'll be able to find what you need without any hassle.
Of course, you can skip all of this list looking and map surfing if you like. The bottom of the app features a big "quick connect" button you can tap to instantly join the fastest VPN server. It turns green when you're connected and also serves as a disconnect toggle, making it easy to know as well as change your status at a glance.
Options in the mobile app are similar to the desktop software but stripped down to the basics. CyberSec is available on Android (see below for more info), and it's extremely useful if you're traveling or do a lot of surfing on your phone. You can also turn on obfuscated servers, switch between TCP and UDP, and change auto-connect actions. Everything you need to enjoy a solid VPN experience is available just one or two taps away.
NordVPN's Server Network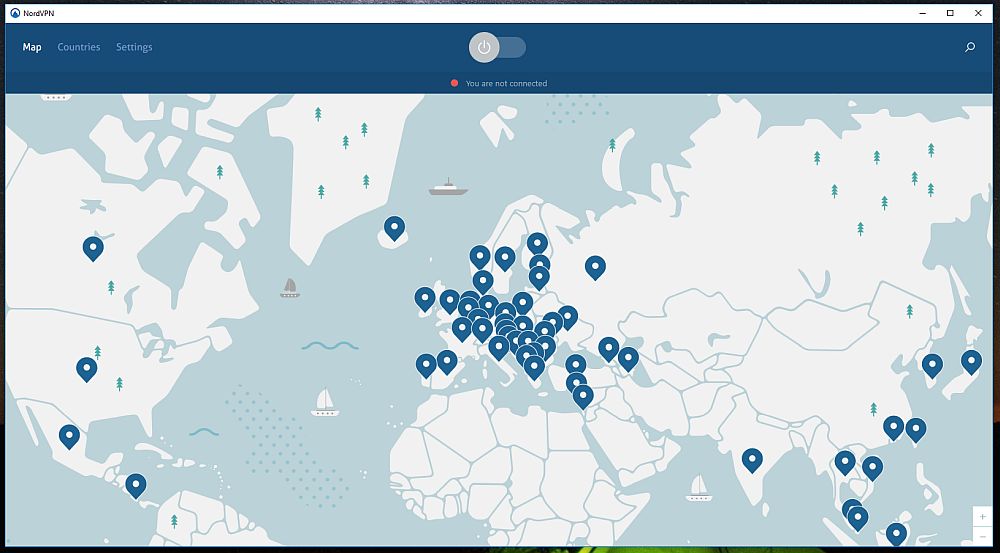 One of the clear advantages of using NordVPN is its impressive network of servers. The list is constantly expanding, but at the time of our review it included 1,094 servers in 61 different countries, representing every continent except Antarctica. The three best-covered areas are North America / U.S., Europe, and southeast Asia, including Hong Kong and Japan. You'll also find locations in spots like Iceland, South Africa, Russia, New Zealand, and India. The vast number of nodes makes it super easy to find a reliable connection no matter where you live.
The most unique feature of NordVPN's network is its selection of specialized servers. These offer everything from double encryption to increased anonymity, all without having to configure or download separate software. If your daily activities require special consideration, all you have to do is click and connect to one of these nodes. We'll take a closer look at the different server types below, performing a series of speed tests on each one to see how well they measured up.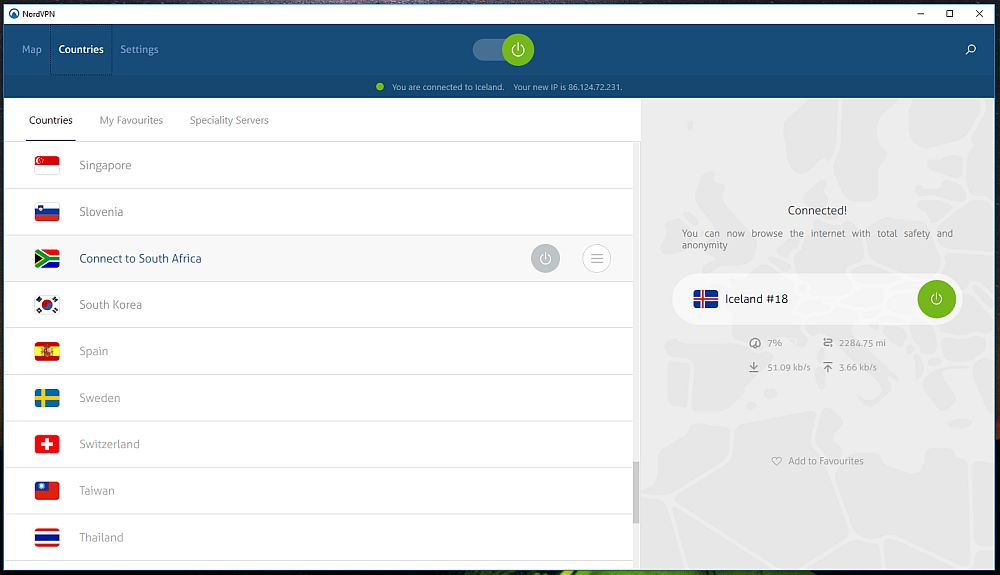 NordVPN's Specialized Servers: Onion over VPN
Onion over VPN is an incredible privacy and anonymity feature that NordVPN builds into its server network and software. The onion network, made popular by services such as Tor, is a method of wrapping data in multiple layers of encryption and passing it through a series of servers to boost anonymity. It's essentially like stuffing a letter inside an addressed envelope, putting that envelope inside another addressed envelope, and so on. Each recipient opens one envelope and mails the letter to the next location. By the time it reaches its destination, nobody knows where it came from, and finding out would be next to impossible.
NordVPN's onion over VPN servers are located in Sweden, Netherlands, and Latvia. Perhaps not the most convenient of locations for a lot of users, especially if you live in the U.S., but in our experience they worked without too much slowdown. We ran speed tests on the best onion over VPN server followed by a standard server in the same area. The onion connection averaged just under 7 mb/s, while the standard one was barely shy of 10 mb/s. Onion networks are notoriously slow, which could account for all of the differences above. Speed shouldn't be your main concern if you're looking to use these onion servers, of course, but it's nice to know NordVPN can keep up.
NordVPN's Specialized Servers: Anti DDoS
If you do a lot of online gaming, you know what a DDoS attack is. DDoS stands for direct denial of service and is a crude method of bombarding a user's connection with an overwhelming amount of useless data and requests. This causes extreme slowdown and often kills their connection, forcing them to drop out of the game, lose the match, etc. DDoS attacks are also used on websites to force them to shut down. It's a nasty method that's a little too easy to pull off, but that's where NordVPN's specialized servers come into play.
Anti DDoS servers are hardened against these attacks, making them perfect for online gaming. There are several nodes in the U.S. along with a few in Canada, Germany, and Italy, which covers a good chunk of the world (sorry, southeast Asia). We ran speed tests while connected to the closest anti DDoS server followed by a standard NordVPN server at approximately the same distance. The DDoS connection averaged at just over 19 mb/s, while the standard was around 24 mb/s. Given other variables involved in speed testing, it's pretty safe to say that the DDoS servers can keep up with a normal VPN connection.
NordVPN's Specialized Servers: Double VPN
128-bit AES encryption is incredibly tough and would take a state of the art computer millions of years to crack. 256-bit AES encryption, which is what NordVPN and most other VPNs use, is exponentially stronger. With double VPN, your data gets encrypted locally then passed through two servers where it gets encrypted again. If you're at all concerned about sensitive data being stolen or checked by third parties, double VPN should put those worries to rest in an instant. Nord offers a wide selection of these servers with nodes in Switzerland, Russia, Sweden, the Netherlands, Taiwan, Canada, and the U.S.
Encryption naturally slows down internet connections by a large percent, so double encryption should be even slower. We ran multiple speed tests while connected to Nord's double VPN servers followed by standard Nord servers at approximately the same distance. The double VPN average was a tidy 7.75 mb/s with the regular server at 17.8 mb/s, which is about what we expected. Just like the onion option above, if you're shooting for double encryption speed shouldn't be your top concern.
NordVPN's Specialized Servers: P2P (peer to peer)
P2P networks are a hot topic among VPN fans. By their nature they divulge location and IP details with each peer they connect to, which makes using a VPN extremely important when downloading from these services. Unfortunately, a number of VPNs block or severely restrict P2P connections, as they slurp up a ton of bandwidth and can slow the entire network down. NordVPN has a neat solution to this conundrum: allow P2P connections, but only allow them on dedicated, finely tuned servers designed to handle the load.
If you connect to NordVPN while using P2P software, you'll automatically be redirected to one of their P2P servers. You can also manually select these nodes if you know you're going to be downloading. NordVPN has dozens of these servers throughout the U.S., Canada, the UK, Sweden, Netherlands, Norway, Brazil, Australia, Singapore, and many others. It's a solid distribution that should serve most users with a reliable connection.
Speed is extremely important when it comes to P2P. We tested servers in a few different locations to make sure their speeds were steady and reliable, always with good results. Speed tests from the closest servers to our physical location averaged 12.2 mb/s while standard NordVPN servers at a comparable distance were 20.64 mb/s.
NordVPN's Specialized Servers: Dedicated IP Address
When you connect to a virtual private network you're automatically assigned a non-local IP address shared with other users. There are a lot of advantages to using a shared IP, including increased anonymity. Anyone using the IP address can cause trouble for everyone, however. If someone gets the IP banned from a site, everyone who connects using that IP will also be banned. This can be a real problem on active VPNs with thousands of users, which is why NordVPN created a workaround.
Dedicated IP address servers give you a chance to stick with the same IP across all of your internet activity. You'll still gain the anonymity features from using a VPN, but you won't have to deal with random people getting your IP banned. You'll also be able to use sites and networks that demand a stable IP address, and you won't have to re-verify your identity on financial sites that require it each time your IP changes.
Anyone can connect to the dedicated IP servers, but they won't gain the benefits of a stable IP unless they order one through NordVPN. Dedicated IPs aren't part of the standard service plans. You'll need to contact NordVPN support and pay a one-year fee of $70 to get things set up. Once you do, you'll be able to use servers in the U.S., Germany, the Netherlands, and the UK with your own stable and anonymous IP address.
Testing NordVPN's Speed – Our Methodology
Any VPN service you use will be a little slower than a basic, unsecured connection. Encryption overhead has a lot to do with this, as does the physical distance between you and the VPN's servers. The quality of the company's network is also a major factor, which is why you should always put a high priority on finding a VPN that cares about download and streaming speeds.
There are countless variables that come into play when you start testing internet speeds, including local hardware, server load, ISP variance, and so on. You can even run the same tests at the same time on different days and get totally different results! To make sure our numbers are as reliable as possible, we deployed three tests three times throughout the day. Each one used a different method for recording speed. We tested our raw ISP speed first, then connected to the VPN and ran the same test, always using the closest server and the fastest protocols possible. For NordVPN this meant a standard server with obfuscation disabled running a UDP port, all configurable through the desktop software.
Here's a quick overview of the tests we used:
VPN Speed Test #1 – We downloaded a series of files ranging from one to 16 MB in size, all of which were served by a content delivery network that automatically detects and adjusts location.
VPN Speed Test #2 – A ten-minute test where we downloaded a single 100 MB file from the same server once every 60 seconds.
VPN Speed Test #3 – A quick speed test that connects to a single server to record the best upload and download speeds.
NordVPN Speed Test – Results
NordVPN had some of the least variable results we've seen in our VPN tests, which is a good thing! Connecting to recommended servers consistently produced speeds between 70-86% of our ISP's max, usually hitting closer to the higher end. The results of our tests are outlined below. Remember that the actual numbers will vary from person to person as well as time of day, which means your speeds could be vastly different.
Multi-file download (Test #1):
Highest recorded ISP speed: 15.42 mb/s
Highest recorded NordVPN speed: 12.9 mb/s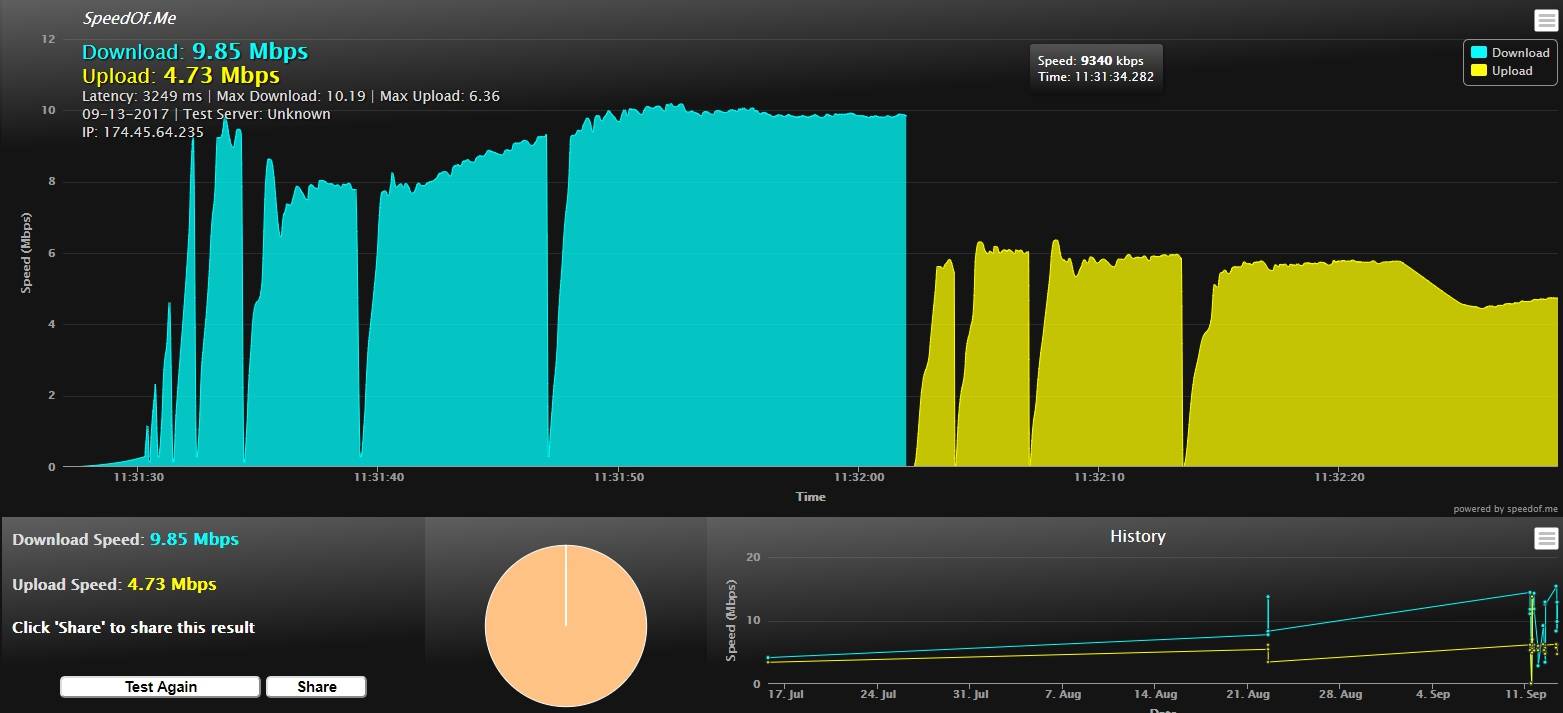 100 MB repeated download (Test #2):
Local ISP – 6.12 mb/s (low) – 7.56 mb/s (high) – 7.73 mb/s average
NordVPN- 3.91 mb/s (low) – 6.32 mb/s (high) – 5.45 mb/s average
Single burst test (Test #3):
Best ISP speed (single server): 41.21 mb/s download, 5.82 mb/s upload
Best NordVPN speed (single server): 35.8 mb/s download, 5.52 mb/s upload
NordVPN delivered excellent speeds across the board. Following the software's connection recommendations will always give you fast downloads, and even if you need to switch to another country, you're not likely to be disappointed with the speed.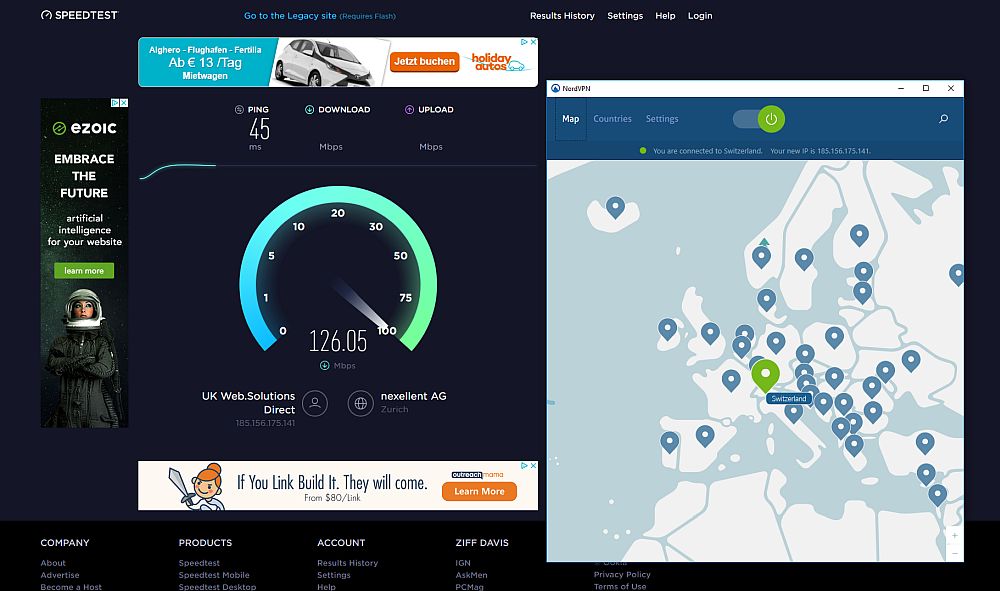 Security
Keeping your data and your identity safe is what a VPN is built to do. We took a closer look at NordVPN's security features and privacy policies to see how hard the VPN works to protect your anonymity.
Logging Policy
Online privacy is built upon a VPN's logging policy. User activity that's recorded and kept in logs can help improve the network and provide better service, but it can also be used to track customers by matching their account to traffic activity.
NordVPN has one of the most comprehensive zero-logging policies in the VPN marketplace. Of the five main areas, Nord specifically states it doesn't keep logs in four. The only unknown is whether or not they store DNS request information. Even if they do, the fact that no other information is retained means your data is incredibly safe, arguably safer than any other VPN around.
Traffic logs – No
IP address logs – No
Timestamp logs – No
DNS request logs – Unknown
Bandwidth logs – No
NordVPN's Jurisdiction
An often overlooked feature of a VPN service is where the company is legally registered. Every entity is bound by the laws of the country where it resides. If a VPN is in a region with poor privacy regulations or strict data retention policies, your own privacy could be in danger. Some governments even have regulations in place that allow agencies to take data from VPNs without notifying customers.
Another consideration in the jurisdiction debate are the Five, Nine, and Fourteen Eyes surveillance agreements. Many countries in the western world, including the UK, U.S., Australia, Canada, France, Germany, and more, share information with each other to circumvent domestic privacy laws. If a Canadian agency wanted information on its own citizens, for example, it could simply "borrow" data legally requested by a cooperating government. An ideal situation is to use a VPN registered in a country with no ties to any of the Fourteen Eyes governments.
NordVPN's jurisdiction is Panama, a country with no affiliation to any of the nations in the Five, Nine, or Fourteen Eyes agreements. Nearly all data request and takedown orders will not apply to NordVPN, its servers, or its customers. In the event a subpoena is issued by a Panamanian court, NordVPN would theoretically be required to provide the requested information. However, thanks to an incredibly comprehensive zero-logging policy, none of that information will be available.
While its security features aren't always shouted from the rooftops, NordVPN is one of the best services for anyone who needs reliable privacy.
DNS Leak Tests
DNS servers are sets of non-local computers that hold a database of public IP addresses and their associated hostnames. It's easy for us to remember words like google.com or addictivetips.com, but in order to connect to a website you need to know its IP. Each time you type a URL into your browser a DNS server matches the address with the correct IP. This makes it easier for us to use the internet, as without DNS servers we'd have to memorize a ton of random numbers just to check our e-mail.
When you connect to the internet you normally utilize your ISP's DNS servers. It's possible for a third party to see which DNS servers you're using and trace that activity back to your location. When you connect through a VPN, however, you use their servers instead of your ISP's. To make sure your device never defaults to local DNS servers, most VPN software comes with DNS leak protection which seals things shut so your true identity is never revealed.
NordVPN's apps come with DNS leak protection built in. The Windows, Mac OS, Android, and iOS versions even come with IPv6 leak protection, which is essentially future-proofing your online privacy for new devices and new IP addresses. We tested the leak protection through two different third-party services on desktop and mobile devices. Both times the results showed no leaks, ensuring we were perfectly hidden.
Kill Switch Protection
In order to provide the security, privacy, and anonymity we desire, a VPN needs to be able to function like a gatekeeper for your entire internet connection. If anything slips through unencrypted, it could reveal personal information. In the case of accidental disconnects or even software failure, VPN apps are built with automatic kill switches that prevent your operating system from reconnecting without going through the VPN first.
NordVPN's kill switch is turned off by default. As soon as you start the software you should go to Settings and scroll to the item marked "kill switch". Click the toggle button on the right and you'll be set. While you're at it, make sure the "auto connect" option is also turned on, just for convenience. You can still manually disconnect from NordVPN with the kill switch active, but the moment something goes wrong it will spring into action to keep you safe.
One interesting feature NordVPN includes in its desktop kill switches is the ability to choose specific programs to shut down in case of a disconnect. When we tried this feature, we found it a little too aggressive for our liking, however. Even if you manually disconnect from a NordVPN server, the kill switch instantly shuts down the programs added to the list. It's an extreme measure that does good things for the privacy conscious, but most users will get by fine with the default options.
We tested NordVPN's kill switch by force closing the connection using an external program. The moment we did our internet connection was shut down, preventing any programs from making an external connection. Nord's software didn't seem to register the force close, however. No notifications were provided, and the green "on" button still showed an active connection. About 30 seconds later the software quietly reconnected and our internet access was restored. No leaks occurred during this time.
Encryption and Security Protocols
NordVPN uses 256-bit AES encryption on all data, the industry standard that's incredibly safe without being too sluggish. By default, the custom software uses the OpenVPN protocol connecting through the UDP port for optimal speed. There's an added option you can turn on called "obfuscated servers" that makes it easier to connect to the internet in restricted locations, i.e. China, Turkey, Russia, and the UAE. All of these add up to stellar online security, and they're handled in an easy to use, easy to understand way.
When downloading NordVPN you'll be presented with a few options in addition to the custom software. It's recommended that all users go with the custom app whenever possible. If you can't, or if your needs are slightly different, Nord makes it easy to use alternative protocols, each with their own benefits and drawbacks.
OpenVPN UDP – The fastest option with an excellent balance of security and speed. Available through the custom software and turned on by default.
OpenVPN TCP – A slightly slower alternative to UDP you can toggle from the custom software's settings page.
L2TP & PPTP – Not as secure as OpenVPN, but useful for accessing the internet in restrictive areas. You can download .pbk files loaded with the configuration options you need to use these protocols, but it's recommended you only try it if you know what you're doing.
SSTP – Connects through the secure HTTPS port 443 to bypass censorship blocks. It's slow and not very reliable and should only be a last resort.
Extra Security from NordVPN: CyberSec
A relatively new feature to the NordVPN experience is CyberSec, an optional security toggle for Windows, Android, and Mac. This helpful setting blocks ads and malware at the source, preventing things like flashing banners and dangerous content from ever reaching your computer. CyberSec works by matching URL requests with a real-time block list of malicious websites. NordVPN's DNS servers will stop data from being transmitted to your device and deliver a warning message instead. If you want to visit the site anyway, you have to disable CyberSec from the software. It's another excellent feature that's perfect to set and forget for complete online security.
Using NordVPN in China
China's Great Firewall prevents travelers and citizens from accessing thousands of websites. Using a VPN is the best way to break through this censorship filter. The Chinese government has an active program to block VPNs, however, which makes it tough to find a service that works on the mainland.
NordVPN provides excellent access to the open internet in places like China, Saudi Arabia, and Russia. Of course, you'll have to download NordVPN before you enter the country (the website is blocked by the Chinese government). As soon as you log in go to the settings page and turn on the "obfuscate server" option. This adds another layer of encryption to your data that prevents the Chinese firewalls from monitoring your activity. It's quite a bit slower to use, but having full access is a precious thing in some parts of the world.
Netflix Availability
Netflix blocks access to almost every VPN service on the market. There aren't any reliable workarounds, either, as Netflix is vigilant about filtering new IP ranges to keep video streams region locked. VPNs have a few methods they can deploy to fight back, but it's always a game of cat and mouse with neither staying on top for long.
At the risk of sounding giddy, our tests with NordVPN's Netflix access were amazing. We tried handfuls of servers around the world, including Canada, the U.S., Brazil, and Japan. Every single time NordVPN crossed the barrier and pulled through with a fast video stream. Speed varied depending on distance, but we never encountered the dreaded error message warning us to turn off our VPN. This could change at any time, but it does show that Nord is serious about providing reliable access to Netflix on all devices.
According to NordVPN's data, Netflix is accessible in the U.S. for all customers. Mobile access to the same servers are somewhat restricted, however. If you have an Android TV box, smartphone, or other device, check NordVPN's Netflix guide for information on how to connect.
NordVPN Customer Support
NordVPN has an incredible help center. It's clean, easy to browse, easy to search, and is filled with guides and tutorials for just about every problem you can run into. The knowledge base covers countless frequently asked questions, and VPN set-up guides are right on the front to help you get started. If you can't find a good answer, NordVPN also has a contact form you can use to submit a support ticket for an actual human to assist you 24/7. Response times are generally within a few hours.
NordVPN – Pricing and Plans
NordVPN is known for its incredibly affordable plans. Each one comes with all the features discussed above, including unlimited bandwidth, a complete lack of speed caps, full access to the entire server network, and much more. The only decision you have to make is how long you want to subscribe, as different plans offer different discounts depending on length.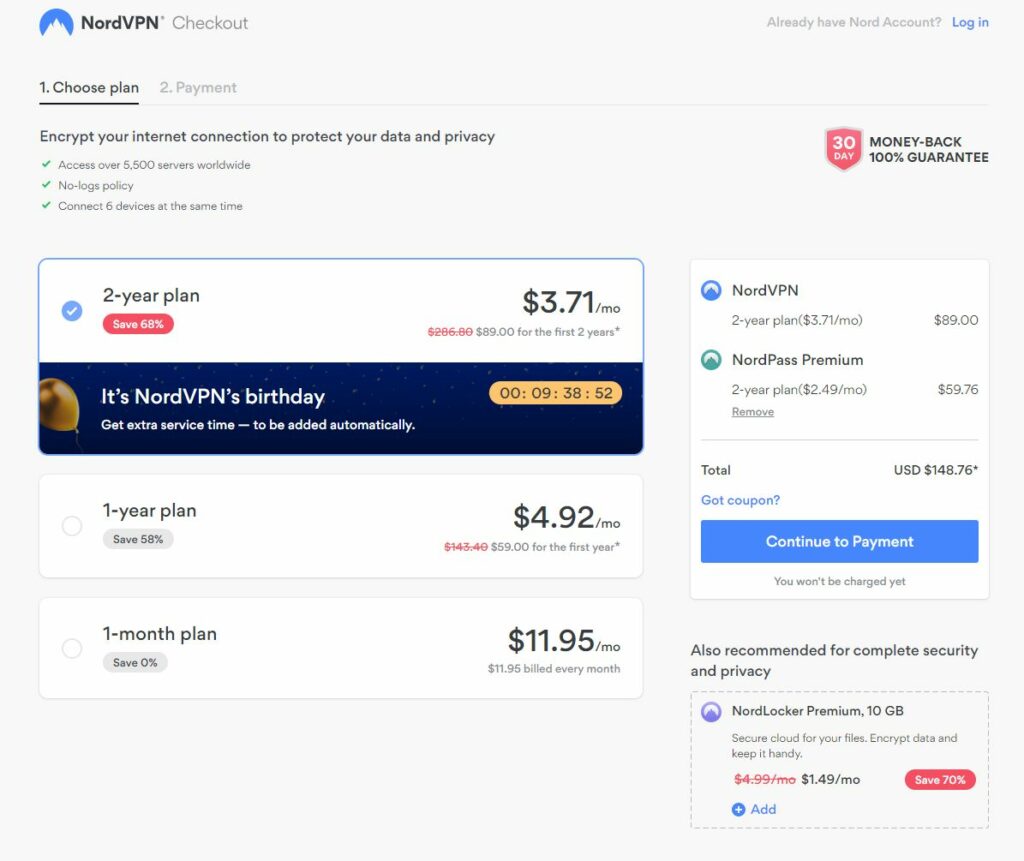 All of NordVPN's plans are backed by a 30-day money back guarantee. You can cancel for any reason, no questions asked, which is perfect for trying the service out to see if the speed and security features are ideal for you.
Addictive Tips readers can get an exclusive deal with NordVPN. Sign up for a two-year contract and get an incredible 68% discount, just $3.71 a month! You'll still be able to take advantage of the stellar money back guarantee, making this the best way to get started with a VPN, hands down.
NordVPN – What We Liked, What We Didn't
We spent a lot of time with NordVPN, sorting through options screens, trying out versions of its software, connecting to different servers and testing their speeds. This gave us a great opportunity to become familiar with the service and how it fits into your day to day life. Below are a few of our final thoughts about NordVPN.
We liked…
Excellent software design that provides plenty of customizability with a sleek, attractive interface.
Specialized servers that provide double encryption and anti DDoS are simply amazing.
Mind-boggling server network with tons of locations to choose from.
Smart apps cater to both VPN newbies and power users alike.
Great speeds to a lot of major cities and countries worldwide.
We didn't like…
P2P and torrent connections are limited to certain servers, which can affect your speeds if you're not located near one of the nodes.
Is NordVPN Right for You?
NordVPN is an amazing all-around service that manages to stick to the basics without feeling too simplistic. It's got power, it's got speed, and it's got customizability, making it a superb choice for just about everyone.
If you're a heavy torrent or P2P user, you'll want to try NordVPN for a few days to make sure you can get a reliable connection. Thankfully, the money back guarantee makes that pretty easy to do. Everyone else should make sure to check out the specialized servers to see how much they can change your online experience. Who knows, maybe you'll fall in love with NordVPN's speed and security on the first day? We certainly did!