We are reader supported and may earn a commission when you buy through links on our site.
Learn more
Best VPN for iPhone in 2021 and Why You Should Use One
iPhone owners often think that Apple's standard security measures are enough to maintain their privacy online, but this is a popular misconception. The fact is, if you're not using a VPN on your iPhone, you're leaving certain cybersecurity risks unaddressed. Today, we talk about why iOS users should encrypt their Internet connection, plus review the best VPN apps for iPhone.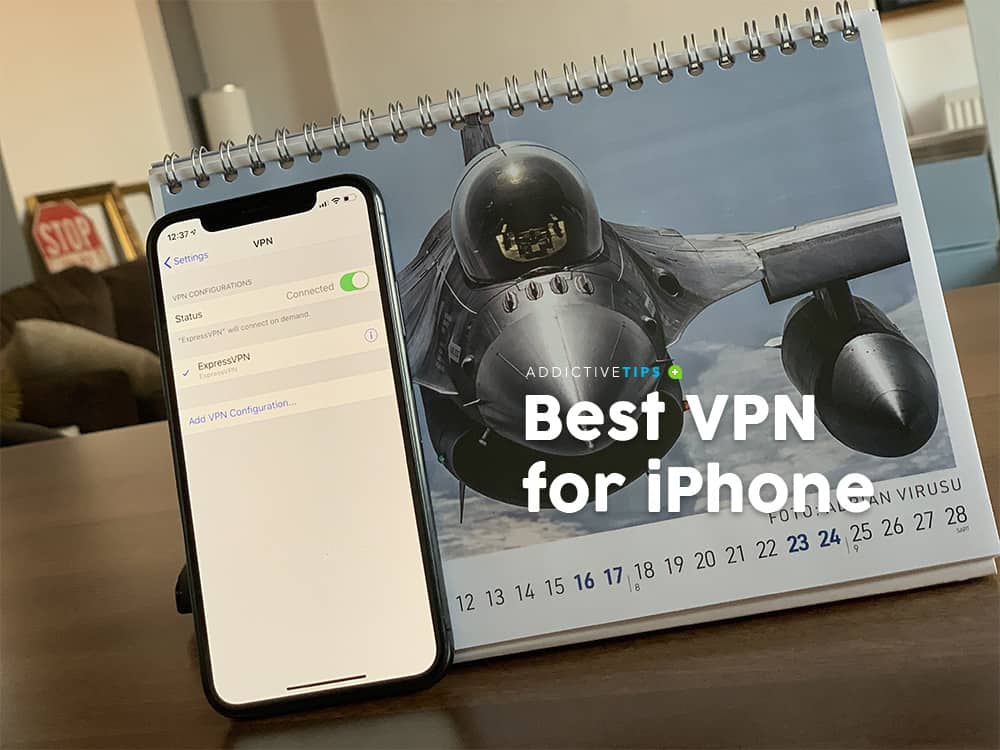 Staying safe while browsing the web on an iPhone is more difficult than ever. It seems like every week a new threat is uncovered, a new method of data hacking is developed, or a new law is enacted that chips away at our privacy. Fortunately there are tools out there that help us protect our data and keep it away from prying eyes. One of the most useful and effective of these tools is the virtual private network.
VPNs operate like a tunnel between your iPhone and the internet. With a VPN service active, information is encrypted before it leaves your device, scrambling everything to make it unreadable by third parties, including hackers and ISPs. That data travels safely through the VPN tunnel and is then decrypted by your iPhone, resulting in a safe and surprisingly anonymous browsing experience.
Already set on getting an iPhone VPN? These are the best iOS-compatible providers:
NordVPN – Best for iPhone – NordVPN sets the gold standard for VPN functionality, and it brings all its most important features to iOS. Easily the most robust privacy solution on the market.
Surfshark – If you're looking for something trimmed down that just works to enhance your security, Surfshark is a good bet.
ExpressVPN – Another VPN that feels right on iOS, ExpressVPN offers impressive speeds across the board.
IPVanish – The UI isn't as beautiful as some, but it's hard to argue with its ability to unblock streaming sites.
VyprVPN – Lots of unique features including a self-owned server network, plus proprietary Chameleon encryption.
Most good quality VPN providers deliver a seamless experience on many devices. Others, however, don't support the iOS platform quite as thoroughly. We combed through the top VPN services to find the fastest, most reliable VPNs with great support for iPhones old and new.
Simply installing a VPN app from the App Store doesn't mean you're protecting your privacy. In this tutorial, we'll tell you what is the best VPN for iPhone and why having a VPN for iOS is important in keeping things safe and private for your device.
30-days money back guarantee
What makes a good iOS VPN?
Looking for the best VPN for your iOS device can be difficult. There's a ton of information to sift through and a wide variety of factors to consider, everything from cost to speed, server distribution, app compatibility, and level of privacy. We've made the process a little easier by focusing on trusted VPN providers with a good reputation in the community. Each meets or exceeds the criteria listed below, giving you the best iPhone VPN experience possible.
iPhone Compatibility
The number one consideration for an iOS VPN is compatibility. Mobile devices aren't as robust as desktop computers, which means the VPN's app needs to be as lightweight as possible. Accessing the VPN's features on a small touch screen can also be a hassle, especially if the app wasn't designed for mobile use. All of the VPN providers below have custom designed apps for iPhone to ensure a seamless VPN experience.
Logging
The number one feature of any good VPN service is a strict zero-logging data policy. Even though information sent through VPN servers is encrypted, if a government or third party requests that data it's still possible it can be decrypted. If no data logs exist, nothing can be shared, plain and simple. No matter which VPN you use, make sure they don't keep logs. The providers below have a straightforward zero-logging policy that's enforced without exception.
Speed
One of the biggest drawbacks to using a VPN is an inevitable loss of speed. Encryption overhead mixed with the extra distance data must travel to reach worldwide servers can slow your connection down as much as 20%. There's nothing more frustrating than internet lag. We've made sure the VPN providers below keep speed as a high priority.
Server distribution
One of the biggest side benefits of using a VPN is accessing content that's normally restricted in your region. Netflix, Hulu, BBC iPlayer, and even YouTube locks down certain videos due to censorship or geo-restrictive legislation. A VPN allows you to sidestep these roadblocks by quickly and easily changing virtual locations right from your iPhone. The more locations a VPN provider offers, the more content options are at your fingertips.
Traffic limitations
Some VPNs have data caps in place and restrict the types of files users can download, making it impossible to use P2P networks or download torrents. This isn't as big of an issue with iPhones as with desktop computers, but suddenly finding yourself out of bandwidth or unable to download a file can be infuriating. The providers below offer unrestricted access with absolutely no data or speed caps in place.
Top recommended VPNs to boost your iPhone's security
There truly is an overwhelming selection of providers on the VPN market, which is why we've taken the trouble to narrow your search down to the most reputable. Below, we review the best iPhone-compatible VPNs for speed, security, and ease of use: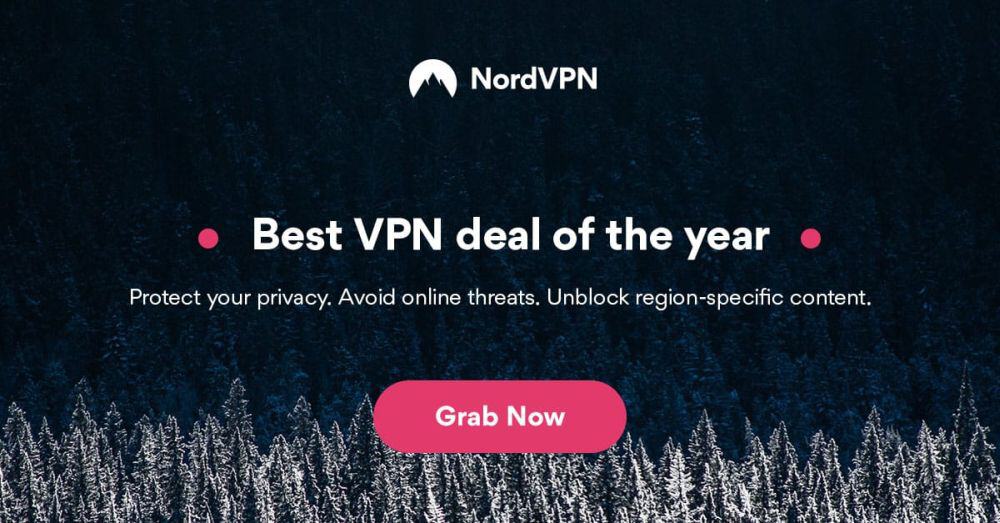 NordVPN takes security seriously. The service encrypts all data passing through its servers not once but twice, wrapping everything in 2048-bit SSL encryption that even the toughest computer can't break. When combined with a fantastic zero-logging policy and a huge, ever-expanding network of over 5,500 servers in 58 countries, you've got the perfect foundation for a private VPN service that takes your online freedoms seriously.
Speed and ease of use are NordVPN's other major standout features. The provider has specially configured servers designed to handle different types of traffic. Downloading a torrent or using a P2P network? It's likely your data will get funneled through one of these servers to ensure a consistent high speed connection. The connection is easily high enough to stream content on the Netflix app.
NordVPN has custom built software for iPhone and other iOS devices. The touch-friendly app is designed to make it easy to connect to the VPN, and switching servers is an extremely fast process. It's also surprisingly lightweight and ready to go as soon as you download, no configuration required.
Read our full NordVPN review.
Pros
SPECIAL OFFER: 2-yr plan (68% off - link below)
Different IP addresses aervers
Up to 6 simultaneous connections
Strict zero logs policy on both traffic and metadata
24/7 Live Chat.
Cons
Some servers can be unreliable
Apps can be a bit cumbersome to use.

Some VPNs naturally have nicer UIs than others, but Surfshark seems specifically well-suited to iOS's clean, minimalist environment. Indeed, the two share a design ethos that functionality shouldn't be complicated, and instead just work. And when it comes to boosting your mobile security, Surfshark does just that.
This relatively young provider uses only the most modern privacy provisions: OpenVPN, IKEv2/IPSec, and WireGuard tunneling protocols paired with the unbreakable 256-AES-GCM encryption cipher. These alone are enough to get you past most geoblocks and stop ISP tracking, but Surfshark offers even more.
Additional provisions include automatic obfuscation, adblocking, kill switch, IP/DNS/WebRTC leak protection, unlimited simultaneous connections, and absolutely zero logging. Not bad for a "budget" VPN.
Pros
Unblock 15 international Netflix libraries, including the US and Japan
Unlimited server switching
Wide app availability on desktop, mobile, consoles, smart TVs and more
Independently audited privacy practices
Get help any time of day via email, phone, or live chat.
Cons
Growing network doesn't have same coverage as more mature VPNs
Young VPN still has plenty of room to grow in terms of advanced functionality.
Read our full Surfshark review.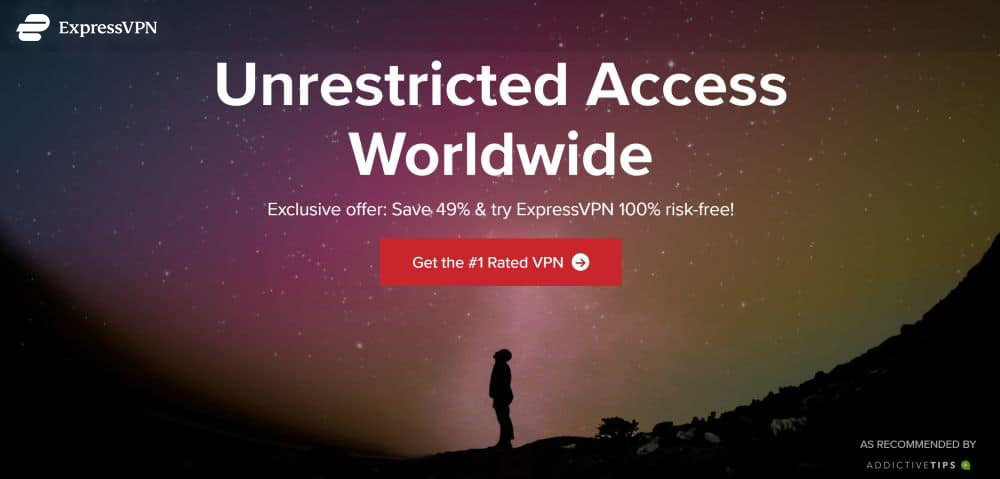 ExpressVPN is all about speed. The provider scores consistently high on speed tests to major and minor cities around the world, meaning you won't struggle to find a fast connection no matter where you travel. This includes China, a country where most VPNs are blocked. The ExpressVPN network also features over 3,000+ servers in 94 countries worldwide, one of the widest distributions of any major provider.
Privacy features are also strong with ExpressVPN. A zero-logging policy means your data is never stored on their servers, giving you plenty of reasons to take advantage of the service's unlimited bandwidth and lack of file type restrictions. You can even connect up to three devices to the VPN at once, just in case you want to run a desktop PC along with an iPhone or iPad.
ExpressVPN has a custom built VPN app for iPhone and iOS devices compatible with iOS 7 and newer. It includes most of the key features as the desktop app and is extraordinarily easy to use on a smartphone's touch screen. Three steps is all it takes to connect: launch the app and turn the VPN on, choose a custom or a recommended server to connect to, then browse the web with total privacy at your leisure. Once connected, users can access almost all geo-restricted content, including the Netflix app.
Read our full ExpressVPN review.
Pros
SPECIAL OFFER: 3 months free (49% off - link below)
94 countries, 3,000+ servers
Govt-level AES-256 encryption
Strict no-logs policy
24/7 Live Chat.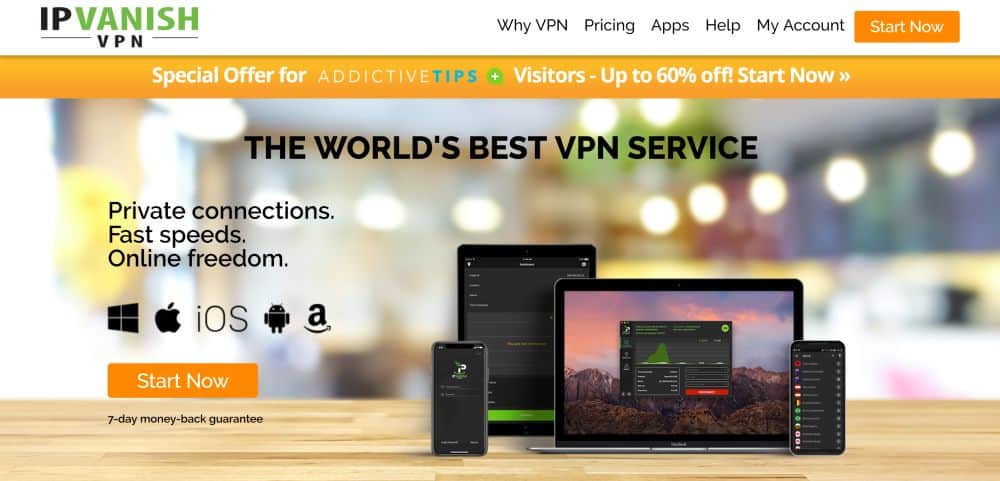 IPVanish places a high priority on privacy and speed. The company operates over 1,300 servers in over 60 countries, each boasting strong 256-bit AES encryption, and ensures your anonymity remains intact with a great zero-logging policy. Speed tests produce consistently high results with many of IPVanish's servers, especially those located in major cities around the world. This gives you plenty of options for bypassing geo-restricted content without having to sacrifice speed.
Making use of those fast speeds won't be a problem with IPVanish. Unlimited bandwidth, P2P traffic, and torrenting access are all part of the mix, along with unlimited server switching and a high limit of five devices simultaneously connecting to the VPN.
IPVanish has a custom-built app for iPhone and iOS devices, and it's even available to download on the iTunes App Store. The software was designed for seamless ease of use and will automatically connect whenever internet traffic is detected, ensuring you're never online without encryption. The app even suggests fast servers for you to connect to!
Read our full IPVanish review.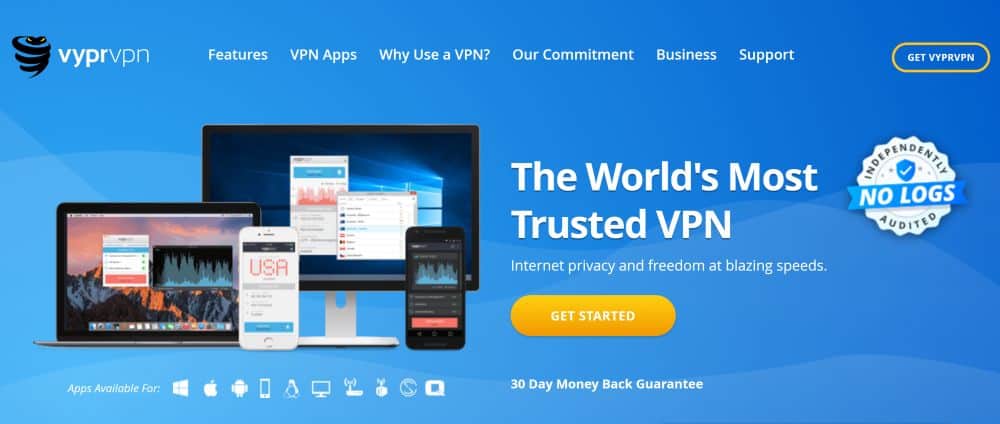 VyprVPN hits all the major privacy marks of a good VPN provider. The service offers unlimited bandwidth, no file type restrictions, has a strict zero-logging policy, and utilizes a clever routing system to help bypass sluggish networks. One of the more impressive features is the fact that VyprVPN owns and operates their entire network of 700 servers in 70 different countries. This gives them the ability to configure software and hardware for optimal speed and privacy, all without interference from third parties.
VyprVPN has a standout iOS app for connecting to its virtual private network. The software is custom built and easy to use with a simple one-time setup. Just download, log in, and you're good to go. Server selection is fast and easy to access, and the app supports iPad layouts with an extended UI. Best of all, you can download the VyprVPN app on the iTunes App Store, which makes for convenient updates. Perfect for a lazy Sunday watching movies on the Netflix app.
Read our full VyprVPN review.
Why Use a VPN on iPhone?
Data privacy is extremely important in the modern world. Each time we connect to the internet, streams of information are sent to third parties around the world. This information includes web browsing history, data about the type of files and videos accessed, and much more, all of which is tied directly to your local service provider and linked to your name and physical address. This makes data theft an extremely lucrative practice. To top it off, ISPs in many countries have the legal right to collect and sell your personal information to third parties, all without your knowledge or consent.
Using a VPN neatly circumvents these privacy issues. Encryption is the first weapon in the war on anonymity. With a VPN, data that leaves your iPhone is scrambled with an incredibly complex algorithm that can only be deciphered with the right key. That's the data that passes through your ISP, and it contains no identifying details or information.
Using a VPN on an iPhone delivers a host of privacy benefits, many of which are essential in today's world. There are also some bonus features you can take advantage of when using a distributed VPN network:
Privacy while traveling
iPhones go everywhere we go and access public networks on a regular basis. You never know the privacy policies of the Wi-Fi provider or the ISP delivering the connection, meaning every piece of data you send over the network could be logged or even shared with third parties. With a VPN in place, that information is encrypted and safe from prying eyes.
Unblock geo-restricted content
Whether you're bored on the bus or stuck in the airport waiting for a delayed flight, it's nice to have entertainment options on your mobile device. With a VPN you can switch virtual locations with ease, gaining access to a world of TV shows, movies, and live streams on services like Netflix, Hulu, BBC iPlayer, Popcorn Time and more. If you're traveling this can be especially useful, as accessing content from your home country takes just a few taps.
Stay anonymous
Even when using your iPhone at home, data can be stolen, leaked, or even sold by ISPs. Just because you pay the monthly bill doesn't mean you own your data. Using a VPN while connected to your home network ensures you never let your guard down.
Aren't iPhones Safe Already?
Part of Apple's design philosophy behind the iOS ecosystem is protecting users from malicious software. Most viruses have a difficult time targeting iPhones and related devices, and downloads from the iTunes App Store are removed at the slightest hint of suspicion. This walled garden of protection makes the iPhone incredibly safe, but it doesn't extend to data privacy.
When you connect to the internet your iPhone is no longer in control. Information is sent unencrypted to computers owned and operated by third parties, many of whom are free to do as they like with your private data. A VPN with solid encryption ensures your information is secure even when it's not on your local device, giving you back just a little bit of control.
Encrypt Your iPhone for Better Local Privacy
VPNs pair wonderfully with the smart privacy options offered by Apple on most iOS devices. A VPN helps protect data that leaves your phone, but it doesn't do much for local safety or anonymity. If your phone is lost, stolen, or a victim of a nearby hacking attempt, the VPN won't provide any protection. Local device encryption ensures you stay safe in both situations.
Encrypting your iPhone is surprisingly easy. It requires minimal effort, doesn't use any external apps or accessories, and can be completed in less than a minute. For more information and a step-by-step walkthrough, see our guide on How to Encrypt an iPhone.
Protect Multiple iPhones by Running VPN Software on a Router
The simultaneous device limitation on VPNs can make it difficult for your entire family to use iPhones at the same time. While some providers offer upgrade plans to allow for more concurrent connections, others keep the cap at a low three or four devices, which just isn't enough for many households.
A great way to circumvent this limitation is to install your VPN software on a router. Not only will you be able to connect more devices to the VPN, but you'll also have the added benefit of not having to run VPN software every time you open your iPhone. Friends and family members who connect to your home router will even gain the benefits of VPN protection!
The set-up process for installing a VPN on your router will vary slightly depending on the provider. It will also require a little bit of time and some technical knowledge, so be prepared to get your hands dirty.
How to install a VPN on your router
First, make sure your router is compatible with the VPN software. If it's not, custom firmware such as DD-WRT or Tomato are widely supported.
In your desktop computer's web browser, navigate to your router's configuration page.
Open the setup tab.
In a separate browser tab, go to your VPN provider's support page.
Locate the section containing DNS information.
In your router setup tab, enter the DNS server info supplied by your VPN.
Save the settings and reboot your router.
The Limitations of a VPN
As useful as VPNs are for keeping your data safe and providing workarounds for geo-blocked content, they aren't a complete one-stop solution for solving all of your online concerns. Keep the following in mind when browsing the internet with your VPN:
VPNs can't protect you from malware – Although iPhones are generally safer than many other devices, it's still possible to access malicious websites or download apps that compromise your privacy. VPNs can't protect against these sorts of threats, so make sure you're still appropriately cautious when you surf the web.
Devices aren't automatically protected – Paying for and installing a VPN is one thing, but you have to make sure you run the app and connect to the VPN each time you use your device. Some providers develop software that automatically opens or connects whenever you use your iPhone, but if they don't, you need to make sure you're connected before you go online.
Limited simultaneous connections – VPNs set a limit to the number of devices that can simultaneously connect to a service. In most cases, this is between three and five, which is perfectly acceptable for many households. If you have a lot of devices that need access at the same time, however, this can be an issue. Fortunately, there are VPN-provided workarounds that let you increase this number.
VPNs can be slow – The number one complaint about using a VPN is that they're slow. Encrypting data takes time and increases the amount of information sent across your network. Delivering data to servers located farther away also adds to this latency. Most users can expect a slight slowdown when using a VPN. It's not ideal, but it's a tiny trade-off for the privacy and other features a VPN can offer.
A Warning about Free VPNs on the iTunes App Store
Search the iTunes App Store for VPN software and you'll get dozens of matches, many of which promise free and unlimited VPN use from one simple download. It's a tempting offer, especially when you aren't sure if you really need to use a VPN. And after all, isn't everything on the App Store safe to use?
Not quite, unfortunately. Using a free VPN provider carries with it a number of risks, some more serious than others. The biggest concern is if you aren't paying for your virtual private network, the company that's giving it to you has no incentive to keep your data safe. Many of them even collect and sell the data they're promising to protect, making them less trustworthy than a local ISP. This makes researching and using only trustworthy VPNs of extreme importance. If you value your data privacy, stick with a company that's in the business of data privacy.
Conclusion
At this point, it should be clear that the answer to "do I really need a VPN on my iPhone" is a resounding yes. We've covered the reasons why, plus how a VPN shores up your mobile phone's cybersecurity. You've also learned about some top-tier providers which make exceptional VPN apps for iOS.
Which VPN is your favorite? Do you have any recommendations for our readers on how to further enhance your privacy on iPhone? Let us know in the comments below.