We are reader supported and may earn a commission when you buy through links on our site.
Learn more
Best VPN Server Network in 2021 for Complete Protection
Few features define a VPN like its server network, and today we cover providers with the best spread and variety of servers. Whether you're looking to spoof into the farthest digital reaches of the globe, or simply want to enhance your privacy and beat online censorship, use these robust VPN networks to make it possible.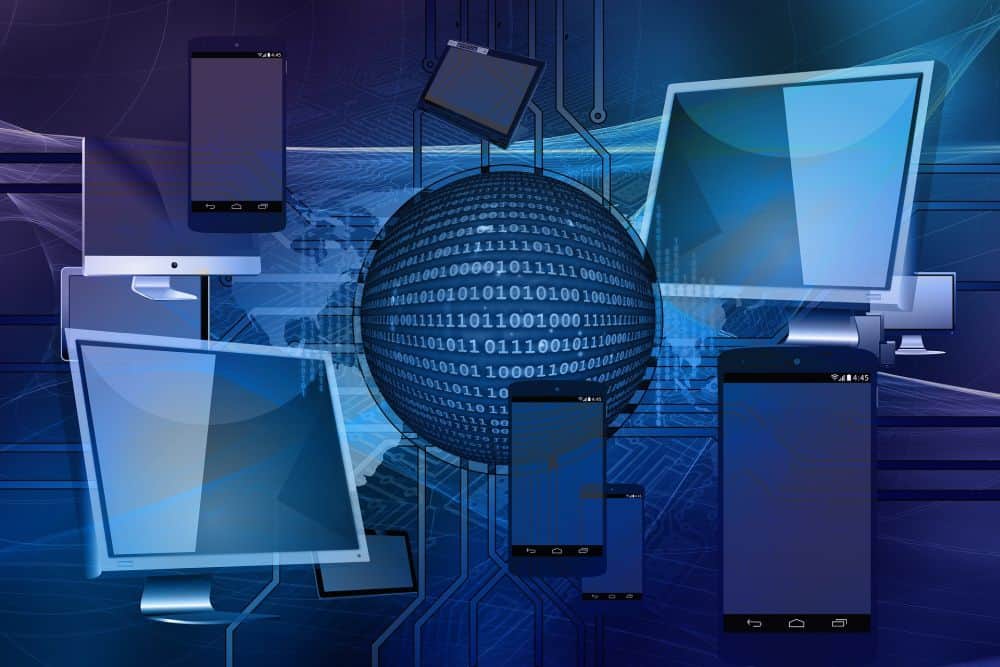 There are a variety of considerations you should take into account when researching virtual private networks, or VPNs. One of the most important of these is the size and quality of a provider's server network. VPNs that run a fast and expansive network are able to provide an overall better experience than their competitors.
Short on time? Here are the best VPN server networks in the business:
NordVPN – Best Server Network – NordVPN is primarily known for its gargantuan server network, and is the best overall VPN in terms of performance and security.
Surfshark – Not quite as huge as some networks, but well-equipped with cutting-edge infrastructure for reliable site unblocking and total privacy.
ExpressVPN – Excellent quality servers deliver top speeds and good spoofing power worldwide.
CyberGhost – The largest number of servers in total, with a simplified UI to make sense of them all.
PrivateVPN – A small, but dedicated network completely owned and operated by the provider.
PureVPN – Best server reach in terms of number of countries' IPs offered.
Finding the best VPN server network isn't always as easy as comparing the numbers, however. Actual performance results matter, as do distribution, jurisdiction, and half a dozen other factors. Below we take a look at the top VPNs on the market with the fastest, most reliable, and all-around best server networks.
30-days money back guarantee
What Makes a Good VPN Server Network?
How can you tell which services live up to their promises of top notch speeds and massive network distributions? By focusing your research on the qualities listed below. Whether you're looking for fast downloads or the best privacy around, check out our guide and recommendations below for the best VPN server networks.
Picking the top VPN server network means taking a good, hard look at the criteria listed below. Never settle for second best.
Speed – Look for VPNs that prioritize speed to ensure fast downloads, buffer-free streams, and seamless VoIP calls and browsing.
Distribution – Where does your VPN service host its nodes? The more cities and countries, the more access points you have to the free and open internet.
Growth – Does the VPN add new servers on a regular basis, or does the list stay pretty much the same? Providers which constantly seek to grow their networks are more likely to provide a dynamic, reliable, and relevant security service.
Other Important VPN Criteria
VPNs are more than just server connections. Even with the best network in the business, if a VPN doesn't offer the following features, you're better off looking elsewhere.
Intuitive software – You'll interact with your VPN software every day. Make sure it's easy to use.
Wide device support – Your VPN should work on every device you own.
Zero-logging policy – Only sign up with VPNs that have a strict zero-logging policy, no exceptions. Otherwise, you're inviting ISPs and authorities to track you down via your activity history.
Best VPN Server Networks
The results are below, here is our list with the best VPNs server networks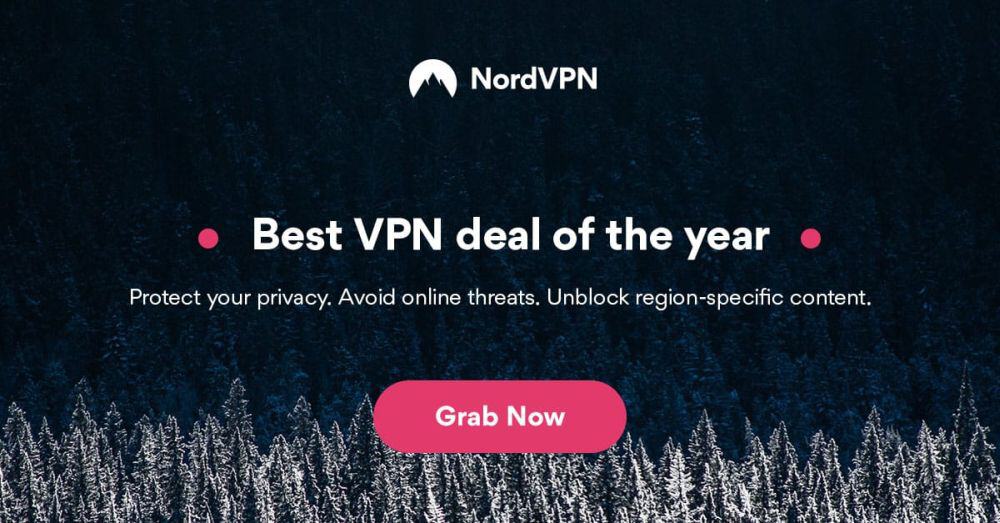 NordVPN is a massively popular VPN that's trusted by thousands of users around the globe. By far its biggest and most impressive feature is the size of its server network. The list is constantly growing, but right now it offers access to over 5,500 servers in 59 countries, leaving competitors in the dust. This amazing variety lets NordVPN deliver fast speeds around the world, regardless of location. There are also unique services only NordVPN offers, including protection against DDoS attacks, double encryption, and onion over VPN.
NordVPN packages everything you need to stay safe online, from 256-bit AES encryption to DNS leak protection, an automatic kill switch, and an amazing zero-logging policy that covers time stamps, DNS requests, IP addresses, and traffic. It's also extremely easy to use, with smart, intuitive software designed for all modern devices that handles all of the heavy lifting. When you need solid, fast protection, just fire up NordVPN and you're set.
Read our full NordVPN review.
Pros
Servers optimized for unblocking Netflix
Extensive server park of over 5,400 different servers
DNS leak protection, kill switch
Extra-secure Double VPN for data encryption
30-day money back guarantee.
Cons
Very little
Refund processing can take up to 30 days.

It may be surprising to see such a young VPN provider so high up on this list, but Surfshark's server network really is something special. On paper, it might not look that way–it offers just over 800 servers in a respectable 50 countries worldwide.
But these servers exist on RAM-only, diskless infrastructure. This not only improves performance, but it prevents long-term storage of VPN user metadata. Combined with Surfshark's great no-logging policy and BVI jurisdiction, you can be confident your VPN will never snitch on you.
Beyond that, Surfshark offers both multi-hop and static IP connections in the most in-demand countries. Moreover, every node can wield powerful obfuscation as the need arises, as well as the special NoBorders mode which pummels even the Great Firewall of China. Not bad for the new guy.
Pros
Reliably unblocks Netflix US, UK, Japan, and more
Multi-hop connections readily available
Expansive anti-ad and anti-malware database constantly updated
Favorable BVI jurisdiction guarantees no logs kept
Get help any time of day via email, phone, or live chat.
Cons
Growing network doesn't have same coverage as more mature VPNs
Young VPN still has plenty of room to grow in terms of advanced functionality.
Read our full Surfshark review.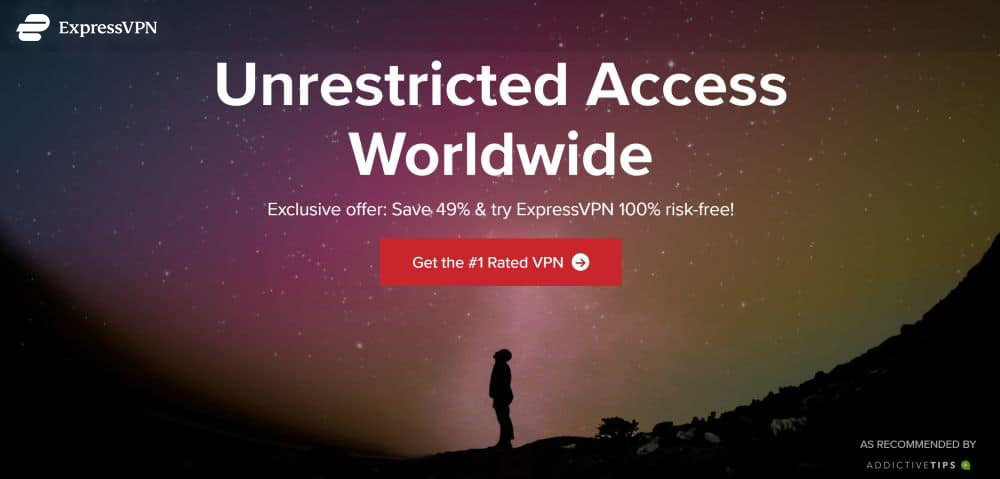 ExpressVPN is one of the most popular VPN services in the world, and for good reason, too. It's fast, friendly, and easy to use, all thanks to its smart features and software for multiple platforms, including smartphones and PCs. Perfect for anyone looking for a reliable VPN. It also takes care of finding the fastest server to connect you to each time you turn on your device. All you have to do is sit back and enjoy.
ExpressVPN offers a wide range of privacy features to keep you safe online, including 256-bit AES encryption, a zero-logging policy on all traffic, and both kill switch and DNS leak protection. ExpressVPN's server network covers over 2,000 locations in 94 different countries, giving you plenty of options for a fast connection no matter where you live or travel to.
Read our full ExpressVPN review.
Pros
Unblocking Netflix, iPlayer, Hulu, Amazon Prime
Reliable and fast connections
Supports ALL devices
Strict no-logs policy for personal information
Live chat support available.
Cons
Max 3 connections simultaneously
Slightly pricier than competition.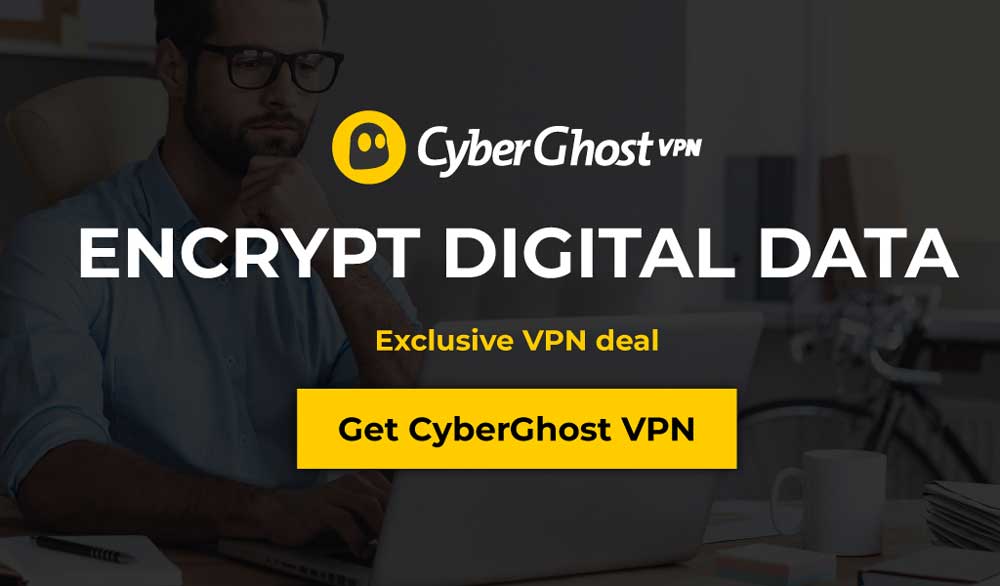 CyberGhost is one of the best all-around VPNs on the market, largely thanks to its intuitive software design that works on a wide variety of devices, including smartphones, desktop PCs, and laptops. You can access the company's gigantic network of over 5,900 servers in 90 countries without restriction, all of which deliver fast downloads and top tier privacy. No buffering delays or slowdown for CyberGhost's users, just a flawless internet experience every time.
CyberGhost's privacy features keep its users secure with 256-bit AES encryption on all data, a zero-logging policy on traffic, time stamps, and IP address, and both DNS leak protection and an automatic kill switch. These features hide your identity each time you go online, allowing you to connect with fully encrypted data no matter where you go.
Read our full CyberGhost review.
Pros
Unblocking Netflix USA, iPlayer, Amazon Prime, YouTube
Special profile designed for torrenting privately
Located in Romania (out of 14 eyes)
Strict no-logging policy
24/7 Live Support.
Cons
Some streaming sites cannot be unblocked.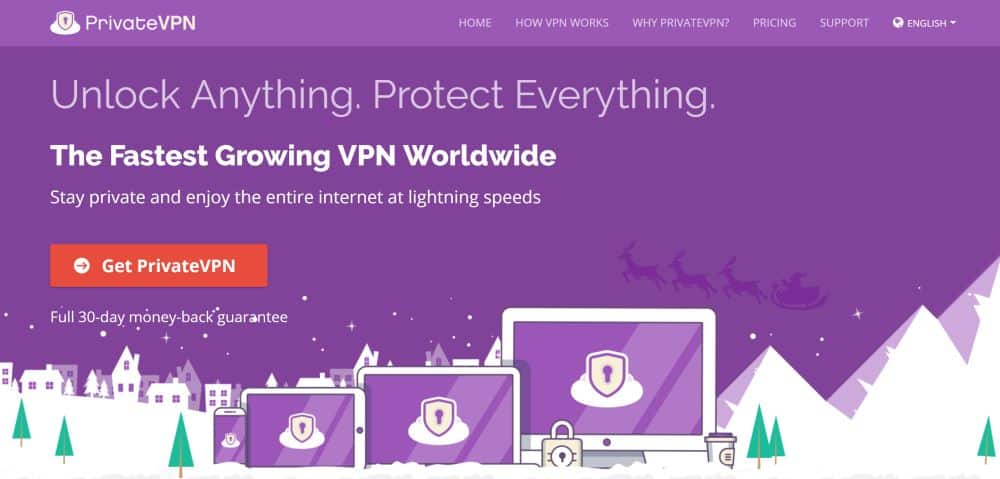 PrivateVPN is a super fast VPN service, and it's extremely easy to use, too. The company offers accessible software anyone can pick up and use, no complicated configurations required. It runs perfectly on everything from Windows to Mac, iOS to Android, connecting to the company's lightning fast network that offers excellent speeds around the world.
PrivateVPN locks down all data passing through its network with 256-bit AES encryption, and it keeps your connection safe with an automatic kill switch, DNS leak protection, and a zero logging policy on traffic, too. The network itself features over 150 servers in 60+ countries, enough to deliver location variety and fast speeds without sacrificing reliability.
What this provider's network lacks in size, it makes up for in polish and utility. Select servers have a unique dynamic IP address system, which allows you to effectively bypass the shared IP blacklists employed by majors streaming sites like Netflix and Hulu.
PureVPN isn't just another VPN service, it's an entire suite of security features. The platform protects you from a range of cyber threats each time you connect, making it one of the best ways to stay safe on the internet. With PureVPN, you'll have instant access to anti-virus protection, malware shields, app blocking features, and website filters in a single package. No need to download and configure extra software, just fire up PureVPN and you're safe on each of your devices.
Despite the expanded features, you'll find the core VPN functionality to be robust, with a zero-logging policy on traffic, an automatic kill switch, nigh-unbreakable 256-bit AES encryption on all data, and DNS leak protection. These features work together to keep your data secure no matter what.
PureVPN runs a self-owned network of over 2,000+ servers in 140+ countries. This guarantees a fast connection at all times and is one of the more private and secure ways of accessing the internet.
Read our full PureVPN review.
How to Set Up and Use a VPN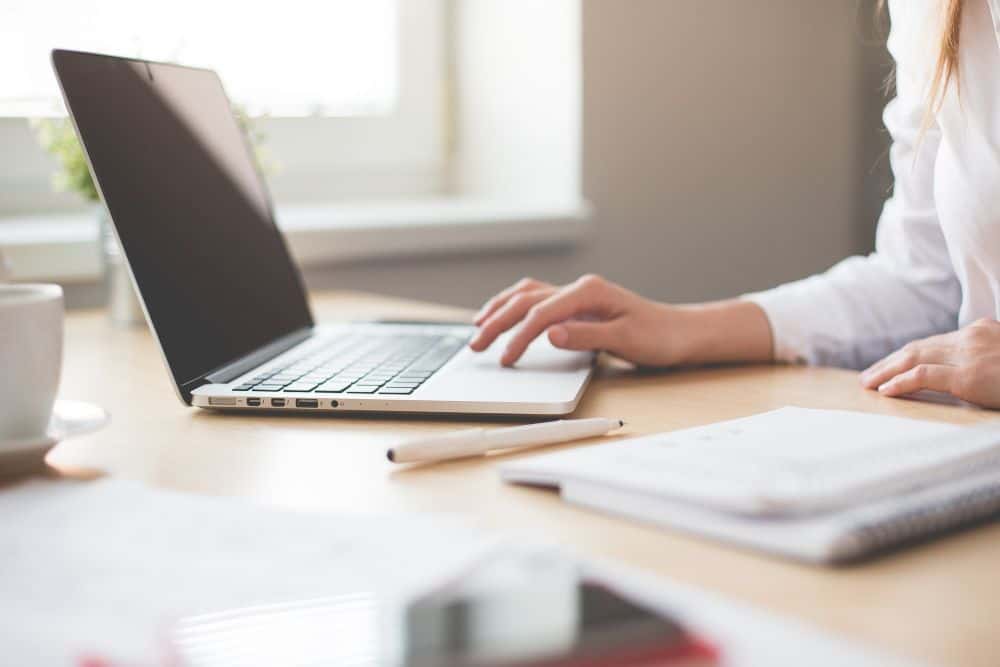 To get started with your new VPN and all of its server network options, you'll first want to download and install VPN software. Sign into your VPN's website and download the app for your device. Install it, launch the software, then enter your login credentials to activate the connection.
Before you can start streaming or surfing, connect to a server. Most apps will do this automatically, but if you're confused or if you want to explore your options, open the server browser and find a new node. Connect, then wait a few moments for it to resolve (see below for more details). Now minimize the VPN app and let it run in the background.
You'll now want to verify your IP address to make sure the VPN is actually working. With your VPN active and connected to one of the above server areas, open a web browser and go to ipleak.net. Wait for the page to load and it will run an IP address lookup automatically. Look at the box beneath where it says "Your IP address". If it shows the right country, you're good to go.
Now you're ready to use the safe, secure, open, and free internet.
How to Change VPN Network Connections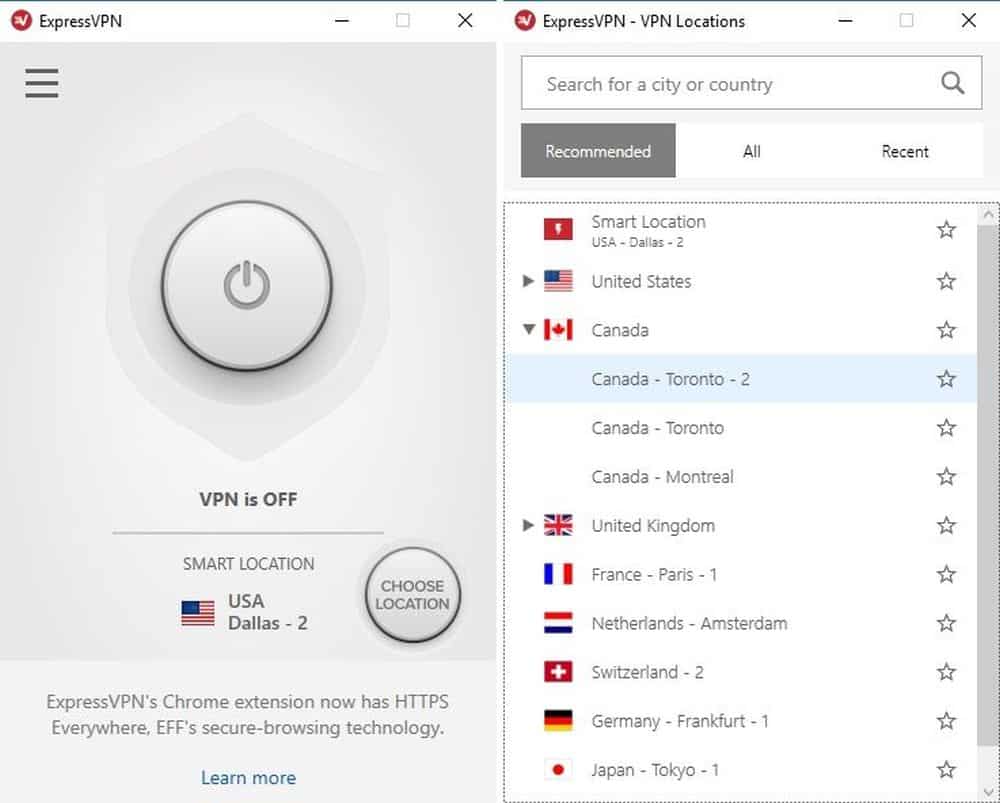 Once you sign up for and install a VPN, you'll want to take advantage of the service in every way possible. The best way to do this is to flex its server network muscles by choosing different nodes in different locations. If you're not sure how to do that, our quick guide below will give you a head start.
Why Change Servers?
Changing servers on your VPN service can carry a number of benefits, including the options listed below. And remember: the larger a VPN service's network, the more nodes at your disposal.
You may get a faster connection by using a server located physically closer to your position.
You could reduce lag by accessing a server that's less crowded.
You can bypass ISP throttling specific traffic (often P2P downloads or streaming).
You'll change IP addresses, making it appear as if you're in another country. This lets you bypass censorship walls or stream Netflix movies from anywhere.
The Fast Way to Change VPN Server Connections
All signed up and ready to use your VPN? Now it's time to put that server network to good use. Most VPNs automatically connect to the fastest available node as soon as you launch the software. That's fine for most people, but on occasion you'll want to browse the offerings and see what else you can do.
Below we provide a quick guide on how to change to a different server network connection on a VPN. Every VPN app is set up in a slightly different way, so the instructions may be unique for your own device or service. In general, however, the steps below should work.
Install your VPN software on your favorite device.
Launch the app and sign in.
Look for a server browser or map.
Search for a server in a new location.
Click to connect.
Wait a few moments for the VPN to resolve the change.
Enjoy browsing from a new virtual location.
Conclusion
Getting a VPN with the best server network can mean the difference between enjoying your online experience and loathing its limitations. With the right service and a large network, you can surf and stream anything you want from the internet, all with the greatest of ease.
Each of our recommendations features an incredibly fine-tuned network of servers. Which one do you think is right for you, and why? Let us know your thoughts below.