We are reader supported and may earn a commission when you buy through links on our site.
Learn more
Best VoIP VPN in 2021: How to Unblock VoIP from Anywhere
VoIP is one of the most common targets of government Internet filtering, but with the best VoIP VPN on your device, you can unblock your favorite communications tools anywhere in the world. This article covers the top VPNs for unblocking VoIP, and shows you how to put them to use.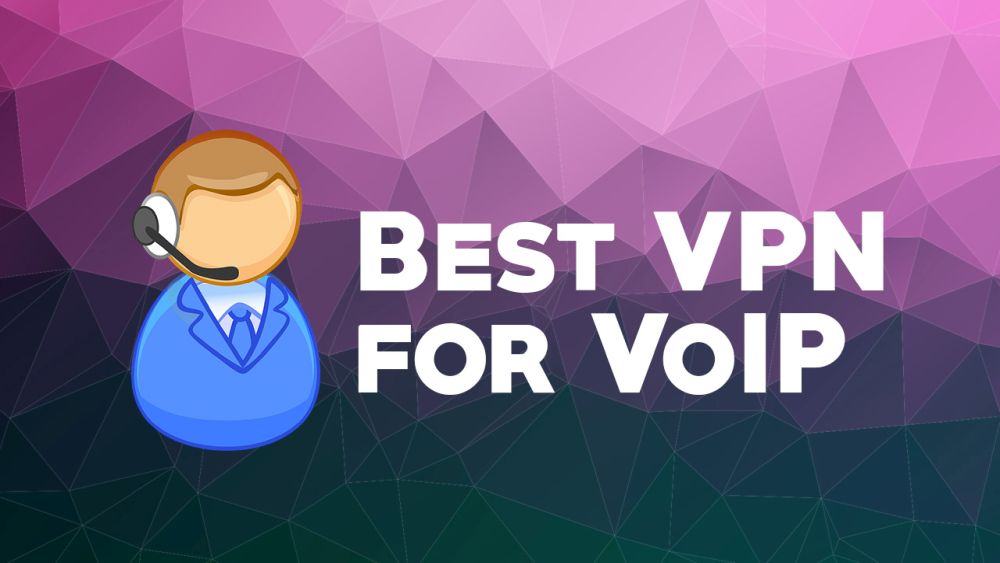 Voice over internet protocol, more commonly called VoIP, is a collection of technologies that make it possible to transmit live conversations across the internet. It's like using a telephone on the web, only with a handful of extra features that can include video, text, and multimedia messaging. Skype is one of the most recognizable VoIP services around, though dozens of others are used around the world, including Discord, Google Hangouts, Mumble, and Viber.
Make sure you always have secure access to VoIP apps with these VPNs:
NordVPN – Best VoIP VPN – With tens of thousands of virtual IP addresses around the globe, military-grade encryption, and a solid logging policy, NordVPN is easily the best choice for unblocking VoIP calling wherever it is banned.
Surfshark – Unlimited simultaneous connections, blanket obfuscation, accepts Bitcoin payments.
ExpressVPN – A truly premium VPN that justifies its slightly higher price with the best speeds in the industry.
IPVanish – Historically the most popular choice for torrenters and streamers, still going strong today.
VyprVPN – Owns its entire network for greater security and performance, offers unique Chameleon encryption.
Voice over IP is extremely popular because it's easy to use, can be low cost or free, and offers comparable quality to a standard phone connection. Because VoIP uses the internet, however, it carries a few downsides, including government filters that block VoIP usage in certain countries, and basic privacy and eavesdropping concerns. By using a good quality VPN, however, you can bypass VoIP blocking firewalls and talk to anyone in the world without worrying about your privacy.
30-days money back guarantee
Why are VPNs Important for VoIP?
Telephone conversations are notoriously easy to hack into. For decades people have been able to tap into non-local phone boxes and listen to the conversations passing back and forth along the wires. Few concerns were raised about it due to the low occurrence of such crimes. Because VoIP shares the same basic weakness as any online data transfer, however, the problem of privacy suddenly becomes a lot more widespread and a lot more serious.
RELATED READING: Vishing Explained
VoIP calls can be intercepted, stored, and even listened to live by anyone with the right equipment and know how. The same data can also be archived by local internet service providers, meaning your calls are constantly being recorded and saved without your permission. In addition to hacking and recording concerns, VoIP is easy to block on a regional level through the use of firewalls. Several countries in the Middle East and Asia, including China and the UAE, expressly forbid using VoIP services such as Skype and WhatsApp. Their reasons range from censorship to simple economics, but the end result for citizens and travelers within their borders is the same: no voice over IP, period.
Virtual private networks are a tidy solution to both the above problems. Think of a VPN like your own personal tunnel through the internet. Before your VoIP data is sent across the web, VPN software encrypts it, wrapping each packet in a layer of scrambled code that makes it nearly impossible to identify. Not only does this mean hackers can't listen to your calls, but it also tricks government level firewalls into thinking the VoIP traffic is standard internet traffic. You get unrestricted access to any VoIP software you like, and your conversations stay secure
CHECK OUT: How to Make Your VPN Undetectable
Evaluating the Best VPNs
There are countless VPN providers on the market today. Each one promises high speeds, strong security, fast downloads, and low monthly rates. Finding the best VPN to use for VoIP means giving certain features more weight over others, including things like speed and server distribution. After all, you don't want stuttering calls or dropped conversations. We used the following criteria to select the best VPNs to use with voice over IP, ensuring you get top quality service for your hard earned cash.
Logging policy – A VPN's security rating is only as strong as its logging policy. Data that passes through a VPN's servers can be stored just like any service provider. If a third party requests (or demands) access to these logs, the VPN often has to comply, putting your privacy at a serious risk. To negate this vulnerability, the best VPNs feature a strict zero-logging policy. If no logs are generated, no logs can be shared.
Speed – VPNs can be 10-25% slower than your average internet connection, which is largely due to the extra data created by encrypting traffic. The best VPN companies have found workarounds that deliver lightning fast speeds without skimping on the security. This is extremely important for heavy VoIP users, as slow speeds can lead to terrible call quality.
Server distribution – Lag is one of the factors that can make or break your voice over IP experience. Lag is created when there's a delay between the data your computer is sending and the response sent by the non-local device. A number of factors can contribute to lag, but one of the biggest with VPNs is the physical distance between you and the server you're connected to. The farther data has to travel, the greater chance there'll be lag. If a VPN service has a wide network, you're much more likely to have a reliable server option close by, cutting lag down to a minimum.
Bandwidth and traffic restrictions – Some low quality VPN providers have hidden limitations imposed on the type and amount of traffic you can use per month. Bandwidth caps are frustrating and will end VoIP calls without warning. Speed caps can also sneak up on you, especially if you use a free VPN provider. Still, other services block certain types of transfers, including P2P and torrents. Always make sure you have unlimited and unmonitored access to the internet through your VPN provider. No exceptions.
Compatibility – VoIP services work well on PCs and laptops, but they're extremely convenient to use on your mobile phone or tablet as well. To take advantage of your VPN while using VoIP, you'll need to run the VPN's software on the same device you're making your call. Most good quality VPN providers offer free apps and software for a wide range of hardware, including Android and iOS devices.
Jurisdiction – Another strong privacy feature is the country where your VPN service is registered. Some governments have strict logging regulations that force VPNs to keep records and turn them over if an agency requests access. To avoid this potential privacy breach, many VPNs are registered in countries with privacy-friendly laws that allow them to operate without third party intervention.
Top VPNs for Unblocking VoIP
After extensive market research, we present to you the best VPNs for VoIP services, no matter where you go.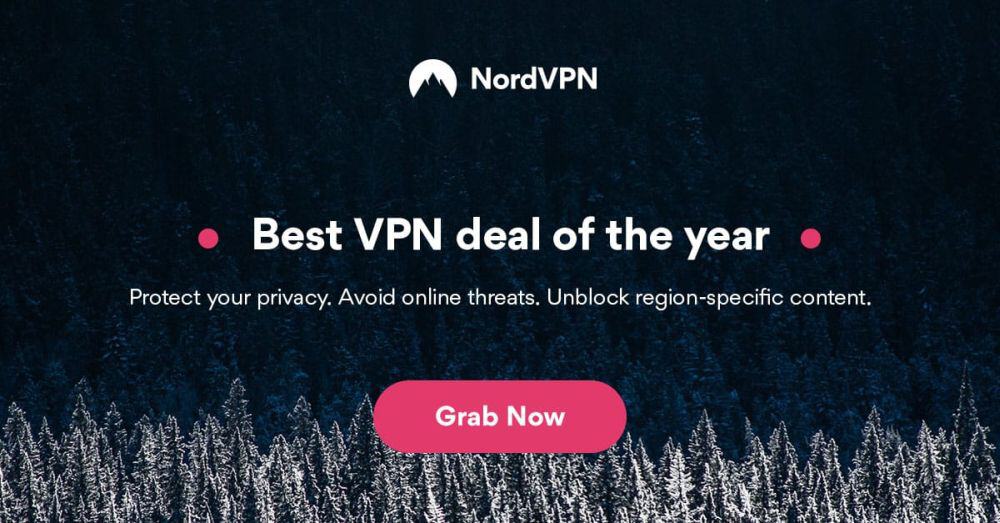 NordVPN is an extremely high quality VPN provider well-suited for voice over IP users. The company operates an enormous network of over 5,700 servers in 60 different countries, a list that's constantly growing as the months go by. NordVPN configures many of these servers for optimum speed, as well. Both features combined ensure you have plenty of fast, low-lag options for a crisp VoIP connection.
NordVPN does some wonderful things with privacy and online security. All servers wrap data in 256-bit AES encryption, the industry standard for good reason. There are even servers which offer double VPN encryption–VoIP conversations that take advantage of this feature are unbreakable, even to massive supercomputers. Combined with NordVPN's zero-logging policy that covers everything from traffic to bandwidth, IP addresses, and time stamps, you're guaranteed a fast and private connection to the internet every time you log on.
Read our full NordVPN review.
Pros
SPECIAL OFFER: 2-yr plan (68% off - link below)
5,400+ servers globally
Connect up to 6 devices at once
Strict zero logs policy on both traffic and metadata
Customer Service (24/7 Chat).
Cons
Some servers can be unreliable
Refund processing can take up to 30 days.

Surfshark may well represent the next generation of VPN providers in terms of consumer-friendly practices. All the things you'd want from a VPN are in order, including unblocking VoIP in countries like the UAE–with none of the limitations of older proxies and VPNs in sight.
The core Surfshark offering is rock solid, with modern tunneling protocols (OpenVPN, IKEv2/IPSec, WireGuard) guarded by unbreakable 256-AES-GCM encryption. Combined with a respectable server network (spanning 800+ servers in 50 countries), these provisions alone will allow you to unblock most sites in on most networks.
But for really tough censorship, Surfshark's Camouflage and NoBorders protocols automatically kick into effect in order to beat stuff like deep packet inspection and China's Great Firewall. Additionally, there's ad-blocking, IP/DNS/WebRTC leak protection, a kill switch, and absolutely no logging. And of course, Surfshark is plenty fast for buffer-free Skype calls.
Pros
Unblock 15 international Netflix libraries, including the US and Japan
Every server is a speciality server
VPN split tunneling available
Based in the British Virgin Islands, where there are no data retention laws
Helpful 24/7 live chat with an actual human being.
Cons
Growing network doesn't have same coverage as more mature VPNs
New-kid-on-the-block status may not instill same trust as larger providers.
Read our full Surfshark review.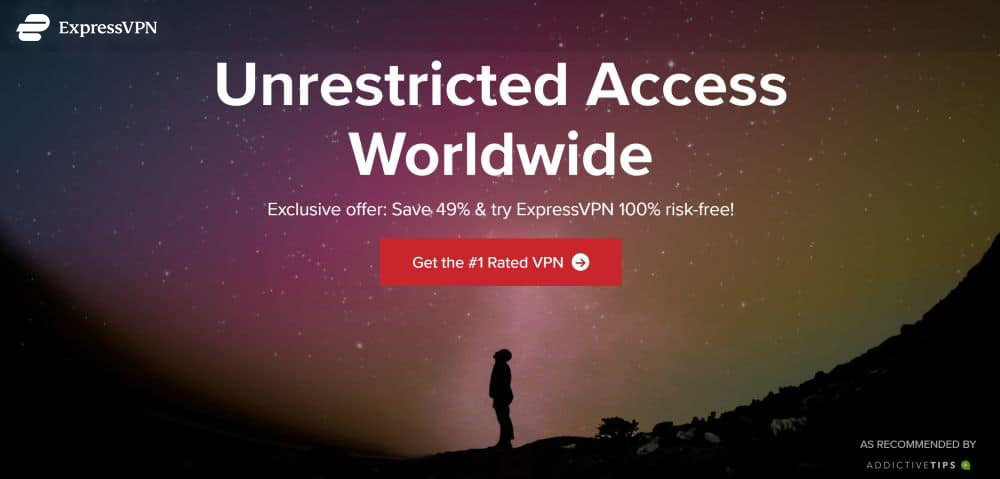 ExpressVPN does extraordinary things for VoIP users. The company has a strong network of 3,000 servers in 94 different countries, plenty to choose from for a lag-free connection. Speed tests to most of these areas are consistently high, as well, providing some of the fastest VPN service in the industry. If you're at all worried about losing call quality, ExpressVPN is absolutely the way to go.
On the privacy side of things, ExpressVPN features a zero traffic logging policy to help keep your data out of third party hands, DNS leak protection, an automatic kill switch, and completely unmonitored and unlimited bandwidth. 256-bit AES encryption prevents ISPs and hackers from snooping on private conversations, letting you use any VoIP you like without having to worry about security issues.
Read our full ExpressVPN review.
Pros
Unblocking Netflix, iPlayer, Hulu, Amazon Prime
Super fast servers (minimal speed loss)
Torrenting allowed
Strict no-logs policy
Customer Service (24/7 Chat).
Cons
Max 3 simultaneous connections
Slightly more expensive than some other options.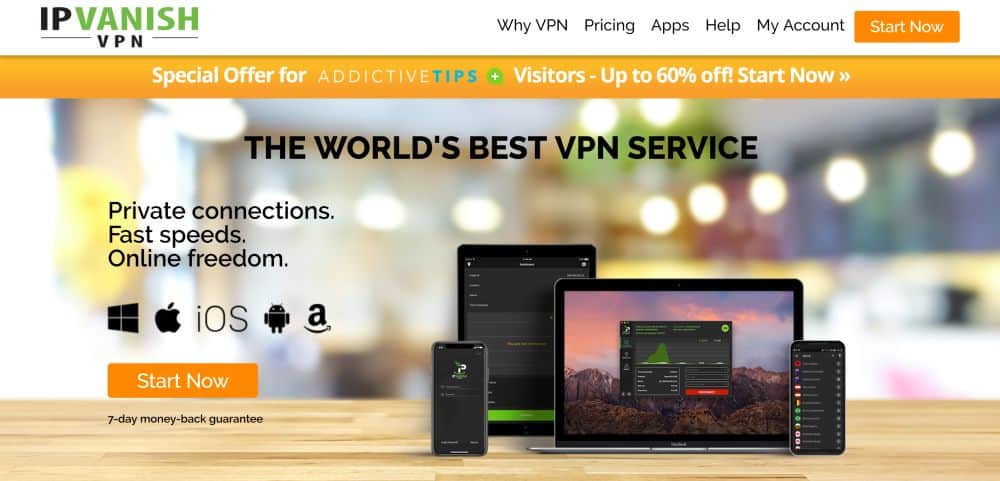 True to its name, IPVanish is a great VPN for anyone who values their privacy and wants to stay invisible online. The service exists to promote a free and open internet, allowing users to bypass censorship filters and leap over government blockades with ease. To that end, the service's network covers 1,300 servers in 75+ different countries with over 40,000 IP addresses between them. This provides an enormous amount of freedom for VoIP users who need a solid connection without any lag.
Along with speed and server selection, IPVanish also offers a great set of privacy and accessibility features to help keep you safe online. 256-bit AES encryption wraps all of your data in a safe shell, while zero traffic logs ensure no activity is ever stored outside of your computer. There's also unlimited bandwidth, no speed caps, and no restriction on P2P or torrent traffic, all of which are great for watching videos, downloading large files, or having conversations through VoIP.
Read our full IPVanish review.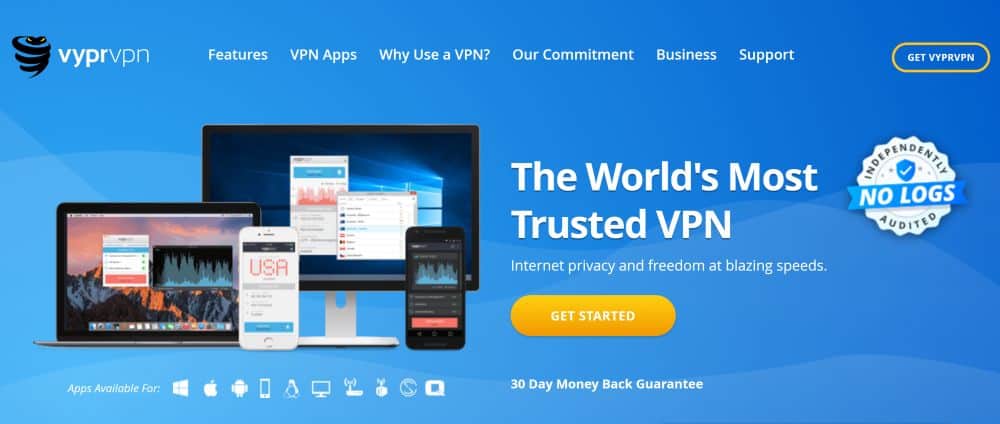 VyprVPN has a reputation for going to extreme lengths to ensure user privacy and freedom of access. To start things off, VyprVPN owns its entire network of servers, all 700 in 70 different locations. This gives them the ability to customize and control both hardware and software configurations for optimum speed and efficiency, all while keeping third parties out of the picture. You'll never have to worry about getting stuck with a slow or lagging server, and no matter where you connect your data will stay secure.
Another unique feature is VyprVPN's Chameleon technology. This protocol helps defeat deep packet inspection, a method often deployed by governments to detect the type of traffic coming from a user's device. With deep packet inspection services like VoIP or torrents can be blocked even if they're encrypted. Chameleon makes sure that doesn't happen, which makes it an extremely useful feature in censorship-heavy and VoIP unfriendly areas like China, Turkey, or the UAE.
Read our full VyprVPN review.
Save on International Calling with a VoIP and a VPN
Most major VoIP services charge per minute for overseas calls. These rates can vary depending on the country you're calling from, which can be an absolute nightmare if you happen to be traveling. One of the more interesting benefits of using a VPN with VoIP is the ability to change your international calling rate at the click of a button. Simply switch VPN servers, reconnect, and suddenly you're getting a new and better rate.
Depending on your physical location there may be some slight tradeoffs when you choose a different VPN server. For example, India's per-minute calling rates tend to be the lowest in the world. It might be tempting to choose one of their servers when you make a VoIP call, but if you're on the other side of the world, you can experience serious lag.
Check your VoIP provider's international calling rates before switching virtual locations to make sure you're getting the best deal possible. Choose a balance between server distance and per minute cost and you'll save money without suffering from slow speeds. Also check out these tips on using VoIP to reduce your phone bill.
Other Benefits of Using a VPN
A VPN can do more than just secure your VoIP conversations and help you bypass VoIP blockades. Data encryption affords a number of extra benefits you can use at home and abroad, and being able to change your virtual location is an extraordinarily useful feature. After a few days you'll wonder how you ever got by without a VPN.
Here are some of the benefits of using a VPN for everyday activities:
Free VPNs Are Bad for VoIP
There's a strong temptation to use a free VPN with your VoIP software. These services are all over the place, flooding every mobile app store and banner advertisement around. They promise fast speeds and private connections without the hefty price tag, which sounds too good to be true. The unfortunate reality is that free VPNs often sell user data to turn a profit. Instead of keeping your data private, you're handing over personal information and giving a company full permission to use and abuse it. On top of that, free VPNs often throttle connections and have limited bandwidth and server availability, which leads to a low quality VoIP experience every time.
You're always better off investing in a high quality, low cost virtual private network. Good VPNs have extremely affordable plans and have policies in place that prevent your data from being shared or sold. They also offer superior speeds and lag-free servers, both of which are necessary for using VoIP services.