How to Set Your Backlit Keyboard to Always On
Backlit keyboards are something you never truly appreciate unless you have to work without one. If you're working in a well-lit area, you won't notice it much. In the dark, however, or in poor lighting, a backlit keyboard lets you type comfortably.
But backlit keyboards don't stay On all the time.
The light times out usually after 5-10 seconds if you don't use your keyboard or touchpad.
To turn the light on again, you have to tap any key or tap your touchpad. If you find the timeout counterproductive, you can set your backlit keyboard to always on. This has its limitations foremost of which is the make of your laptop.
Windows doesn't have a built-in option to control the backlit keyboard on a laptop. It's up to the device manufacturer to provide it. If the manufacturer doesn't have an option to set the backlit keyboard to always on, you are out of luck.
On both Dell and HP laptops, you can set your backlit keyboard to always on. If you have a Dell laptop, you even control the time-out duration.
HP Backlit Keyboard
The backlit keyboard on an HP laptop works in three states; off, time-out, and always on.
You can toggle the state via the keyboard light button. It's pictured below. When you tap it, it toggles through its three states. Of course, the only way to tell which state it's in is to wait and see if the light turns off.

On some HP laptops, you can go to the BIOS and change this setting. Open your HP BIOS and go to the Advanced Settings tap.
If there's a Built-in Device Options menu there, you will find keyboard settings under it that allow you to set your backlit keyboard to always on.
Dell Backlit Keyboard
Out of the box, a Dell laptop doesn't let you set your backlit keyboard to always on. Dell has a dedicated driver that you can install to control the backlit keyboard. It's called Dell Feature Enhancement Pack Application and you can download it from Dell's website.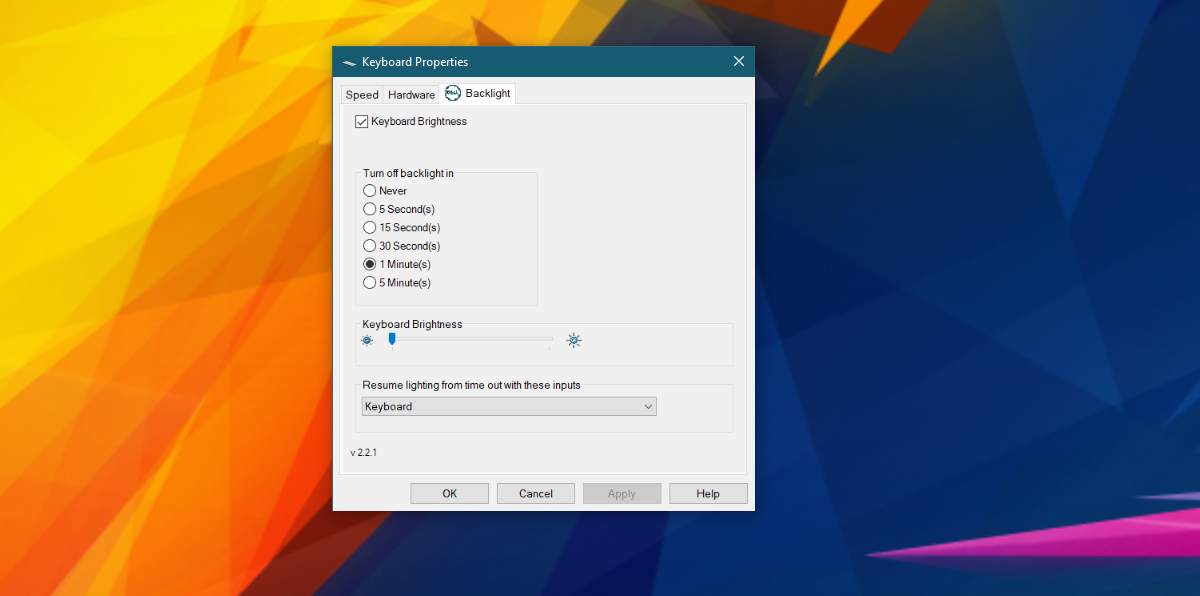 You don't need to install all components in this driver. Select the Custom install option and install only the Keyboard and Devices component.
Once installed open Control Panel and go to Hardware and Sound. You will see an option called 'Dell Keyboard Backlight Settings'. Click it. In the window that opens, go to the Backlight tab.
Here you can change the timeout duration, or set it to always on by selecting the 'Never' option.
The brightness slider at the bottom may or may not be of any use. It's likely only useful on select laptops.