No sound from headphones in Windows 10 (FIXED)
Headphones are simple in terms of hardware; you connect the pin into the jack, and things just work. You should be able to hear audio from your system, and if your headphones have a mic, you will be able to use it with a chat app or any other app that can get sound input from your system.
Headphones are rarely a complicated device and if you have trouble with them, it's more to do with your system, and how sound devices are configured on it.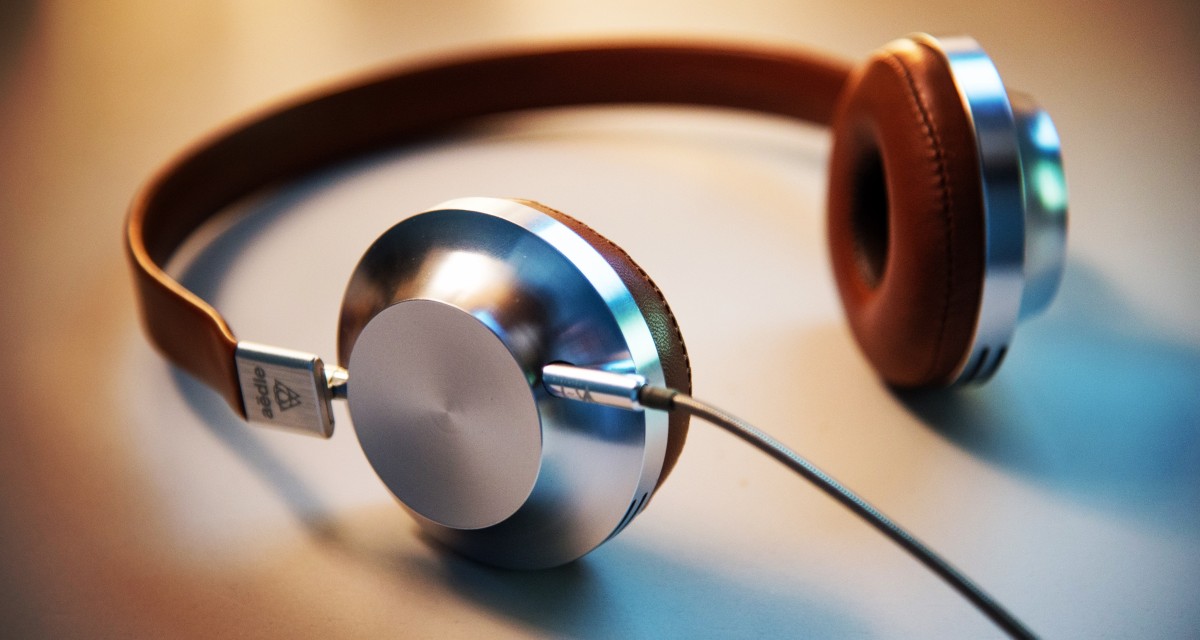 How to fix "No sound from headphones" issue
1. Check active audio device
Windows 10 normally switches to a newly connected audio device when it connects.
Click the speaker icon in the system tray.
Look at the device name that's listed. If it doesn't show headphones in the name, click the arrow button on it.
Select your headphones from the list that opens.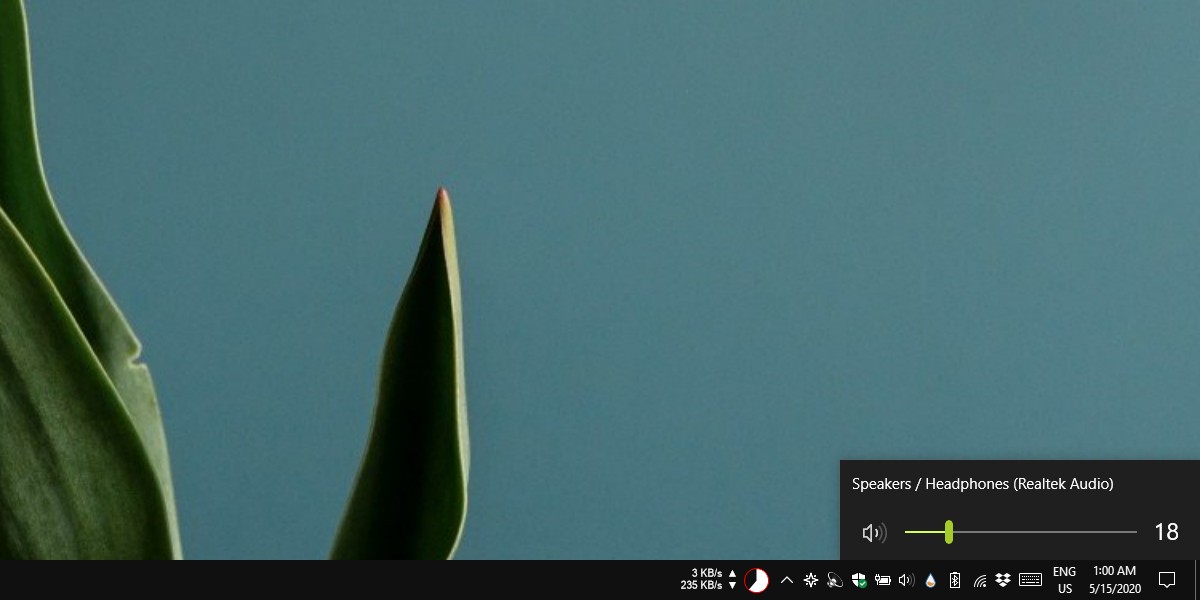 2. Check Device and app volume
Windows 10 can set volume on a per-device, and per-app basis.
Connect your headphones and play sound, and then check if the volume is enabled and turned up for both.
Open the Settings app.
Go to the System and select the Sound tab.
Under Output, make sure the headphones are connected and the volume slider is not set to zero.
Scroll further down, and select Advanced Sound Options.
Make sure the headphones are selected and the volume slider for the app you're trying to use is not set to zero.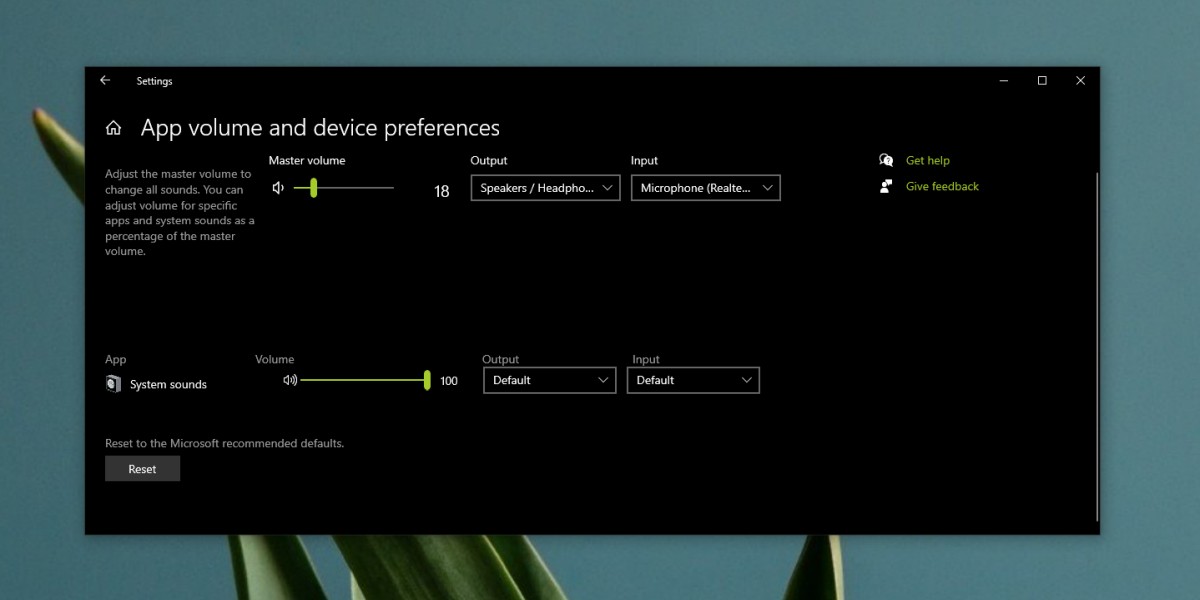 3. Check app settings
Some apps, particularly those that record audio, or that are chat applications, have their own sound settings. Under these settings, an audio device can be selected, and their volume can be set. Check the app's sound settings, and make sure the correct device i.e., your headphones have been selected, and the volume is not set to zero.
4. Disable exclusive mode
Headphones that have a mic with them are often set as the default communication device. This might prevent other apps from being able to use it.
Open Control Panel.
Go to Hardware and Sound and select Sound.
Select the Playback tab, select your headphones, and click the Properties button.
In the Properties window, go to the Advanced tab.
Under Exclusive Mode, uncheck both the options that you see.
Disconnect and reconnect the headphones.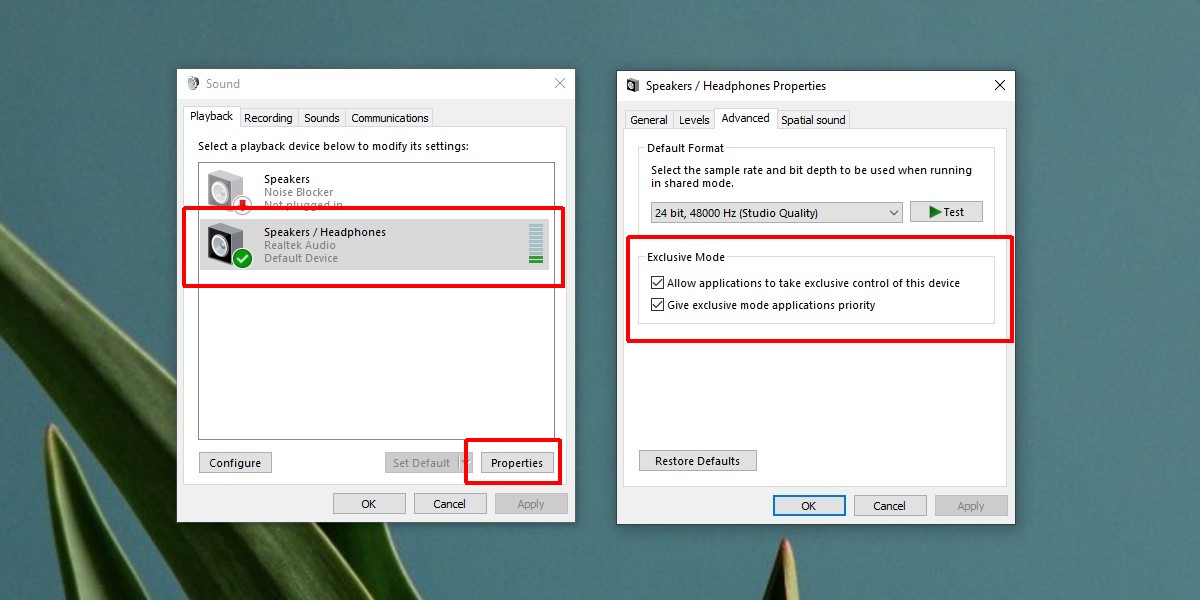 5. Disable audio enhancements
Audio enhancements aren't available for all audio devices. They make the sound better but they can also cause problems.
Open Control Panel.
Go to Hardware and Sound and select Sound.
Double-click your headphones on the Playback tab.
A properties window will open. If it has an Enhancements tab, select it and disable everything.
Click Ok, and restart the system for good measure.
6. Check enabled/disabled audio devices
If your headphones aren't showing up in Control Panel's sound settings, it is possible they haven't been detected. This is rare but it can still happen.
Expand Audio inputs and outputs.
Look for the speakers or headphones, or the Stereo Mix device. What you see depends on your hardware configuration.
Right-click it and select Scan for hardware changes.
Check if your headphones appear and/or start working.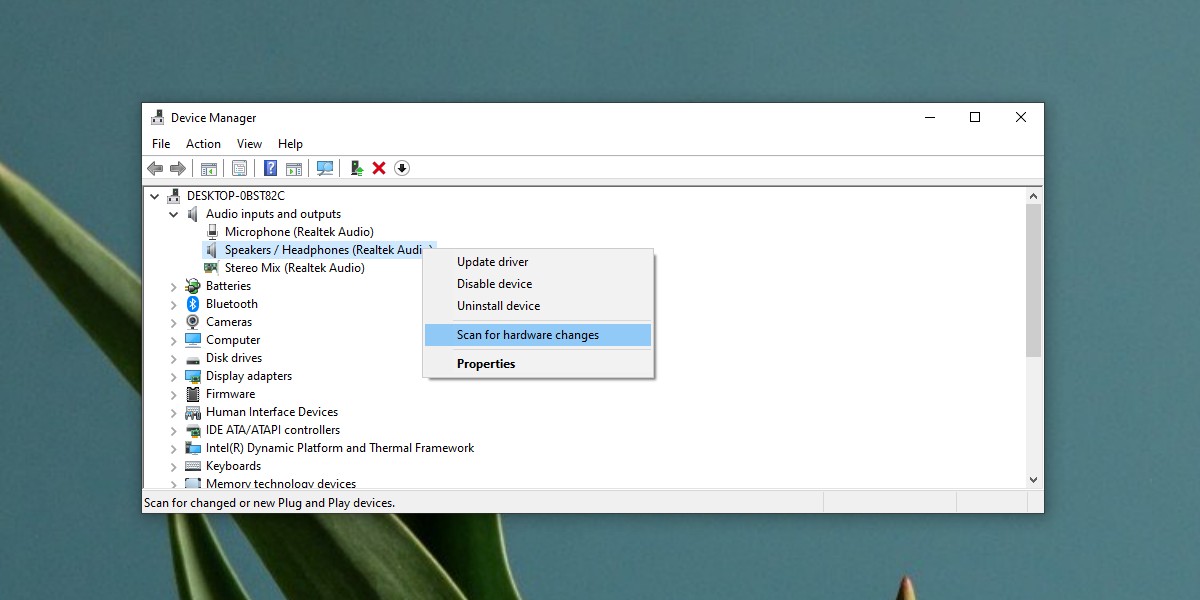 7. Update Audio drivers
It is possible that your audio drivers are not up to date. Often, if you use Realtek drivers, or a Realtek audio chip, not having the right drivers can cause lots of devices to not work.
Open Control Panel.
Expand Sound, Video, and game controllers.
Right-click your sound card/device and select Update Driver.
Install any drivers that are available.
Restart your system.
8. Check hardware
Wired headphones almost always connect via the jack and it can come loose. The wire itself can be damaged and they're not very sturdy so even a little bend can damage it to the point that it doesn't work.
Try connecting another device to the headphone jack and see if it works.
Connect your headphones to a different device e.g., a smartphone, and see if they work.
Between the above two checks, you will be able to determine if you have a hardware problem, and where that hardware problem is i.e., with your system or with the headphones.
9. Run audio troubleshooter
Try running the sound troubleshooter. It can find obscure settings that need to be changed for a device and set them correctly on your system.
Open the Settings app and go to Update and Security.
Select the Troubleshoot tab.
Run the Playing Audio troubleshooter and apply any fixes that it recommends.
Conclusion
Headphones aren't the type of hardware to give you trouble. We've given you solutions that can fix problems via software or drivers but it does often come down to hardware.
If you've invested in expensive headphones, you can have them replaced or fixed by the manufacturer. Bose or Beats aren't known to have hardware failure but there's always the odd piece out on occasion. Remember to run the hardware check so that you know if the system is a problem or if it's the headphones.