We are reader supported and may earn a commission when you buy through links on our site.
Learn more
How to Unblock Fortnite in School with a VPN
While it's understandable that schools would want to block out addictive games like Fortnite, it's still a drag. Luckily, you can unblock Fortnite easily with the right VPN, which will hide your connection behind an unbreakable layer of encryption. What's more, if you ever get hit with a Fortnite IP ban, a VPN can help that too. Learn more below.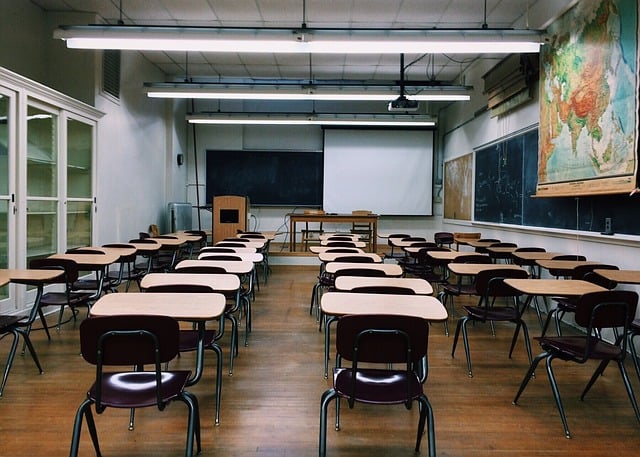 It's common practice for network administrators at schools and universities to block websites that are unrelated to learning. These often include social media sites, like Facebook, Twitter, and Instagram, as well as video streaming sites like Netflix. Games are often blocked as well – like Fortnite. So what are your options when you're sitting around with time to kill? You can always play on your mobile connection, but that's a great way to devour data allotments and drive up phone bills. Or, you can try a virtual private network.
School Wi-Fi restrictions typically block Fortnite, but you can get back in the game with these VPNs:
NordVPN – Best for Fortnite – NordVPN's advanced tunneling and special anti-DDoS servers not only break through school Wi-Fi restrictions, but keep you safe while gaming hard on Fortnite. NordLynx encryption allows for fast, lag-free connections.
Surfshark – An affordable VPN, even by student standards. But uncompromising on security and performance needed for gaming online.
ExpressVPN – The best choice for bandwidth-starved or heavily throttled networks, with the blazing fast Lightway encryption.
CyberGhost – Spoils you for choice in getting the best gaming servers, but easy to use with an intuitive interface.
PrivateVPN – Love to min/max settings? This is the provider for you to dial in the perfect balance of encryption and speed.
PureVPN – A powerful VPN that breaks through government censorship and school Wi-Fi restrictions alike.
A VPN can help you unblock Fortnite at school, so you can join matches on study hall, lunch, or other occasions (although of course we don't condone gaming at times that'll get you in trouble). In this guide, we're going to show you how to pick a good VPN, give you our suggested service providers, and show you how to use your VPN to restore access to your favorite blocked games and websites. Finally, we'll look into some other details, namely Fortnite's controversial IP banning policy.
30-days money back guarantee
Essential features every gaming VPN must have
There are a lot of things you need to keep in mind when looking up VPNs. First off, avoid "free" VPNs – we'll explain why a little later. Second, when you're checking out VPN providers, compare them to the criteria below. In our research, we've found that the best and most reliable VPNs have these features in common. Choose a VPN that matches these characteristics, and you'll be able to unblock Fortnite at school reliably:
Best VPNs to unblock Fortnite on your school's network
Now that that's out of the way, here are our top picks for the best VPNs to unblock Fortnite in school. Each has proven itself capable and reliable to bypass Fortnite's IP blocking policy and get you in – regardless of where you are.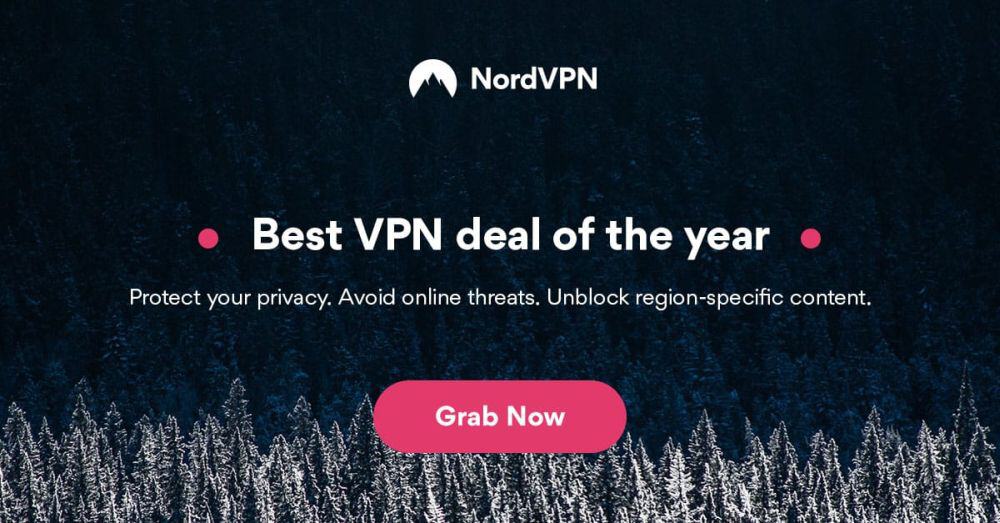 NordVPN has some fantastic features that'll appeal to you, especially if you're interested in pure utility. Over 5,500 servers in 58 countries gives you plenty of resources to beat your school's firewall and Fortnite's IP bans. Because of their size, NordVPN can even offer specialty servers, including ones equipped with power anti-DDoS protection for playing Fortnite, and Dedicated IP addresses for beating shared IP blacklists. You can even hide the fact that you're using a VPN with their obfuscated servers.
You don't have to worry about security, either. NordVPN has military-grade 256-bit AES encryption with many protocols available to beat even the toughest blocks. And with no logs kept on traffic, IP address, timestamps, bandwidth, or browsing history, they boast one of the most complete zero-logging policies in the industry.
Read our full NordVPN review.
Pros
Unblocks American Netflix
5,400+ servers globally
256-bit AES encryption with perfect forward secrecy
No logs and encrypted connections for total privacy
Money back guarantee policy.
Cons
Very little
Refund processing can take up to 30 days.

Surfshark is a true gamer's VPN, with outstanding performance and reliable privacy provisions that don't get in the way of your Fortnite sessions. Surfshark offers connections to over 3200 servers in 65 countries, enabling you to pick the closest nearby server to change your IP and spoof past your school's Wi-Fi blocks. Or, you can access foreign servers to test your skills against players around the world.
Surfshark's RAM-only network is responsive and speedy, and also makes it impossible for your VPN to keep logs of your activity. What's more, each connection is protected by 256-AES-GCM encryption, the most modern cipher that provides amazing security without bogging your connection down. Tunnel through Wi-Fi restrictions with your choice of OpenVPN, IKEv2/IPSec, or WireGuard.
Your Surfshark subscription also nets you meaningful protection against swatting and DDoS attacks, rounding out your Fortnite sessions with true peace of mind.
Pros
Robust servers blast through geoblocks to access your favorite streaming sites
Server selection is dead simple and quick
VPN split tunneling available
Favorable BVI jurisdiction guarantees no logs kept
Helpful 24/7 live chat with an actual human being.
Cons
Server network is not nearly as expansive as major competitors
Apps may be too simplistic for power users.
Read our full Surfshark review.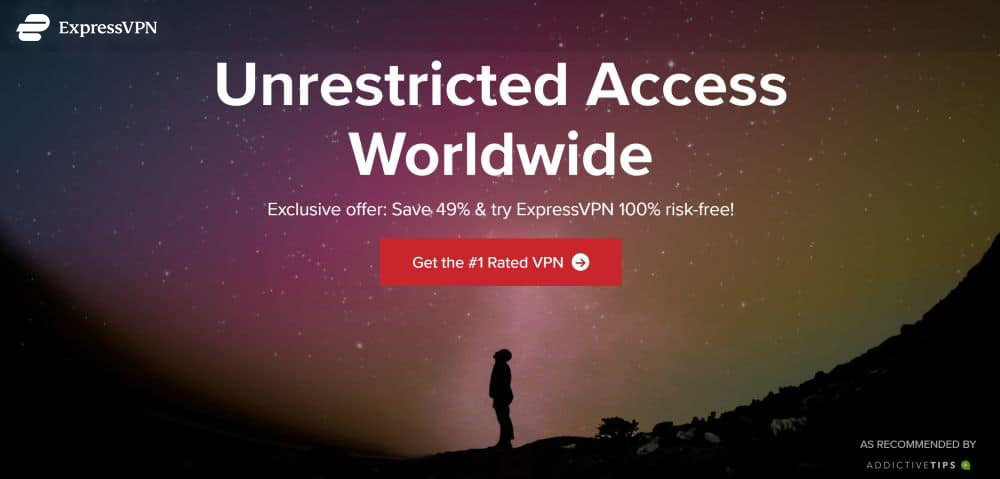 ExpressVPN offers a great balance of speed, security, and reliability. As one of the fastest on the market, ExpressVPN will give you buffer-free gameplay, fast downloads, and seamless browsing. It doesn't sit there awkwardly in the way, either – a lightweight software design and single-click connection fades into the background of whatever you're doing. They give you unlimited bandwidth, no speed caps or throttling, and a built-in speed test, so you're chances of finding a fast server are pretty great. ExpressVPN also has a big network spanning more than 3,000 servers in 94 countries.
Encryption is top-shelf: 256-bit AES encryption, DNS leak test and protection, and an automatic kill switch to stop any info from slipping out in case of an accidental drop. And you'll definitely be able to use ExpressVPN on whatever device you have: Android, iPhone, iPad, and even iPod are all supported, among many other non-mobile devices.
Read our full ExpressVPN review.
Pros
Unblocks US Netflix
Reliable and fast connections
Supports ALL devices
Strict no-logging policy
Great customer service via chat.
Cons
Month-to-month plan has high cost.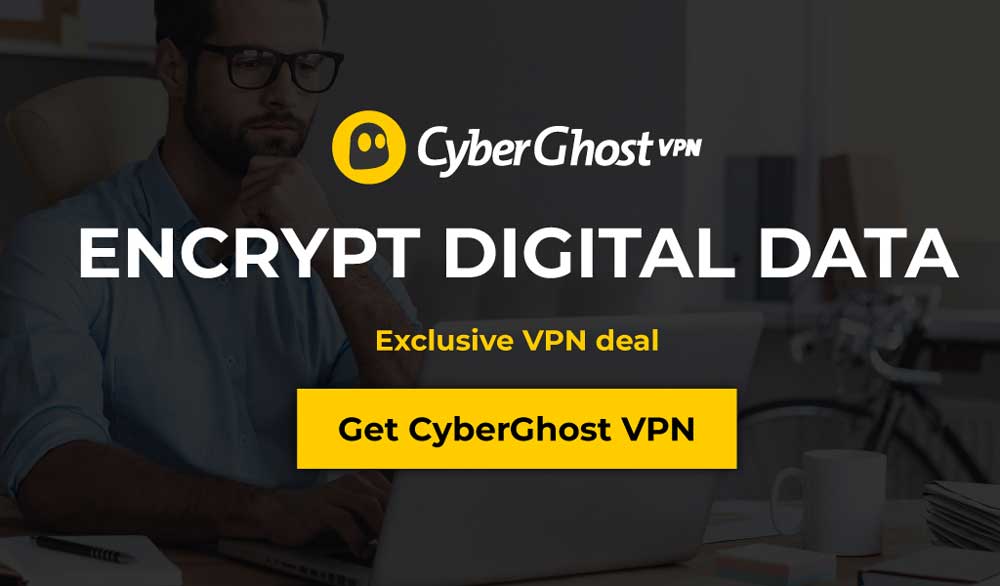 CyberGhost will get you unblocked in no time flat. How can they not, when they're so easy to use? After a quick installation, you're presented with a minimalist display and 6 profiles already optimized for a handful of use-cases. You can surf and torrent anonymously, unblock streaming and basic websites, and protect your connection – but the one for Fortnite will be picking your server. You can also turn on some toggles for blocking malicious websites, ads, and online tracking. Or, boost your speed, among a few others.
Unlimited bandwidth, no speed caps, and high connection speeds ensures you'll get smooth matches, and their network of 5,500 servers in 80 countries can help you reduce latency on those far-away servers. Don't worry about your activity ever being traced back to you, either, if you get questioned – CyberGhost has an impeccable logging policy. They refuse to even keep your email address.
Read our full CyberGhost review.
Pros
SPECIAL OFFER: 79%OFF
P2P allowed on any server except in US and Russia
Not in the 14 Eyes
Zero logs and good privacy features
45-day no-quibble money back guarantee.
Cons
Can't unblock some popular streaming sites.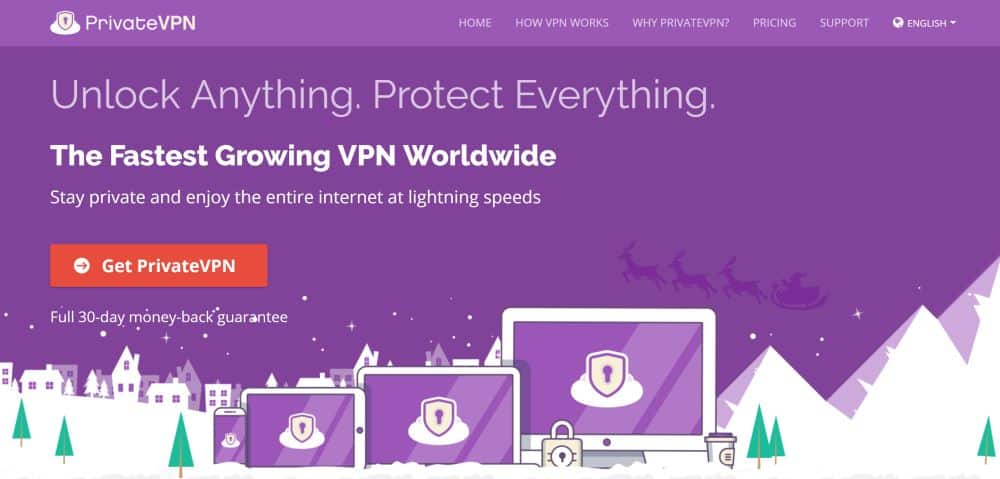 At first glance, PrivateVPN seems out of place. Just over 150 servers in 60+ countries seems like a small network – but it's the quality of that network that counts, and PrivateVPN delivers. It's network is fast, making it hard to notice that you're even connected to a VPN. PrivateVPN buys its Internet capacity directly from IP transit providers, rather than through intermediaries, which helps boost their speeds — and with these high speeds, they promise reduced latency and increased rate of downloads.
But even with fast speeds, PrivateVPN still gives you powerful encryption: the same 256-bit AES that you've come to expect, as well as DNS leak protection and a kill switch. If you have trouble getting past a firewall at school, you can switch ports from their default 1194 to TCP 443 and slip past without any issue. Plus, if 256-bit encryption seems like overkill, you can reduce it to 128-bit AES, giving you an extra boost of speed and still strong security.
Read our full PrivateVPN review.
PureVPN gives you a widespread, established network of more than 2,000 servers in 140+ countries. You'll get best-of-the-best 256-bit AES encryption, kill switch, and Ozone security add-on, keeping you safe, with a zero-logging policy that promises nothing that can be traced back to you is kept. 1Gbit connection speeds on all servers and unlimited bandwidth help you avoid missing matches 'cause your connection lagged.
But PureVPN really shines most when it comes to its security add-ons. They've created a truly complete security suite – all internally, no other apps necessary. So you can get dedicated IP addresses, put up a NAT firewall, block spam, use anti-virus software, and – most importantly to you – protect your Fortnite account from DDoS attacks.
Read our full PureVPN review.
How to unblock Fortnite at school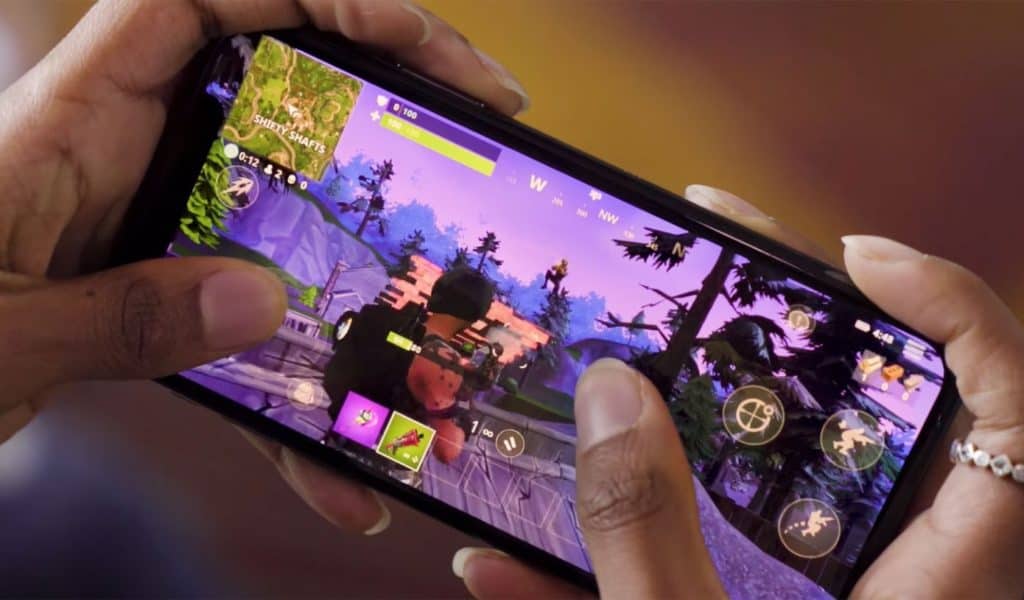 So once you pick a VPN, how do you unblock Fortnite? Depending on whether you can access the VPN site of your choosing on your school network, you may have to download and install the application at home or by using mobile data. In either case, it's easy.
First, visit the "plans" page of your chosen VPN provider. Choose your plan and fill out the requested information. You'll create your username and password in this step, so remember it for later. Once that's done, use the provided link to install the VPN to your device. If you're going to use it on a mobile device, there should be a link directly on the VPN's website that will take you to the app store. If you try to go through the app store separately, you might wind up with a fake app by mistake.
RELATED READING: How to recognize malware links before you click on them
Download and install the app, then launch it. Some VPNs will automatically log you in (like ExpressVPN), but not all of them. If that's the case, input your login info. Once you're logged in, the VPN will connect you to the fastest server available – usually one close by. Now you're ready to go – give Fortnite a try.
As a side note, you can also test your connection to ensure there aren't any leaks. Before connecting to your VPN, visit ipleak.net. The page runs an IP and DNS server address lookup – take note of both addresses. Now return to your VPN and connect. Once your connection to a VPN server has resolved (usually after just a few moments), open your web browser and go back to ipleak.net. If you left it up, refresh it. The IP and DNS addresses should be different than the first time – that means the connection was successful. If one or both is the same, you have a leak. Try a different server, and if the problem persists, contact customer support for help.
Why not just use a free VPN?
You're just looking to play Fortnite on your school's Internet – so why pay for a VPN? Well, a few reasons. First, free VPNs don't charge you a fee – so by definition, their resources are much more limited. Bandwidth is then limited, meaning your Fortnite-playing-at-school days are numbered, just like with your mobile data. But a paid VPN (like those above) provides unlimited bandwidth – which translates to unlimited Fortnite. And, since they have a network of paying customers, paid VPNs have greater resources to allow them to deal with blocked IP addresses. This helps you get past any IP bans thrown up by Fortnite, despite any attempts to block you.
Free VPNs are also dangerous. They don't make money from subscriptions, but they still have to support their network – so they have to make money in other ways. Some of these methods include throwing up dozens of extra annoying ads. That can be dealt with – but free VPNs also sell your information to 3rd-parties, defeating a major purpose of VPNs. And as if that's not enough, some free VPNs act as vehicles to transmit and spread viruses and malware to devices. Often these infect your device, which is then used to power some botmaster's botnet.
And while there are "good," ethical botnets out there that you can opt into, most are setup by criminals and don't ask for consent. So your device could be being used to spread DDoS attacks, spam, conduct click fraud and cryptocurrency mining, and even spread illegal content like child pornography. I think it's needless to say that you don't want to find yourself involved in any of that, whether by mistake or otherwise.
Fortnite's IP ban

As great a game as Fortnite is, there have been plenty of players who have found themselves banned from multiplayer servers – for no apparent reason. Why? Fortnite's Battle Royale mode is susceptible to hacking, allowing players to manipulate the game and make their guns more accurate, earn more money, and more. These savvy players created software that opened these tricks up to regular players, too – and despite many containing malware, not all of them did, and this created problems for ordinary players and Fortnite's creator, Epic.
So in response, Epic reworded their terms of service so that they can block anyone, for any reason. When they decide to do so, they simply block that person's IP address. Although one method of removing offending players would involve simply taking down reported players, by targeting suspicious IP addresses, Epic could move more quickly and not rely on reports alone. But, this means that many players around the world using VPNs simply to access the game suddenly became blocked.
What this means for you
If you've ever found yourself facing the message above, or do in the future – don't panic. All you need to do is return to your VPN app, connect to a different server, and get back online. While some VPNs (ahem, free ones) are easily detected by Epic's anti-cheating software, the VPNs we recommend above are good at avoiding detection, so you shouldn't have to worry about being perma banned.
VPNs can help with other things
There are other things that VPNs can help with, aside from unblocking Fortnite. Here are just a few:
Security – A VPN's encryption wraps up all your online data, making it look scrambled from the outside. Hackers increasingly target online games, as personal data is often included in accounts. Plus, especially when it comes to serious players, DDoS attacks are a serious threat. Using a VPN can help you keep your data safe, and if it includes protection against DDoS (like NordVPN), you're even safer.
Geo-blocks – Similar to a censorship, like you find in your school, geo-blocks prevent access to certain content. But geo-blocks are based on geographical location. One example is Netflix. If you live in the United States, you have an entirely different library of titles available to you than if you're in France. Unless you use a VPN, you can't view another country's list of titles than your own – you're geo-blocked. This occurs with other types of content, as well. With a VPN, you can select an IP address located elsewhere to view content that's otherwise unavailable to you because of your location. So pick an IP address in France and stream French titles to your heart's content.
Latency and lag – As alluded to earlier, using a VPN when gaming online can sometimes reduce latency and lag. If you have friends who live in another country, it can be hard to get on a server with them, and if you do, you'll probably be pretty laggy. So use a VPN, and you might actually improve your speeds.
Conclusion
Sitting around school wishing you could play Fortnite – or using all your data up within days doing so – doesn't have to happen. While we don't condone doing anything that'll get you in trouble, if you've got the free time, why not get a VPN? You'll be able to unblock Fortnite in school and join the next match. Use what you learned in this guide, and go win.
Have you used any tools to unblock Fortnite in school? Have you tried a VPN before? What happened? Tell us about it below.