We are reader supported and may earn a commission when you buy through links on our site.
Learn more
What Does a VPN Hide, What Does it Do?
The short answer is that a VPN (virtual private network) can hide most of what you do online. This includes everything you do in your browser. A VPN helps you to share your information more privately and secure.
Don't let "VPN" become just another buzzword, educate yourself on exactly what it is, and how it hides your identity online. Today, we take a deep dive into this topic, covering the types of data a VPN protects, and how precisely it accomplishes this. You'll also learn about the best providers on the market to render you completely anonymous.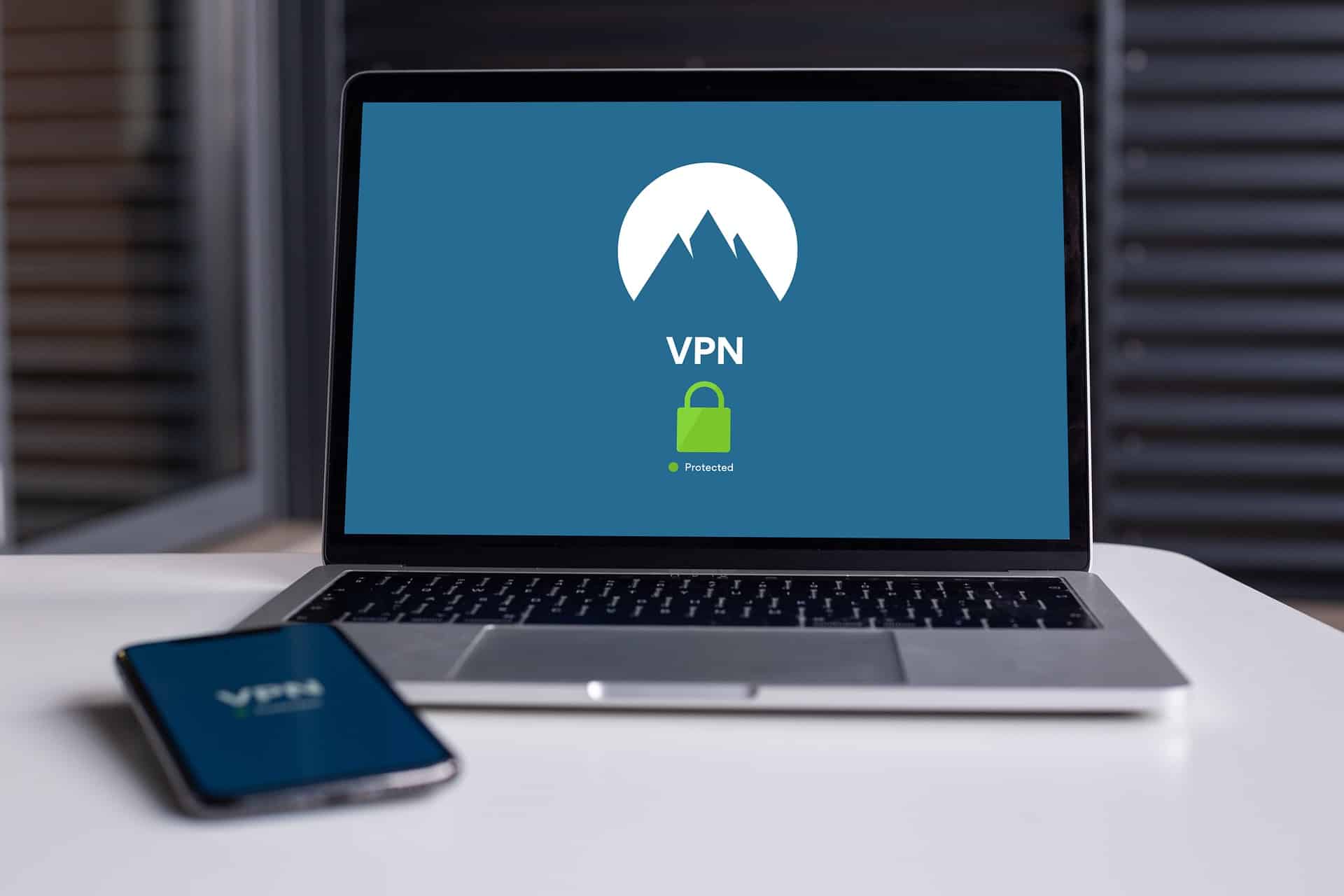 Use these VPNs to completely hide your identity and activity online:

NordVPN – Best VPN for Anonymity – Whether it's evading censors or surveillance, NordVPN's massive privacy toolbox enables you to take back control of your privacy online.
Surfshark – With advanced tunneling, unbreakable cryptography, and obfuscation, you can truly hide your Internet activity.
ExpressVPN – Who says you have to sacrifice speed for security? This trusted provider has both in spades.
CyberGhost – The all-rounder with special preconfigured profiles optimized for a variety of privacy-related tasks.
PrivateVPN – True to their name, gain access to a privately-owned VPN server network shrouded in advanced cryptography.
PureVPN – Another jack of all trades VPN with myriad cybersecurity provisions outside the scope of most providers.
The basics of what a VPN hides and whether you should use to VPN protect your identity online
By default, what you do online is unencrypted. This isn't necessarily a problem for most users. For example, if you live in Europe, GDPR laws now protect your privacy in some fairly advanced ways. At the same time, it's important to remember there are plenty of bad people and organizations on the Internet. Direct cyber crime alone cost the world over $600 billion last year. With that in mind, it's worth protecting what you do from third parties, including governments and ISPs, when possible.
It's also worth remembering that a VPN can do a whole lot more than just protect your data. It can also help you overcome censorship blocks, access the free Internet, and spoof IPs from anywhere in the world – even when you're traveling or living in a country with strict censorship laws. VPNs are becoming an increasingly common cybersecurity tool employed by power users and newbies alike to bolster their privacy online.
But what exactly does a VPN hide, and how? This is precisely the question we'll be answering in today's article. We'll also present you with a list of our favorite VPN providers you can trust to keep your Internet connection safe and secure.
30-days money back guarantee
Definition: What does a VPN hide?
A VPN (virtual private network) can hide most of what you do online. This includes everything you do in your browser: the search terms you look up on Google and elsewhere, the URLs you key in, etc. It also hides the files you download, the websites you visit, and anything you may choose to stream. Moving on, a VPN also works to hide what you do when playing video games, using social media, and interacting with standalone apps. In short, a VPN makes it difficult or impossible to trace what you do back to you. Here's two main ways how:
RELATED READING: How to Pretend to Be in a Different Country with a VPN
Editor's note: There are some situations in which a VPN won't do much (if anything) for you. For example, let's say you have a computer that came with tracking software installed by an employer or someone else. If this is the case, you'll still be pretty easy to trace. A VPN encrypts and protects your data while it's traversing the Internet – but if your very computer is being controlled, a VPN can't reverse that. The same is true if your connection is compromised physically, e.g. via a camera that captures what you do online. Anything that affects your privacy outside of your Internet connection cannot be resolved by a VPN, no matter how good. Last but not least, a VPN cannot protect users from themselves. If you voluntarily hand over information about what you do online, it won't be able to protect you. Here's a guide on how to recognize malware links.
VPN hides your IP address
One of the main things a VPN does is protect your online identity by masking your IP address to stop the government, your ISP, and other third parties from tracking what you do. It does this by creating a digital tunnel between you and a remote server located in another country. The way this works is, data is encrypted before leaving your computer (more on this later). It is then sent to the remote server before going anywhere else, giving you a new IP in the process. This is one of the core functions of any VPN – and the more servers a VPN provider has, the more IPs you get to choose from for your connections.
Here's a simple example of how this works. Let's say that your ISP gives you a US IP like 178.127.98.241. Usually, anything you do online is connected to this unique IP. However, if you use a VPN service, it essentially creates a tunnel between you and a remote server. This gives you a completely new IP; for example, 2.22.190.211. Anything you do online thereafter appears to originate from this IP. Depending on the VPN service you use, the IP you get can be a dedicated one that's attached to you permanently – or a shared one that multiple people use.
VPN hides your data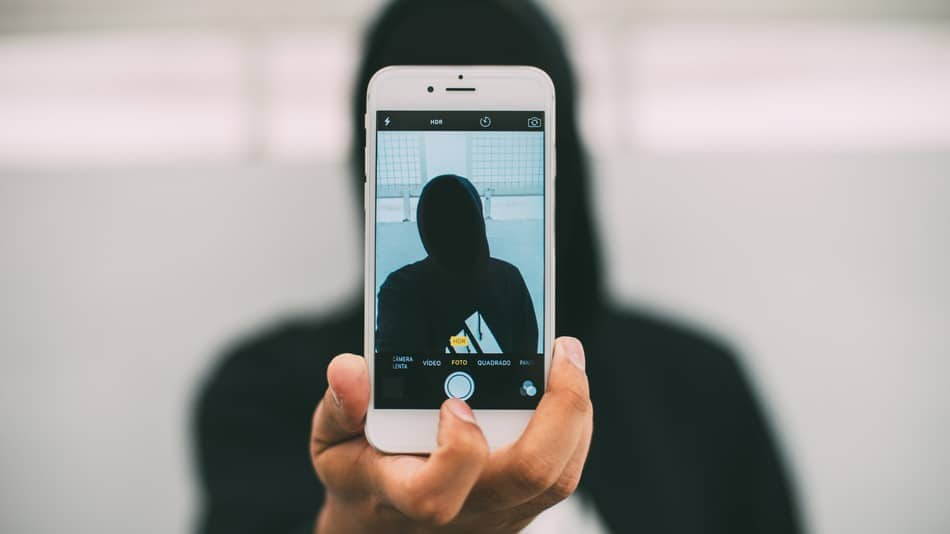 The second "big thing" a VPN does is encrypt your data. Usually, when you're using the Internet, data is unencrypted. This means that anyone who gets a hold of your data can listen to your audio files, follow where you go online, read your messages, etc. Many services do offer some measure of security – for example, payment processors use encryption technology, as do websites with SSL certificates – but that's really neither here nor there. For the vast majority of your uptime, your data is transparent and easy to read.
What does this mean? Well, it means that anyone who can get a hold of your data can view it. This includes the US government and other major world governments, most (if not all) of whom have been implicated in spying on regular people in recent years. It also includes your Internet Service Provider, who can very easily access anything and everything you do online. Last but not least, it includes all kinds of 3rd parties, from corporations who mine your data to servers that pass your data en route to its final destination. With so many parties potentially getting to access your data, and with few restrictions on how they can use your data, this second VPN feature does a great deal to help you stay secure online.
The best VPN services to hide online
Now that you understand a bit more about VPNs, you'll want to search out the best provider. Unfortunately, the market has hit a saturation point with VPNs of all caliber, ranging from high monthly fees to seemingly free services. We'll cut to the chase–most aren't worth your time, as striking the right balance between privacy, performance, and price is delicate work.
The following 6 VPNs are perfect for hiding your data, identity and activity online: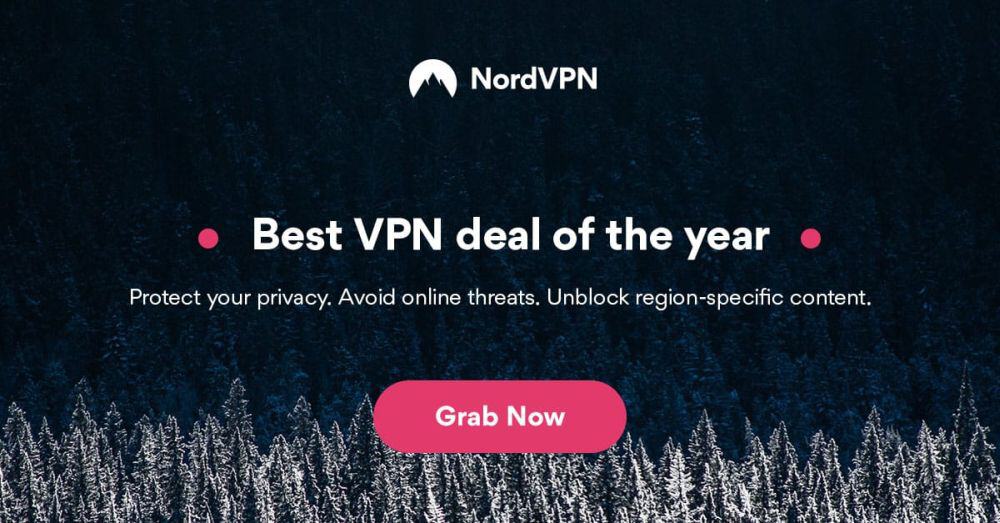 NordVPN is a security-first VPN that's great for staying anonymous online. It has a number of features specifically made to protect you, help beat censorship, and unlock content. Everything starts with encryption; NordVPN uses 256-bit AES keys that would take a supercomputer millions of years to crack. The specific encryption technologies used include OpenVPN, which blends speed and security, as well as less popular options like SSTP (which is excellent for overcoming national firewalls like China's). The second layer of security comes from NordVPN's tough no-logging policy. The service doesn't store your browsing history, real IP address, traffic, bandwidth, and more – which gives you a very high level of data privacy protection. Moreover, with the holding company being registered in neutral Panama, what little personal information NordVPN does have is unlikely to ever be released to a third party.
One other factor in NordVPN being excellent for privacy is its server network. Not only does it have the highest number of nodes we've seen in the industry at 5,700+ in 60 countries. NordVPN has specialty, security-first servers specifically made to help protect your data, device, and identity. This includes obfuscated servers, which hide the fact you're using a VPN, as well as options like Double VPN nodes that route your data through two servers and two layers of encryption. These servers make it that much easier to keep what you do online private. It helps that they also mean NordVPN's server network is fast, with low latencies and high download speeds no matter where you happen to be.
Read our full NordVPN review.
Pros
Works with Netflix, BBC iPlayer without breaking a sweat
Extensive server park of over 5,400 different servers
256-bit AES encryption with perfect forward secrecy
Retains no metadata of your browsing
Live chat support is available.
Cons
Automatic server selection can be unreliable
Apps can be a bit cumbersome to use.

Like their mascot, Surfshark excels at cruising undetected beneath the surface. With some of the best anonymity provisions on the market, it's little wonder that this 2-year-old VPN has already risen to prominence among the privacy community.
Firstly, Surfshark employs only the strongest, most modern encryption via the 256-AES-GCM cipher. This is considered virtually unbreakable by cryptography experts, and it is certainly the most powerful commercially available. Paired with your choice of tunneling protocols (OpenVPN, IKEv2/IPSec, WireGuard), and you can slip unnoticed past any censor or surveillance effort.
To further help you hide your tracks online, Surfshark offers obfuscation on every one of their 800+ servers. You can spoof your IP into any of 50 countries, with options for static addresses and even multi-hop routing for the ultimate in anonymity.
Rounding it all off is one of the industry's best no-logging policies, backed by Surfshark's entirely diskless server infrastructure.
Pros
Every server optimized for unblocking Netflix, BBC iPlayer, Hulu, and more
Server selection is dead simple and quick
Unlimited simultaneous connections–Protect your whole family!
Based in the British Virgin Islands, where there are no data retention laws
Get help any time of day via email, phone, or live chat.
Cons
Server network is not nearly as expansive as major competitors
Apps may be too simplistic for power users.
Read our full Surfshark review.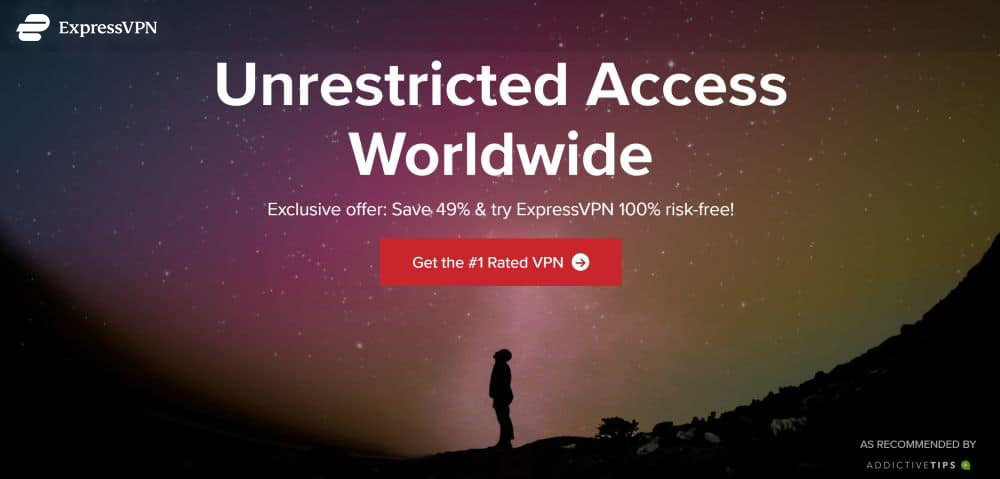 ExpressVPN is the best way to hide what you do online. The gist of why is succinctly expressed in the service's name. Although many other VPN services slow down your Internet usage, ExpressVPN always gives you fast connections, low latencies, and zippy downloads. One reason is its massive server network of over 3,000 nodes in 94 countries. With so many options, it's always easy to find a server that's close to you, minimizing the distance data needs to travel. Moreover, the high number of nodes means that you can easily access a server that has free traffic and bandwidth. Combined with the brand's policy – no limits on downloads, server switches, traffic, or bandwidth – this means that ExpressVPN doesn't slow your connection much if at all.
In addition to being fast, ExpressVPN is secure. It has a range of encryption protocols, including modern state-of-the-art ones like OpenVPN. With these encryption protocols, you can enjoy the free Internet safely, avoid slowing down your connections, and even pierce censorship filters like the Great Firewall of China. Moreover, ExpressVPN doesn't store your Internet usage data thanks to a comprehensive no-logging policy. The policy covers traffic, DNS requests, IP addresses, browsing histories, and more – and means that even if someone accesses ExpressVPN's records, they won't find your information there. Between the encryption, the no-logging, and the fact that ExpressVPN is based in the British Virgin Islands – a country exempt from the Five, Nine, and Fourteen Eyes surveillance agreements between major governments – this is one of the best ways to hide what you do online.
Read our full ExpressVPN review.
Pros
SPECIAL OFFER: 3 months free (49% off - link below)
Reliable and fast connections
AES-256 encryption
No logging policy well enforced
24/7 Customer Service.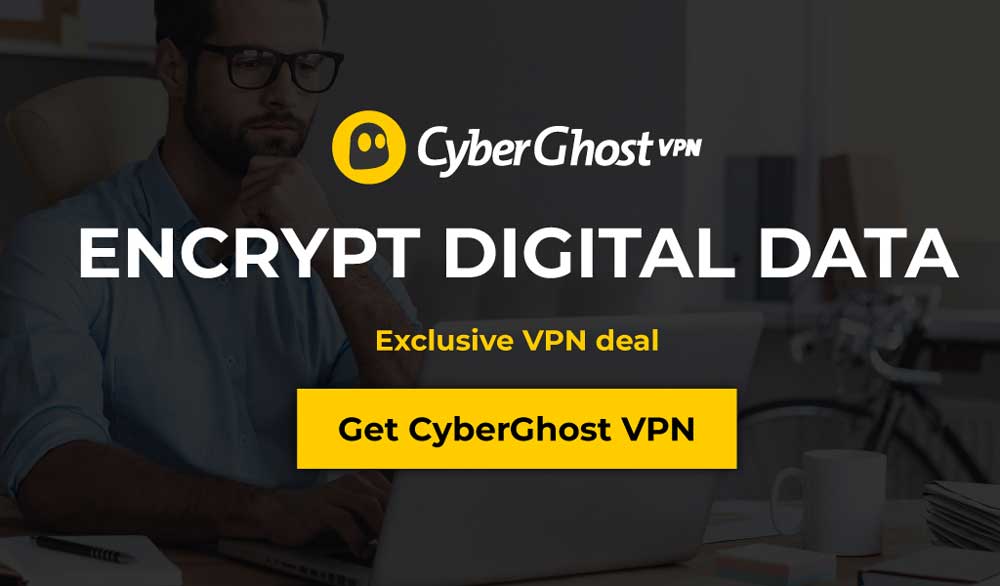 CyberGhost is an easy-to-use VPN perfect for beginners and anyone who wants anonymity in a quick, intuitive package. The VPN is easy to install and start using no matter how you're using the Internet. If you use a common operating system or device, e.g. the iPhone, Android, Windows, or macOS, you get to download an app that helps you get CyberGhost on your device in just minutes. If you use a less popular option, you can use the on-site instructions to figure out what you need to do and do everything manually. There are no limits on speed, bandwidth, or traffic, meaning you never have to worry about turning CyberGhost off or making extra payments.
CyberGhost isn't just easy to install, though. It's both easy to use and powerful on features. For starters, the app eschews complex manual settings in favor of 6 straightforward, intuitive configuration profiles. These include "torrent anonymously" and "surf anonymously", both of which are made to hide what you do online from third parties. If you do want to choose your own settings manually, you're always free to do so using the custom settings option. Once you've picked a configuration profile, you can use a number of simple toggles to further customize your connection. These extra features include "block ads", "extra speed", and "data compression", all of which help tailor CyberGhost to your specific situation. Between these features, powerful AES-256 encryption, and one of the best no-logging policies in the business – not even your e-mails are stored – CyberGhost is one of the best choices for hiding what you do online.
Read our full CyberGhost review.
Pros
Unblocks US Netflix in web browser
Fast, constant speeds
GooglePlay users rating: 4.3/5.0
Private: Strong no logs policy
24/7 Live Support.
Cons
Can't unblock some popular streaming sites.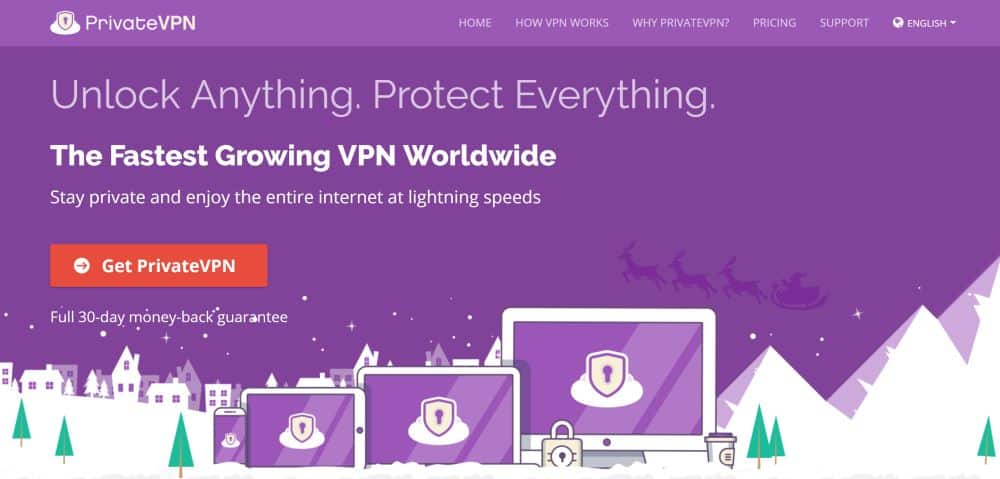 PrivateVPN has incredibly powerful AES-256 encryption that prevents even the world's most powerful supercomputer from cracking your data. It helps that PrivateVPN has a wide selection of encryption protocols, from quick, powerful OpenVPN to the new and exciting IKEv2 protocol. There's also SOCKS5-ready servers–technology which was specifically designed to beat the Great Firewall of China, if you're in a country with strict censorship restrictions. Throw in a no-logging policy that covers virtually everything you can think of, and you get one of the most secure VPNs on the market today.
In addition to the above, PrivateVPN has an outstanding server network and a neat range of extra features. For example, you get up to 6 simultaneous connections without having to pay a cent over your monthly subscription fee. This is a valuable feature, especially because PrivateVPN is easy to install on any Internet devices, from iOS and Windows and Linux to video game consoles and routers. Desktop devices even get a free remote installation service wherein a service staffer takes care of your VPN setup process for you. Between these extras and unlimited bandwidth, traffic, and server switches, PrivateVPN is an excellent way to hide what you do online from all third parties.
Read our full PrivateVPN review.
PureVPN is a veteran of the VPN industry, and has had ample time to build a great reputation and impressive array of features. It starts with a network spanning 2,000+ nodes in a whopping 140 countries, allowing you to route your data through almost any country you can think of. This means that you can access most of the world's local content libraries, digitally relocate virtually anywhere, and spoof an IP from any continent except Antarctica. You'll be spoiled for choice if your current server gets too crowded, or you travel somewhere else in the world.
Your data remains hidden behind a veil of 256-bit AES cryptography, which has no known weaknesses. Choose from among a wide variety of encryption protocols, including OpenVPN for the optimal balance of privacy and performance, and the censorship-piercing SSTP. There's also a generous no-logging policy to completely erase any trace of your activity online.
But PureVPN offers so much more beyond standard fare–it's a complete cybersecurity suite. You'll find app filtering, DDoS protection, getting a dedicated IP address, NAT firewalls, anti-spam filtering, and even antivirus software inside your app. Truly, PureVPN is an impressive service that has provided its users the ability to hide online for over a decade.
Read our full PureVPN review.
Is a free VPN worth it?
There are many free VPNs out there. Some are excellent, some – less so. Let's start with some of the main reasons a free VPN may not be the right choice for you. First of all, it's important to understand that "free" is a bit of a misnomer. Any VPN service needs to pay for traffic, bandwidth, servers, and more. This means they need to get money from users like yourself. Some do it by showing ads and encouraging you to upgrade to a paid version of their service. Nothing wrong with that. Unfortunately, some VPNs are quite unscrupulous when it comes to making money. There have been numerous cases of them making users less safe, harvesting data for resale, and even leasing out your processing power for botnet attacks. This is obviously not something you want in a VPN service – and it raises the question of whether it makes sense to get a free VPN or not.
Outside of the above, i.e. assuming your provider isn't doing anything malicious, there are a few other considerations. First of all, most free services only have one or two encryption protocols. A common one is PPTP; an outdated protocol that's useful for legacy devices and piercing hardcore censorship blocks, but slow and inferior in other situations. Second, bandwidth and speed are both likely to be capped with a free service, typically in the range of 500 MB – 1 GB per month. Third, the number of servers is also likely to be limited to countries like the US and the UK. Last but not least, a free VPN is unlikely to have extras like apps for multiple devices, around-the-clock customer support, etc. All of this means that the service quality you get is worse than you can expect from a paid VPN service.
So…should you use a VPN to hide your identity?
The technology behind a VPN may be complex, but its core functionality is fairly straightforward. By encrypting your data and rerouting it through an anonymous relay located somewhere else in the world, it's all but impossible for third parties to snoop in on your identity or activity online.
We'd Love To Hear Your Feedback on Using that VPN to Hide Your Identity
We've shown you some of the best providers on the market, which one will you choose? Still asking what does a VPN hide? Do you have any other tips for hiding your data online? Leave us a comment below!