We are reader supported and may earn a commission when you buy through links on our site.
Learn more
If you're a Vodafone user with a mind for privacy, you should be using a VPN without question. Large ISPs are notorious for tracking your data, so we'll show you how to secure your anonymity in a few easy steps. Read on for our reviews of the best Vodafone VPNs.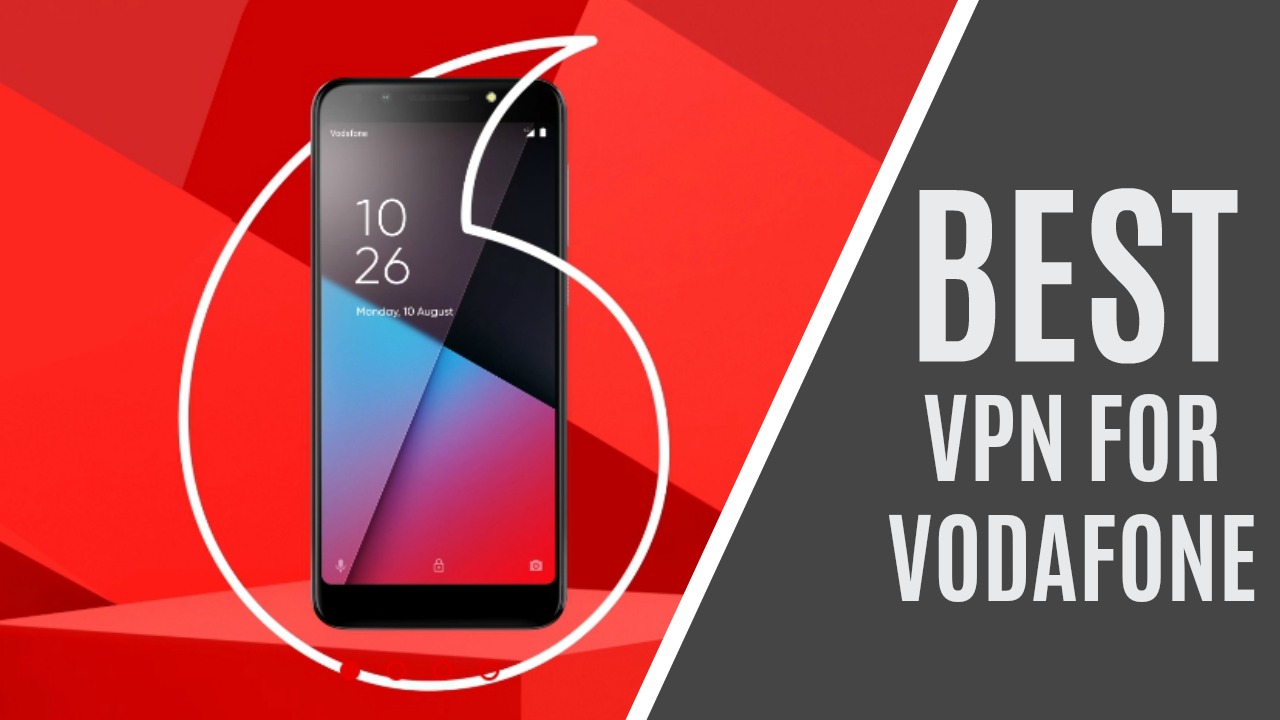 Vodafone is a multinational telecom company that operates networks in 26 countries across Asia, Africa, Oceania, and Europe. The service is ranked second in the number of mobile customers, serving over 516 million people as of 2017. The company operates a huge variety of services and releases dozens of different products, but most people are familiar with Vodafone thanks to their line of cell phones, most recently the Vodafone Smart N9.
With so many people around the world connecting with Vodafone devices, the question of privacy and security immediately arises. How can you keep your information safe on Vodafone? The best solution is to use a VPN. By installing and running a virtual private network on your Vodafone device, you can secure every piece of data that leaves the hardware, ensuring you always stay safe whenever you connect.
Boost your privacy and unblock sites on Vodafone's network with these trusted VPNs:

NordVPN – Best Vodafone VPN – NordVPN's mobile apps set the standard for VPNs, with an intuitive interface presenting some of the most sophisticated privacy provisions on the planet.
Surfshark – A young VPN provider packing obfuscation on every server, the most powerful encryption, and absolutely no logging.
ExpressVPN – For low-latency mobile calling and streaming, try out one of the world's fastest VPN networks.
CyberGhost – Comes with profiles optimally preconfigured for all of the most common privacy use-cases.
PrivateVPN – Self-owned servers, advanced cryptography, and snappy performance.
PureVPN – More than a VPN–a complete cybersecurity suite for your mobile phone.
Below we discuss the best VPNs to use with Vodafone for always-on mobile security around the world.
30-days money back guarantee
Choosing the Best VPN for Vodafone
It's not easy to choose the right VPN, no matter what you need it for. With Vodafone devices, the considerations are unique. You need speed to support fast video streams, but you also need encryption, a good zero-logging policy, and strong device support. We've collected some of the most important features below, followed by our recommended VPNs for any Vodafone device.
Most Important VPN Features
Researching a VPN is a difficult process, even if you aren't too picky about what service you use. It's important to find the right balance of features to ensure the best experience possible, however. Otherwise you won't want to use your VPN, and that could put your security at risk. We used the following criteria to rank our VPN recommendations to ensure you'll have the fastest and most reliable Vodafone VPN possible.
Device compatibility – To use your VPN with any Vodafone product, you'll need an app for every device. If the VPN doesn't support your hardware, you're out of luck.
Fast downloads – Speed is everything when it comes to streaming videos and live sports.
Network distribution – The more servers a VPN runs, the more connection options at your disposal.
Zero-logging policy – Make sure your VPN has a strict zero-logging policy for true online privacy and security.
Top 5 Best VPNs for Vodafone
Ready to secure your Vodafone device? After researching the top VPNs on the market, we settled with the below recommendations as the best services for your Vodafone smartphone.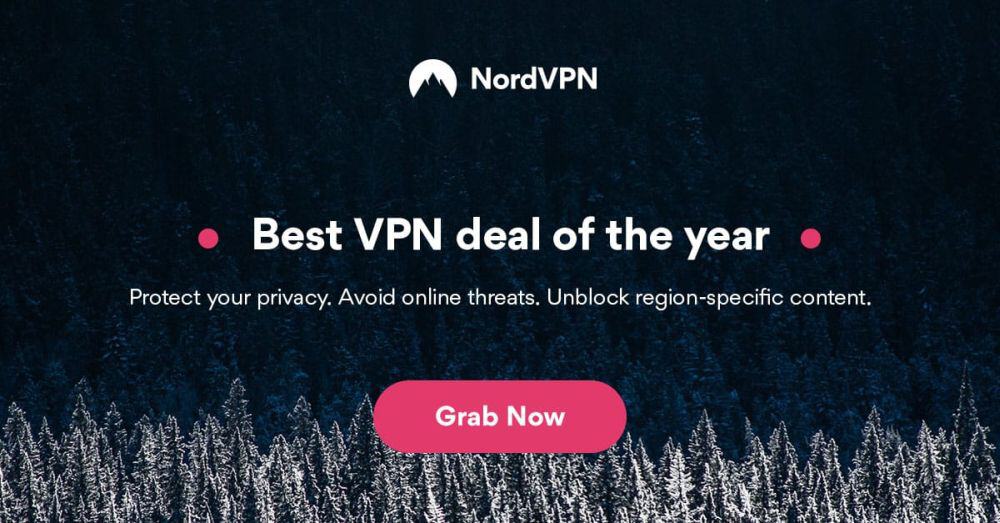 There are a lot of praiseworthy features in the NordVPN experience. The service keeps users safe and sound each time they connect thanks to fundamentally strong privacy practices. But what stands out the most about NordVPN is the size of the company's network. The list is always growing, but right now it's over 5,400 servers in 59 different countries strong, more than twice the nearest competitor. With NordVPN you'll always be able to connect to a fast server, guaranteed.
NordVPN provides several additional features that help it stand out from the competition, including double encryption servers, location obfuscation, and anti-DDoS servers. There's also a zero-logging policy that covers everything from bandwidth to time stamps, traffic to IP addresses, meaning your activity is never recorded or shared with third parties. Backing these features is 256-bit AES encryption on all data, an automatic kill switch, DNS leak protection, and a host of customizable encryption features.
Read our full NordVPN review.
Pros
Unblocks American Netflix
Fast and stable connections
No IP/DNS leaks found
Strict zero logs policy on both traffic and metadata
24/7 Live Chat.
Cons
Apps can sometime be slow to connect.

If you suspect Vodafone of tracking, throttling, or otherwise blocking sites on your mobile connections, give Surfshark a shot. It's a relatively new VPN you may not have heard much about, but it's quickly rising to a rank of prominence among the privacy community.
This is primarily due to its thoroughly modern take on VPN protection. Surfshark uses only the most advanced 256-AES-GCM cryptographic cipher, plus ultra-fast tunneling protocols. These include OpenVPN, Shadowsocks on Windows apps, plus WireGuard, but we recommend the IKEv2/IPSec for the best performance on your Vodafone device.
There are over 800 servers to choose from among 50 countries, giving you access to spoofed IP addresses from any corner of the globe. Surfshark never restricts your bandwidth or speed, and allows unlimited simultaneous connections so you can protect your whole family.
Surfshark's RAM-only server infrastructure regularly purges itself of any identifying user metadata, and they maintain a strict no-logging policy to round out their privacy offering.
Pros
Robust servers blast through geoblocks to access your favorite streaming sites
Get a static IP from US, UK, Germany, Japan, or Singapore
Expansive anti-ad and anti-malware database constantly updated
Based in the British Virgin Islands, where there are no data retention laws
Get help any time of day via email, phone, or live chat.
Cons
Server network is not nearly as expansive as major competitors
Young VPN still has plenty of room to grow in terms of advanced functionality.
Read our full Surfshark review.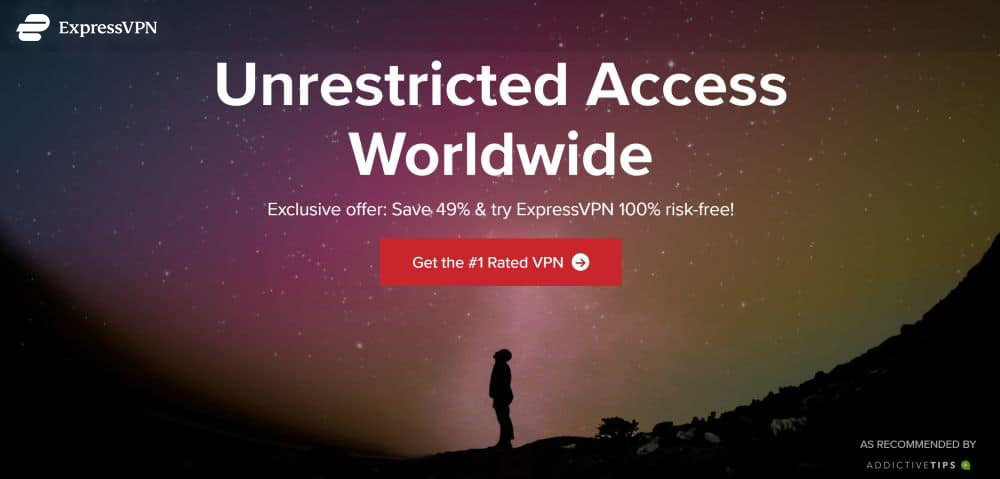 It's easy to see why ExpressVPN is one of the best-known VPNs on the market. The company provides lightning fast servers paired with easy to understand software for a wide variety of devices. Whether you're looking to connect on your smartphone, tablet, TV streaming device, or PC, ExpressVPN's got you covered with one-click security.
This top-notch provider runs a network of over 3,000 servers in 94 countries, enough to deliver the right connection in the right location, no matter your needs. ExpressVPN's privacy features also keep you safe with 256-bit AES encryption, and a zero-logging policy on traffic, DNS requests, and IP addresses. DNS leak protection and an automatic kill switch also deliver a reliable safety net in case of an accidental disconnect or other internet issue.
Read our full ExpressVPN review.
Pros
Works with US Netflix, iPlayer, Hulu and other services
Fast serves with minimal speed loss
OpenVPN, IPSec & IKEv2 Encryption
No logs for personal data
24/7 Live Chat.
Cons
Expensive month-to-month plan.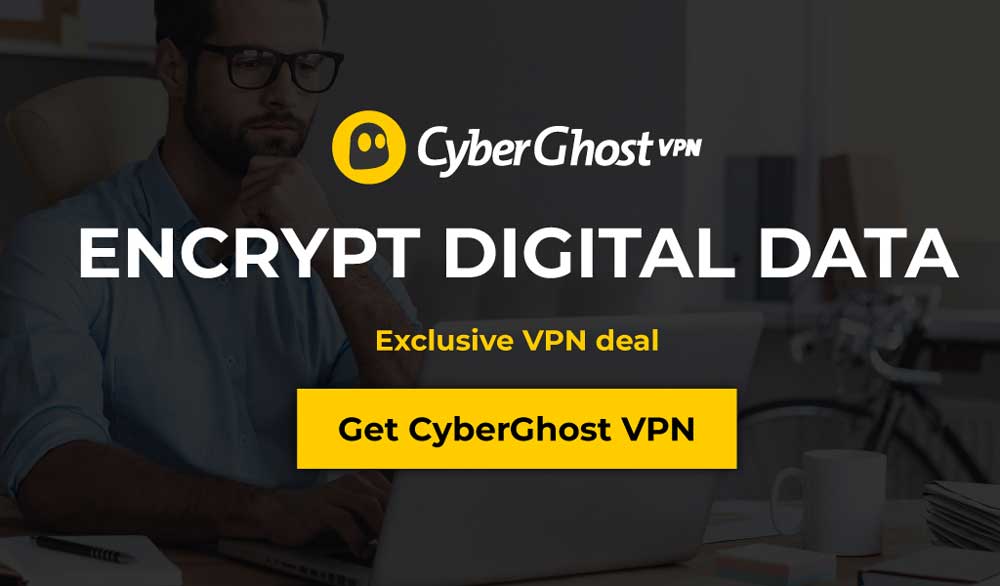 CyberGhost is one of the most reliable providers around. The VPN delivers incredible speeds across the globe thanks to a huge network of over 5,900 servers in 90 different countries, enough variety to ensure you always have a fast and lag-free connection no matter where you travel. You won't have to worry about connection issues or internet slowdown with CyberGhost, just sign on and enjoy a fast and private internet experience, every time.
CyberGhost's privacy features keep you safe with 256-bit AES encryption on all data, a zero-logging policy on traffic, time stamps, and IP address, and both DNS leak protection and an automatic kill switch. These features hide your identity each time you go online, allowing you to connect with fully encrypted data and a hidden identity no matter where you go.
Read our full CyberGhost review.
Pros
Unblocking Netflix, iPlayer, YouTube, Hulu
Peer-to-peer (P2P) torrenting allowed
No leaks detected
Strict no-logs policy
Money-back guarantee.
Cons
Can't unblock some popular streaming sites.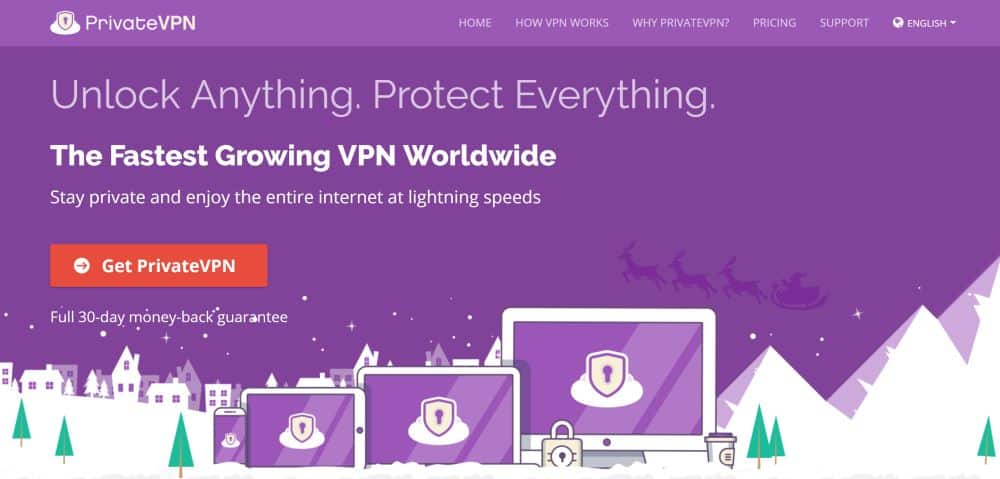 PrivateVPN is a balanced but feature-rich VPN that's ideal for anyone who needs reliable online privacy. The company delivers a mix of speed and security without sacrificing either, allowing you to stay safe while streaming HD videos, checking your e-mail, or simply browsing social media. PrivateVPN accomplishes this with lightweight and intuitive software, making it easily accessible from a variety of devices, including Android and iOS smartphones and desktop PCs.
PrivateVPN runs a dedicated network of over 150 servers in some 60 different countries, enough to deliver speed and IP address variety regardless of your location. PrivateVPN locks down data all data passing through this network with 256-bit AES encryption, and it keeps your connection safe with an automatic kill switch, DNS leak protection, and a zero logging policy on traffic.
PureVPN does more than just provide basic VPN service. The company delivers an incredibly useful all-in-one security suite, allowing you to stay safe from a variety of dangers without lifting a finger. With PureVPN you'll have anti-virus protection, malware shields, app blocking, and DNS-based website filtering at your disposal, all included with the default VPN software. Just grab the app and turn on the protections one by one, then you're safe and sound.
PureVPN also provides useful encryption and privacy features on top of its unique offerings, including a zero-logging policy on traffic, an automatic kill switch, 256-bit AES encryption on all data, and DNS leak protection. These features work to keep your data secure no matter what environment you're browsing or surfing in. And with PureVPN's self-owned network of 2,000+ servers in 180 different countries, you're guaranteed a fast connection at all times.
Read our full PureVPN review.
How to Use a VPN with Vodafone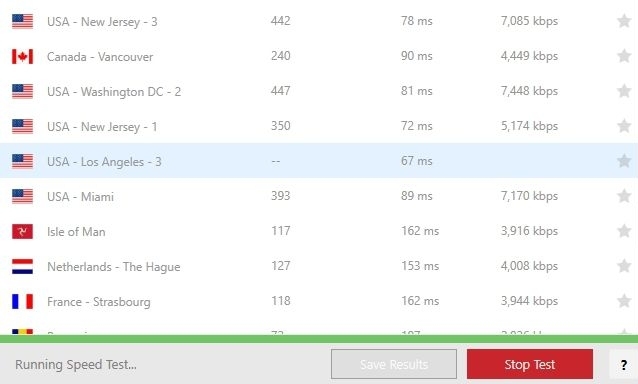 Once you have researched and signed up for a VPN, the hard part is over. Now it's time to set up your VPN on your Vodafone device and start enjoying the private and encrypted web.
Step 1 – Set Up Your VPN
Start by choosing one of the recommended VPN services from above. Any one will do the job, as they're all fast, secure, and affordable. Then simply follow the steps below to get things set up.
Sign into your VPN and download the app for your Vodafone device. Most users will receive a link to get the app from Google Play or the iTunes App Store.
Install the VPN app, launch it on your device, then enter your login credentials.
Connect to a recommended server, or open the server list and choose one on your own.
Look through your VPN's configuration pages and make sure to set it to automatically connect each time you start your device for maximum protection.
Minimize the VPN or simply let it run in the background.
Step 2 – Verify Your IP
If this is your first time using a VPN, or if you're especially concerned about security, it's a good idea to complete this optional step. Verifying your IP address ensures your VPN service is correctly configured and operating as intended. It only takes a second to check and is absolutely worth doing after you launch your VPN.
Make sure your VPN is active and connected.
Open a web browser on your Vodafone device and go to ipleak.net.
Wait for the page to load, then run an IP address lookup.
Look at the box at the top beneath "Your IP address". If it shows a country other than the one you're currently in, the VPN is working correctly.
If the box shows your physical location, you may need to check with your VPN provider to resolve an IP leak error.
Step 3 – Start Surfing Securely
Once you've completed the steps above, you're set. Your VPN will launch and connect to a secure server each time you reboot your device. It will also stay active in the background, quietly encrypting every piece of data that leaves your Vodafone smartphone, and keeping your identity perfectly secure.
You're now free to use your device with any internet connection you like. You can check e-mail on public Wi-Fi, download torrents, stream videos from any country, or even do a little online shopping. VPNs make the Vodafone experience much more secure than normal, so you know you're always safe.
What Is Vodafone IP-VPN?
Looking around for a good Vodafone VPN can be confusing, as the company offers a similarly-named service titled IP-VPN. This isn't a VPN like you might think, however.
Vodafone IP-VPN is a wide area networking service designed for multinational businesses. It creates a stable network that can provide encrypted communications for users connecting within the service. In other words, it's a private network that helps companies keep their data secure.
RELATED READING: Best Business VPNs
IP-VPN doesn't protect your phone from outside dangers such as surveillance, ISP tracking, or hackers. Nor is it made for individual users simply looking for a more private online experience with their Vodafone product.
Conclusion
As one of the largest telecommunication companies in the world, Vodafone has a wide base of customers. Users with these devices are often looking for ways to increase their online privacy and security, and getting a reliable VPN is the best way to do just that.
What's your experience been using a VPN with Vodafone? Which of our recommendations holds the greatest appeal for you? Let us know in the comments below.