We are reader supported and may earn a commission when you buy through links on our site.
Learn more
PureVPN not Working with Netflix? Here's What You Should Do
PureVPN is an amazing VPN, but it has its limitations–especially when trying to bypass the Netflix VPN block. If you're unhappy with intermittent access to your favorite streams at best, check out our workarounds below to make the dreaded Netflix proxy error message a thing of the past.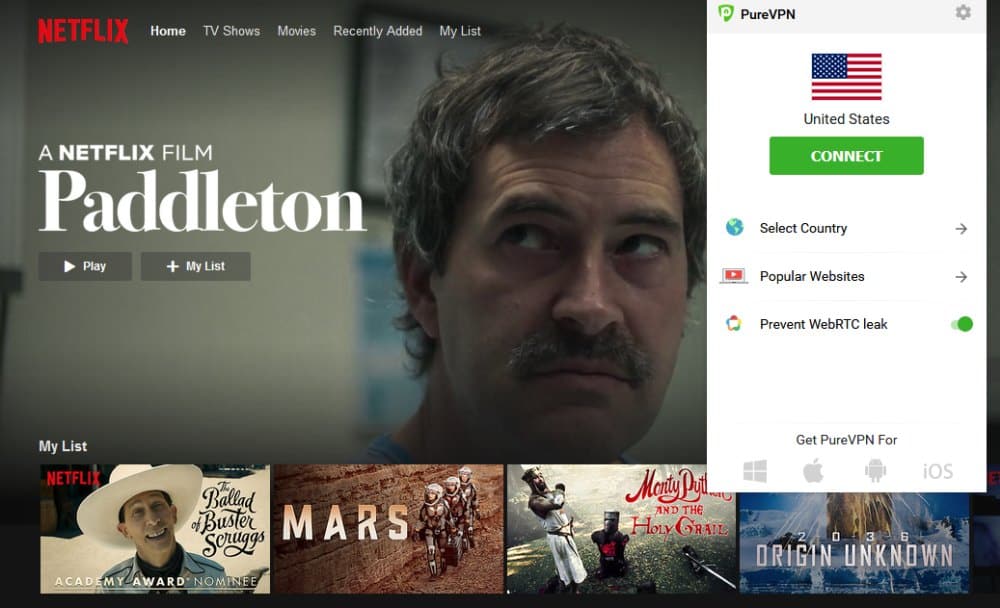 What's more frustrating than dealing with geo-restrictions blocking online content? How about the dreaded Netflix proxy error when streaming movies from behind your favorite VPN?
If you can't get access to TV shows or other streaming content while traveling abroad, you should know there's a PureVPN "Netflix blocked" workaround that prevents Netflix from blocking your VPN and crack open a world of content for your entertainment pleasure.
Getting through the Netflix firewall isn't easy, even with a reliable top-tier service like PureVPN. For every effort the streaming giant puts forth to keep VPN users out, there are multiple workaround that crop up overnight. Read on for our complete guide to how to use Netflix with PureVPN. The workaround for 2020, which will let you watch more Netflix movies from more locations with a few simple steps.
30-days money back guarantee
Why doesn't PureVPN work with Netflix?
Like most VPNs on the market, PureVPN is almost always blocked by Netflix. This is due to the streaming company attempting to follow international content distribution laws by preventing region-free access. Before you can actually use the workaround to unblock Netflix with PureVPN, you need to know a few things about how it works.
IP addresses and geo-restrictions
An IP address is a series of numbers that are assigned to every device when it connects to the Internet. Each IP is unique, serving as a sort of mailing address for digital data. If you request a website or movie stream, the remote server needs to know where to deliver it. That's exactly how Netflix sends content to your devices.
IP addresses also contain a lot of location information, enough to theoretically narrow your place of residency down to a particular part of the city. This is used by websites and streaming services to deliver location-aware content, but it can also be used to track you online.
VPNs change your IP address
VPNs do something unique with your IP address: they hide it from view. When you connect to the Internet through a VPN, your real IP address is swapped with an anonymous non-local one, which is shared by every other user connected to the server. If you connect to a VPN server in Japan, for example, you will be given an anonymous Japanese IP address, fooling sites you visit into thinking you're sitting in Japan. This works no matter where you actually are, and it's surprisingly effective.
This benefits Netflix users on a number of levels. Not only do you gain the ability to instantly change your location for worldwide movie access, but you can do so without revealing your real location or identity, making it far safer to access the Internet than with an unencrypted connection.
The problem is Netflix now blocks VPNs
Netflix is forced by licensing contracts to restrict which movies and TV shows are available in different countries. One TV show or movie might not be available in your homeland, but it shows up without a problem on Netflix America. You could pack up and take a trip to the U.S., but that seems like a lot of work for a single TV show. Instead, try running a service like PureVPN, which will allow you to swap virtual locations at the click of a button.
The catch is that Netflix has started blocking VPNs by default. They do this by keeping a master list of shared IP addresses associated with popular VPN and proxy services. If your anonymous IP matches an item on that list, you're denied access to every stream, forcing you to disconnect before you can watch a movie. This list unfortunately includes well-known VPNs like PureVPN.
The good news is VPN blocks aren't perfect
Even if PureVPN or another services is blocked by Netflix, there's probably a workaround you can use. This is due to the incomplete nature of proxy blocks and the fact that VPNs can often provide access through new IP addresses before Netflix can block them. Best of all, most of these workarounds are incredibly simple to use.
Getting PureVPN for unblocking Netflix
Not sure which VPN to use for online safety and movie streaming? PureVPN is an amazing place to start. In addition to keeping your data safe, VPNs also provide a host of virtual location services that give you the ability to change your Netflix country in a flash.
PureVPN also offers an entire suite of security features designed to keep you safe at all times. This includes standard VPN extras such as DNS leak protection and automatic kill switches, fast servers, and a strict zero-logging policy on traffic.
Whether you're new to VPNs or just need to re-subscribe, here's a short rundown of what makes PureVPN such a great choice.
PureVPN – Unblock the Internet
PureVPN does more than just protect your data and deliver region-free Netflix streams. The company offers an entire suite of security extra that allow you to protect your devices with one-click anti-virus scanning, malware shields, app blocking features, and built-in website filters. No other VPN gives you this much protection from as many online threats, making PureVPN one of the most comprehensive online safety services out there.
PureVPN keeps data secure with a zero-logging policy on traffic, an automatic kill switch, military-grade 256-bit AES encryption on all data, and DNS leak protection. These features work together to keep your data secure no matter where you access the Internet from. And with PureVPN's fast self-owned network of over 2,000 servers in 180 different locations, you're guaranteed a great non-local connection at all times.
Read our full PureVPN review.
PureVPN Netflix blocked workaround for 2020
The struggle between VPN services and Netflix's proxy filters will never end. As soon as new IP addresses are made available, Netflix tries to block them. When those blockades go up, VPNs start working on alternatives, and the cycle continues. Still, this gives users plenty of openings for worldwide streaming access. Just follow the workarounds below.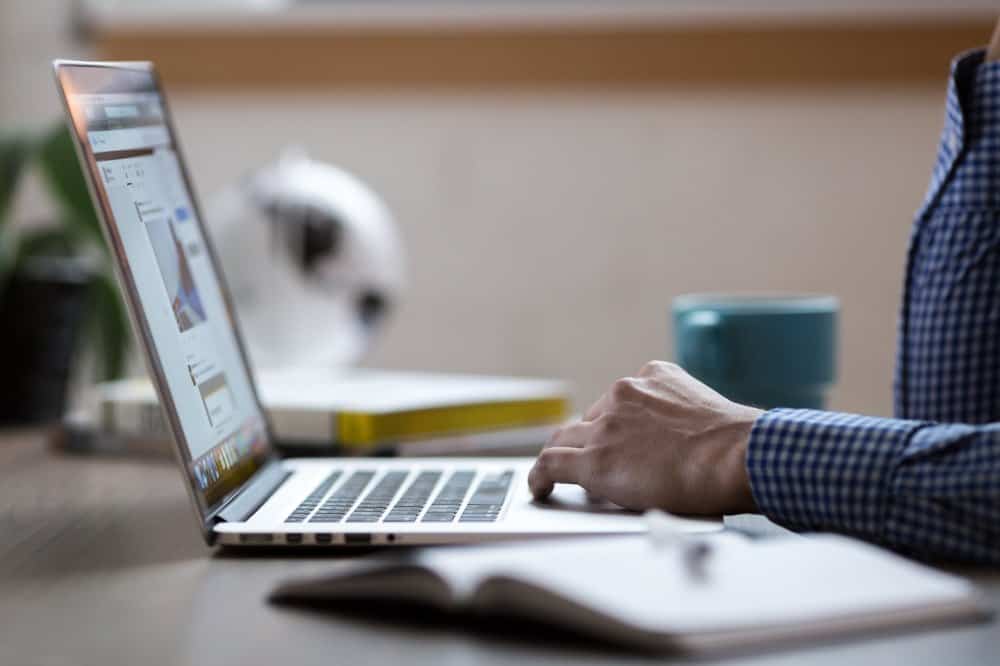 Switch VPN servers
PureVPN runs thousands of servers around the world, complete with tens of thousands of possible IP addresses you can use. This means odds are pretty good that you'll be able to find at least a few that work with Netflix without any trouble.
As soon as you launch the PureVPN app it will connect to the fastest server on its own. This is great for speed, but if you want to unblock foreign Netflix, you need to change servers. Go to the server browser and select a new country to connect to. Pick out a server and log on. Reload the Netflix page and see if you can stream. If you can't, go back to the PureVPN server browser and choose another location in the same country and try again.
Ultimately, it's almost random whether or not a given server will work with Netflix. You may not be able to find a connection in the country of your choosing, but if you keep trying, odds are one or two will pop up.
Use a web browser
Netflix uses two different methods of blocking VPN access. The first is the most common and easiest to bypass, as it simply filters connections based on IP address. A good VPN can sidestep that without any problem. The second method is more robust, however, and defeats most VPNs in an instant.
If you access Netflix through a dedicated app instead of on your web browser, you may never be able to connect from behind a VPN. This is due to the DNS-based blocking method Netflix has deployed on its software. There's no known workaround for this situation with any VPN, you simply have to pick out a secure web browser on Windows, Linux, or Mac, then log into Netflix and try streaming again.
Reach out to PureVPN customer support
Often times the nature of a problem is unknown to you, but very much on the radar of PureVPN's staff. Reaching out to them can provide the guidance you need to reconnect to Netflix, ranging from recommended servers to try, VPN configuration tweaks, general troubleshooting, and more. What's more, there's a 24/7 live chat available, so you'll never be left facing a problem on your own.
Try later
If the above workarounds fail to restore access, and if you don't want to use another VPN, your best course of action is to try again later. PureVPN is constantly adding new nodes to their network, providing access to Netflix streams practically overnight. The next day or week you try streaming, you may have instant access without any effort.
RELATED: Best VPN for Netflix (Tested) Working in 2020 to Unblock Netflix
How to use PureVPN to unblock Netflix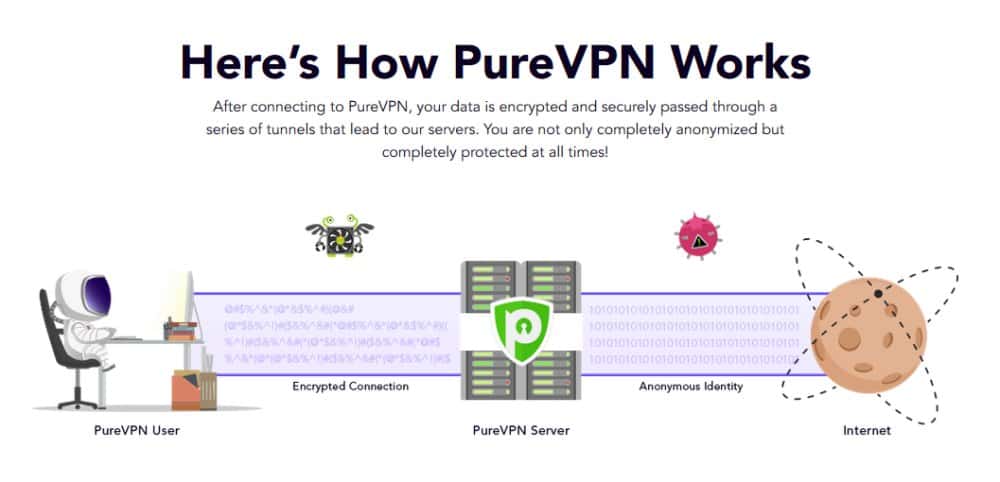 Unblocking Netflix requires two things: an active subscription to PureVPN, and an account with Netflix. Once those basics are in place you'll be able to stream movies from just about any source you like. Follow the steps below to get started right away.
Step 1 – Get a Netflix subscription
No VPN will let you stream from Netflix without an active, paid account. It doesn't matter where your account is registered or where you really live, however as long as it's in good standing. If you don't have a Netflix subscription, use the steps below to activate an account.
Go to the Netflix website and click the red Join Free for a Month button.
Click See the Plans on the next screen to continue.
Netflix offers Basic, Standard, and Premium plans, shown on the next screen. If you just need simple online movie access, Basic will do fine. Standard lets you watch in HD and on multiple screens, which is good if you have a family, but it costs more.
In the next screen you'll enter an e-mail address and a password to create your account.
Choose a payment method. Note that if you're new to Netflix, you'll get a free month of service and won't have to pay until that ends.
Complete the checkout process and your account will be activated.
Go to the main Netflix website and sign in. You're now ready to watch some movies!
Step 2 – Install PureVPN
Now it's time to get PureVPN ready to go. Visit our PureVPN deals page for the lowest price subscription you can get. Complete the sign-up process on the page, then download the app for your operating system. We highly recommend sticking with a desktop or laptop device for unblocking Netflix, as your odds are much higher than with mobile or game console apps.
Once PureVPN is downloaded, install it and sign in using your specific account details. Choose a server location that has content you want to watch. For example, if you want to unblock American Netflix content, pick a server in the USA.
Now it's time to run a quick IP address test to make sure PureVPN is working correctly. With the VPN active and connected, open a web browser on the same device and go to dnsleaktest.com. When the page loads, it should show your IP and the IP addresses' country. As long as your real country doesn't show, it means you're safely behind a wall of encryption.
Step 3 – Try Netflix
Once you're connected it's time to try Netflix. Open the Netflix website and start browsing the catalogue of videos. The selection will have changed based on your chosen IP location, as Netflix allows you to browse items even if you're behind a VPN. Search for something you know isn't available in your physical area, then click play to attempt streaming.
Did the show start playing? If so, you're all set! If you saw the "Whoops!" proxy error screen, however, continue to the step below and try one of the workarounds.
Step 4 – Change servers and try again
If your original server choice failed, there are two things you can try: wait and connect later, or switch servers. Netflix can't block all IP addresses from PureVPN all the time, so chances are you'll be able to connect again soon.
Open your VPN software and look for the server browser. Choose another node located in the country you want and connect. Once it resolves, go back to the Netflix website, reload, and try streaming again. You can repeat this as many times as you like to find a connection that works. Sometimes it can take a few tries, so be persistent.
Conclusion
PureVPN is an incredible service that takes a strong stance in favor of online privacy and security. It's a surprisingly good VPN to use with Netflix, too, and it allows you to unblock streams from around the world with very little effort, especially with the workarounds listed above.
Know of any other tips or tricks for accessing Netflix with PureVPN? Let us know in the comments below!