How to get low/full battery alerts on macOS
A Macbook has a pretty great battery life to begin with it and you'll find that it outlasts a lot of other laptops that are available in the same or higher price range. Like any battery, a Macbook's battery has a limited number of cycles that it can be charged through and after that, slowly, very slowly, it will begin to hold less charge. The decline is slow however, if you want to keep an eye on its charge level, you can enable low/full battery alerts on macOS.
In order to get low/full battery alerts you will need to install a free app called Battery Monitor: Health, Info. It's available in the Mac App Store.
Low/full battery alerts
Install Battery Monitor: Health, Info and run it. It will add an icon to the menu bar that will indicate if the battery is currently charging. If it's discharging i.e., you're running on battery power, it will show you the current battery percentage and time remaining.
Click the icon and in the menu that opens, click the hamburger icon. From the menu, select Preferences.
On the Preferences window, you will a Notifications section. There are two types of notifications you can enable; low, and full battery notifications. Enable them both, and use the sliders to set the low, and full battery level that will trigger an alert. Close the window and use your MacBook normally.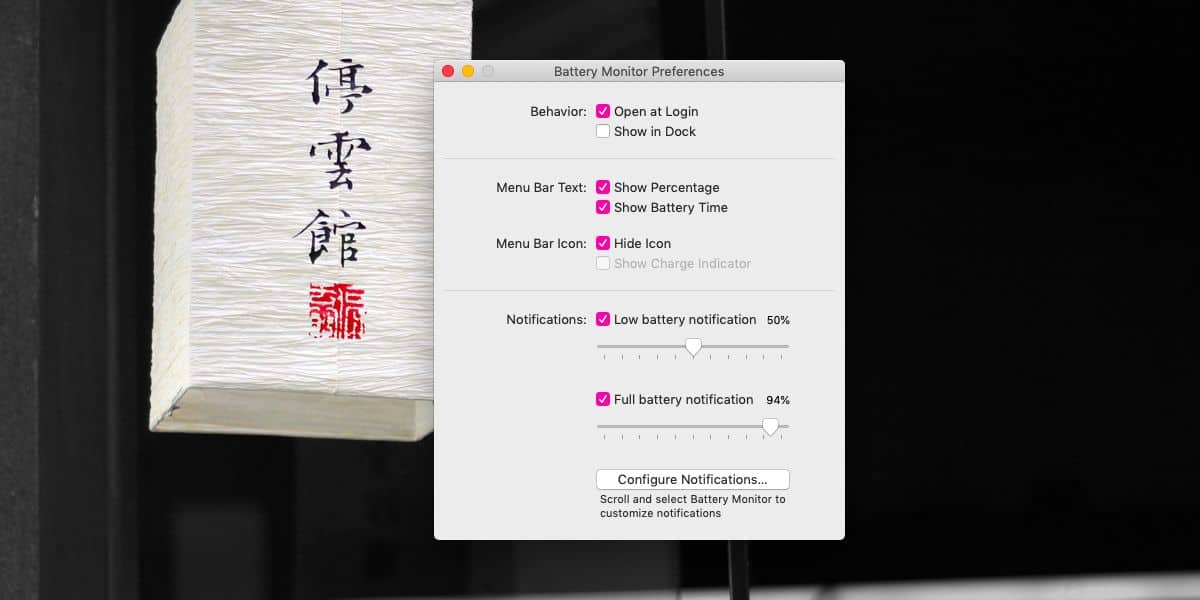 Depending on the power source you use your MacBook with, you will get alerts that your battery is low, or that it's full (or near full), depending on its current charge level. Like any other notification on macOS, you can dismiss it and it won't bother you again.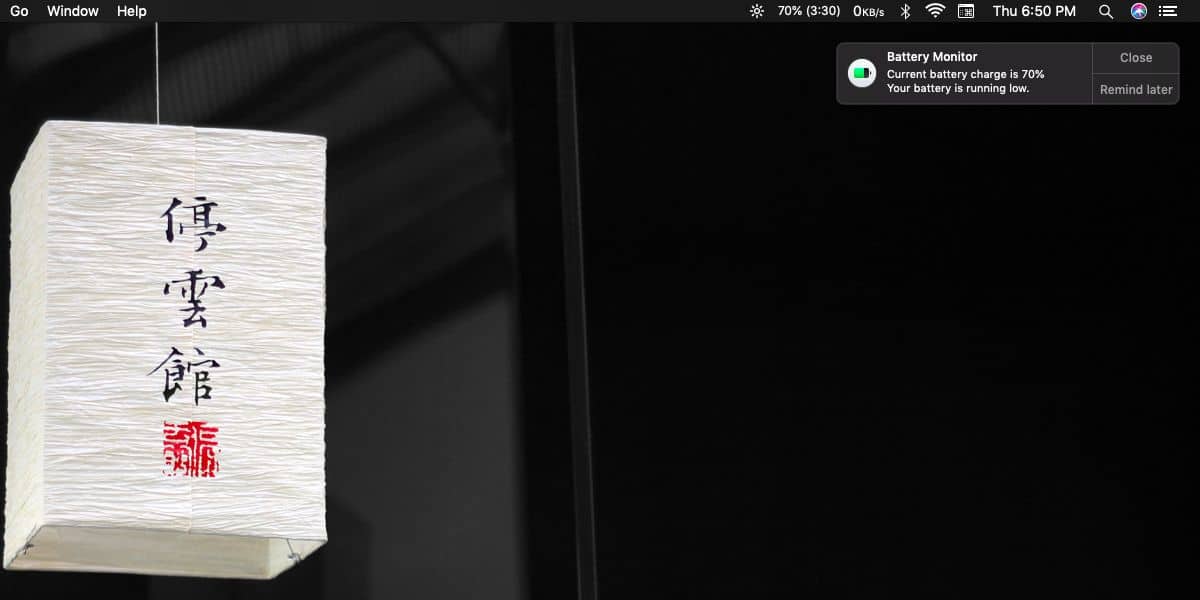 Users like to keep an eye on the charge level of their battery for various reasons. The low battery charge makes sense. If you're running low on battery, you want to make sure you save any and all work or that you switch to a power source before your battery dies.
The full, or near full battery alert is useful when you don't want to keep your MacBook plugged in after it is fully charged. It might also be useful if you're waiting on your MacBook to fully charge or charge to a certain level so you can go out and take it with you.
The alert levels for both types of alerts can be customized. The app accurately reports the charge level though, if you're using it to view time remaining from the current battery charge, you should know that it doesn't always give an accurate value.
Looking for something similar on Windows 10? We've got you covered.