How To Get A Remaining Battery Indicator In macOS 10.12.2
macOS 10.12.2 has removed the remaining battery indicator from the Menu Bar. Suffice to say that users aren't happy. It was a very useful little feature to have. Since Apple is removing most useful things from its products this is really just another casualty. The good news is that the battery indicator wasn't always a part of macOS. When the feature was underdeveloped by Apple, third-party developers were around to fill the gap. There are quite a few apps, paid and free, available that will add a remaining battery indicator back in the Menu Bar. CoconutBattery is a one awesome free app that you can try out.
If you've upgraded to macOS 10.12.2, the battery indicator is a thing of the past.

Install CoconutBattery and the app will show you the remaining battery life in percentage (screenshot by CoconutBattery). If you click the app's Menu Bar icon, it will reveal a pop-up that shows the remaining battery in time i.e. how much longer your Macbook can run on the current charge.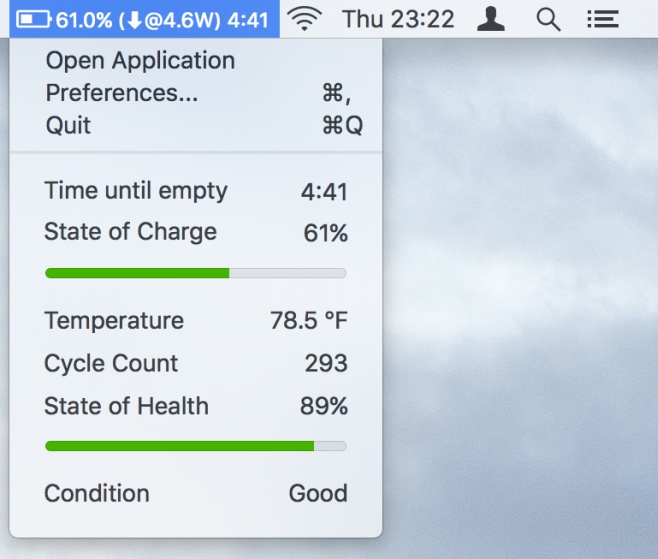 The app also shows other useful information about your battery such as its condition and which charge cycle it is currently on. It might not give you an  in-depth look into the health of your battery but it does tell you if things are looking good or bad.
The app's interface gives you a bit more information about battery health such as the current charge and its maximum capacity. The great thing about CoconutBattery is that you can also monitor the battery state of an iOS device with the app. The app gives you a little insight into how healthy your iOS device's battery is. You don't get the 'Condition' reading you get for your Macbook's battery so you have to judge for yourself, based on the maximum charge and design capacity stats whether or not your iPhone or iPad's battery is losing its charge capacity.