Why Does My Screen Keep Dimming? How to Fix Windows 10 Screen Dimming
All screens have a backlight which determines how bright or dim they are. The brightness of a screen will span a certain level ranging from very dim to exceptionally bright. Depending on how you have your work station set up, and how much light is in the room, a user is free to choose how bright the screen is, and to change it whenever they need to.
Brightness can be changed from a keyboard, buttons on a monitor, and from settings provided by the operating system that is installed on a system. All three will change the same setting and are essentially different ways to doing it. Regardless of how you change the brightness of the screen, it will remain set at a level until you choose to change it again.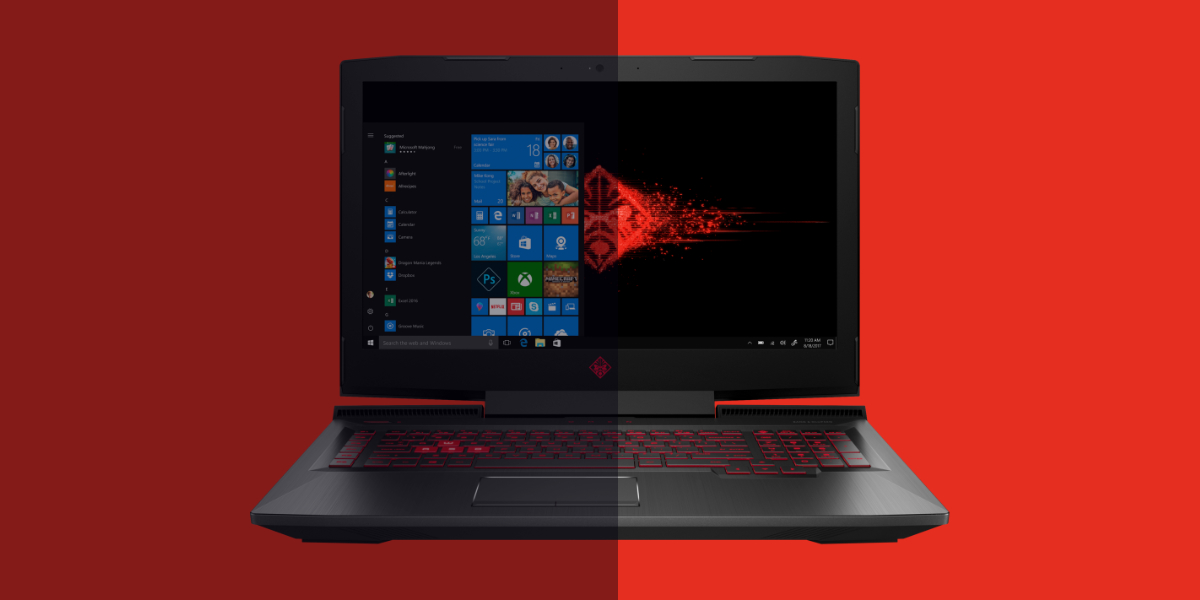 Why Does My Screen Keep Dimming
If your laptop's screen keeps dimming or brightening, it may point to a software problem or a hardware problem. Hardware problems are likely going to require that you take the laptop in for repairs but software problems can be solved by trying the fixes listed below.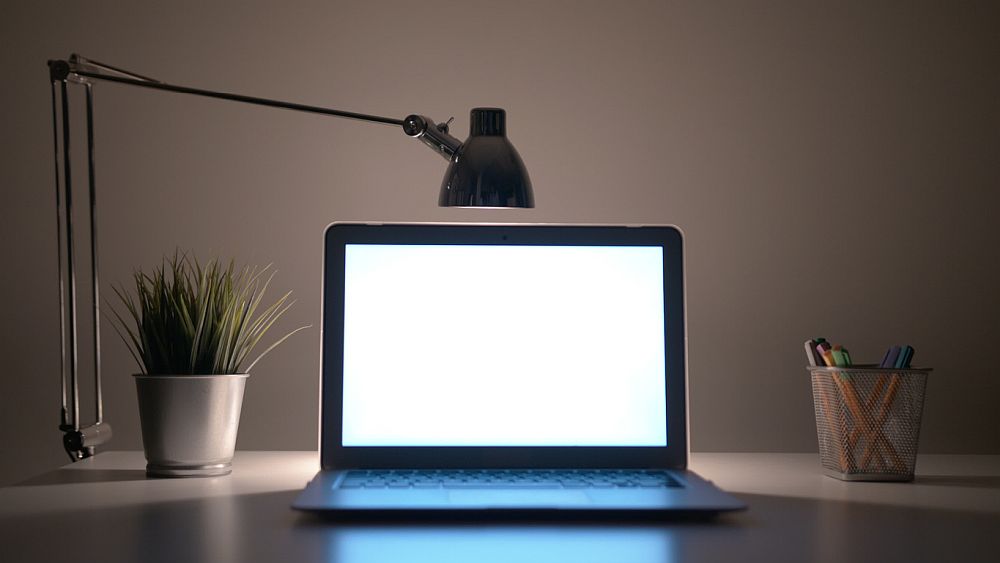 Windows 10 Screen Dimming (SOLUTIONS)
1. Turn off adaptive brightness
Laptops often come with sensors that will check the ambient light in a room. If the light changes, or the sensors thinks it's changed, it will adjust the brightness of the screen to suit the level of light. This feature is called adaptive brightness and it may be responsible for the screen dimming or brighnting.
Open Control Panel.
Go to Hardware and Sound.
Select Power Options.
Click Change plan settings next to your current power plan.
Click Change advanced settings.
Expand Display.
Expand Enable adaptive brightness under it.
Turn it off for both battery and plugged in states.
Click OK.
Repeat this for all power plans you use.
2. Update graphics drivers
While uncommon, outdated graphics drivers can cause the screen to dim or brighten. Updating drivers to the latest version should fic the problem.
OpenDevice Manager.
Expand Display adapters.
Right-click the on-board graphics card and select Update driver.
Search online for driver updates and install updates that are available.
Repeat this for the GPU chip.
Restart the system.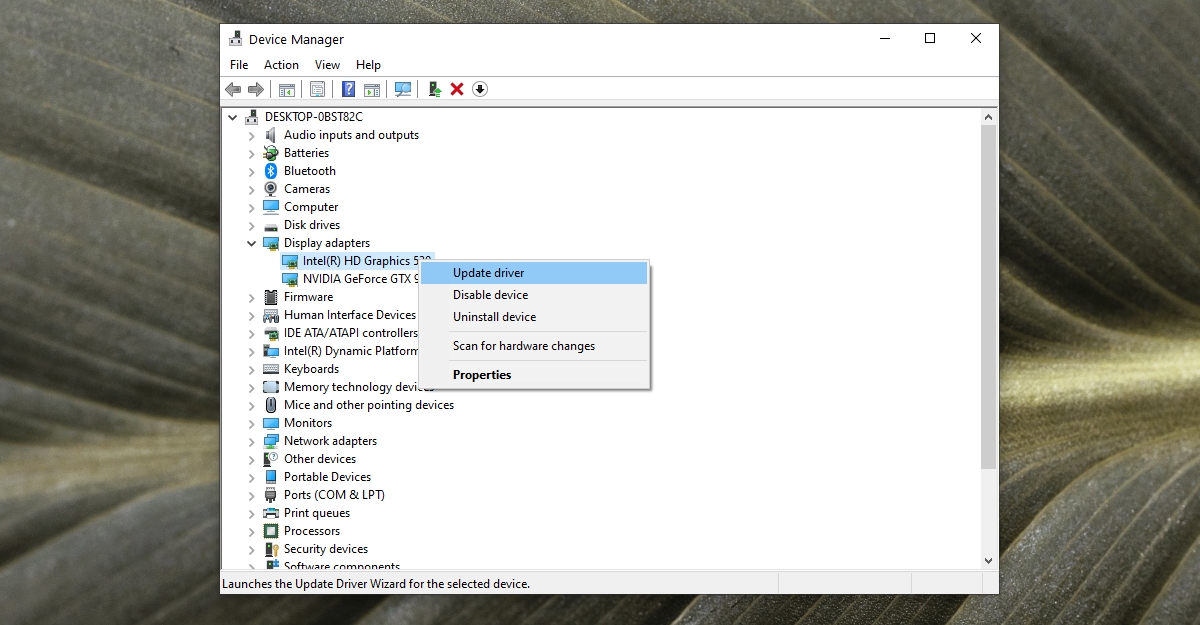 3. Run Power troubleshooter
Windows 10 has a troubleshooter for power related problems on the system e.g., a system component is unable to draw as much power as it needs in order to function.
Open Control Panel.
Use the dropdown at the top right to change the view to Small icons.
Click Troubleshooting.
In the column on the left, click View All.
In the list, select Power.
Run the Power troubleshooter and apply all fixes it recommends.
Restart the system.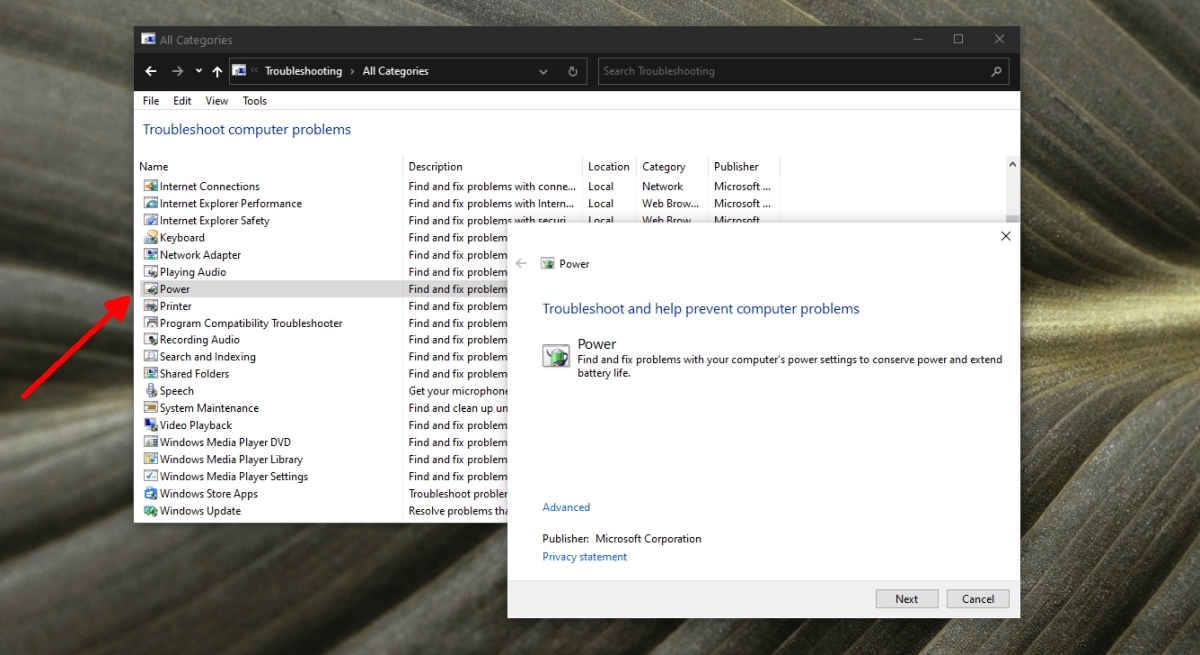 4. Examine power sockets, ports, and wires
If your system isn't getting a steady current, it may be triggering a change in the power plan. Power plans can change based on the source of power (battery or DC). Run through the following fixes.
Make sure the laptop is securely plugged in.
Make sure the current isn't fluctuating. If it is, using a current stabilizer will help.
Make sure the socket the laptop is connected to isn't damaged.
If you're using an extension board, make sure its wire isn't damaged.
If you're using an extension board, make sure it isn't overloaded and that nothing connected to it is causing electric surges.
Remove any power-hungry items that may be connected to the same board/socket.
5. Change screen resolution
It's possible that you've set a screen resolution that isn't the best for your display. The screen dimming and brightening may be a result of various apps or the OS trying to work with the resolution that's been set.
Open the Settings app (Win+I keyboard shortcut).
Go to System>Display.
Open the Display Resolution dropdown.
Select the resolution that has 'Recommended' written next to it.
Restart the system for good measure.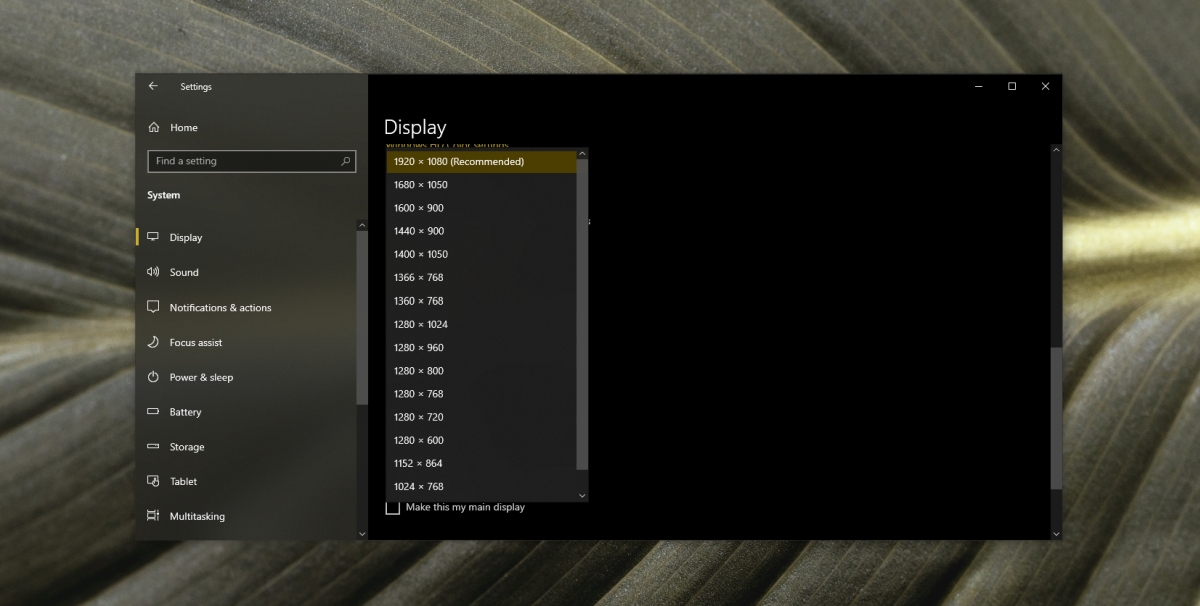 6. Hardware problems
Hardware problems may be causing the screen to dim or brighten and that means you have to take the laptop in to be fixed. Your laptop's battery, power supply unit, or graphics card may either have come loose or they may have been damaged. Opening it up is the only way to check. If something has come loose, the repair shouldn't take too long or cost too much. If a hardware component has been damaged, you will have to replace it.
Laptop Screen Brightness Changes On Its Own? CONCLUSION
Problems with a display usually happen when a graphics-heavy app like a game is being run.
If you game often, and you're not careful about your system heating up, it is possible that a hardware component is damaged and is causing these issues.
If not, it may simply be an outdated driver.
Did this work for you? Let us know in the comments below.