We are reader supported and may earn a commission when you buy through links on our site.
Learn more
Black Friday: Best VPN Deals for 2021
Hungry for some amazing VPN discounts? We've rounded up the best Black Friday deals for the most popular and most reliable VPNs on the market. You can get huge price cuts on both monthly and yearly VPN service, sometimes as much as 88% off the regular price. But you only have a few days to act, so go ahead and get your comparison shopping done right away!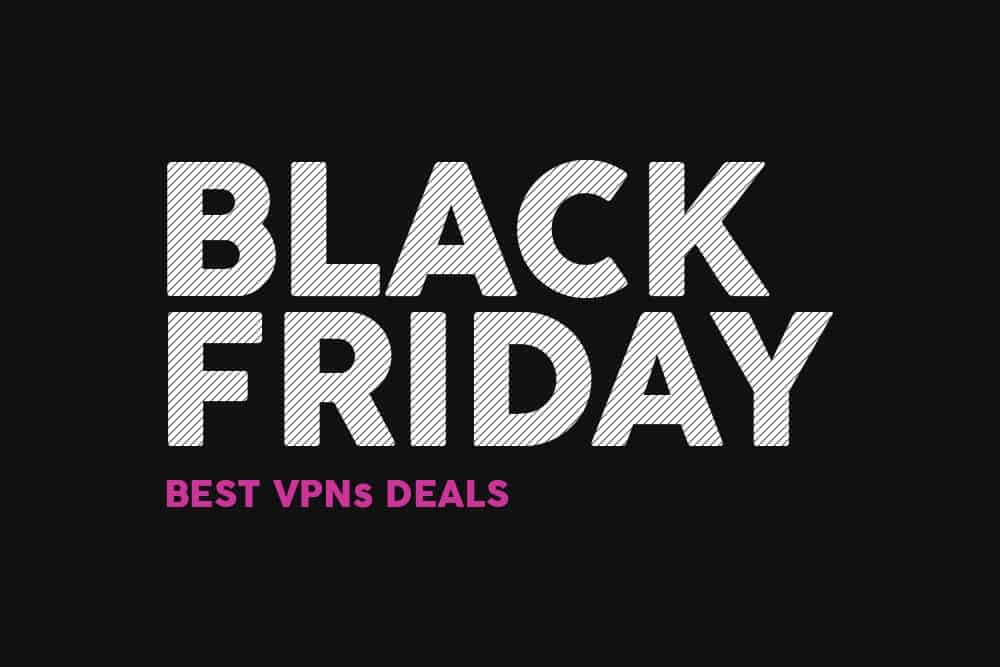 VPN services know everyone is looking for bargains on Black Friday, so you're likely to see many of them cut subscription rates to record lows. A few top-tier providers are even promoting the biggest discounts they've ever offered! If you've ever thought about getting a VPN to protect your online privacy, break through censorship barriers, or to watch videos from other regions, now is your chance.
Here's a quick look at the best Black Friday VPN deals for 2018. Keep reading to learn more about each VPN service and get more detailed information about the savings you can score this Black Friday!
Best Black Friday VPN deals 2018
Nothing like amazing discounts on the best VPNs to kick off Black Friday 2018. Check out our suggestions below for the biggest deals this year!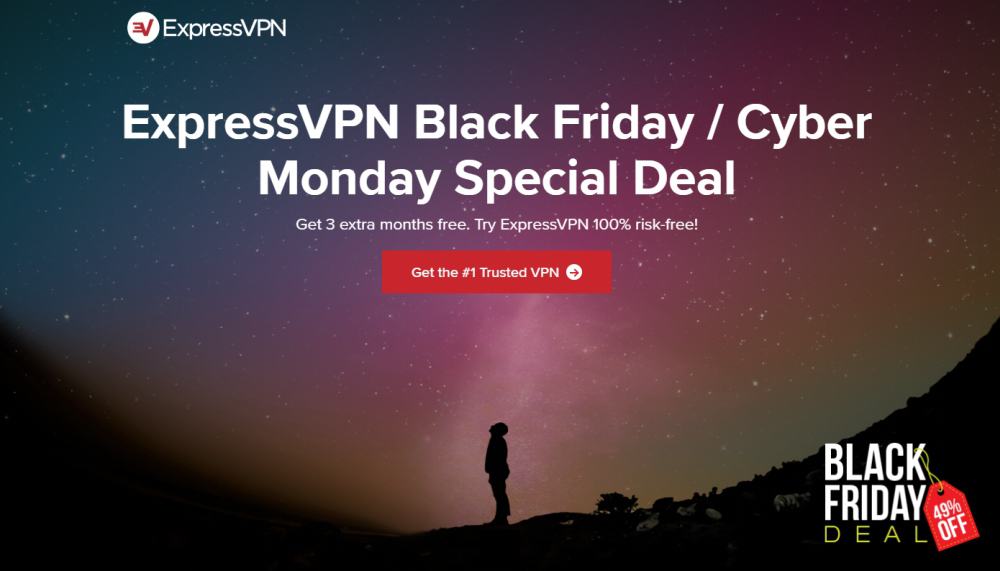 Discount dates: Get this amazing deal any time between now and November 27 (10 a.m. GMT).
ExpressVPN has a long-standing reputation as one of the fastest VPNs on the market. The service operates a reliable network that includes over 2,000 servers in 94 different countries around the world. With those kinds of numbers, you'll always be able to find a reliable and fast connection, no matter where you live, work, or travel!
ExpressVPN has easy to use software that's compatible with all modern devices, including iPhone, Android, Mac, and Windows. The company's privacy policy guarantees your safety with strong 256-bit AES encryption, a zero-logging policy on all traffic, and both kill switch and DNS leak protection features, as well.
Pros
Works with US Netflix, iPlayer, Hulu and other services
Fast serves with minimal speed loss
No DNS/IP leaks found
No personal information logs kept
Great customer service via chat.
Cons
Slightly pricier than competition.
Some of ExpressVPN's biggest strengths include worldwide Netflix streaming, reliable access to the internet in China, fast servers, and software that's extremely easy to use.
Need more in-depth information? Check out our ExpressVPN review for more!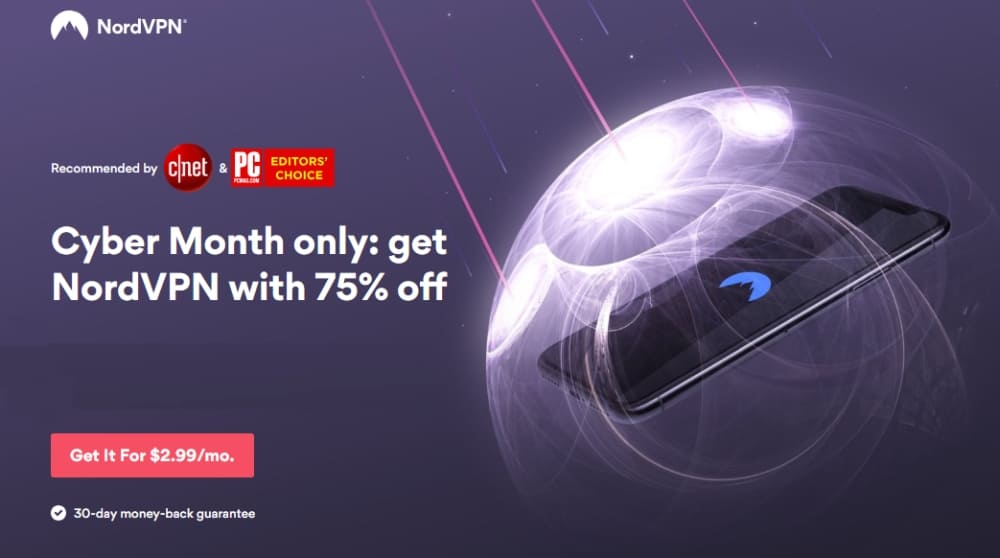 Discount dates: Enjoy NordVPN's Cyber Month deals from now through the end of November.
NordVPN is a fast, secure, and highly rated VPN service loved by countless users around the world. As always, the company's incredible server network is a highlight of the experience. Right now NordVPN users have access to over 5,000 servers in 62 countries, covering every continent except Antarctica! New nodes are constantly being added to the list, making NordVPN one of the best services for strong network availability.
This amazing server variety lets NordVPN deliver fast speeds to its users regardless of location. There are also unique services only NordVPN can offer, too, including protection against DDoS attacks, double encryption, and onion routing. All users gain the benefit of 256-bit AES encryption, DNS leak protection, an automatic kill switch, and a zero-logging policy that covers time stamps, DNS requests, IP addresses, and traffic. It's a thorough privacy package that keeps you safe every time you connect to the internet.
Pros
SPECIAL OFFER: 2-yr plan (68% off - link below)
Fast and stable connections
Torrenting/P2P explicitly allowed
"Double" data protection
Customer Service (24/7 Chat).
Cons
Automatic server selection can be unreliable
Can't specify City or Province in App.
The best features offered by NordVPN include tons of fast servers to connect to, access to the internet in places like China, and surprisingly reliable Netflix streams around the world. For more information about this VPN and it's amazing features, check out our full NordVPN review.
Discount dates: Starts November 20. While no end date has been announced, don't wait to grab the deal!
CyberGhost helps users stay safe from prying eyes with one of the best all-around VPN experiences on the market. CyberGhost is fast, easy to use, and surprisingly intuitive, even for mobile users. A lot of these benefits come from the company's smart software that runs on nearly every modern device, but CyberGhost sweetens the deal with a huge network of over 2,400 servers in 60 countries, all of which deliver fast downloads across the planet.
CyberGhost's privacy features keep users secure while they enjoy a fast connection to the web. This includes 256-bit AES encryption on all data, a zero-logging policy on traffic, time stamps, and IP address, and both DNS leak protection and an automatic kill switch. With CyberGhost you'll stay safe and secure each time you sign on. And best of all, you won't have to lift a finger to do it!
CyberGhost is a great VPN for a wide variety of uses. Two of its most stand-out features include impressive access to worldwide Netflix streams, and the ability to connect up to 7 devices to the network at once.
Pros
LOW PRICE: 6 EXTRA free months (79% off - link below)
Compatible with TOR
No leaks detected
Strict no-logging policy
24/7 Live Chat Support.
Cons
Can't unblock some other streaming sites.
Learn more about CyberGhost's great features in our complete CyberGhost review.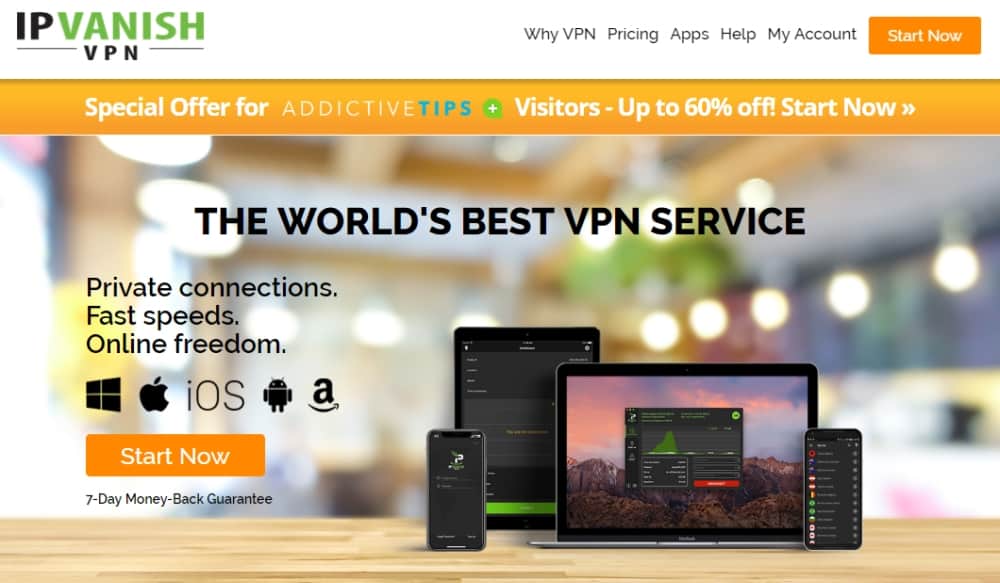 Discount dates: This deal runs from November 21 through November 27 and is available for new customers only.
IPVanish is one of the best VPNs to use with a wide variety of devices, everything from Windows to iOS, Mac to Android, and even Fire TV! A lot of this comes down to the service's incredible software that's lightweight and easy to use. Anyone can get started with IPVanish to lock down their device's security in a matter of seconds. One quick click and you can install the VPN and connect to a fast server, then just kick back and enjoy total online anonymity!
IPVanish deploys a strong and fast network of over 950 servers in 60 different countries, offering a wide selection of IP addresses for a solid foundation of privacy. Your connection is secured with DNS leak protection and an automatic kill switch, as well, while a zero-logging policy on traffic and 256-bit AES encryption ensures data stays safe no matter what.
While IPVanish is great to use for general-purpose VPN protections, it's particularly good at protecting your identity while torrenting or streaming through Kodi. Lightning-fast connection speeds make it ideal for incredible HD video output, as well!
You can learn more about the benefits of using this VPN in our complete IPVanish review.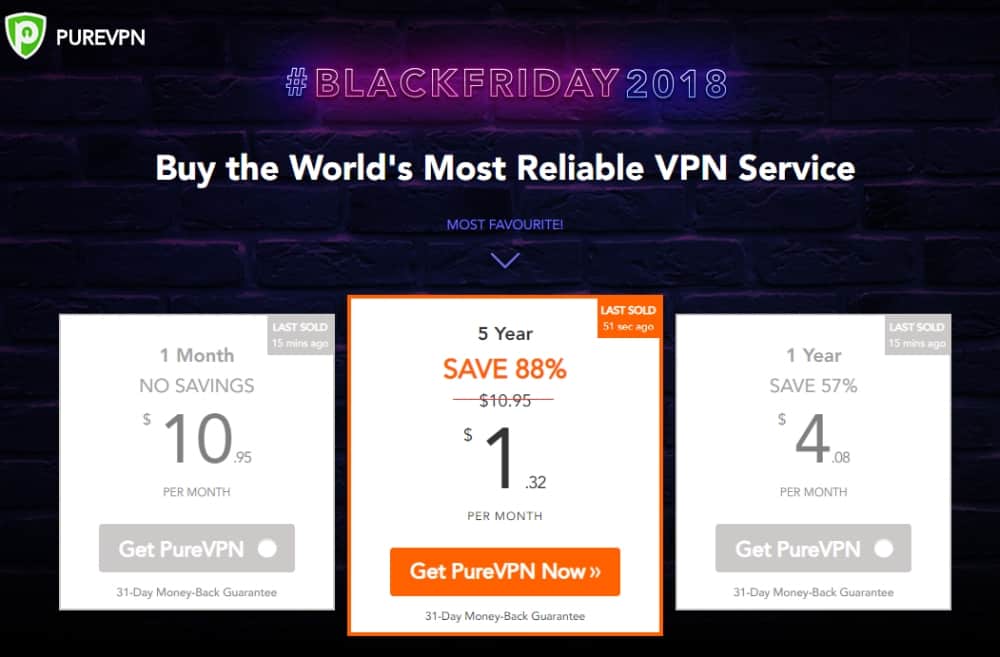 Discount dates: This deal is currently available, but no end date has been announced. Grab it before it disappears!
PureVPN goes above and beyond the standard VPN offerings. The company delivers a complete suite of online protection services aimed at keeping you safe from a wide variety of threats. With a single download you get access to anti-virus protection, malware shields, app blocking features, and website filters, all alongside VPN encryption and anonymity. No additional setup is required, just install the app and you're safe!
PureVPN also delivers the right mix of privacy features to keep you safe from data thieves. It starts with a zero-logging policy on traffic and continues with an automatic kill switch, 256-bit AES encryption on all data, and DNS leak protection. These features work together to keep your data secure no matter what. PureVPN also owns their entire network of 2,000+ servers in over 140 different countries, meaning you're all but guaranteed a fast and private connection to the internet!
PureVPN stands out as one of the most all-encompassing VPN services on the market. It offers a ton of unique server locations for IP addresses no other VPN can deliver, and you get all of those extra security features, as well.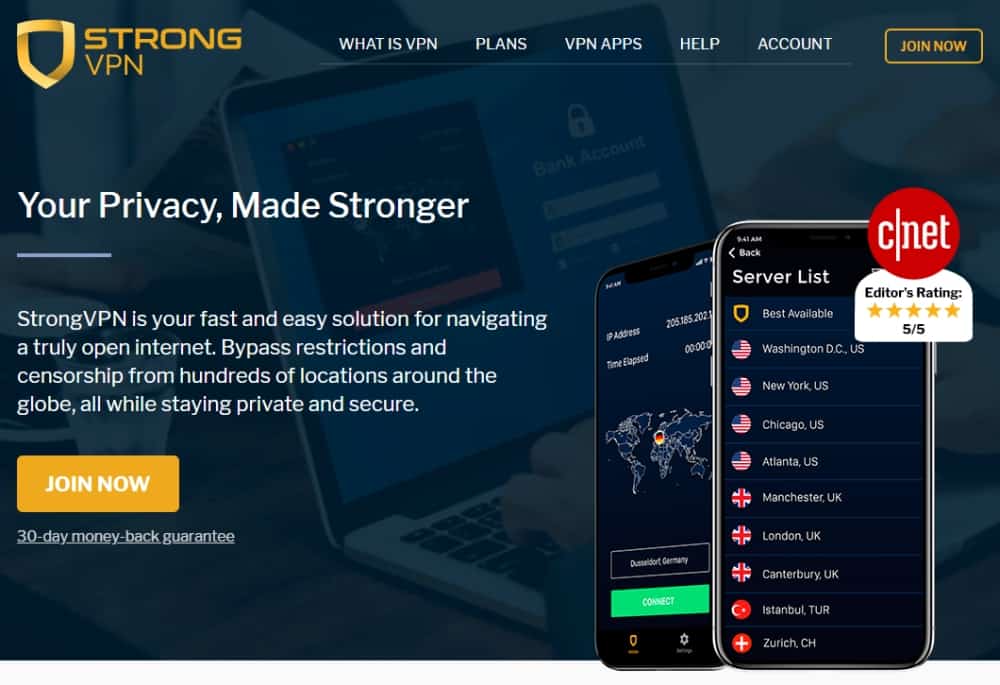 Discount dates: Sale runs from November 21 through November 27. Available to new customers only.
StrongVPN knows exactly what VPN users are looking for, and it delivers it in a slim, attractive, and highly functional package. With StrongVPN users get immediate access to a safe and secure network that includes over 650 servers in 26+ countries, giving you the fastest virtual location connections every time you sign on. You'll also take advantage of DNS leak protection and automatic kill switch features on the company's custom software, making it a great choice for fast and simple online security!
A variety of modern platforms, including Windows, MacOS, iPhone and iPad, Android devices, Fire TV, and even manual router installs are supported by StrongVPN. This gives you a ton of flexibility when it comes to taking your devices online.
StrongVPN is a great choice for anyone who needs to keep their data safe and secure. It's especially good at accessing Netflix streams from around the world, all without having to worry about blocked proxy errors.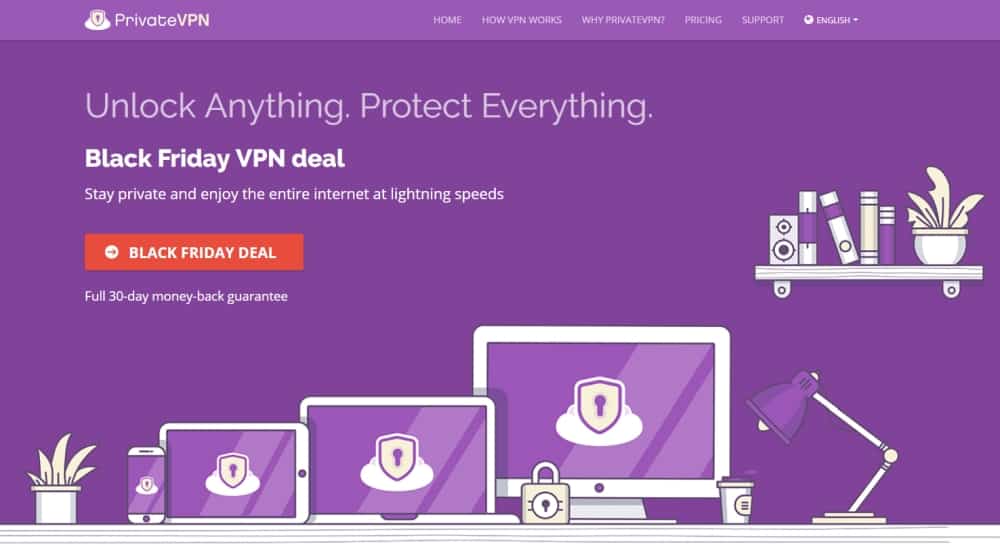 Discount dates: Sale is currently active with no expiration set. Get the discount now before it disappears!
PrivateVPN offers fast, lightweight, and accessible software anyone can pick up and use, no training required! It runs like a dream on everything from Windows to Mac, iOS to Android, and it connects to the company's lightning-fast network in a flash. You'll get excellent speeds no matter which server you connect to, and you'll have the peace of mind that comes with knowing your data and identity are safe and secure, too.
PrivateVPN operates a sturdy and reliable network of over 100 servers in 52 different countries, enough to deliver location variety and fast speeds without sacrificing privacy. PrivateVPN also locks down all data with 256-bit AES encryption and keeps your connection safe with an automatic kill switch, DNS leak protection, and a zero logging policy on traffic.
You'll find a lot of great features within PrivateVPN's smart and streamlined package. One of its most useful extras is reliable Netflix access from around the world, including convenient tagged servers that let you quickly locate compatible servers at a glance.
Read more about PrivateVPN's useful features in our full PrivateVPN review.
Final thoughts
Black Friday is an exciting time for deal hunters. This year, we've found some amazing sales on some of the best VPNs in the world. It's the perfect opportunity to protect your online data and lock down your identity with a reliable service. And best of all, you won't have to spend a lot of money doing it!
All of the deals listed above will expire by the end of the month, and in some cases, much sooner. Don't wait to click the button and grab these discounts. You don't want to wake up after Black Friday is over regretting that you don't have a shiny new VPN to keep your data safe.
Which VPN deal are you going to grab this year? Let everyone know in the comments section below!