We are reader supported and may earn a commission when you buy through links on our site.
Learn more
Unblock Netflix: Best Working VPNs for Netflix in 2021
If there's one reason most people want to use a VPN, it's to unblock Netflix. Unfortunately, the media giant has erected some formidable barriers that run of the mill providers just can't beat. Today, we'll show you the best VPNs for Netflix that are tested and proven to work in 2020.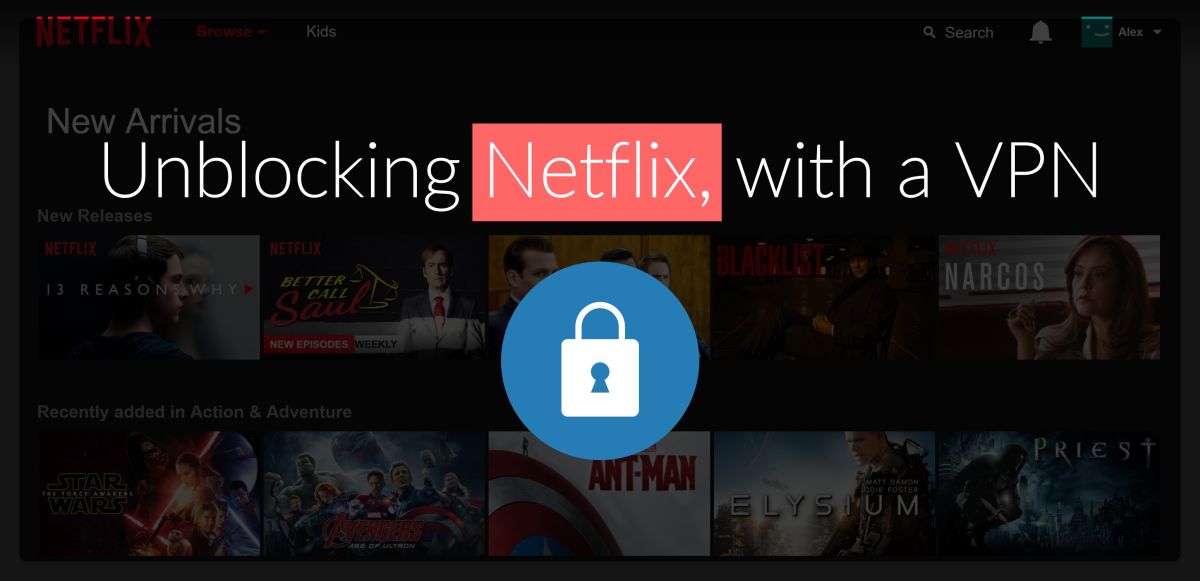 In the same way that Amazon has revolutionized the way we go shopping, and Uber has changed the way we hire a cab forever, so Netflix has fundamentally redesigned the way we watch TV and movies. And in the same way that Amazon and Uber have enjoyed huge commercial and popular success, so too has Netflix, with more than 93 million subscribers spread over more than 190 countries.
But Netflix does have one significant user issue and that is the regional variation in its service. Because although Netflix is proud that it is available in just about every country in the world, each location receives a different service and at a different price.
The best VPN for Netflix is one that can consistently unblock it. These providers do so reliably:
NordVPN – Best Netflix VPN – NordVPN's ability to bypass Netflix's VPN block is unsurpassed. Get a virtual IP from any country to unblock international streaming libraries in complete security.
Surfshark – Every server is a Netflix server! Low price, high security, unlimited simultaneous connections.
ExpressVPN – Best for blazing fast connection speeds and UHD streams with no buffer or lag.
VyprVPN – Slither past Internet restrictions with the fast but secure Chameleon protocol.
StrongVPN – A reliable provider that has been unblocking US Netflix for years.
This is because Netflix has to buy up the rights to stream the TVs and Movies on its service and these are sold by country. That means that, apart from the programs that it makes itself unless it can buy up the rights to a show globally, it is only able to stream that show in the countries where it holds the rights.
Whilst Netflix is the biggest name in the online streaming marketplace, it is by no means the only one, and there is competition for those rights. Sadly, the upshot is that the service Netflix users receive can vary wildly.
30-days money back guarantee
How to bypass the geo-block
The benchmark for what Netflix should be offering can be found in their home country, the USA. Netflix USA offers by the far the biggest selection of shows and movies and also one of the most competitive subscription prices. This is why many global users look for a way to get access to Netflix USA rather than sign up for their own countries service. Of course, Netflix uses geo-blocking to try and stop anyone outside the USA from being able to use their Netflix US service.
This is where a VPN comes in because, with a VPN, users can change their IP Address by connecting to a VPN server based in the USA. This fools services like Netflix into thinking they are located in the USA when they aren't and allow them to sign up and enjoy the best of Netflix wherever they are.
For users who have chosen to go with their local version of Netflix, a VPN is also a useful tool as it means when you travel overseas, you will still be able to access your local service as usual.
Can a VPN really help unblock Netflix?
The most clued up amongst you will be at this point be thinking, ah, but didn't I read somewhere that Netflix is now blocking VPNs from accessing the service.
Yes, you did, and yes Netflix is now trying to do this. Why? Because the rights owners, most notably the major Hollywood film studios, who they do deals with are demanding it, and Netflix cannot operate if it doesn't retain the support of those rights holders.
But the key word is trying because trying to block VPNs is not a precise science. The only real way to achieve it is to individually identify IP Addresses linked to VPNs and then block them. But this is not easy to do.
Firstly, there are countless VPNs out there and most will offer users hundreds if not thousands of different IP Addresses to choose from. Secondly, VPNs are adding new IP Address all the time and either replacing or rotating IP Addresses that users are connected to.
This means that what Netflix have done is create a 'Cat and Mouse' game where they try and catch the IP Address, but as soon as they do the VPNs can change them. When the Netflix crackdown first started, many people thought Netflix would soon tire of this game when they realized it was one they couldn't win. But Netflix has been persistent and has had an impact on users of quite a few VPNs.
But not all of them. There are still plenty of VPNs that can allow you to use Netflix regardless of where in the world you are. And in this article, we are going to outline our pick of the very best ones.
RELATED READING: How to use netflix with a VPN (and How to Bypass it)
How we tested
To make it onto our list of the Best VPN for Netflix, a VPN provider must meet the following criteria:
Best VPNs for Netflix
Using the criteria above, we have analyzed and road-tested all of the top VPNs across the market to assess which offer the best service for accessing Netflix USA. Our conclusions are that these five VPNs are the best around for users who want to be able to access Netflix USA: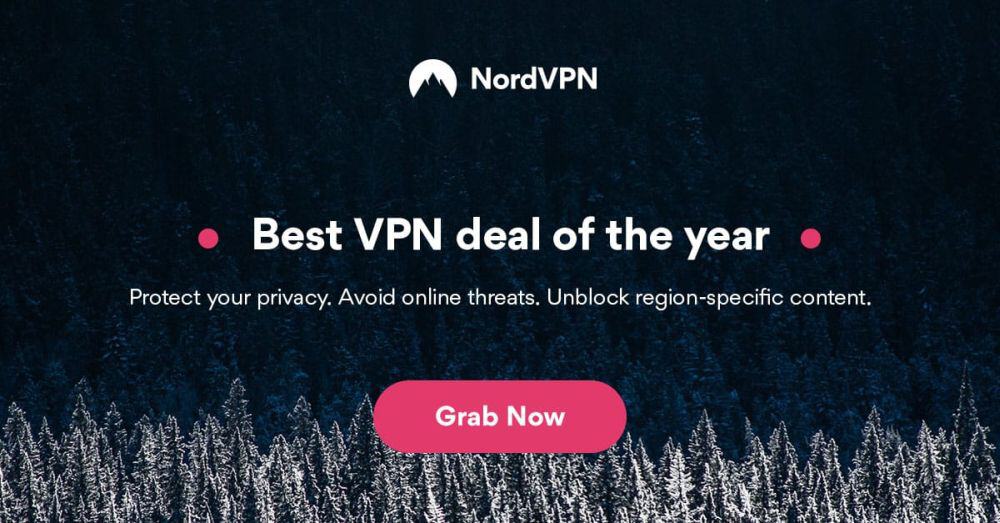 Like ExpressVPN, NordVPN is a long-established and highly regarded name in the VPN Market. This reputation has not developed by chance either as they are another provider which offer a top of the range service across all the main platforms, and which also works with the Netflix app.
Their encryption isn't quite as strong as ExpressVPN's but they still offer 256-bit encryption on OpenVPN with 2,048-bit Diffie-Hellman keys which is still better than many of their other competitors. They are based in Panama which means their privacy policies are faultless and their no-logs guarantee is another you can rely on.
One area where they could perhaps improve is on connection speeds. I should stress that running Netflix across various servers for this article I did not encounter any speed problems. But in the past, I have found that speeds can vary depending on which server you connect to and this is something they should be working on.
As far as server locations are concerned, NordVPN offers just around 5,700 servers across 60 countries. A total of 1,906 of these are based in the United States. However, connecting to Netflix through NordVPN is not quite as simple as just choosing a server and then logging in.
NordVPN has been targeted by the Netflix block, as they readily admit online, but they do have an additional tool which helps them get around the problem. They call this their SmartPlay technology and using it allows access to all online streaming platforms, including Netflix.
They are understandably reluctant to explain how it works, and I am not going to spend time speculating here, but It is a type of proxy service, and most importantly it does work. I can vouch for that personally.
Smartplay used to not be available across of NordVPNs apps, with the iOS app not offering it. But it has now been built into the core VPN software, meaning that when needed it is triggered automatically, without the need for users to turn it on and off. This is a definite improvement and a good reason why NordVPN is a great option.
Read our full NordVPN review.
Pros
Very affordable plans
No bandwidth caps
No IP/DNS leaks found
No logs and encrypted connections for total privacy
Live Chat Support.
Cons
Automatic server selection can be unreliable
Apps can sometime be slow to connect.

Surfshark is uniquely positioned to solving the needs of torrent users the world over. For one, there's essentially no censorship block in the world capable of stopping Surfshark. They use obfuscation and a special NoBorders protocol which can handily evade deep packet inspection (like the kind used by Netflix to enforce its VPN ban), or penetrate the Great Firewall of China.
Of course, connections to Surfshark servers are also incredibly secure, established via OpenVPN, IKEv2/IPSec, or WireGuard, and encrypted with the NSA-grade 256-AES-GCM cipher. Not only is this an unbreakable tunnel, but it allows for fast data transmission–perfect for high-definition Netflix streams.
Worried about logging? Don't be-Surfshark's British Virgin Islands jurisdiction enables them to enforce a "strictly never" logging policy. Finally, Surfshark proudly advertises that every one of their 800+ servers in 50 countries works to unblock Netflix–no specialty servers required!
Pros
Break through harsh censorship to securely access social media and foreign news sites
Every server is a speciality server
IP, DNS and WebRTC leak protection plus kill switch
Absolutely no logging of connection data, IP addresses, bandwidth used, or traffic
Support staff manned by actual human beings 24/7.
Cons
Speeds occasionally suffer a noticeable drop
Young VPN still has plenty of room to grow in terms of advanced functionality.
Read our full Surfshark review.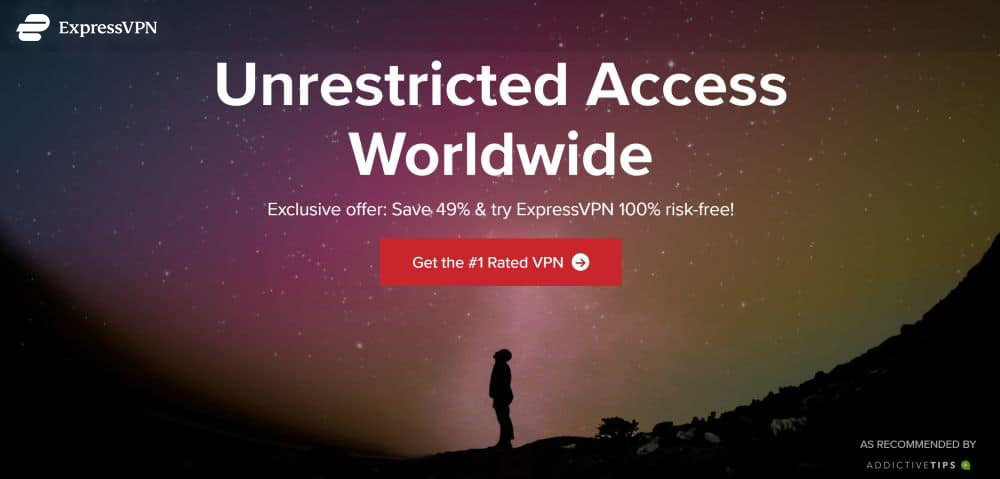 ExpressVPN is just about the best VPN on the market period. It offers an overall service which has almost nothing to criticize and is available on all the main Operating Systems. Their security is fantastic, with their entire network being SSL secured with 256-bit encryption. Their privacy policies are top of the range too. Being based in the British Virgin Islands mean they can offer a guaranteed no-logs rule you can trust. They also own their own DNS Servers, which adds an extra layer of privacy protection.
But why are they one of the best VPNs for Netflix? Firstly, they are fast. Their connection speeds are amongst the fastest I have found with any VPN provider. And equally importantly, their connections are also consistently quick. I have run Netflix across different servers and never encountered a change in performance.
As far as the number of servers goes as well, they are also right up there with the very best. They currently have 3,000+ servers in 145 cities across 94 countries. For Netflix users, the import server figures are in the USA, where ExpressVPN offers numerous servers in locations including New York, New Jersey, Washington DC, Atlanta, Miami, Los Angeles, San Jose, San Francisco, and Seattle.
Most importantly, can they offer guaranteed access to US Netflix? Yes. A look at the dedicated Netflix page on their website suggests that it is service as usual for ExpressVPN customers. That's not quite true. But they do guarantee a number of selected US servers will connect to Netflix at any one time. These may change occasionally, and ExpressVPN has requested that we don't identify these servers publicly. But once you have subscribed their live chat helpdesk will tell you which ones to use, and I can vouch for the fact that they work, and work well.
ExpressVPN is also one of the few services that does work with the Netflix app too. This means it is a great choice for those who like to watch Netflix content on the move, or just prefer the convenience an app offers.
Read our full ExpressVPN review.
Pros
Unblocks US Netflix
Super fast servers
Govt-level AES-256 encryption
No logs for personal data
24/7 Customer Service.
Cons
Expensive month-to-month plan.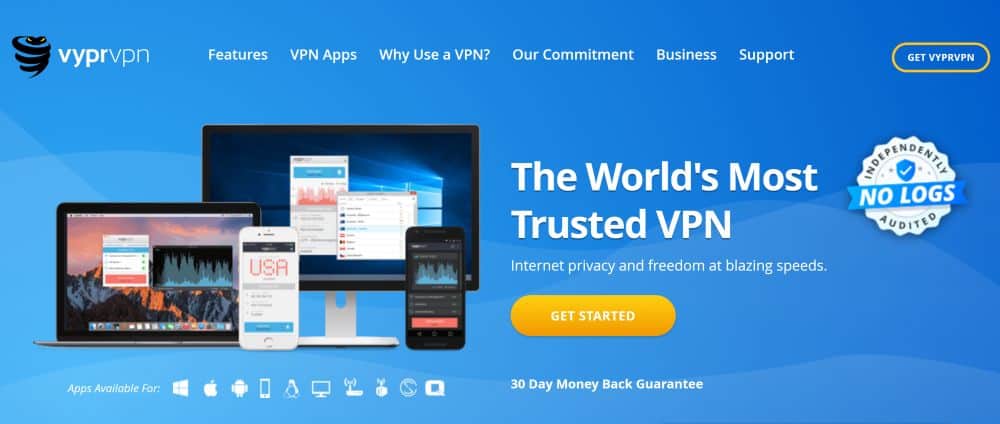 VyprVPN is operated by Golden Frog and is another well-known name in the VPN world. Their encryption is as good as any of their rivals and they also offer a guaranteed no-logs policy with regards to the content of sites and services that you visit.
However, they do keep connection logs, which include data such as the User's home IP Address, the VyprVPN IP Address you connected to, the connection start and stop time, and the amount of data transferred. If you are using your VPN purely for streaming content on Netflix and are not concerned about your online privacy, not trying to stop your ISPs recording and selling your online information, and planning to download any Bittorrent files, this won't be a problem.
But we know that many users want a VPN to provide privacy protection as well as access to Netflix, and if that applies to you, then the other VPNs on this letter are a better choice for you.
VyprVPN's speeds are fast, but if I am being completely honest, not the fastest in the world. For the average Netflix user, they should be more than sufficient to stream what you want to watch. I have certainly never had problems using it.
They have increased the number of servers they offer users dramatically over the past 12 months too. Today they have more than 700 available around the world. In the US, they have servers available in Austin, Chicago, Los Angeles, Miami, New York City, San Francisco, Seattle, and Washington DC.
The VyprVPN website confidently claims that they not only offer access to Netflix but that it is the fastest access you will find. I'm not so sure about the second part, but it is certainly true that all of the US servers I have tested have worked and the service has functioned well.
They do also offer a service called Chameleon which they claim is a specialist tool for defeating VPN blocking. However, VyprVPN officials insist that this is not needed to connect to Netflix USA and in my experience, they are correct. It's a good thing too, as Chameleon is only available with their more expensive premium package.
Read our full VyprVPN review.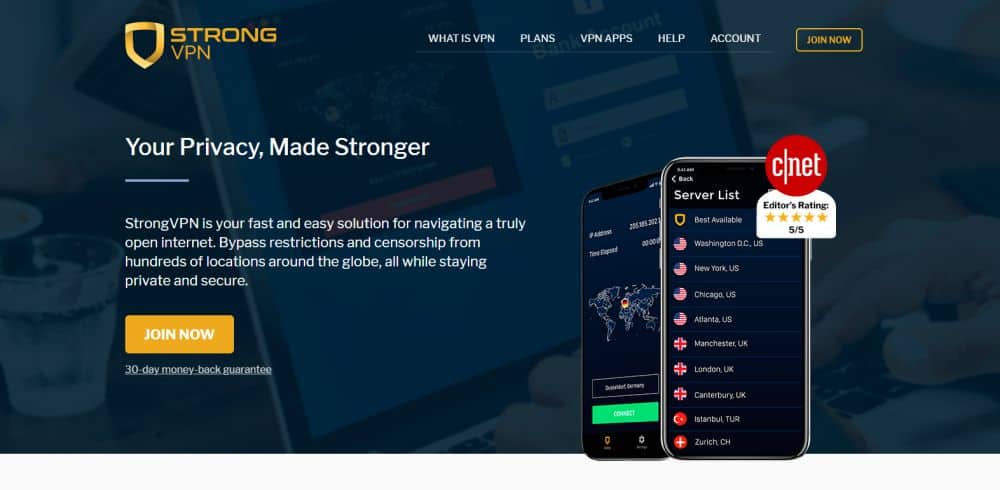 Like all of the other VPNs on this list, StrongVPN operates across all the major operating systems and offers a level of encryption which is more than sufficient for most users. Their default protocol is OpenVPN with 256-bit encryption and SHA512. They are based in the USA, which means that whilst they proclaim to have a no-logs privacy policy, they will be required by US law to retain certain information about user activity.
As with VyprVPN, some Netflix users will not be concerned about this, but others might be. StrongVPN does, however, own their own servers, which is an extra level of privacy guarantee which not all providers can offer.
In my experience, StrongVPN's speeds are good, without being outstanding, across all servers. The number of servers they offer is not as high as some others, with a total of 650+ servers but spread across just 24 countries and 46 different locations. The US is well represented though, as would be expected from a US-based provider.
At the time of writing, there were two US-based StrongVPN servers (Miami and Atlanta) which were unable to connect to Netflix. But the rest of the servers worked well.
If you encounter more problems than I did (and there is no reason to think you will) StrongVPN do offer a workaround solution. However, I wouldn't recommend giving it a go unless you have at least a basic degree of technical knowledge.
One downside to StrongVPN is that their service will not allow you to stream content on the Netflix app, so if you are planning to watch Netflix content on the go, StrongVPN are not the best choice for you.
Concluding thoughts
The VPN market is a crowded one and with Netflix a big draw for users, almost all VPNs claim to be able to access it. But the hard truth is that Netflix has had success with its attempt to block VPNs and some of these claims are more reliable than others.
With VPNs discounting hard to get people to sign up for longer periods, it is easy to mislead users and then, once they money has been paid, reveal that the service isn't quite as good as was advertised. But in this article, I have identified five VPNs which genuinely do offer access to Netflix, no matter where in the world you are.
All are established names, but all have their strengths and weaknesses, so it is up to the individual user to decide which one is right for me.
For me, a VPN is a security and privacy tool as well as a means to access Netflix and for that reason, NordVPN and Surfshark, whose privacy provisions are marginally more reliable that the others would edge ahead in my reckoning.
But if you are looking for a VPN solely to enable you to access Netflix, then all of these will do the job, and do it well.