We are reader supported and may earn a commission when you buy through links on our site.
Learn more
How to Watch Sling TV from Anywhere in the World
If you live outside the United States, you'll need to unblock Sling TV using a VPN, or you'll miss out on its great range of content. If you're not sure how it works or which provider has the best offer, this guide is for you. Read on to learn how to watch Sling TV online quickly and easily.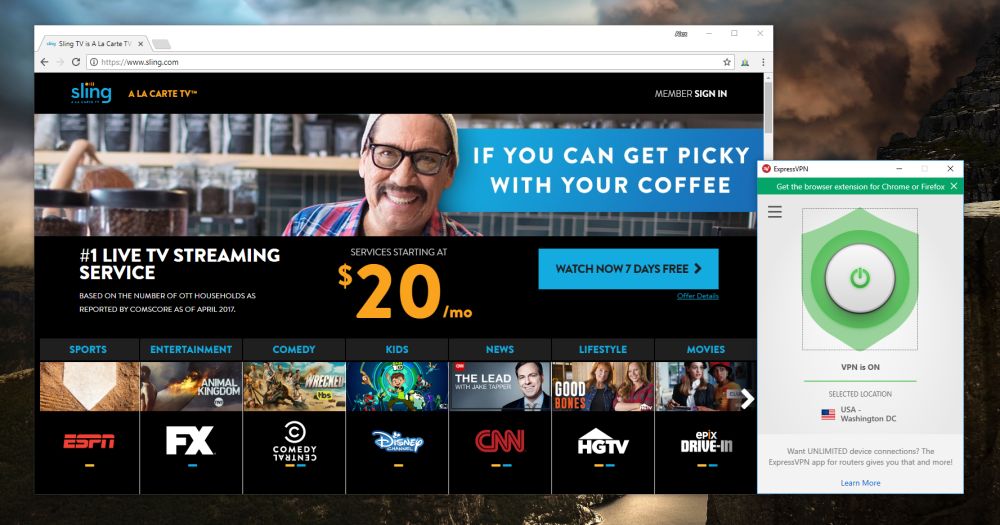 Sling TV is an online TV service that delivers live streams through web browsers and to Sling compatible Smart TVs, gaming consoles, and set top boxes. The service bills itself as "a la carte TV", meaning users can pick which line-ups they want from a selection of over 150 channels and only pay for the content they choose. It's all built around customization and on-demand entertainment, and it's been extremely popular since its launch a few years ago.
Need a US IP address to unblock Sling TV? You can rely on these top-tier VPN providers:
NordVPN – Best for Sling TV – Overall, it's easy to recommend NordVPN as the best streaming site unblocker, with its vast amount of American servers and unbreakable privacy provisions.
Surfshark – Surfshark offers lightweight VPN apps with heavyweight encryption and tunneling. Unlimited simultaneous connections, fast streams.
ExpressVPN – A front runner in the race for fastest VPN speeds, ExpressVPN doesn't skimp on security when unblocking Sling TV.
There's one major drawback to the Sling TV experience: it's only available to users inside of the United States. Even Sling's official website is blocked in the UK, Canada, Australia, and beyond. With the right tools and a little time, however, there are some surprisingly effective ways to get around this limitation and watch Sling TV from anywhere.
30-days money back guarantee
How Does Sling TV Block Users from the UK, Canada, and Australia?
Geo-blocking, sometimes called region locking, is a common practice where rights holders restrict where their property can be broadcast or displayed. If a movie is created in the U.S., for example, the production studio might want to keep that release local for a set period of time. Networks whose content is featured on Sling TV follow a similar strategy, only instead of a timed release, it's a set U.S. exclusive.
Sling TV handles these region locks by using IP addresses. An IP address is a series of numbers given to every device that connects to the internet. When you go online, your local service provider assigns your device an IP which it uses to deliver data to your computer. The IP address also contains general location information such as country and city markers common to IP addresses in the region. By blocking entire groups of IPs, websites and service providers can prevent all residents in that area from accessing certain pieces of content.
RELATED READING: How to change countries on your Netflix account
Unblocking Sling TV Worldwide – Proxies and VPNs
IP blocks are the most basic form of content restriction on the internet, which means they're surprisingly easy to circumvent. The simplest way to sidestep this limitation is to change your IP address. There are two main methods for doing this: proxies and virtual private networks. Both offer simple, easy to use, and remarkably inexpensive services that let you change your virtual location right from your computer.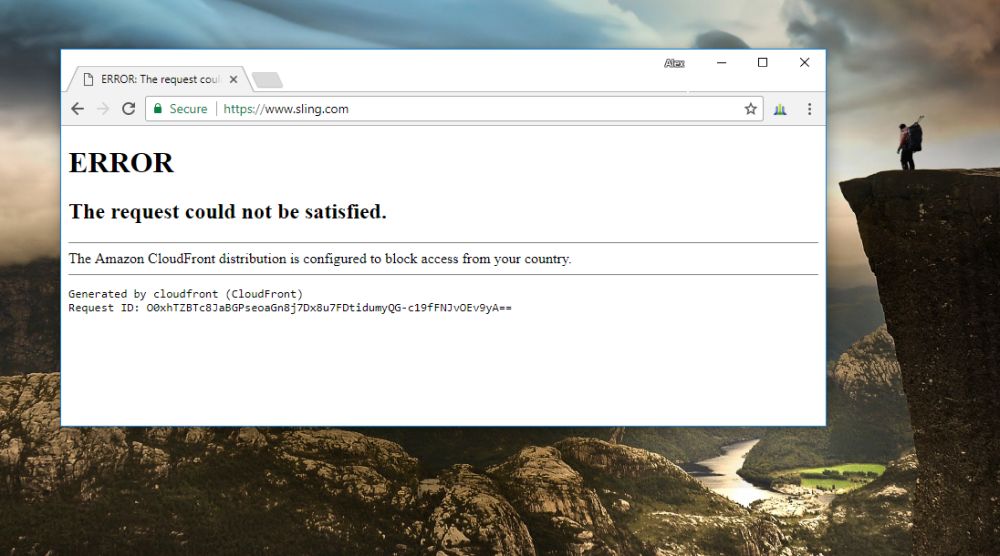 Proxies act as a pass-through middle ground between your device and the internet. When you go online you are assigned an IP address by your local provider, just like normal. That IP is only shown to your proxy provider, however, not the websites you visit or the video streams you use. Your IP is swapped with an IP given by the proxy service, essentially changing your location from your physical address to the location of the proxy server. Want to get a U.S. IP address? A proxy can let you do that, no problem.
VPNs go a few steps further than proxy services. A VPN works like a private tunnel between your computer and the internet. Data gets encrypted before leaving your home, scrambling it so no one but the virtual private network can read it. The encrypted information is also assigned an IP address associated with the VPN, giving you the ability to change virtual locations with just a few clicks, all while retaining your online privacy.
Both VPNs and proxy services are fast and effective ways to get a new IP address and access services like Netflix, Hulu, BBC iPlayer, and Sling TV no matter where you live. Because VPNs add extra privacy features and are a bit more reliable, however, they tend to beat out proxies as the number one method of unblocking region-locked content.
Benefits of Using a VPN to Access Sling TV
Running a VPN has become more and more useful as the years go by. The benefits provided by a simple service like this include unblocking geo-restricted content, bypassing censored websites, protecting your identity while traveling, and gaining access to blocked sites like Facebook or Twitter. You can even use a VPN to regain browsing freedom on a restrictive work connection or while visiting an information-limiting country like China.
Along with location variability and access to region locked content, VPNs also deliver a more private browsing experience. Instead of transmitting raw data across the web, VPNs encrypt your traffic and decouple it from your local IP, making it extremely difficult, if not impossible, to associate activity with your identity. This is fantastic for home use, and it also makes traveling and public hotspots much safer.
Not all VPN services are equal, of course. With hundreds of companies to choose from and pages of features and policies to evaluate, it can be tough to find a VPN that fits your needs. Speed, privacy, and traffic control are three of the main features you'll want to look at. The best VPNs ensure a fast connection no matter what server you're connected to, they don't monitor or restrict which types of files you can stream or download, and they have a strict zero-logging policy to ensure your information leaves no trace behind.
Best VPNs for Unblocking Sling TV Anywhere
Geoblocks are a drag, but with the right VPN, you'll be enjoying your favorite Sling TV streams whenever and wherever you want. These are the most reliable, fastest VPNs on the market: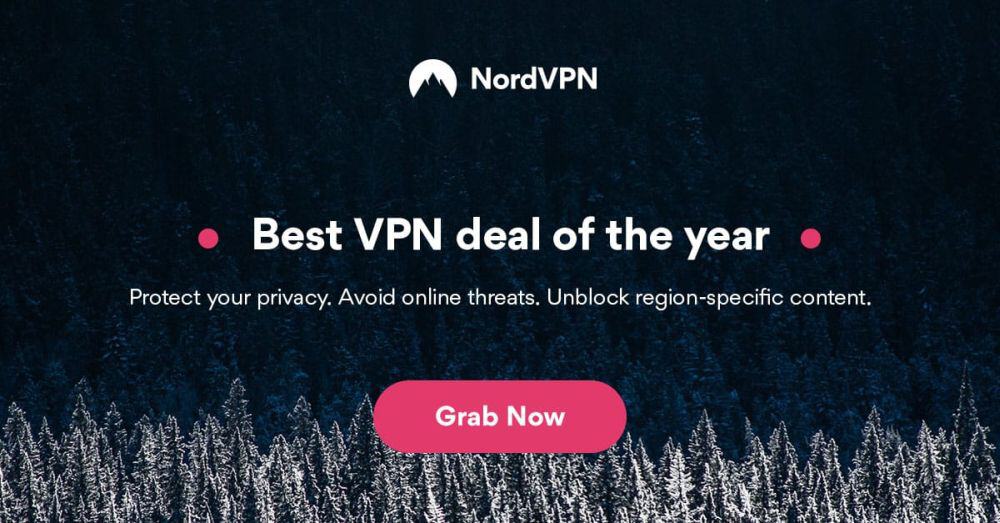 NordVPN is uncompromising when it comes to your privacy, and this has the added benefit of making it trivially easy to sneak past Sling TV's geoblocks. With nearly 2000 servers in the United States alone, you'll be spoiled for choice in terms of the available virtual IPs you can spoof. And with unbreakable 256-bit AES encryption, you can count on being able to slip past internet restrictions completely undetected.
Need more? How about a battery of specialty servers, fine-tuned for anti-DDoS, torrenting, obfuscation, and even static IP addresses? What's more, NordVPN allows power users to peek under the hook and tinker with security settings that best enable them to do what they want online–completely free of surveillance or censorship.
Finally, we recommend NordVPN as the best overall provider for streamers due to fast connection speeds, unlimited bandwidth, and zero logging.
Read our full NordVPN review.
Pros
Works with Netflix, BBC iPlayer without breaking a sweat
No bandwidth caps
256-bit AES encryption with perfect forward secrecy
Retains no metadata of your browsing
Great support (24/7 chat).
Cons
Automatic server selection can be unreliable
Can't specify City or Province in App.

Surfshark may not have the sheer network size of other, more mature VPN providers. But they're growing all the time, and clearly prioritize quality over quantity. For evidence, look at their marketing materials; you won't find mention of "specialty servers" anywhere. Why is this a good thing?
Because using Surfshark to unblock sites like Sling TV is completely fool-proof. You don't need to know a lot about 256-AES-GCM encryption or advanced tunneling protocols like OpenVPN, IKEv2/IPSec, WireGuard, and Shadowsocks (all of which Surfshark uses). Instead, you just fire up their highly intuitive, minimalist VPN app, select the country you want to spoof, and let your smart VPN do the rest.
Speeds across their 800-server wide network are fast by default, and great for HD streaming. And best of all, you never have to worry about ISP or government snooping, with Surfshark's outstanding no-logging policy.
Pros
Every server optimized for unblocking Netflix, BBC iPlayer, Hulu, and more
Torrent safely on any server, no guesswork required
Wide app availability on desktop, mobile, consoles, smart TVs and more
Zero logging policy ensures your activity can't be used against you
Responsive customer support available 24/7.
Cons
Speeds occasionally suffer a noticeable drop
Relatively young VPN still has to prove itself trustworthy over the long haul.
Read our full Surfshark review.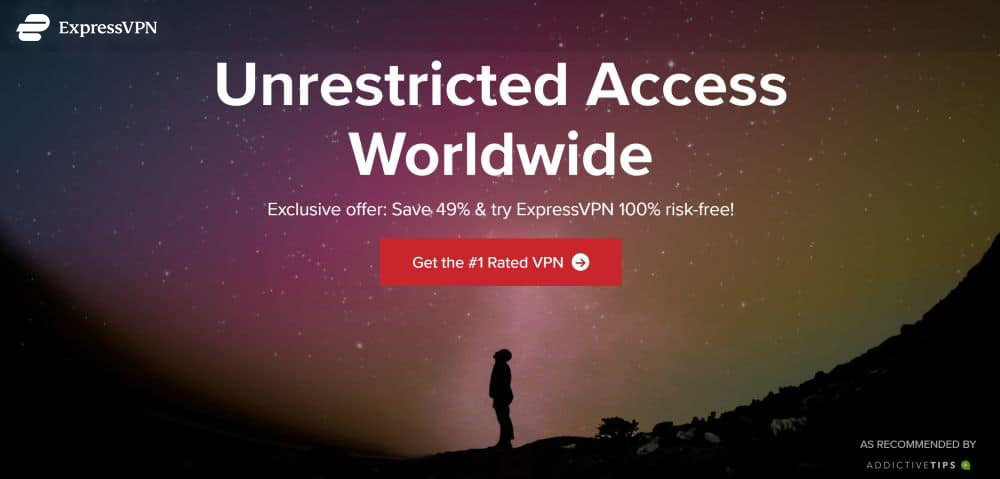 ExpressVPN is one of the fastest and most reliable VPNs around. The service has a well-deserved reputation for speedy connections across its entire network, allowing users unrestricted and unmonitored access to torrents, P2P networks, and video streams from around the world. There are over 3000 servers to connect to representing 3000 different countries, including nine locations on both coasts of the United States, which is perfect for watching Sling TV.
Privacy is another one of ExpressVPN's strong points. The company uses 256-bit encryption to keep prying eyes away from your data, deploys multiple VPN protocols, is compatible with nearly every operating system and device on the market, and has a strict zero-logging policy to make sure third parties can never access user histories. In short, it's everything you could want from a VPN, and it's extremely easy to use, as well.
Some other advantages of using ExpressVPN include a kill switch and DNS leak protection to ensure your real IP address is never shared; custom apps for Windows, Mac, Linux, Android, iOS, and routers; plus built-in server speed tests for multiple versions of its software.
Read our full ExpressVPN review.
Pros
Works with US Netflix, iPlayer, Hulu and other services
Super fast servers
Govt-level AES-256 encryption
No personal information logs kept
Live chat support available.
Cons
High cost for month-to-month users.
Create a Sling TV Account in the UK, Canada, or Australia
Even with a U.S. IP address and full access to the Sling website and Sling TV, you'll still need an active subscription to use the service. Fortunately the Sling Media group has made it easy for international users to create an account. You can even take advantage of the seven day free trial!
How to create a Sling TV account: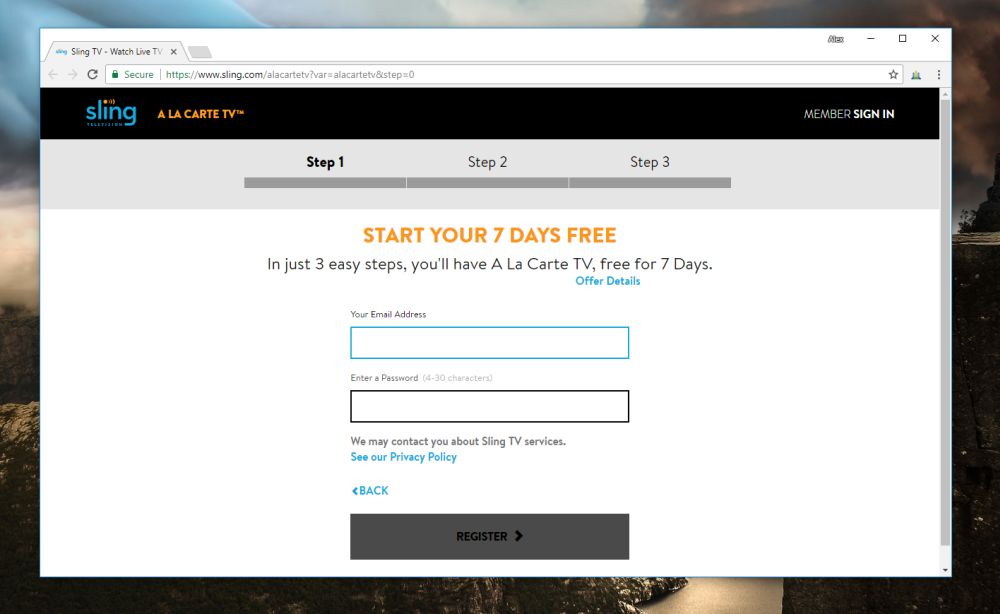 If the page doesn't load fully, disable your adblock and reload.
Enter an e-mail address and create a password, then click "next".
Select your channel line-up and any extras you'd like to add, then click "next".
Enter your first and last name.
Enter a valid credit card. It doesn't have to be a U.S. credit card.
Enter any five digits into the billing zip code box.
Submit your information and let your free trial begin!
Note that Sling officially states it doesn't support viewing from outside of the U.S. Some users have reported their international accounts have been terminated for violating this condition. The best way to avoid sudden account suspension is to get a U.S. mailing address, associate it with your credit card, and only access Sling TV while your VPN is active.
RELATED: How to Use Netflix with a VPN
Watch Sling TV on Android TV with a VPN
Sling TV is available for most PC, smartphone, tablet, and set top box environments. In order to gain access from the UK, Canada, or Australia, however, you'll need to install the VPN's software on the same device. This can be a little tricky depending on the VPN and the device you're using, but if you have access to an Android-based set top TV box, you can get everything up in running in just a few minutes.
One limiting factor when it comes to VPNs and Android TV is the availability of an official app from your chosen VPN provider. Services like ExpressVPN offer custom software you can download straight to your TV box from the Google Play marketplace, making the entire process as simple as possible. Other services often require sideloading the app, which is a bit more complicated.
If your VPN provider doesn't offer an official app on the Google Play marketplace, or if your TV box can't access Google Play for some reason, there are some alternatives. Check out our guide on how to choose and install a VPN for Android TV boxes for more information.
How to install a VPN on Android TV box from Google Play:
Locate the Google Play icon on your Android TV box's home menu.
Search for your VPN's name (e.g. ExpressVPN).
If the VPN offers an app on the marketplace, install it to your home menu.
Run the app and enter your login details.
Choose a fast server located in the U.S., then let the VPN run in the background.
Download the Sling TV app from Google Play.
Open the Sling TV app and enjoy!
Watch Sling TV on an Amazon Fire TV Stick Using a VPN
The Amazon Fire TV and Amazon Fire TV Stick are low cost and convenient ways to bring a world of video streaming to your television. Using them is as simple as plugging them into your TV and choosing what you want to watch. Sling TV offers an official app for the Amazon Fire TV environment, but if you want to take advantage of the service from the UK, Canada, Australia, or elsewhere outside of the U.S., you'll need to get a VPN up and running at the same time.
As is the case with many set top TV boxes, some VPN providers don't offer official apps for Amazon Fire TV. An exception to this is ExpressVPN, discussed above, which has an app you can download and install in just a few seconds. Without this convenience you'll need to sideload software onto your device. See our complete guide for more information on how to install a VPN on Amazon Fire TV Stick.
How to install a VPN on Amazon Fire TV:
Locate the Amazon Appstore icon on your Fire TV.
Search for your VPN's name (e.g. ExpressVPN).
If the VPN offers an app on the marketplace, install it to your home menu.
Run the app and enter your login details.
Choose a fast server located in the U.S., then let the VPN run in the background.
Download the Sling TV app from Amazon's appstore.
Open Sling TV and enjoy!
Slingbox and Sling International
The Sling Media group does more than just Sling TV. The company has been in operation since the early 2000s and has released a variety of hardware and software products since then, all designed to help make TV more convenient to watch.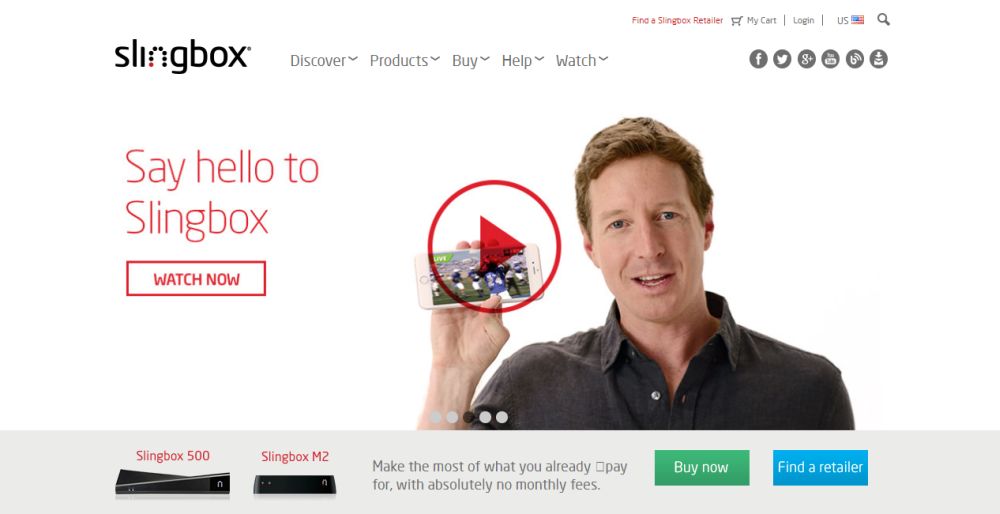 The Slingbox is what started the Sling company back in 2004. A Slingbox turns your home television or DVR service into a private streaming media server. You can record shows, watch local channels, and view live content from anywhere. The companion SlingPlayer and SlingProjector lets you use your smartphone to watch and cast content to and from mobile devices, all from a simple and seamless interface. The Slingbox isn't restricted to the U.S. and is for sale in a variety of countries. It won't help you watch Sling TV outside of the U.S., but it's still a useful device for recording and watching TV.
Although Sling International might sound like Sling TV for the rest of the world, it's actually kind of the opposite. The Sling International service lets users in the U.S. watch a selection of international channels in a variety of languages, everything from Arabic to Mandarin to Urdu. Its main purpose is providing access to international sports events like soccer and cricket, though with 300 channels to choose from there's plenty of other content on the table. Sling International works just like Sling TV and is available as an app and a paid service for a variety of devices. You can also use a VPN to change to a U.S. IP address and access Sling International, though it won't be nearly as useful if you already live outside of the U.S.
RELATED READING: How to get a FREE US IP address from anywhere in the world
Install a VPN on Your Router for Sling Access for Everyone
One small limitation of a VPN is you have to run special software on every device that connects to the service. You can't just activate the VPN on your desktop PC and have it cover your smartphone, for example. Most VPN providers work around this by creating lightweight apps for common operating systems. Installing them on some devices requires extra steps, however, which can put a damper on your Sling TV viewing.
A useful alternative is to install VPN software on your router. This pushes the encryption and re-routing to take place outside of your computer or smartphone, allowing every device that connects to your home network (including Wi-Fi) to take advance of the VPN. Got Sling TV on a tablet? Just connect and start viewing, it's that simple.
Getting the VPN software on your router will take a bit of know-how. The installation process varies greatly between VPN providers and router brands, so the best way to do it is to consult your VPN's support pages for a full, customized guide.
Be Careful with Free VPNs
It's extremely tempting to use a free VPN for quick, temporary access to Sling TV outside of the U.S. They're available on every app marketplace and software store, and they promise unlimited bandwidth and great features, so why not download and give it a shot? Unfortunately, like most freebies these VPNs have more drawbacks than benefits.
No-cost VPN providers are still businesses and need income to keep their servers online. If users aren't providing that income, the revenue has to be made up elsewhere. This usually comes in the form of injecting ads into the users' browser or by selling collected data the VPN is supposed to be protecting. While it may sound convenient, using a free VPN often puts your privacy at risk.