We are reader supported and may earn a commission when you buy through links on our site.
Learn more
How to Bypass the 4chan Ban Quick and Easy
Getting banned from 4chan sucks, but it's not a particularly difficult problem to solve so long as you've got a VPN on your side. Today, we review the best providers to help you bypass your IP ban. We also show you how to make full use of your VPN to to hide your identity on the world's largest anonymous forum.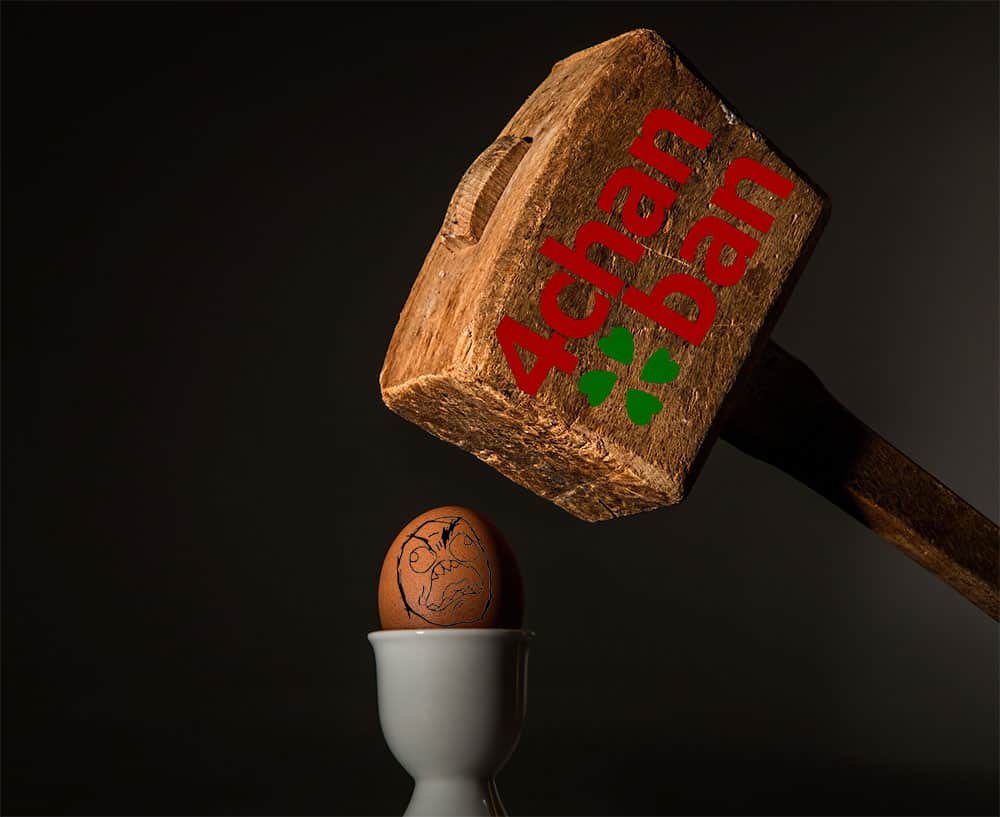 While 4chan has more than 22 million unique users every month, there is no way to register on the website, and users can post anonymously. This sounds like 4chan gives its users plenty of privacy and internet freedom. In reality, however, it's quite the opposite. 4chan's banning policy is quite rigorous; the website stores users' IP addresses and uses them to permanently suspend anyone who posts remotely offensive or controversial content. Unfortunately, these bans are not always justified, and there is a high chance of you being falsely accused of wrongdoings.
Banned from 4chan? Regain access by spoofing your IP with these trusted VPNs:
NordVPN – Best for 4chan – NordVPN is the Swiss army knife of the VPN world, and is more than capable of demolishing your 4chan IP ban with its robust encrypted network.
Surfshark – Robust encryption, built-in adblocking, blanket obfuscation, and unlimited simultaneous connections.
ExpressVPN – Blazing fast speeds, massive network, one-click interface.
CyberGhost – Good all-rounder with some specialty functionality for beating site blocks.
PrivateVPN – Especially good in highly censored countries, thanks to entirely provider-owned and operated network.
PureVPN – Routinely beats the Great Firewall of China, will do the same for 4chan bans.
In our tutorial, we will discuss how to bypass 4chan bans – and to remain truly anonymous online – using a VPN. And of course which are the best VPNs that actually keep your identity anonymous while browsing 4chan. We'll start by covering VPN providers that have security features strong enough to bypass blocks; explain the benefits of using a VPN with 4chan; and get you started with the right service for your needs.
30-days money back guarantee
What are the best VPNs for 4chan?
Before we delve into the specifics of 4chan bans and how to overcome them, it's important that you familiarize yourself with the best VPN services for ultimate online privacy. Here are the top 6 VPN providers to help you bypass your 4chan ban (or to avoid a banning altogether):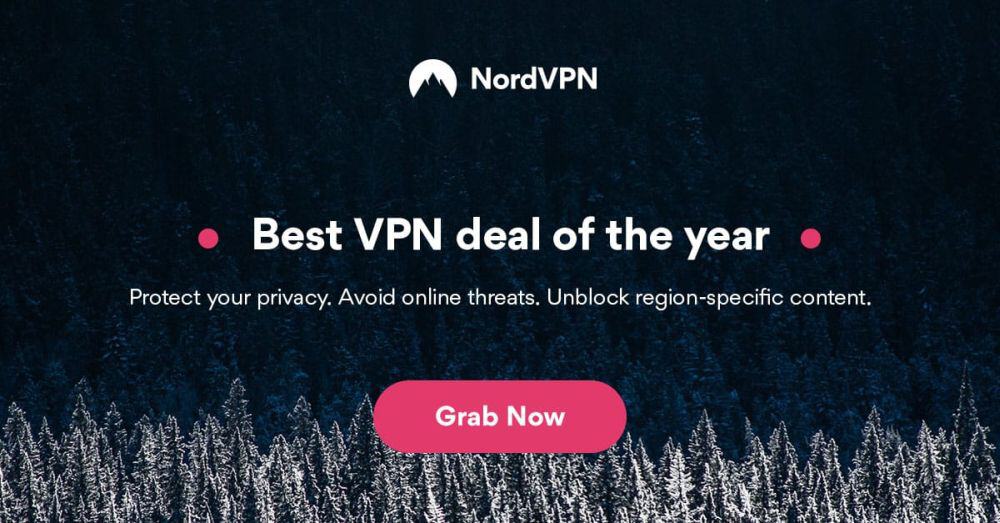 NordVPN offers the best overall VPN service for banned 4chan users. The provider boasts a number of advanced privacy and anti-censorship features that protect you online at all times. For starters, NordVPN offers specialty servers that are dedicated to providing ultimate anonymity to users. These include double VPN nodes that route your data through two layers of encryption, as well as obfuscated servers that hide the fact that you are using a VPN. Furthermore, 256-bit AES encryption keeps you secure at all times; it would take the world's strongest supercomputer millions of years to crack. All of this is backed by one of the most complete no-logging policies in the industry, where no logs of browsing history, timestamps, browsing history, and more, are being stored online. Additional features include an automatic kill switch that shuts down your internet should you get disconnected, and an in-built DNS leak test.
Despite its appeal to advanced users, NordVPN offers fundamentals that are just as great for beginners. First, it has one of the largest server networks in the industry, with 5,800+ servers in 59 countries. This means that your connection will always be fast with plenty of connection options. Whether you are browsing on a smartphone, PC, or tablet, NordVPN has apps for all major operating systems, including Windows, Mac, Linux, Android, and iOS. The attractive, intuitive display makes the service a breeze to use, and you will hardly notice it in the background while you are enjoying 4chan. You can connect up to 6 devices simultaneously, and a great customer support team is available for live assistance, 24/7.
Read our full NordVPN review.
Pros
Highly affordable plans
Mind-boggling number of servers
Up to 6 simultaneous connections
Based in Panama
Great customer service via chat.
Cons
Apps can sometime be slow to connect.

4chan IP bans don't stand a chance against Surfshark. Packing NSA-grade 256-AES-GCM encryption, the world's fastest and most secure tunneling protocols (OpenVPN, IKEv2/IPSec, WireGuard), and blanket obfuscation on every server, Surfshark is supremely well situated to spoofing.
Of course, you'll need servers to get the virtual IP you want, but Surfshark's got plenty. Despite their launch in 2019, they've already grown their network to encompass 800+ servers in 50 countries worldwide. This list includes options for multi-hop routing, plus static IPs in several of the most useful countries.
Tired of being bombarded by spam and adware? Enable Surfshark's CleanWeb module to stop ads, trackers, and popups before they load for a cleaner 4chan viewing experience. Finally, rest easier with one of the industry's best logging policies, backed by Surfshark's British Virgin Islands jurisdiction.
Pros
Unblock 15 international Netflix libraries, including the US and Japan
All 800+ servers are P2P-friendly, with private DNS and obfuscation
30-day satisfaction guarantee
Absolutely no logging of connection data, IP addresses, bandwidth used, or traffic
Get help any time of day via email, phone, or live chat.
Cons
Growing network doesn't have same coverage as more mature VPNs
Relatively young VPN still has to prove itself trustworthy over the long haul.
Read our full Surfshark review.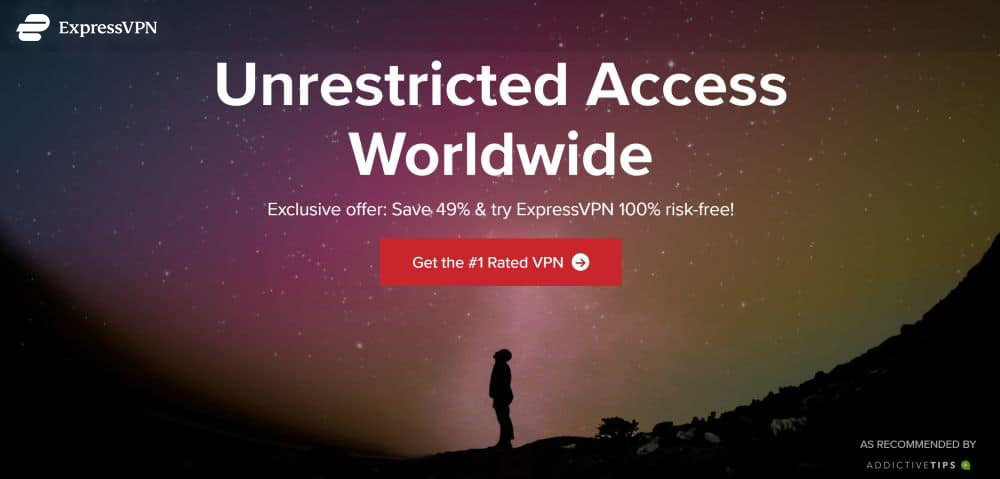 ExpressVPN is our #1 choice for users who want to bypass 4chan bans for two reasons: privacy and usability. First, the provider uses 256-bit AES encryption, where the keys generate more possible combinations than there are atoms in the known universe. Encryption protocols include OpenVPN's UDP and TCP, as well as super fast L2TP/IPSec. This means that despite an inevitable slowdown with VPN services, the difference between an encrypted and unencrypted connection with ExpressVPN will be hardly noticeable. The encryption is complemented by a reliable no-logging policy that ensures no logs on traffic, IP addresses, or even browsing history are stored and can be traced back to you. In addition, the provider is based in the British Virgin Islands, which makes it exempt from the Five, Nine and Fourteen Eyes international surveillance agreements. These security features will ensure that your online activities, including those on 4chan, can't be linked to your identity or used against you.
In addition to reliable security, ExpressVPN has a solid range of basic features. With 3,000+ proxy servers across 94 countries, connections will always be fast and you will be able to get an IP address from almost any location in the world. In addition, ExpressVPN has no limitations on bandwidth, speed, or server switching, so you can enjoy a secure connection without experiencing slowdowns. Even the software is lightweight and easy to use, meaning you can start browsing with a reliable VPN within minutes of signing up. ExpressVPN has dedicated apps available for all major systems, including Windows, Mac, Android, iPhone, and even routers.
Read our full ExpressVPN review.
Pros
SPECIAL OFFER: 3 months free (49% off - link below)
3,000+ super fast servers
No DNS/IP leaks found
Strict no-logs policy
Customer Service (24/7 Chat).
Cons
Max 3 simultaneous connections
Slightly more expensive than some other options.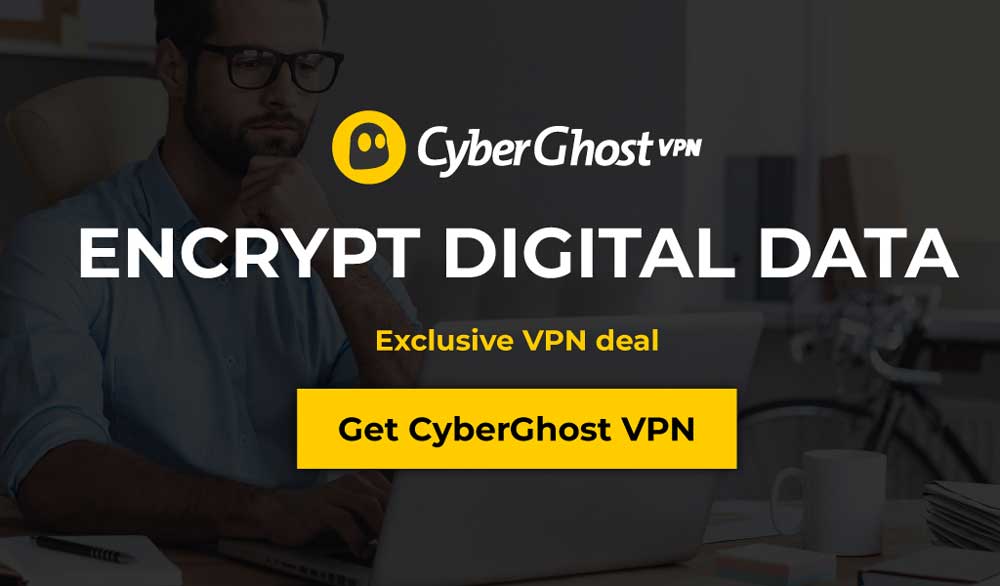 CyberGhost is a service that seamlessly combines ease of use with reliable security features at a very reasonable price point. For starters, the provider has dedicated apps for a wide variety of systems. These include major ones like MacOS, iOS, Android, Windows, Linux, and others. Once you pick the application that is compatible with your device, installation and setup only take a few moments. In terms of usability, the colourful, minimalist display makes it very easy to navigate around the app. Upon launch, you will be able to choose from 6 pre-configured profiles, all automatically set up for your convenience. These include "surf anonymously" and "protect my Wi-Fi connection", both of which are greatly suited for avoiding and bypassing 4chan bans. These profiles can then be customised with simple toggles such as "extra speed" or "block online tracking". With the option to connect up to 5 devices at once, you can enjoy the entertaining 4chan content no matter where you are.
Despite the simplicity of its user experience, CyberGhost is rich in privacy features. The provider uses top-of-the-line 256-bit AES encryption, which keeps your data protected the entire time you are surfing the web. Encryption protocols include UDP, TCP, and ultra-fast L2TP/IPSec. Second, CyberGhost has one of the most immaculate zero-logging policies on the market; it doesn't even store your email address. This means you can be certain that your browsing history, IP addresses, timestamps, and other data, will not get into the hands of your ISP, the government, or even trained cybercriminals. Privacy aside, CyberGhost has one of the largest server networks in the industry, with over 6,000 servers in 87 countries. This gives you a massive range of connection options, both in terms of speed and location, making it ideal for regular use.
Read our full CyberGhost review.
Pros
LOW PRICE: 6 EXTRA free months (79% off - link below)
Affordable plans
Jurisdiction in Romania
Strict no-logs policy
Reliable and knowledgeable 24/7 live chat support.
Cons
Can't unblock some other streaming sites.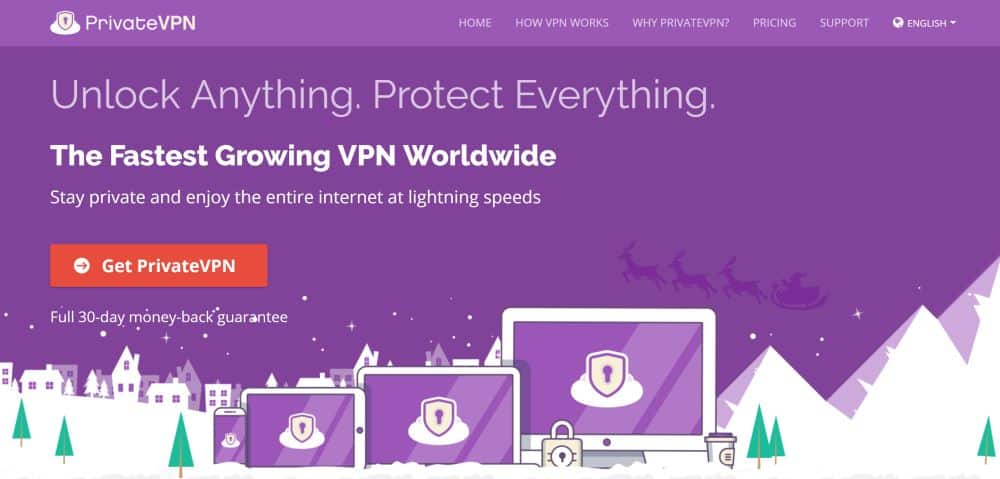 PrivateVPN offers one of the most secure, fast services on the web. For starters, military-grade AES-256 encryption with 2048-bit keys keeps all your data, as well as your identity, protected. Specific protocols include UDP, TCP, L2TP, and censorship-busting PPTP. This makes it strong enough to bypass even the toughest censorship blocks. Moreover, PrivateVPN has a reliable zero-logging policy that covers IP addresses, browsing history, and even timestamps. This means 4chan won't be able to trace your activity back to your IP or email address. Other features that ensure your connection is always secure include an automatic kill switch and DNS leak protection – these will ensure that if your connection is interrupted, you are aware of it.
Admittedly, PrivateVPN's network doesn't have the sheer numbers typical of other top-tier providers, at 150 servers in 60+ countries. However, PrivateVPN has smartly distributed its servers throughout the world, and configured many of them for specific use-cases, like unblocking Netflix. In our testing, we found having thousands of server choices to be largely unnecessary thanks to this feature. What's more, bandwidth, speed, and server switching are unlimited, so you can browse with PrivateVPN for as long as you want. You can browse on 6 devices simultaneously, meaning that even if you connect your smartphone, tablet, and PC, you still have half of your connections left over. PrivateVPN is very easy to download and install, but if you want to avoid all hassle, there is a rare "free remote setup" feature that requires no effort on your end.
Read our full PrivateVPN review.
PureVPN is one of our top choices for bypassing 4chan bans due to its rich set of features for a reasonable price. First, the provider has dedicated apps available for every major system you can think of, including Android and iOS for smartphones and tablets, and Linux, Windows, and MacOS, for PCs. What's even better is that all of these apps are highly intuitive; all it takes is one click to connect to a server of your choice. If you encounter problems while using the service, PureVPN has one of the best customer support systems available, with representatives available every hour of every day. This is a rare feature amongst VPN providers, and PureVPN doesn't even charge extra for this option. In addition, PureVPN has a network of 2,000+ servers in 140 countries, meaning you have the option to connect to virtually any location in the world. All subscriptions come with no limitations on bandwidth, speed, or server switching, so you will never run out of traffic.
PureVPN is just as secure as it is fast and reliable. For starters, the DDoS protection feature can beat even the toughest attacks, while the antivirus software protects your connection regardless of where you are browsing, including 4chan's potentially risky posts. Other features that come with the cybersecurity package include dedicated IP address, a NAT firewall, and anti-spam filtering. PureVPN employs 256-bit AES encryption, which is considered the industry's gold standard. This means you will be able to bypass blocks and even access geo-restricted content regardless of where you are located. Last but not least, the no-logging policy covers IP addresses, timestamps, and browsing activities.
Read our full PureVPN review.
How does 4chan suspend accounts, and why?
Most users don't read terms of service before browsing the website, to their own detriment. 4chan explicitly states that bans are fair game at their discretion, and at no point should you believe that you are immune from a ban if you create or participate in posts containing whatever moderators deem inappropriate content.
4chan requires no registration for users; however, their policies are very strict and can easily get you suspended. In order to ban you, 4chan pinpoints your IP address, then blacklists it. While the ban itself is obnoxious, the security implications are dire: 4chan can track your activity without even knowing your email address. Why should you allow any third-party to do so?
How to get past a 4chan IP ban with a VPN
Now that you understand the mechanism by which 4chan bans users, you can take steps to regain access should you be wrongly blacklisted. Here's the step-by-step:
Sign up with one of the above VPN providers. Once you've paid and created an account, you'll be prompted to download the software onto your device.
After installation is complete, log in using your credentials. The VPN should automatically launch.
Typically upon launch, your VPN will automatically establish a connection between your device and the best-performing nearby server. This, in turn, equips you with a brand new, shared IP address, thereby allowing you to sneak past your 4chan ban, which specifically targets your old IP.
Other benefits of using a VPN
Whether you are looking for a service for 4chan specifically or not, using a quality VPN will offer you a massive range of benefits. Some of the most important advantages are listed below.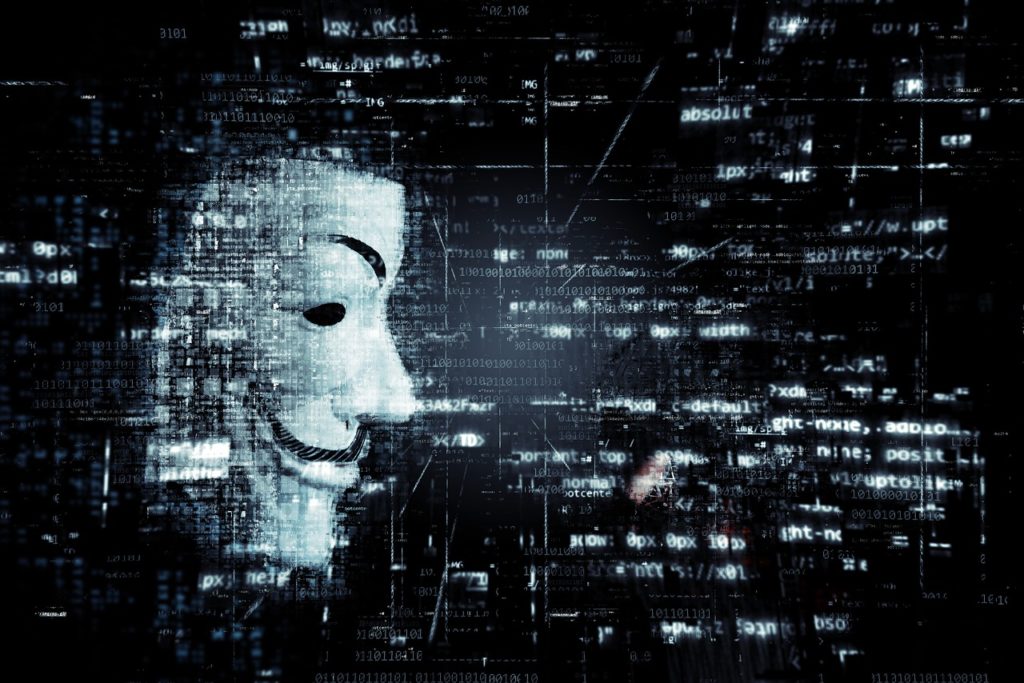 Protecting your identity
This benefit is particularly useful for 4chan users. While you do not register with your email address on 4chan, they are able to trace your activity back to your IP address and, in turn, your identity. This means that the platform is not really anonymous – even people with little training can retrace your steps. In order to make sure that you do really stay anonymous online, you need a quality VPN. VPNs help you mask your real IP address and get a different one from a location of your choosing. With this, there is also an added benefit of being able to manually switch servers and access otherwise geo-restricted content.
Secure your online data
4chan may not archive posts for very long, but they are known to store its users' metadata, including IP addresses. These, in turn, can and have been turned over to the FBI upon request. In short, don't expect 4chan to champion the privacy of its users when criminal liability is at play. When you connect with the anonymous IP of a VPN, you essentially remove 4chan's ability to keep meaningful tabs on you. However, you are then beholden to your VPN! Make sure the service you use employs a strict no-logging policy, which will protect you from all third-party snooping, from 4chan to your ISP and even the government. Strong encryption makes brute-force attempts to uncover your identity futile, even if someone does suspect your "spoofed" identity.
Bypassing censorship blocks
Depending on where you are located, different websites and services can be blocked or restricted. For example, it's known that Netflix's catalogue changes depending on the geographical origin of your IP address. This can be frustrating, especially when you know that the catalogue in other countries has much more variety. In other cases, some websites may be blocked altogether. In China, some of the most popular websites, including Facebook and Wikipedia, are banned. In order to bypass these blocks and access all online content regardless of your location, you need a VPN. A quality service offers a large server network to its users, so you will have plenty of options beat various geoblocks, while maintaining fast connections, too.
RELATED READING: Best VPN services reviewed by AddictiveTips
Conclusion
Despite its popularity, 4chan is perpetually steeped in (and seems to actively encourage) controversy. As a result, the banhammer is swung aggressively, and often. If you're one of the unfortunate users who has been wrongly banned at the poor discretion of 4chan's mod staff, don't give up! By borrowing an anonymous IP address from your VPN provider, you'll be able to spoof your identity and bypass your 4chan IP ban. What's more, you'll be encapsulated by a protective veil of encryption, making attempts to target and uncover your identity a fruitless effort.
Why were you banned from 4chan? Did our solution help you regain access? Let us know in the comments below!