We are reader supported and may earn a commission when you buy through links on our site.
Learn more
How to Unblock a Website on Google Chrome
Google Chrome is the world's most popular browser, but that doesn't mean you won't run into website blocks using it. (In fact, it's practically guaranteed.) If you're unhappy being unfairly restricted to your designated corner of the Internet, you need to use a VPN to bypass censorship and geographical content restrictions alike. We show you how to get started below.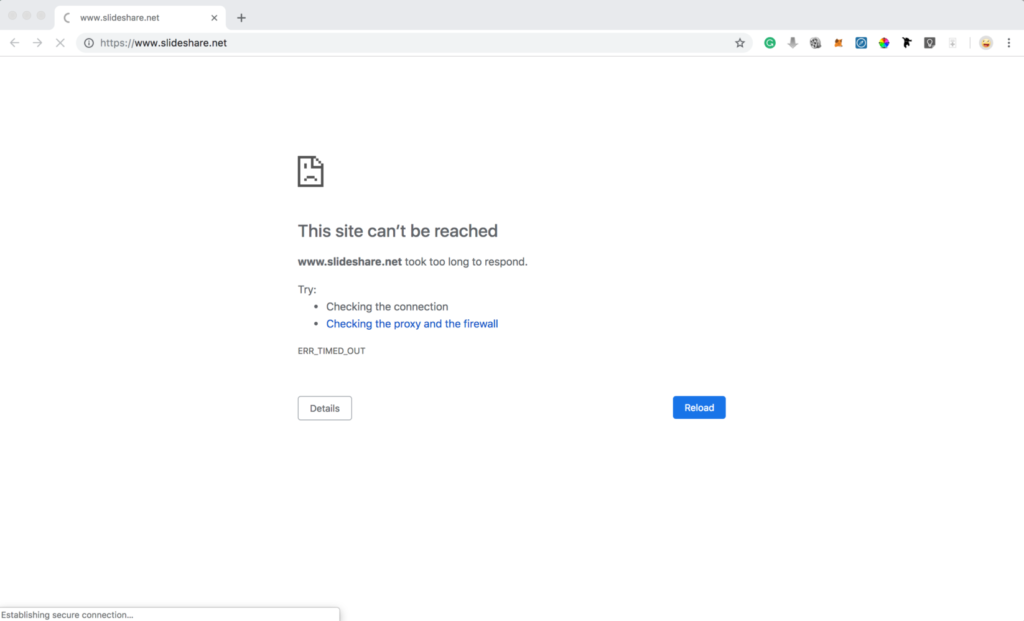 Google Chrome has the ability to manage cookies, your browsing history and cached data, and enter into an "Incognito Mode" that gives some small level of anonymity. Unfortunately, none of these features actually unblock websites that are unavailable due to geoblocking or censorship. To solve this, this article will explain how to unblock a website on Google Chrome using a VPN.
Experiencing geoblocks on Chrome is a drag, but you can beat them with these VPNs:

NordVPN – Best for Geoblocks on Chrome – NordVPN's fully loaded Chrome extension gives you access to the world's most powerful encrypted network. Spoof anywhere in the world to defeat site blocks and enjoy the free and open Internet.
Surfshark – Regain access to your favorite sites even in the most heavily censored countries with Surfshark's powerful VPN extension.
ExpressVPN – One-click interface, extremely fast network, zero logging.
CyberGhost – A standalone Chrome extension with some advanced functionality for beating geoblocks.
PrivateVPN – Sneak past internet censorship in full anonymity via a completely provider-owned and operated network.
PureVPN – Generalist VPN with advanced ability to beat geoblocking as strong as even China's Great Firewall.
Specifically, we'll explain why websites are often blocked, how a VPN can help, and which specific VPNs you can trust to unblock websites. We'll also explain the difference between a Google Chrome VPN extension and a standalone app that you can install on your device (including iPhones and Android phones). We'll start by going over the best VPN providers in the industry and giving you some of our best deals for their services.
30-days money back guarantee
What are the best VPNs to unblock websites?
If you can't access websites on Google Chrome it could be because of geo-restrictions. But if you use the following VPNs, you can break through most website blocks with ease: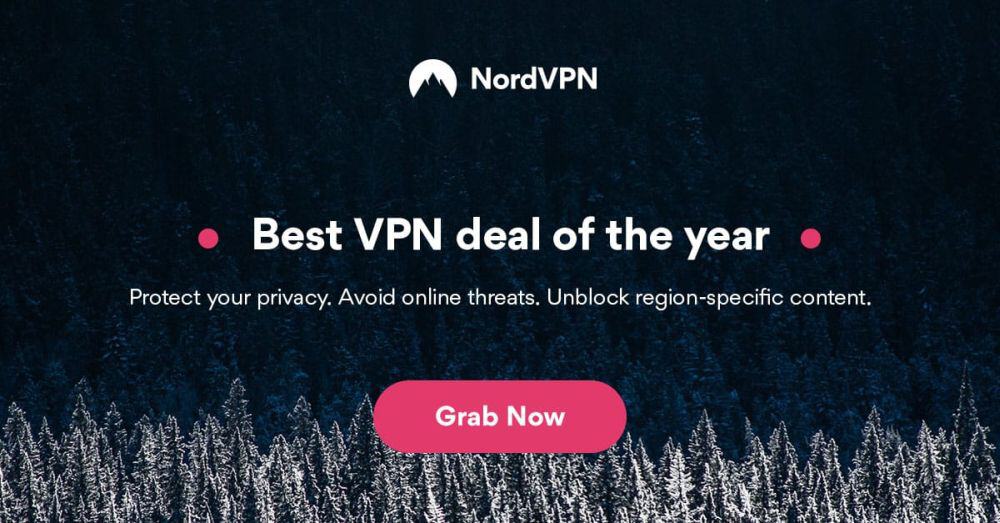 NordVPN is focused on beating censorship, unlocking content, and security – but how well does it unblock websites on Google Chrome?
Let's start by looking at software compatibility: NordVPN offers a Chrome browser extension as well as a standalone app for virtually any platform. In either case, it is as easy to use the software as it is to install it, with an intuitive user interface sporting an attractive graphical server map.
Speaking of servers, there's a lot of them here: over 5,800 servers in 59 countries. Their network also packs an array of specialty servers tailored toward specific use-cases.
Want to sneak past shared IP blacklists? Fire up the static IP server. Really want to get past a firewall? Give the multi-hop or obfuscated servers a try. Wherever there's a way to block a website, there's a way to circumvent that block with NordVPN.
Other core privacy provisions include 256-bit AES encryption, plus an impressively thorough (and independently audited) no-logging policy. There's an automatic kill switch which prevents a single unencrypted data packet from leaking out, even if your VPN temporarily loses connection.
Finally, there's even a CyberSec module, which features optional toggles for ad blocking and anti-malware protection.
Read our full NordVPN review.
Pros
SPECIAL OFFER: 2-yr plan (68% off - link below)
5,400+ servers globally
Tor over VPN, double VPN
No logs and encrypted connections for total privacy
Great customer service via chat.
Cons
Some servers can be unreliable
Can't specify City or Province in App.

Surfshark eats geoblocks for breakfast, lunch, and dinner. With NSA-grade cybersecurity, blanket obfuscation, and a robust network, there's site block you can't get around.
Connections to the Surfshark network are incredibly secure and private, with OpenVPN, IKEv2/IPSec, WireGuard, and Shadowsocks (Windows only) tunneling protocols shrouded within an unbreakable wall of 256-AES-GCM encryption. Moreover, every single one of these nodes auto-configure the appropriate settings to counteract any surveillance or censorship on the network, like DPI. This works extremely well for geoblocks, as well as VPN bans like Netflix's or even government restrictions like China's Great Firewall.
Better yet, Surfshark has a powerful Google Chrome extension, which allows you to connect to over 800 servers in 50 countries worldwide. You can also enable the CleanWeb module, which stops spam sites, trackers, and malware popups before they even have a chance to load.
Finally, browse in confidence with Surfshark's outstanding no logging policy.
Pros
Unblock VoIP in oppressive regimes like WhatsApp, Skype, Discord, and more
Over 800 servers in 50 countries worldwide, and constantly growing
VPN split tunneling available
Independently audited privacy practices
Helpful 24/7 live chat with an actual human being.
Cons
Growing network doesn't have same coverage as more mature VPNs
Power users may wish for more settings to fiddle with.
Read our full Surfshark review.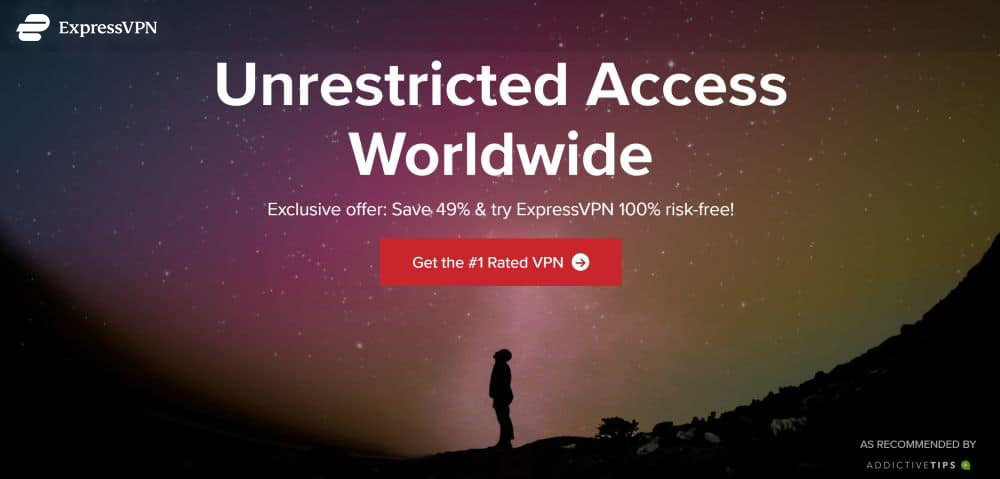 ExpressVPN is one of the best ways to access blocked websites with your Google Chrome browser. The first reason is easy to guess, given the service's name–ExpressVPN is incredibly fast. This is partly due to the service's server network, and partly due to its technical features.
On the technical side of things, ExpressVPN comes with a wide range of modern encryption protocols. These reduce the amount of speed lost to encryption while protecting your data. Specific protocols include 256-bit AES over OpenVPN, which combines speed with security, as well as L2TP (which is fast but a little less secure).
In addition to these technologies, ExpressVPN uses one of the largest server networks in the industry: 3,000+ nodes in 94 countries. With a network so large, it's always easy to find a fast server nearby – and since speed and traffic are both unlimited, you can enjoy high speeds as often as you want.
Underpinning these features is a great no-logging policy, which prohibits ExpressVPN from recording DNS requests, server assignments, IP addresses, timestamps, or browsing history. There's also a combined failsafe in the built-in kill switch and DNS leak protection modules.
Taken together, it's all but impossible for you to be identified by your activity, as it should be. It makes it even more difficult to enforce website blocks, since you can just switch your IP by using one of thousands of VPN servers and shroud yourself in the unbreakable power of encryption at will.
What's more, ExpressVPN is known to cycle through different sets of IP addresses, allowing you to stay one step ahead of IP blacklists. Finally, ExpressVPN is available for use with Chrome as a browser extension, or as a standalone app on any of the most common platforms.
Read our full ExpressVPN review.
Pros
Unblocking Netflix, iPlayer, Hulu, Amazon Prime
Super fast servers (minimal speed loss)
Torrenting allowed
No logging policy well enforced
Great support (24/7 chat).
Cons
Power-users configuration options.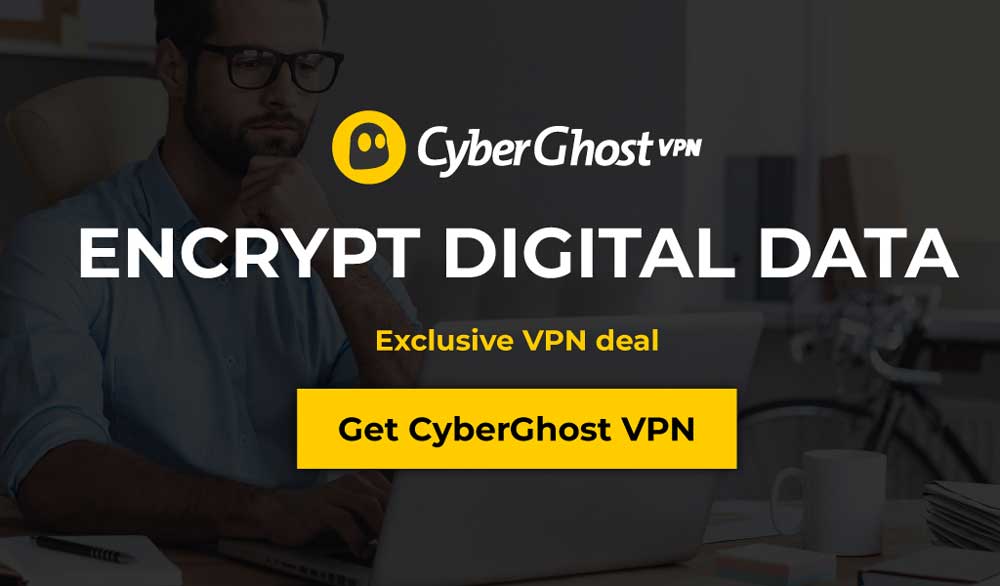 CyberGhost is the perfect if you want an easy solution for unblocking websites on Chrome. For starters, this provider offers both browser extensions and standalone apps on virtually any Chrome-compatible operating system.
No matter which version you choose, getting set up and started is incredibly easy. Usually, you simply have to choose one of six preset connection profiles. The "unblock basic websites" and "unblock streaming websites" profiles enable to smash firewalls and dodge IP blacklists with just a single click.
You can also customize the profiles using a number of plain-language toggles, including "block ads", "data compression", and "more speed".
With CyberGhost, you don't need to understand the technical settings to adjust to achieve these goals, you just need to click a button.
This provider's network features over 6,000 servers in 87 countries, enabling you to borrow an IP in any part of the world (except for Antarctica). CyberGhost also packs powerful 256-bit AES encryption, plus one of the best logging policies you'll find anywhere.
In our testing, we found connections speedy and stable, and experienced little to no lag, buffering, or latency issues. Clearly, CyberGhost excels both in presentation and performance, producing a VPN that is ideal for daily use.
Read our full CyberGhost review.
Pros
Works with Netflix
Peer-to-peer (P2P) torrenting allowed
Not in the 14 Eyes
Strict no-logging policy
Live chat support (24/7).
Cons
IPv6 WebRTC leak in macOS
Doesn't work well in China.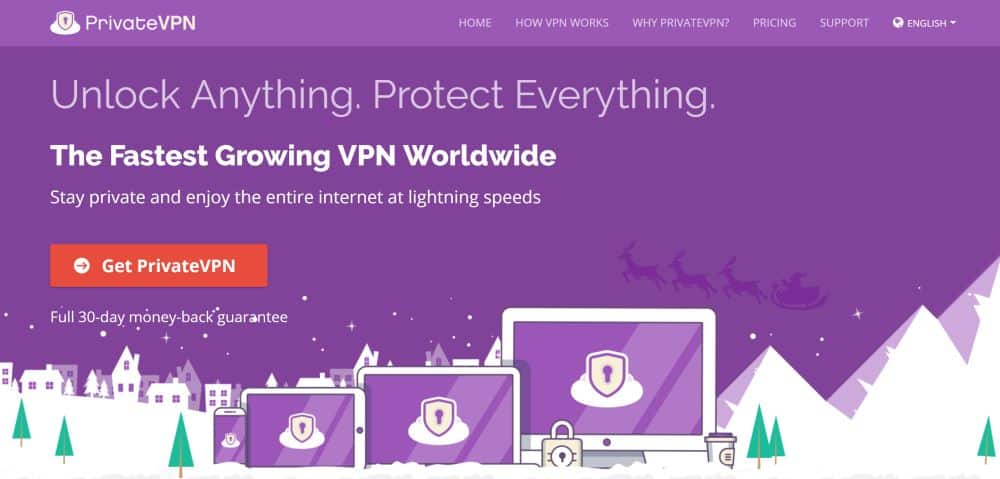 As its name implies, PrivateVPN is the perfect choice for security-minded users. For starters, it employs the world's best censorship-piercing encryption protocols, including 256-bit AES over OpenVPN and L2Tp.
In addition to beating website blocks, this level of security means that criminals, governments, and other third parties will all find it hard (or impossible) to know what you're doing when you're online. Combined with a tough no-logging policy, this is enough to give anyone who prioritizes privacy and anonymity peace of mind.
PrivateVPN doesn't have the biggest network (just over 150 servers in 60+ countries), but each server punches above its weight in terms of speed, reliability, and utility–there are even specially optimized connections for a variety of use-cases, like unblocking Netflix from a foreign country.
Unfortunately, there's no Google Chrome extension available with this VPN, though there is a wide variety of apps for all common operating devices and systems is available.
There's also a free remote setup for desktop users, wherein an expert helps you get up and running with PrivateVPN in minutes and without you having to do anything. These features, as well as some convenient extras – like a P2P friendly policy and port forwarding – help make up for the lack of a native Google Chrome extension.
If you want to limit your VPN usage to your browser, you can use the split tunneling feature to do so quickly and easily.
Read our full PrivateVPN review.
PureVPN is a versatile service provider with 2,000+ servers spread across 140 countries.
Most VPNs have servers in countries like the US, the UK, and Canada, but what happens if you want to access content from a more obscure nation? Well, with other providers, you may find yourself unable to do so. With PureVPN, the odds of this happening are extremely small thanks to such a generous range of available IPs. This is useful for bypassing region-specific website blocks, especially in conjunction with PureVPN's powerful 256-bit AES encryption.
However, PureVPN offers so much more beyond traditional VPN fare: app filtering, DDoS protection, getting a dedicated IP address, NAT firewalls, anti-spam filtering, and even antivirus software.
Not enough? Connect to their proprietary Ozone server to activate URL and content filters, anti-malware protection, IDS/IPS, and a dedicated app blocker. That's a lot of cybersecurity in one package, all underpinned by a time-tested logging policy.
Read our full PureVPN review.
Why are some websites blocked?
There are several reasons a website may be blocked. One important one is censorship. All kinds of countries prevent residents and visitors from accessing some websites for a variety of reasons. In China, it's often because information has the potential to be politically subversive.
In a country like Saudi Arabia, it might be because content (visual and text) is seen as immodest or heretical. In some specific cases, countries censor certain brands' websites if the product they sell is banned domestically. For example, Romania has a track record of banning gambling websites.
What matters is that in all these cases, the desire to censor some or all content is the reason for a ban. No website or service is too big to be exempt; even giants like Facebook and Wikipedia get banned due to censorship.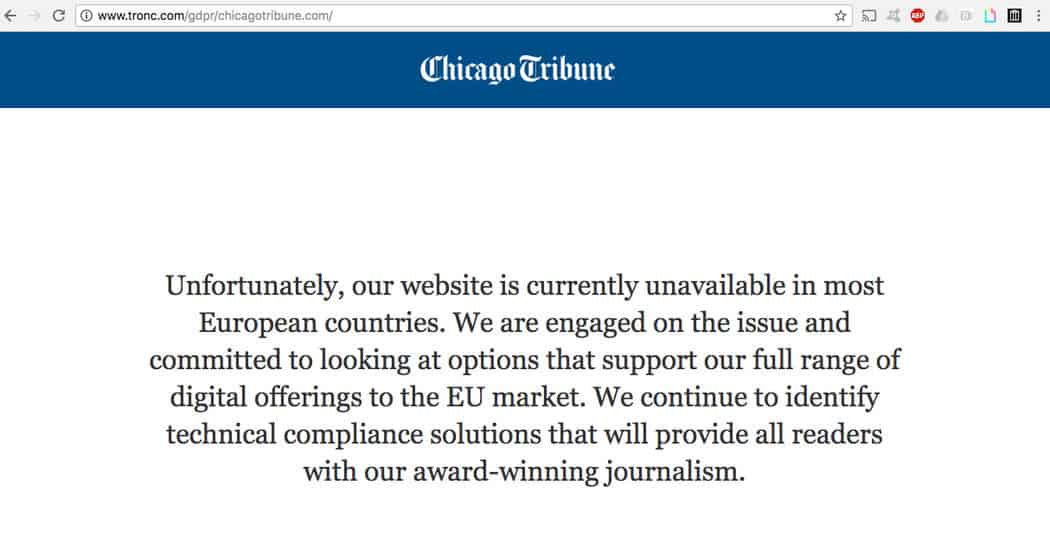 Another common reason for website blocks is something called geoblocking. Here, it's companies and organizations, rather than governments, taking action to stop users from accessing content.
For example, if you try to use Netflix in a country like Cambodia or Ireland, you'll find that a lot of the series and films are unavailable. That's because Netflix has a deal in place with film production companies and distributors.
The deal basically states that some content is only available in specific countries and that Netflix has to block users outside these countries from viewing it. With other services, like Hulu and BBC TV in the UK, only one country's users can watch specific content. Either way, the point is that websites and the businesses owning them use geoblocking to lock out individuals from certain countries.
Last but not least, some bans are purely about political control and eliminating foreign competition.
For example, China has a strict policy against services like Facebook, Whatsapp, et al. This is done partly to make sure the state controls all messaging services, and partly to eliminate competition for state-owned companies like WeChat. This block is neither about censorship nor about geoblocking but is another reason why a website you want to access might be blocked.
How can a VPN help unblock websites on Google Chrome?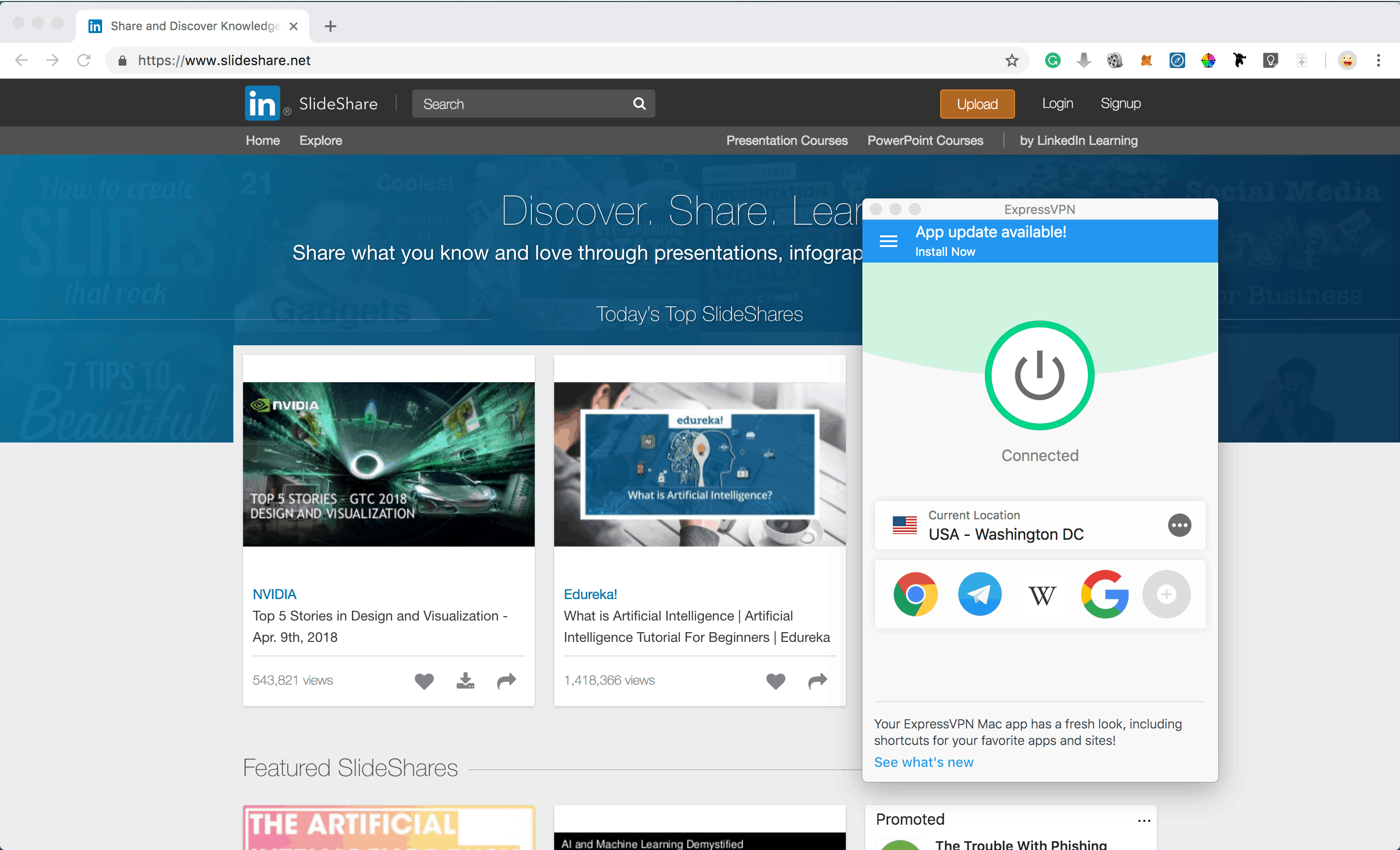 A VPN does two things to help you unblock websites. First, it routes all your data through a remote, foreign server rather than through your Internet Service Provider. This gives you a foreign IP and makes you appear to be located in another country.
As a result, it helps unblock websites you couldn't access previously and otherwise digitally relocates you overseas. This helps you bypass censorship, geoblocking, as well as all other national and corporate-level firewalls, unblocking blocked websites quickly and easily.
In addition to giving you a foreign IP, a VPN does one other important thing: it encrypts all your data before it even leaves your computer.
This lets you stream the web safely and securely, without your ISP and the government knowing about what you do online. This is important because in some countries, you can get in a lot of trouble for accessing blocked websites.
With a VPN, though, nobody will ever know what you do from your Google Chrome browser. That's the second reason to unblock websites using a VPN.
What's the difference between an app, a browser extension, and a manual set-up?
There are several ways to unblock websites when you're using Google Chrome. One is to install a Chrome browser extension that brings your VPN service directly to the browser. This is a convenient way to do things if you only want to unblock block websites. Its main advantage is ease of installation and use.
The first possible drawback is that everything you do outside your browser remains unprotected, with data being routed through your ISP and your regular IP address. This can be convenient in some cases, e.g. if you want to do most things from your regular connection, but it can also be a problem. Another problem is that for most services, the browser extension can be a little short on features.
This brings us to the second way to use a VPN: via a separate app. This is possible if you're using a common desktop or mobile device running popular operating systems like iOS, macOS, Windows, Linux, and Android. It's also possible with some other devices, including video game consoles and a few routers.
The primary benefit of an app is that it can have more features than a browser extension. A secondary benefit is that with an app, everything you do online is VPN-protected. This includes your Google Chrome usage, your video games, your downloads: everything. This is handy if you want to do things other than just unblock websites.
Last but not least, you can choose to forego both an app and a Google Chrome extension in order to input your VPN settings into your device manually. The upside to this is that this lets you get a VPN on devices that have neither a compatible app nor a functional Google Chrome extension.
It's also useful if you can't install extensions to your Google Chrome, e.g. on an office computer. The downside is that things up manually can be tricky. In fact, an improperly set up VPN can lead to problems like DNS leaks, wherein your VPN doesn't work as intended, failing to block websites and making your data easy to break into. For these reasons, manual VPN settings are best left to advanced users, developers, etc.
FULL GUIDE: How to build your own VPN
Final words
Now you know how to unblock a website on Google Chrome. What are you going to do next? Please leave any comments, questions, and feedback on what we wrote using the form below. We love hearing what our readers have to say – and a minute of your time can help us make better content going forward.