We are reader supported and may earn a commission when you buy through links on our site.
Learn more
How to Stay Completely Hidden Online: Best Tips for Anonymity
While it's perfectly possible to lock down your identity online, the way most people use the Internet leaves them badly exposed to tracking and tracing by third parties. Installing a VPN onto your devices is the single most important step in taking back your anonymity. In this article, we'll show you the best VPNs to stay completely hidden online.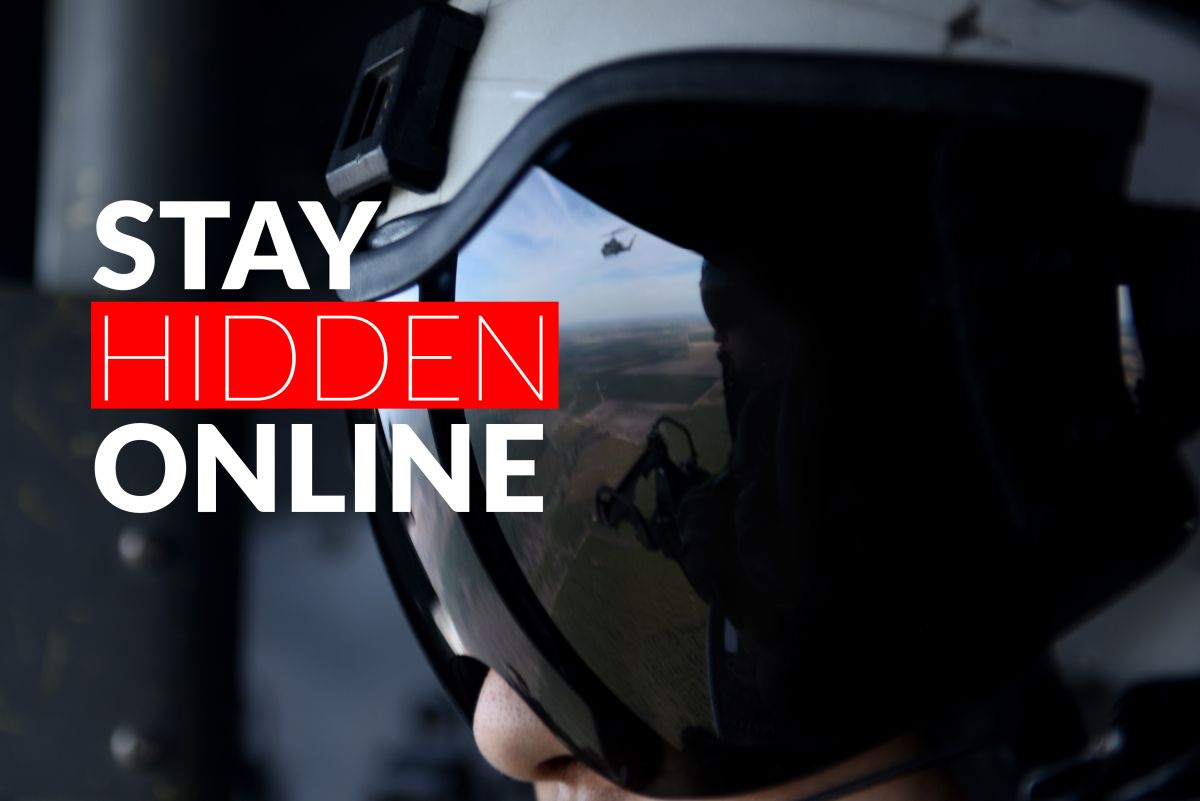 Each time you go online you broadcast your personal information to the world. Details about your device, your location, even your identity can be associated with every packet of information that leaves the computer. This data can be logged and sold by ISPs or even intercepted by hackers. There's also mass digital surveillance by government agencies to take into account, which can be extremely aggressive when it comes to digging up personal information.
Protect your identity and right to privacy online with these secure VPNs:
NordVPN – Best for Anonymity – NordVPN is the reigning champion of digital rights the world over. Stay anonymous online any number of ways, with a static IP, multi-hop routing, Onion over Tor, and even obfuscation.
Surfshark – British Virgin Islands jurisdiction plus diskless server network guarantees zero data retention and true privacy.
ExpressVPN – Pick and choose which traffic gets hidden with split tunneling; enjoy some of the fastest network speeds in the world.
VyprVPN – This provider owns their entire network, shielding your activity from third-party oversight (aka snooping).
If privacy is a big concern, or if you just need to keep your identity and location a secret, you'll need to take steps to stay completely hidden online. There are countless things you can do that add or subtract anonymity from your activities, some more effective than others. Follow the guide below to see how you can lock down your identity and stay hidden while on the internet.
30-days money back guarantee
What Identifies You Online?
It may feel like you're by yourself when you surf the web, but in reality everything you do is being watched and recorded. Websites you click keep detailed information about each visitor, ISPs monitor and store logs for all of their users, and even plug-ins and operating systems collect and share information about your daily habits. It's extremely difficult to stay completely hidden online. Below are just a few of the more common ways third parties can track your internet activities.
IP address – The easiest and most accurate way of identifying a person online is to follow the trail left by their IP address. Each device gets a unique IP the moment it logs onto the internet. That address is associated with every piece of data it handles, from simple websites to video streams, e-mails, and more. It's alarmingly easy to collect and track this information, especially since your local service provider keeps logs.
Browser fingerprinting – A more complex but equally frightening method of online tracking is to fingerprint a user's browser. This compares data points like screen resolution, language, browser type and version, time zone, plug-ins and more, things most browsers willingly share with every website that requests it. This can be used to separate an individual from the masses, especially if you use a less-common plug-ins or browser builds.
Cookies – One of the earliest forms of online tracking is the humble browser cookie. These are essentially tiny files sent by websites that are stored on your device and used to track where you've been and where you go once you leave. Cookies are used to customize ads across websites, which is why you'll suddenly start seeing banner advertisements for shoes days after you searched for shoes on Google.
Social media – People give away an unprecedented amount of personal information both consciously and willingly. Instagram, Facebook, Twitter, and other social media sites are filled with people taking pictures of their meals, showing off vacation photos, and taking selfies at every location they visit. Even just a cursory glance at someone's Facebook account can deliver a ton of personal information, all of which was purposefully posted, not stolen.
RELATED: What VPNS work in China without flaws?
Protect Your Identity and Keep Your IP Hidden with a VPN
The first line of defense in keeping your online identity private is to use a VPN. Virtual private networks take the data that leaves your computer and encrypts it, wrapping each packet in jumbled code that makes it unreadable. Only your computer and the VPN has the keys to decrypt it, making it nearly impossible for ISPs and data hackers to view your activity, even if it's stored in a log file.
Another thing VPNs do is give you a new IP address. Your encrypted traffic goes from your PC to your local service provider then to the VPN's network. The VPN strips identifying information out of the data and assigns it a new IP associated with their computers, not your local ISP. The VPN then handles the rest of the transaction and returns the data to your computer where it's finally decrypted.
Using a VPN is far easier than you might think. All you have to do is find a reputable service, sign up for an inexpensive plan, then run the software each time you go online. There are hundreds of VPNs on the market with a host of strengths and weaknesses to compare and contrast. We've made the process a bit easier and selected two of the most privacy oriented VPNs, shown below. Both are great starting points to help you stay completely hidden online.
Best VPNs for Staying Anonymous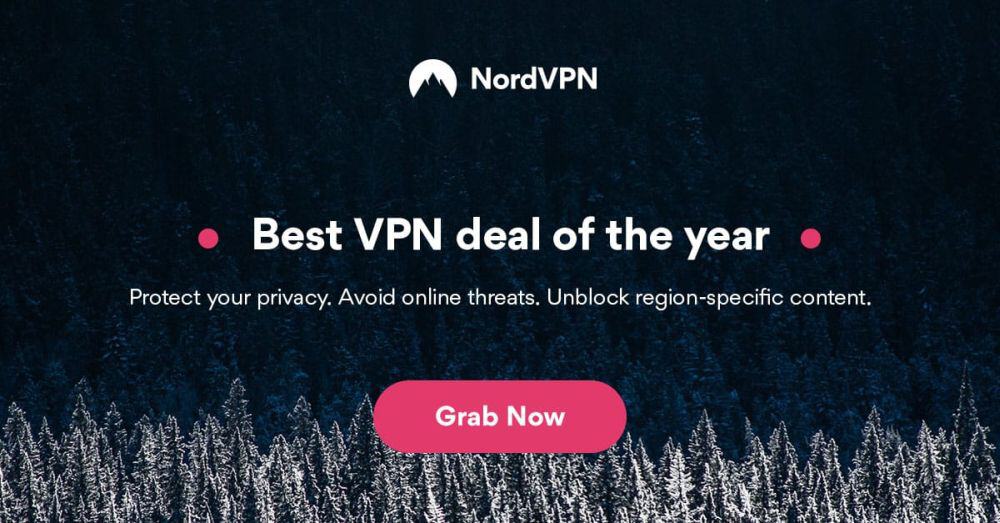 NordVPN has the best privacy policies in the VPN marketplace. The most noteworthy is a complete ban on all types of logs, everything from traffic to bandwidth, IP addresses, and even timestamps. None of your data is ever kept on NordVPN's servers, which allows you to stay hidden even in the most extreme of circumstances. The company backs this great policy with 2048-bit SSL encryption on select servers and allows bitcoin payments for even stronger anonymity.
Some of NordVPN's other great features:
Custom app support for all major operating systems, including both Android and iOS smartphones and tablets
Fast connection speeds, unlimited bandwidth, and no restrictions on P2P or torrent traffic
A massive and ever-growing network with over 5,200 servers in 60 different countries
Jurisdiction in the privacy-friendly country of Panama.
Read our full NordVPN review.
Pros
Very affordable plans
Mind-boggling number of servers
DNS leak protection, kill switch
Retains no metadata of your browsing
Money back guarantee policy (30-days).
Cons
Apps can be a bit cumbersome to use.

Despite having just launched in 2019, Surfshark has already made a name for itself as one of the most trusted VPNs in the industry for privacy. It's easy to see why: 256-AES-GCM encryption, zero logging, OpenVPN, IKEv2/IPSec, WireGuard and Shadowsocks tunneling protocols, kill switch, and IP/DNS/WebRTC leak protection all present an incredible barrier to all sorts of cybersecurity threats.
But Surfshark goes well beyond these provisions to include automatic obfuscation on each of their 800+ RAM-based servers, located in 50 countries worldwide. Their network is low-latency and stable, and physically incapable of storing your sensitive usage metadata. Furthermore, auto-obfuscation acts as a VPN for your VPN, disguising your encrypted traffic to look like ordinary traffic. This utterly confounds even deep packet inspection, allowing you to remain entirely hidden online.
And just for good measure, Surfshark accepts cryptocurrency payments for total anonymity.
Pros
Bypass government censorship with NoBorders mode
Server selection is dead simple and quick
Wide app availability on desktop, mobile, consoles, smart TVs and more
Absolutely no logging of connection data, IP addresses, bandwidth used, or traffic
Get help any time of day via email, phone, or live chat.
Cons
Speeds occasionally suffer a noticeable drop
Power users may wish for more settings to fiddle with.
Read our full Surfshark review.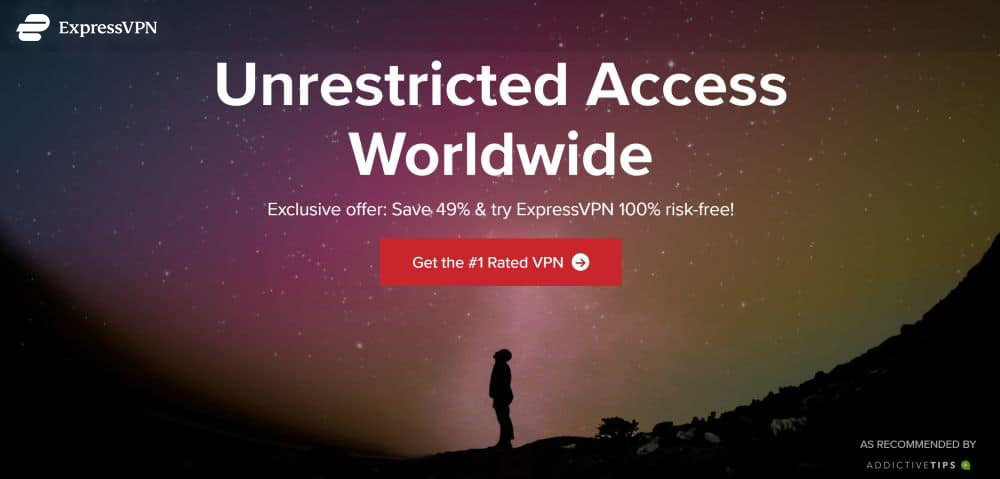 ExpressVPN has one of the largest network of servers, with more than 3,000 servers in 94 countries, with plenty of IPs for you to choose from.
They are known as the most reliable VPN to unblock Netflix access from anywhere. Their privacy policy keeps users safe with strict zero-logging (No activity logs & no connection logs), DNS leak protection, and a kill switch for its desktop app. And there aren't any bandwidth limitations or file type limitations.
The 24/7 live chat support and the fact that they bring a 30-day money back guarantee on all plans is what makes ExpressVPN the best service to pick from.
Read our full ExpressVPN review.
Pros
Unblocks American Netflix, iPlayer, Hulu
Superfast servers (minimal speed loss)
Secure encryption & VPN protocols
Strict no-logs policy
Customer Service (24/7 Chat).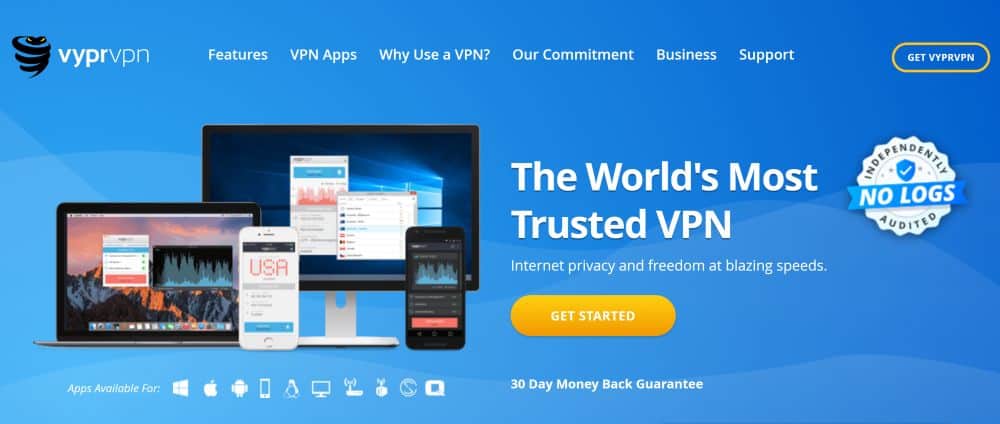 VyprVPN attacks the privacy issue from multiple angles. The company owns and operates it entire network of servers, over 700 in 70 different countries in all. This means third parties never have access to the network, and it also means VyprVPN can customize hardware and software to their exact specifications. A strong zero traffic and zero DNS request logging policy is firmly in place, as is the company's exclusive Chameleon technology that scrambles metadata for even stronger online privacy.
VyprVPN's other great features:
No bandwidth limitations, no traffic monitoring, and no restrictions on P2P or torrents.
Support for a wide variety of operating systems, including desktops and smartphones.
Exclusive Chameleon technology helps defeat Netflix blocks and ISP throttling.
Read our full VyprVPN review.
Use the Tor Browser to Stay Hidden Online
One of the most effective ways of keeping your identity hidden online is to utilize the Tor network. Tor works by using onion routing to encapsulate data in multiple layers of encryption and passing it through a series of computer nodes. Each node peels back a layer of encryption to reveal the next destination address. When the final layer is decrypted the data will be sent to its final destination, leaving no trace of its origin or its path through the network.
Many different pieces of software make use of the Tor network, but the most common is the Tor Browser. This program works just like any regular web browser, only instead of sending raw data through the internet, it encrypts everything and sends it through the Tor network.
RELATED READING: Best VPNs for Tor
The Tor method is incredibly useful for hiding your location and identity, but it comes with a few downsides. First of all, using the Tor Browser means giving up a lot of your regular browsing habits. Most videos and multimedia plug-ins are disabled in Tor, as they're inherently unsecured technologies that can share data without your knowledge. This makes it tough to completely switch to the Tor Browser for your everyday tasks, though it's still viable as a temporary measure for sensitive actions.
Another major drawback of the Tor network is that it's incredibly slow. All of this encryption and node passing takes time, which results in some seriously long load times even for basic web pages. This is a deal breaker for most casual internet users, but if you want to access the deep web or the dark web or need to keep yourself completely hidden online, it's a necessary evil.
Use a Live Operating System to Stay Hidden Online
One of the keys to keeping your identity a secret on the internet is to prevent any personal information from reaching your device. If the data isn't there, it can't be shared. When coupled with an anonymizing service like Tor or a VPN (or both), you'll also keep the details about your location and hardware obscured, which adds up to an incredible amount of privacy.
Your operating system carries a trove of personal information, even if you don't realize it. Windows and MacOS are especially bad at storing details that can be used to identify you. Linux is better at separating the user from the device, but for real privacy you'll need to use a live operating system. A live OS is a fresh, never before used Linux installation that runs from a DVD, SD card, or USB stick. The advantage here is no data will be kept on the computer the OS is plugged into, making it possible to use public computers without fear of giving up your identity or location.
TailsOS is the gold standard of privacy aware live operating systems. It's lightweight and easy to use, just like any other modern Linux distro, and it comes with the Tor Browser and a handful of privacy oriented plug-ins. Add Tails to a USB stick or DVD and you can plug it into just about any computer and access the internet while staying completely hidden.
TailsOS is a free download, but you'll need to do a little work to get it up and running the first time. Follow the instructions below to download, install, and use Tails.
Use your web browser to download Tails OS.
Run the Tails installer and follow the on screen instructions.
Restart your computer and boot directly into Tails OS.
Enter your Wi-Fi or connection details to access the internet.
Open Tor (included with the Tails download) and browse the web in private.
How to Remove Yourself from the Internet
You can't stay hidden if you already have a strong online presence. Social media, old blog posts, directory listings, and other hidden sites can store data about you for decades, if not longer. You'll need to locate each of these sources and manually remove your information from each one. It can be a long and laborious process, but it's the best way to keep yourself hidden online.
Step 1: Close your social media accounts
Every social media account you signed up for, even if you never use it, needs to be shut down. In most cases you'll be able to find a "delete account" option buried in the website's settings page. If not, remove all posts, fill in your profile page with false data, then contact customer support and ask that your account be removed.
Step 2: Search for yourself
Type your name into several major search engines and see what comes up. You might find old blogs you forgot about, directory crawlers that picked up your name, or even articles on news sites or personal blogs that mention you. You'll have to contact the owner of each of these sources to request removal.
Step 3: Delete your e-mail account
E-mail addresses are often the first link in identifying a person and tracking them across the internet. Major e-mail providers always give you the option to disable and delete your account, all you have to do is find the settings and security page and start the process. You can also delete your Gmail account without too much trouble. If you absolutely must have an e-mail address, sign up for an account with ProtonMail, the encrypted e-mail service, but don't use your real name or personal information.
Step 4: Stop using credit cards and PayPal
Online payments through credit cards or services like PayPal leave an incredibly detailed trail behind. Even small purchases can give up a lot of information, including your name and home address. If you want to stay hidden, switch to a decentralized cryptocurrency like bitcoin.
Tips and Tricks to Stay Hidden Online
Even if you take every precaution listed above, if unsafe habits persist they can destroy your online privacy in an instant. Cultivating a new state of mind is the best way to stay hidden. Below are some common pitfalls as well as additional things you can do to preserve your online anonymity.
Use privacy oriented browser plug-ins – While plug-ins can introduce new threats to your identity, the right ones can help you stay hidden. Privacy Badger is a great start, as it strips out harmful scripts and tracking code that can follow you across the web. And HTTPS Everywhere forces a number of websites to use the HTTPS protocol, which encrypts information to keep it private.
Private mode doesn't keep you hidden – Modern browsers have an incognito or private mode that lets you surf without leaving a trace. Unfortunately this doesn't extend to the internet, only to your local device. Incognito mode simply keeps your activities out of the browser's history, which is good for local privacy but doesn't help at all with online issues.
Free VPNs can be dangerous – Free VPNs are all over the place, and they promise everything from unlimited bandwidth to incredible encryption at no cost to you. The truth is many of these services store and sell data generated by their users, turning your browsing information over to third parties without your consent. You never know where your info will end up with a free VPN, which is why you should stick to reliable paid services.