We are reader supported and may earn a commission when you buy through links on our site.
Learn more
VyprVPN Review: More than a gateway to American Netflix
VyprVPN met and exceeded our expectations in every area we tested. We were particularly fond of the mobile app, as it featured more security options than some VPN providers' desktop software. Works with Netflix!!!
Pros
Access to Netflix streams
Great mobile solution
Surprisingly fast servers in areas not commonly associated with speedy downloads
Access in places like China and Russia.
24/7 customer support
30-day money back guarantee
Cons
Slow connection times -- which can be frustrating if you switch locations a lot
Software may be a little overwhelming for casual VPN users
Keeps logs (IPs, timestamps, bandwidth).
We took an in-depth look into VyprVPN, a privacy-conscious VPN service that aims to deliver fast downloads and top-notch security that's both affordable and easy to use. We looked at everything from the server network to the custom app design, conducting thorough tests to see if the speeds are as fast as it claims. Keep reading for our full VyprVPN review.
If you're straight away wondering what makes VyprVPN different than the average VPN, remember this one word: privacy. For those interested in a virtual private network, chances are you know how important it is to keep your data safe with strong encryption, thorough zero-logging policies, and software that lets you customize your experience for the best connection possible. VyprVPN delivers unique security protocols and excellent privacy options with its suite of custom apps, all without sacrificing speed or usability.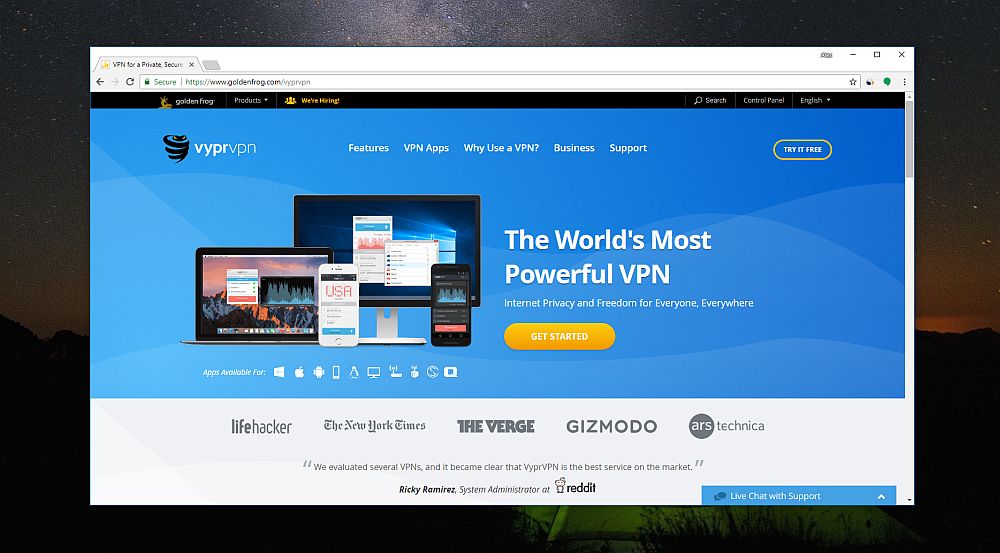 30-days money back guarantee
VyprVPN Overview
Founded in 2008, VyprVPN is owned by a Swiss-based company called Golden Frog that specializes in internet privacy and supports a free, open internet. In fact, the company feels so strongly about these causes that it even advocates for internet privacy, publicly asking the Center for Democracy and Technology to create a vetting process and standard list for VPN companies.
The company is so passionate about matters related to internet privacy because it's an issue that hits close to home. Founders Ron and Carolyn Yokubaitis first got the idea for VyprVPN from Room 641a, a room in San Francisco that the NSA used to surveil AT&T networks. The two internet veterans are well known in the privacy advocacy community.
Fascinating origin story aside, there are many practical reasons to use VyprVPN as well. Here are the most notable features at a glance:
Incredible security options such as Chameleon, a proprietary technology that enables open internet access in China
A large server network with nodes located in 70 countries
Unlimited bandwidth and no restrictions on torrent or P2P traffic
Custom apps for desktop environments, smartphones, and more
One unique factor of VyprVPN is that it strictly uses its own servers. Most VPNs operate by renting out data centers around the world, so this practice sticks out as being quite special. At the time of writing, VyprVPN has recently performed updates on many of its servers, which will help to provide faster surface and allow streaming in a wider variety of locales.
Installing VyprVPN
VyprVPN's setup process is quick and easy. As soon as you create an account, you can visit the dashboard where all the information you need is spread out in front of you, including download links and installation instructions for most of the main platforms.
Wondering whether or not your operating system is supported by VyprVPN? Here's a complete list of operating systems supported by VyprVPN:
Windows (custom app)
MacOS (custom app)
Android (Google Play custom app, .apk download)
Linux
Amazon OS
Blackphone
Chrome OS
iOS (app store download)
Router (detailed manual setup instructions)
Smart TV (manual setup instructions)
Android TV box sets (.apk or manual setup)
OpenELEC/Kodi & Apple TV (manual setup)
After downloading and running the desktop installer, you may notice a few additional things are added to your system along with the Vypr app. These are dependencies and network controllers, necessary for both the VPN and all of its intense privacy features to fully operate. Just click "ok" when prompted and you'll be ready to go in a few moments.
Using VyprVPN
Vypr's interface starts off clean and svelte. A portrait-oriented window opens with a big blue "Connect: Fastest Server" option at the top. Below is a scrolling download/upload speed graph followed by your public IP, connection time clock, protocol, encryption strength, and the status of the NAT firewall. It's more detailed than most VPNs are comfortable with from the main screen, but you're not obligated to memorize any of it. Just click the blue "connect" button and you're set.
The server selection tab is hidden behind the pin marker next to the "connect" button, which may not be the most obvious place to put it. Once you know it's there, though, you'll make heavy use of it. You can set your favorite servers and connect to them straight from this button for fast access. You can also open the server tab and browse VyprVPN's network offerings in a separate window.
Servers are shown alphabetically by country and then city, all in a flat list that's easy to scroll through. Ping times are shown on the right to make it easier to choose a fast connection. Clicking the ping label moves servers with the shortest pings to the top of the list. You can also use the tabs at the top of the window to narrow the display by region (North America, South America, Asia, Oceania, etc.) or even search for a country or city by name.
As of 2021, VyprVPN has more than 700 servers in more than 70 locations. This adds up to include more than 300,000 possible IP addresses. It has servers in all the usual suspects — think Los Angeles, New York City, Paris, Seoul, etc. — but it also offers uncommon locations that may be hard to find with other VPN services. Some of the more recent entries onto the VyprVPN server list include Egypt, Slovakia, Uruguay, and even the Marshall Islands.
VyprVPN Software Settings
VyprVPN's desktop software has more options than most other VPNs combined. Click the settings menu tucked away in the corner of the main window, then click "options" and you'll see several tabs in a new window, each with a ton of configuration choices. We'll discuss one of them, the protocol tab, in the security section below. The rest are worth taking a closer look at right away.
The connections tab lets you set automatic reconnect and auto-startup options. The kill switch is also here and turned off by default. Configuring the kill switch lets you choose between app-based protection or system-wide protection, meaning it can still function if the Vypr software closes. You can also stop all LAN traffic for extra security.
At the bottom of the connect tab is a WiFi setting you can use to set trusted networks and have VyprVPN automatically connect when encountering a hotspot that isn't on the list. This is perfect for laptops and will bring a lot of security for anyone traveling and accessing public WiFi, which is, of course, one of the most dangerous places that you can be positioned when it comes to the threat of hacking. It's not hard for hackers to use public WiFi to intercept connections and steal sensitive info. Fortunately, VyprVPN protects you against this.
DNS settings get their own tab in VyprVPN's desktop software. You can choose to use the company's DNS servers or enter your own details for a third-party DNS experience. The DNS leak prevention option is at the bottom, toggled on by default.
The advanced settings tab is a gold mine of detailed configuration options, with everything from TLS timeout settings to local log verbosity, MTU settings, and route delay. Vypr recommends only changing these features if you're directed to by its support team, which isn't a bad idea as most of them relate directly to OpenVPN and how it manages your traffic.
Mobile VPN Apps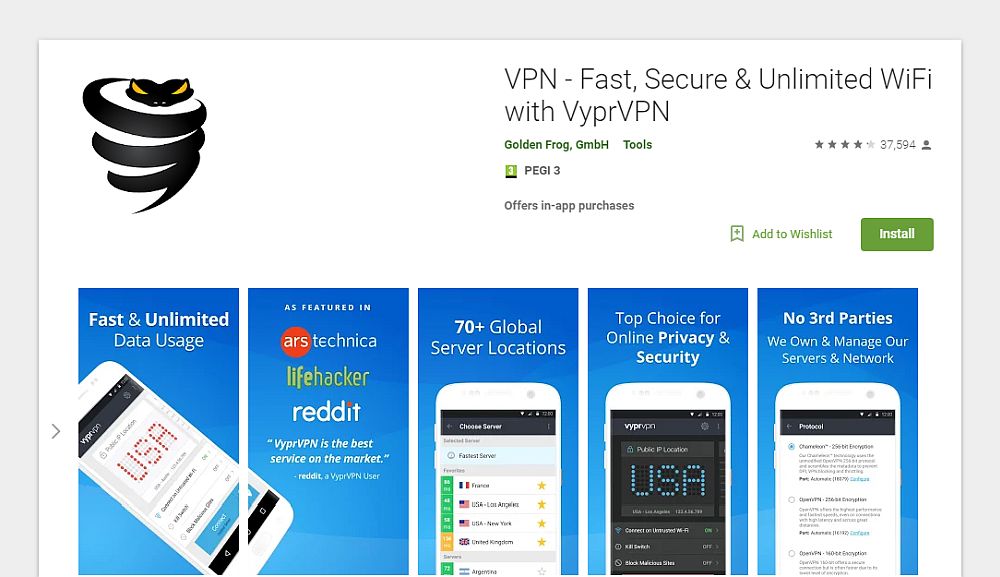 VyprVPN's mobile apps are simply amazing. It's rare to open VPN software on a smartphone and think "wow, this is perfect," but that's certainly the case here.
Fun fact: VyprVPN was actually the first no-log VPN Android app that was publicly audited. When using this app, you can be sure that your activity is not being surveilled. Not by the government, not by third-party apps, and not by VyprVPN itself. Your behavior is 100% private at all times.
The main screen shows your current IP with the blue "Connect: Fastest Server" option at the bottom. Tapping it hooks you up to the speediest — and usually the closest — node in the VyprVPN network. When you're connected, the entire app changes color, making it extraordinarily easy to glance at your phone and know you're safe.
The server browser is in the same location as the desktop software, right next to the "connect" button. Tap the pin and you'll visit the server list that displays the entire network by country and city with ping information to the right. Sorting features makes it easy to filter out the regions you don't usually connect to, and setting favorite servers puts them right at the top for easy selection.
The lower section of the app has three main options that you can switch on or off with a few taps:
Connect on Untrusted WiFi: Similar to the desktop feature, you can specify trusted networks (home, work, etc.) and have Vypr automatically connect when you encounter an unlisted hotspot.
Kill Switch: Turn it on or off with a quick tap.
Block Malicious Sites: This compares sites you visit with a blocklist to filter malicious content from even reaching your device.
Swiping the top IP location box reveals detailed stats about your connection — something almost no other VPNs bother to offer. You can get a protection report covering the last week, month, or forever, showing how many untrusted WiFi networks Vypr helped secure, how many times the kill switch was activated, and how many malicious sites were blocked. Swipe again to see a connection speed graph, and swipe a third time for detailed information on the server you're connected to. It's tough to get information like this on some VPN desktop software, and it's practically unheard of on mobile. Bravo, VyprVPN!
The eye-opening features don't stop there. Tap the gear icon to enter the settings menu where you'll have access to a shocking number of options for a mobile device.
Protocol: Switch between standard OpenVPN with 256-bit encryption (default), OpenVPN with 160-bit encryption (slightly faster), or Chameleon 256-bit (exclusive protocol to help defeat packet inspection). You can even change the ports that the app utilizes!
DNS: Switch between Vypr's own DNS servers or enter your own third-party source.
Automatic Connect: Choose when Vypr connects to a server: when the device starts, when the app starts, when the cellular network is engaged, or automatically stay connected.
Connection per App: Set certain apps to connect without using the VPN.
Using the VyprVPN mobile app is an incredible experience. We were floored by how easy it is and how much customization is available with a quick tap or swipe. A ton of information is available to help diagnose speed problems or see just how effective the app is at keeping you safe. You normally won't get this level of configuration control unless you install OpenVPN and edit things manually. It's impressive to say the least.
Note: We tested the Android version of VyprVPN's smartphone software. The iOS release has a similar layout and identical style, but it's missing a number of the detailed security and encryption features found on Android. You'll still get the same great user experience, just without some of the power.
Performance
Using a VPN means running it all the time, every day. Performance is an extremely important factor in how satisfied you'll be with the service. Below, we take a closer look at VyprVPN's network and run a number of tests to evaluate download speeds.
VyprVPN's Server Network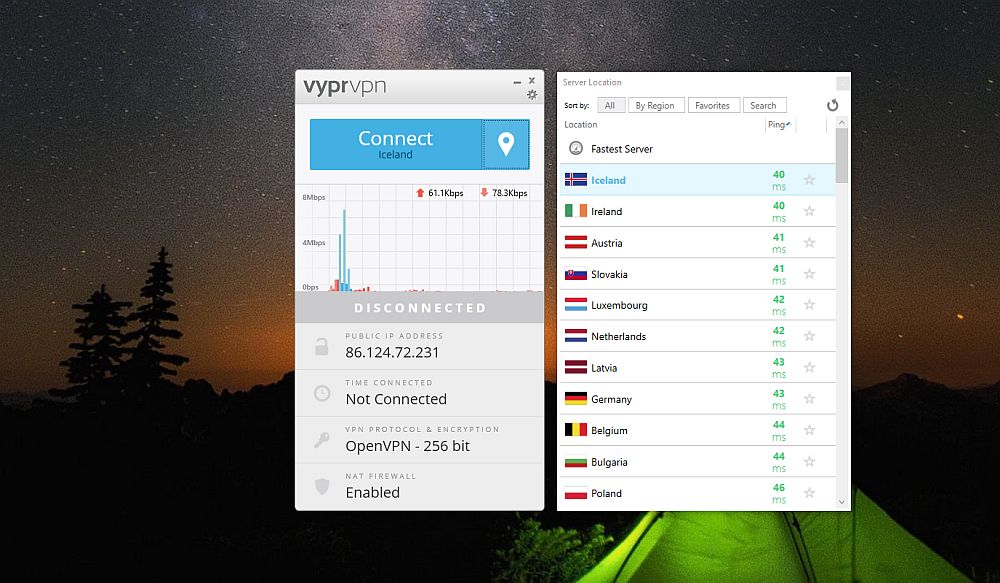 The size of a VPN's server network can make or break your experience. VyprVPN offers an impressive selection of over 700 nodes in 70 countries with 300,000+ shared IP addresses between them. This covers every continent except Antarctica and is especially prominent in places like Europe, the Middle East, Southeast Asia, and both coasts of North America.
One clear advantage VyprVPN has over most VPNs is the fact that it owns and operates its entire network of servers. Many companies employ third parties to carry out maintenance and upgrade duties or simply rent bandwidth from separate entities. VyprVPN keeps everything in house, ensuring outside hands never touch its equipment for an extra layer of security.
Testing VyprVPN's Speed
VPNs are going to be slower than an unsecured network; it's just a fact. Encryption overhead is a major contributing factor to this, as is physical distance between you and the VPN's servers. The quality of the company's network is also a major factor, which is why it's important to take a deep look at speed test results to see how committed they are to providing fast downloads.
If you're going to be using your VPN from home, it might be time to look into updating your internet services because your internet speed will have an impact on how quick you perceive your VPN to be. However, despite all of these extraneous factors, we can still hold our VPN providers accountable when it comes to speed. Let's take a look at how VyprVPN performs in this area.
Our Methodology
There are a ton of variables that come into play when performing speed tests. Everything from hardware configurations to server loads can make the results change from moment to moment. To keep our numbers as reliable as possible, we deployed three tests at three times throughout the day. Each one used a different source and method for recording speed. First, we tested our unsecure ISP speed, and then we opened the VPN and ran the test again.
Every test was conducted with similar server locations in mind. We also used the fastest encryption and protocols available on the VPN. For Vypr, this meant OpenVPN 160-bit encryption on the default range of ports, all of which was easy to configure via the desktop software.
Here's a quick overview of the tests we used:
VPN Speed Test #1: We downloaded a series of files from 1 to 16 MB in size. All were served by a content delivery network that adjusted the downloads based on location.
VPN Speed Test #2: A ten-minute test where we downloaded a single 100 MB file from the same server once every 60 seconds.
VPN Speed Test #3: A single-pass speed test that connects to a single server to record the best upload and download speeds.
VyprVPN Speed Test: Results
VyprVPN doesn't tout speed as one of its biggest features. Instead, it prefers to put emphasis on the privacy it offers to users. In fact, while perusing VyprVPN's homepage, we could only find a single mention of the word "speed," and it was in a user testimonial, not in the marketing copy.
That's too bad, because the results we came up with in our speed test were amazing. Some were so high that we went back and ran them again to make sure we were actually connected to the network. The service also had some of the least variable results we've seen in our VPN tests, which is a good thing!
Connecting to VyprVPN's recommended servers consistently produced speeds between 85-95% of our unsecured max. Those results are incredibly high and are not often seen in the VPN world. The actual numbers will vary from person to person as well as day to day, of course, so these percentages may not always be the case for everyone.
Multi-file download (Test #1):
Highest recorded ISP speed: 14.27 mb/s
Highest recorded VyprVPN speed: 12.59 mb/s
100 MB repeated download (Test #2):
Local ISP – 6.69 mb/s (low) – 6.75 mb/s (high) – 6.72 mb/s average
VyprVPN- 4.27 mb/s (low) – 6.57 mb/s (high) – 5.89 mb/s average
Single burst test (Test #3):
Best ISP speed (single server): 53.92 mb/s download, 5.66 mb/s upload
Best VyprVPN speed (single server): 51.36 mb/s download, 5.42 mb/s upload
It was shocking to see VyprVPN score so well in all the speed tests above. Not only was it fast but it provided stable speeds that lasted throughout our tests with very few points of slowdown. One of the things that likely helps VyprVPN keep high speeds is its detailed encryption options. We tried both 256-bit OpenVPN as well as the lightweight 160-bit option and noticed a significant change between the two. 256-bit was an average of 8% slower than the lesser encryption level, which puts VyprVPN right on par with other services on the market. If you're performing average tasks online (including streaming and uploading), the speed levels offered with VyprVPN should be more than enough to get the job done.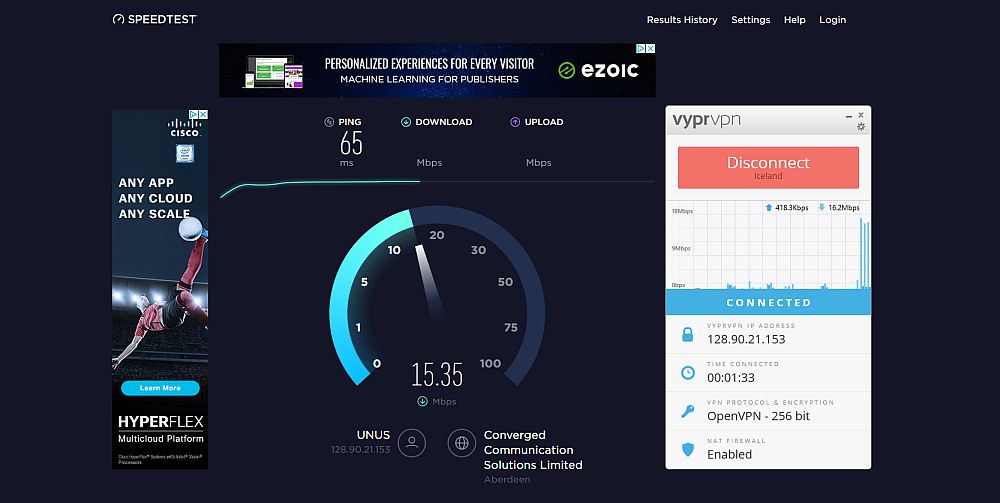 Security
Now it's truly VyprVPN's moment to shine.
VyprVPN was built for security. We took a detailed look at some of the service's privacy features, including its wide array of encryption protocols and traffic logging policy.
Logging Policy
The core of your online privacy is built upon a VPN's logging policy. To understand why a logging policy is such an important factor in safe internet browsing, you must first understand what a logging policy actually is. Allow us to provide a bit of an explanation — feel free to scroll past if this is old news for you.
A logging policy sets out what any application should be able to track. For example, in an environment that handles personal information, it might be useful to the user experience to track attempted fraud and imposter login attempts.
The tracking of this information is not necessarily bad and is intended to protect the user. The trouble is that these tracking policies are often applied in a blanket technique, meaning that unnecessary personal info is tracked when it ought not to be. Despite some jurisdictions keeping laws on how transparent businesses have to be about this, many still aren't, which leaves some users apprehensive.
Part of the reason for this worry is that logged information can also be used to match account details to online activity, which is especially disconcerting when it comes to government agencies demanding access. The fewer logs a VPN keeps, the better. An ideal situation would be a solid zero-logging policy across the board.
VyprVPN is incredibly open about its logging practices — something you don't see from every VPN. Of the five main areas of data logging, Vypr clearly states its position on every single one. Most VPNs flaunt their "no" responses and refuse to answer anything else, but not Vypr.
Below is an overview of the company's logging policies. Note that the "yes" answers are stated in the privacy policy as being stored for only 30 days.
Traffic logs: no
DNS request logs: no
IP address logs: yes
Timestamp logs: yes
Bandwidth logs: yes
VyprVPN's Jurisdiction
We mentioned jurisdiction briefly above, but it deserves a bit more elaboration. When it comes to internet privacy, jurisdiction plays a huge role.
Not everyone takes jurisdiction into consideration when researching a new VPN. That's somewhat unwise as every company is bound by the laws of the country where it resides. If a VPN is registered in an area with poor privacy laws, for example, your own privacy could be in constant danger. There are even governments that require data retention to be kept hidden from customers, meaning they can log your info and share it with agencies without your knowledge.
Additional important considerations are the Five, Nine, and Fourteen Eyes surveillance agreements. Several countries in the western world, including Canada, France, Germany, Australia, the U.S., and the UK, share information with each other to circumvent domestic laws. If one government needs information about its citizens, it can simply ask a cooperating foreign government to collect the data and share it. Having a VPN in one of the Eyes' countries can spell trouble for your privacy.
VyprVPN's jurisdiction is Switzerland, a country noted for its staunch political neutrality. Switzerland itself isn't part of any of the Eyes groups and doesn't adhere to the data retention or sharing policies of those countries. Its official position in relation to the groups is "cooperative," however, which causes some users to give pause. Apart from this exception, most consider the laws of Switzerland trustworthy enough to support a reliable VPN service.
DNS Leak Tests
It's easy for us to remember words like facebook.com or addictivetips.com. In order to connect to a website, however, you need to know its IP address, which isn't so easy to remember. Each time you type a URL into your browser, a DNS server matches the word-based URL with the correct IP. Without DNS doing its job, we either couldn't access the internet or would have to memorize dozens of strings of numbers just to surf the web.
Connecting to the internet through your ISP means using its local DNS servers. Third parties, including websites and government agencies, can detect which DNS service you're connected to and use that to trace your real location. When you're on a VPN, you use their non-local DNS servers instead of your ISP's. This is a basic but effective form of online anonymity, as no one can find your real address based on a VPN's DNS location.
A DNS leak happens when a VPN allows for a DNS request to be shown to an IPS DNS server, i.e., spying eyes can see whichever websites a user is visiting (one of the very things that a VPN sets out to prevent). This happens specifically with split-tunnel VPNs, where traffic can simultaneously be sent through a local network. Split-tunnel VPNs are useful for anyone looking to access local content or location-specific search results.
The VyprVPN desktop and mobile software comes with built-in DNS leak protection. This handy feature ensures your operating system never defaults to an ISP's server. We tested the leak protection using two separate third-party services on both desktop and mobile. Every time, the results came back perfect: no leaks and no identity reveals, showing that VyprVPN's DNS leak protection works like a charm.
Kill Switch Protection
VPN software acts like a gatekeeper to your internet connection. Nothing gets in or out without the VPN taking a look at it first. If something does sneak by unencrypted, your personal information or online activity could be revealed to the world. Most VPN apps are built with automatic kill switches that look for these leaks and block system-wide internet access as soon as a problem is detected.
VyprVPN's kill switch is toggled off by default. When you start the software, make sure you click the gear icon in the top right corner, choose options, then click on the connection tab. The kill switch is listed in the middle of the window. Simply tick the box and it's set. You can configure it to work even when the Vypr software is closed, but most users will be fine with the default "app" setting.
We enabled VyprVPN's kill switch and force-closed the connection using an external program. The instant the connection was terminated, Vypr's software leapt into action. A notification window appeared showing that there was a problem with our internet. Access to the web was restricted, and because we had automatic reconnect turned on, Vypr immediately joined the fastest server available. The entire kill switch process was fast, effective, and foolproof. No data leaks and no delays, just excellent security.
Encryption and Security Protocols
VyprVPN defaults to the protocol and encryption level used by most VPNs: 256-bit AES with OpenVPN. This combination affords the best balance of speed and privacy for the vast majority of users. Squeezing more speed out of your VPN or even beefing up the security is sometimes possible depending on a service's software options. With VyprVPN, you get an unprecedented amount of control over your protocols and encryption.
All of VyprVPN's security options are tucked away under the "Protocol" tab under the options menu. Here, you can choose between four major encryption types, including Vypr's own proprietary technology. You can even change port ranges for two of the main options, though the automatic settings usually bring the best results.
Chameleon 256-bit: VyprVPN's proprietary technology masks VPN traffic to make it unidentifiable by third parties. Perfect for breaking through censorship firewalls in China as well as putting a stop to ISP throttling.
OpenVPN 256-bit: The standard for most VPNs and the default for Vypr. This offers the best balance of security and speed and works well for most users.
OpenVPN 160-bit: Drops the encryption level to increase speed by a significant amount. Your data won't be as private as with 256-bit, but sometimes faster downloads take priority.
L2TP/IPSec 256-bit: Arguably more secure than OpenVPN but with greater vulnerabilities and a vastly reduced speed. Best reserved for troublesome network connections or access in censorship-heavy countries.
PPTP 128-bit: The most basic security available that's a little faster than the other options. If you value speed over security or the other options don't work for you, PPTP might be a good choice.
VyprVPN and Chameleon Technology
A huge selling point for the VyprVPN experience is Chameleon. This clever technology takes encrypted packets and wraps the metadata in an extra layer of encryption, obscuring things like point of origin and IP. This may not sound like a big deal, but in practice, it does one thing extraordinarily well: obfuscates your traffic.
It's nearly impossible for an ISP to penetrate Chameleon encrypted data packets. This is a life-saving technology if you live in a place like China that heavily censors its internet. Even government-level firewalls that claim to block VPN traffic will have a difficult time stopping Chameleon. That extra layer of metadata encryption does a lot for your online freedom. It can even help defeat stubborn ISP throttling.
Chameleon was first developed as a response to a concern that users had about network admins potentially throttling or even blocking the encryption of data. Be aware that VyprVPN only offers its Chameleon protocol to premium account levels, but if you live in a place where it's a necessity, it's well worth the price.
It's also worth noting that turning Chameleon on will result in a significant reduction of speed. This is expected, of course, and it's why you should only use the protocol when dealing with oppressive censorship efforts.
Extra Security – NAT Firewall and Block Malicious Sites
Two features VyprVPN puts front and center of its desktop and mobile apps is the NAT Firewall and Block Malicious Sites. The former is available on desktop environments and functions just like the NAT firewall on your home router. Think of it like an advanced sorting mechanism; the VPN knows what traffic you're requesting, and by extension it knows what kinds of connections you're not. If an unknown request pops through, the NAT firewall simply discards it before it even reaches your computer. This helps keep malicious hackers and snooping third parties out of your system.
Mobile devices have a Block Malicious Sites option that functions much like the NAT firewall. This operates using an open list of websites and blocks them at the level of DNS resolution. So, if you typed in a URL or clicked a link that redirected to the malicious location, Vypr's feature stops data from being transmitted. It's an especially useful feature on smartphones, as they access a lot of open Wi-Fi networks that are known to be vulnerable to these types of attacks.
We tested both the above features by visiting known malicious sites. In both instances VyprVPN put a stop to the request before the page even loaded.
Using VyprVPN in China
The Great Firewall of China is a widespread net of censorship that cuts off free and open internet access to the web throughout mainland China. Citizens and visitors alike will find familiar foreign sites like Google, Facebook, Wikipedia, and thousands more blocked from every device. The Chinese government also prevents access to most VPN services in an attempt to cut off workarounds to keep strict control over the internet.
Not all VPNs are created equal, however, and it's impossible to block every single service without shutting down the internet entirely. VyprVPN is one of the best VPNs to use for open access to the internet in places like China, Saudi Arabia, Turkey and more. A lot of this has to do with the company's Chameleon technology that we discussed above. Chameleon masks traffic so it doesn't appear to be coming from a VPN encrypted service. Because the Great Firewall doesn't recognize it as originating from a VPN, it doesn't bother blocking it. The VyprVPN website is even accessible from China, which is a true rarity in the VPN world.
To use VyprVPN while in China, all you need to do is turn on Chameleon from the options menu. With Chameleon active even packet metadata will be scrambled, allowing you to surf the entire world wide web without fear of censorship.
VyprVPN offers a constantly updated guide on how to access the web from China using its software. If you're planning a trip to the mainland, give it a thorough read before you step foot in the country. As of 2021, users report that VyprVPN is still functional throughout mainland China. As mentioned above, use of Chameleon will require a subscription to the premium version of VyprVPN, but the company makes it easy to purchase either of these subscriptions, even accepting the popular Chinese platform Alipay as payment.
Netflix Availability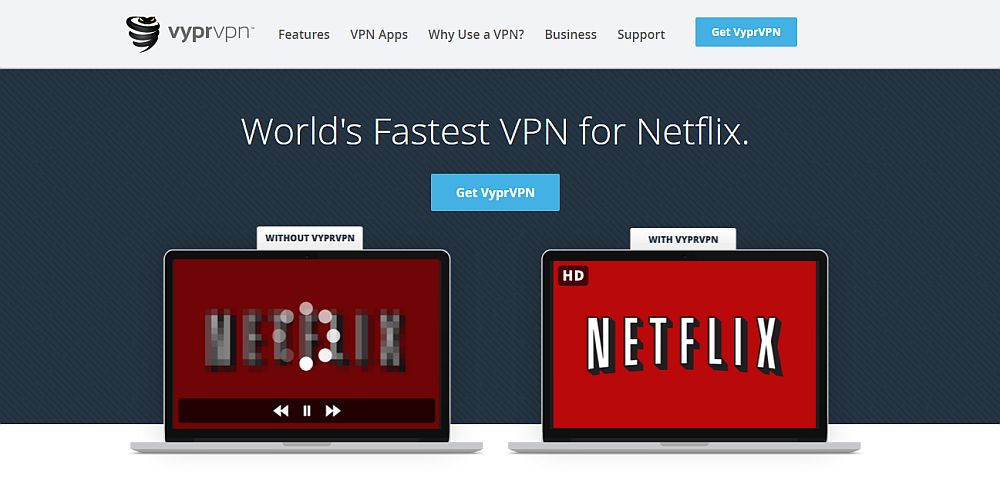 Even if streaming service hopping is not the sole reason why you're getting a VPN, you have to admit that it's an enticing perk. So, how well does VyprVPN keep up when it comes to Netflix streaming? It must be as simple as clicking and streaming, right?
Not so fast. A few years ago Netflix started blocking access to anyone using a VPN, regardless of which country they're located or where the servers are based. There aren't any reliable workarounds to be had, either, as Netflix constantly updates their block list to add new IP ranges. VPNs can fight back by opening up new IPs, but the back and forth game of block-circumvent-block is an ongoing feud with no clear winners.
VyprVPN has surprisingly good Netflix access, especially when it comes to U.S. servers. We tried multiple locations in Mexico, South America, throughout Europe, and more, all of which gave the usual error message when trying to start a Netflix stream. In the U.S., however, we were able to watch videos without any problem. We also found Japanese and Australian servers that connected with ease!
At the time of writing, VyprVPN had some of the most reliable Netflix access around. That may change in a week or a month as Netflix renews its IP filter list, of course, but it does show that VyprVPN is interested in providing streaming access to its customers despite frequent blockades.
VyprVPN Customer Support
No matter which VPN you use, chances are you'll stumble across a connection issue from time to time. VyprVPN's support pages feature a wealth of installation, configuration, and set-up articles to help with some of the most common issues. It's not an exhaustive database of information, but it should be enough to get you unstuck as quickly as possible. VyprVPN's support documentation is available in many different languages such as German, Spanish, Chinese, and French.
If troubleshooting guides won't do the trick, VyprVPN offers a contact form for 24/7 responses from their support team. Responses are generally within an hour or two, though that can vary somewhat depending on a number of external factors. If you have a serious problem and need immediate help, a live chat window is available. Click it and connect with a real customer service agent, who happens to be knowledgeable and friendly, in our experience!
Interestingly, VyprVPN's customer service representatives answer inquiries from an in-house facility, which many users find reassuring for privacy reasons. This is in line with the other practices that we have come to expect from VyprVPN, where it is careful with its privacy practices in order to set a reassuring example for its customers.
VyprVPN Pricing and Plans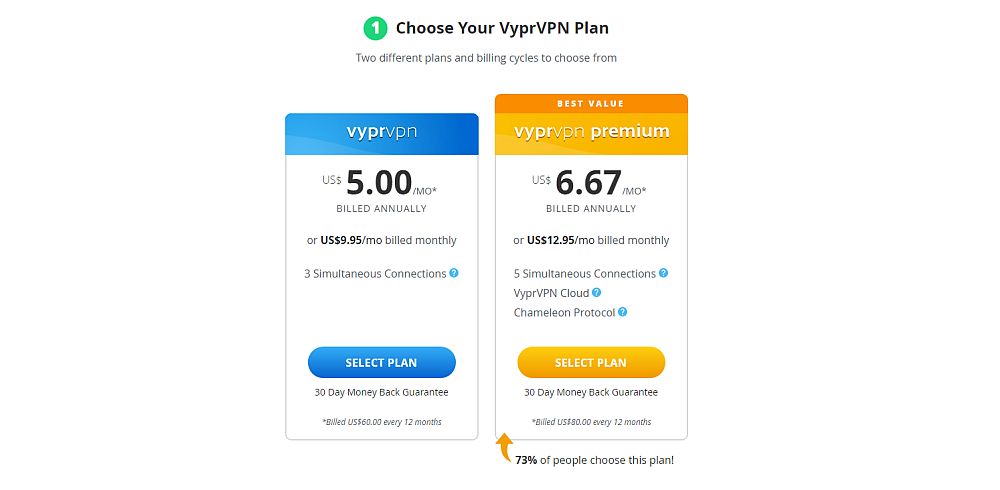 VyprVPN does something a little different with its plans. Instead of offering total feature access with flat prices based on subscription length, Vypr divides its service into tiers. Namely, VyprVPN Standard, VyprVPN Premium, VyprVPN Business, and VyprVPN Business Premium.
VyprVPN Standard
The VyprVPN standard plan is its most economical option at $9.95 per month. This allows for users to connect up to three devices at the same time, enjoying end-to-end encryption the entire time.
VyprVPN Premium
VyprVPN gives users access to its proprietary Chameleon software that we've hyped up so much in this article (and with good reason). This service will cost a few more dollars per month at $12.95, but you can opt to pay yearly and enjoy a 50% discount.
VyprVPN Business
As its name would suggest, VyprVPN Business is designed for entire teams who make use of VPNs. This tier includes the option of connecting to VyprVPN's global business servers. All VyprVPN Business subscribers also enjoy access to their own personal account manager.
VyprVPN Business Premium
The premium business level allows users to control their network through the user of VyprVPN Cloud.
If you're hoping to try out VyprVPN's services before you commit to a plan, you're in luck. The company offers a 30-day money-back guarantee.
VyprVPN: What We Liked, What We Didn't
After spending all this time with VyprVPN, its server network, its software, and its mobile apps, we got a pretty good feel for what the company aims to offer. Below are a few of our final thoughts about the experience.
We liked…
Amazing mobile software that's easy to use, attractive, and offers a wealth of privacy and security features
Surprisingly fast servers, especially in areas not commonly associated with speedy downloads
The best access to an open internet in places like China and Russia
Open and honest privacy policy and logging disclosure
Superb access to Netflix streams
We didn't like…
Often a delay when connecting to or disconnecting from servers, which can be frustrating if you switch locations a lot
Software may be a little overwhelming for casual VPN users
Is VyprVPN Right for You?
Everybody needs something slightly different from their VPN. Some users look for speed above all, others need simple software or higher security for access in censorship restrictive countries. No VPN can cater to all these needs, which is why it's important to take advantage of free trials and money-back guarantees so you can test-drive each one before taking the plunge.
VyprVPN met and exceeded our expectations in every area we tested. There were so many moments when we stopped and went "Wow, I didn't know it could do that!" We were particularly fond of the mobile app, as it featured more security options than some VPN providers' desktop software. We're confident in recommending VyprVPN as one of the best VPNs around. If you need privacy, if you need internet access in China, and if you need an amazing smartphone experience, you should definitely give Vypr a try.
Had an experience with VyprVPN you'd like to share? How does it hold up vs ExpressVPN? Want to ask a question that we didn't cover in the review? Let us know in the comments!