We are reader supported and may earn a commission when you buy through links on our site.
Learn more
Private Internet Access Review 2019: Superb Service with Very Little Drawbacks
Private Internet Access is a superb VPN with very little in the way of drawbacks. It's fast, it's secure, it's user friendly, and it sneaks in a lot of smart and powerful features that let you customize the experience to meet your needs.
Pros
Excellent mobile apps that make using a VPN on a smartphone easy and seamless.
Unblocks Netflix U.S.
Great speeds for most servers around the world
PIA MACE is shockingly effective
Price.
Cons
Software feels like it wasn't designed for desktop use.
Unable to select individual servers from the network.
Looking for the fastest, the most secure, and the all-around best VPN? We are, too, which is why we ran the immensely popular Private Internet Access service through a battery of tests. We checked everything from server speed to security features to make sure they work as promised. Read on for our full Private Internet Access review to see if it's the right VPN to keep you safe online!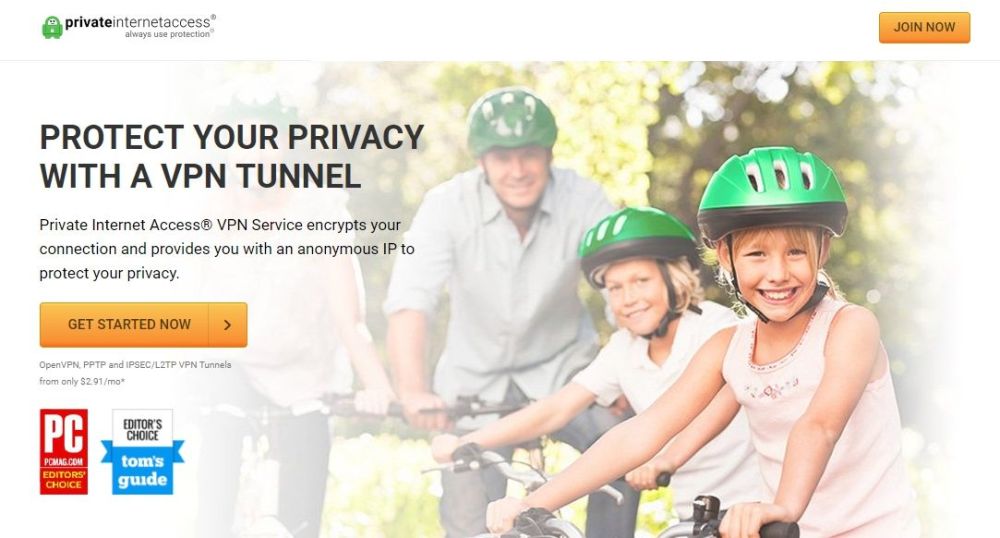 Private Internet Access – Basic Features
Private Internet Access is a U.S.- and UK-based virtual private network provider that puts online privacy above all else. The service operates an impressively large network that spans 28 countries and over 3,000 individual servers, giving you plenty of options for fast connections everywhere in the world. You also get full support for P2P and torrent downloads, no traffic logs, and easy to use apps for a wide variety of devices. Private Internet Access sets out to be a VPN anyone can use, and it succeeds on every front.
Some of Private Internet Access' most notable features include:
Low priced subscription plans are some of the best in the business.
Offers PPTP, L2TP/IPSec, and SOCKS5 proxy support.
Unlimited bandwidth on all devices and platforms.
Use up to five devices on the network simultaneously.
Included ad- and malware-blocking features.
Installing Private Internet Access
The installation process for Private Internet Access is as fast and simple as installing any software. After creating your account and activating a subscription, you'll be able to download versions of the app for a variety of platforms (see below). Install and launch the software, sign in, then you're ready to connect.
Platforms supported by Private Internet Access:
Windows 10, 8, 7 (custom app)
Mac OS 10.9 or newer (custom app)
Linux (Ubuntu, Debian, Mint, Arch)
Android (Google Play, .apk download)
iOS (app store download, OpenVPN)
Chrome Extension
Router (DD-WRT, Tomato)
Android and iOS users can access Private Internet Access through links in the downloads dashboard, or by going through their respective marketplaces. Either way, you'll sign in with your Private Internet Access account details for a secure online experience.
Private Internet Access – Software
Private Internet Access goes to great lengths to make its apps as straightforward as possible. The company does this without sacrificing advanced features, too, making it a solid choice for VPN beginners and seasoned experts alike.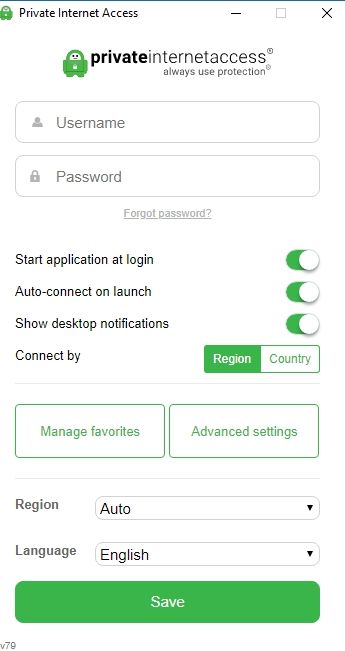 Starting Up
Private Internet Access has a wonderful user-friendly setup screen for its desktop apps, one that's used as the default home menu every time you open the app. Before you even sign in you'll be able to modify a few crucial settings that help protect your device. Best of all, these are toggled to the optimal settings at the start, so you don't need to change anything if you don't want to.
Start application at login – On or off
Auto-connect on launch – On or off
Show desktop notifications – On or off
Connect by – Region / Country
Manage favorite servers
Advanced settings
Region and language dropdown menus
The options above double as the app's settings page, so you'll want to get familiar with it right away, since you'll see it often. Once you sign in, Private Internet Access slides to the background. You may need to right click the icon to connect to server, but otherwise you're good to go.
Software Settings
Private Internet Access puts some really powerful settings at your fingertips. Everything is available through the Advanced Settings button the settings/startup screen. Clicking it opens a side panel with a series of Connection and Encryption configuration options.
For Connection, Private Internet Access lets you choose between UDP and TCP, select one of four remote ports, choose a local port, or even request port forwarding. All of these are used to wiggle through censorship and throttling barriers by making your connection more difficult to trace and locate.
PIA MACE is a unique feature not offered by most VPNs. It blocks ads, trackers, and malware while you're connected to Private Internet Access. We'll discuss this in more detail below, as it's an important feature a lot of users will be interested in.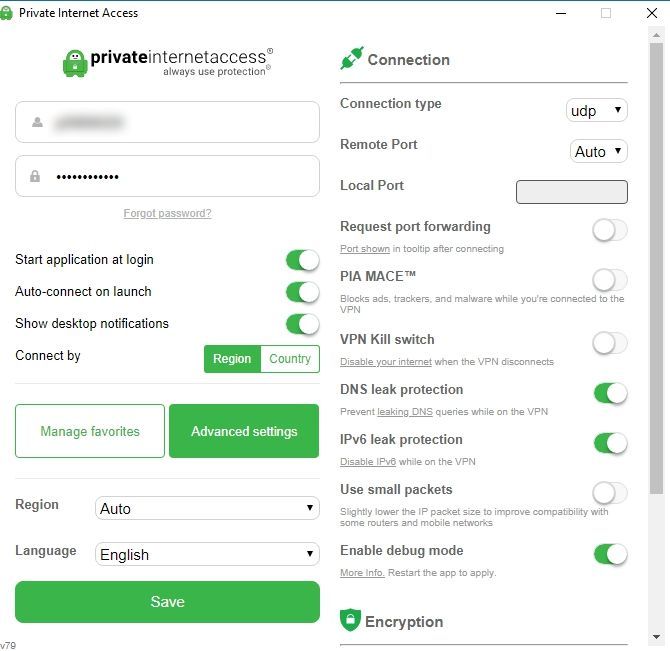 VPN Kill switch and DNS leak protection toggles are also here, with the former turned off by default. Private Internet Access also offered IPv6 leak protection to future-proof your anonymity. And if you're having trouble with Private Internet Access and your router, you can try the small packets option or enable debug mode to see what's going on.
The Encryption section has a few fantastic options power users will love getting their hands on. For starters, you can change encryption strength, toggling between 256-AES and 128-AES. You may want to step it down if you're having speed issues, or if you're feeling particularly safe, you can even turn encryption off entirely.
Private Internet Access also has data authentication (SHA1, SHA256) and handshake options to customize for improved security, though the vast majority of users will want to leave these alone. If you're interested in tweaking the experience for better security or speed, see the Security section below.
Mobile VPN Apps
Private Internet Access's mobile app preserves most of the layout and features found in the desktop versions of its software. As soon as you install and accept the permissions you'll see a clear and easy to read screen with a VPN connection slider. This changes colors depending on whether or not you're connected, so you always know if your data is secure.
Server selection on mobile is handled per region for fast tap access. Each one is shown with rough speed test results below the title and flag so you can quickly gauge whether or not the area is worth connecting to. You can also leave it to "automatic" to get the best server each time you log on.
Private Internet Access' core connection and encryption settings made the transition to mobile just fine. You'll be able to toggle PIA MACE, switch to TCP connections, use port forwarding, or change either remote or local ports. A kill switch, IP blocking, and small packet toggles are here as well. You can even change data encryption strength and authentication/handshake power on the mobile app!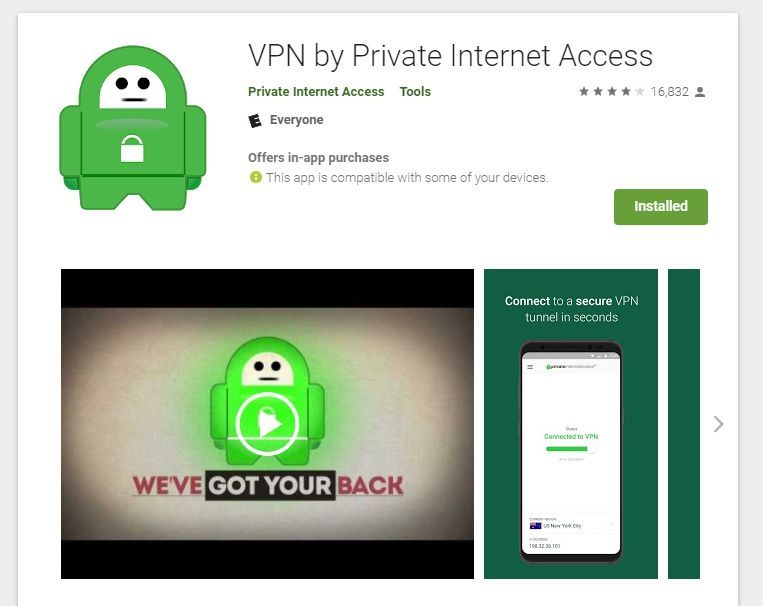 Unique to the mobile version is the ability to protect app data on an individual basis. If you have some software that won't function behind a VPN, visiting Private Internet Access's Per App Settings page will let you split the encryption tunnel, sending certain app packets through without interfering. By default all apps are secured, so only do this if you need to.
The mobile app also has a few unique settings to look at. You can switch on 1-click connect for fast protection, add haptic feedback for instant vibrating notification when a connection resolves, use a dark theme for the app, or create a custom Private Internet Access widget to use on your home screen.
Testing Private Internet Access's Speed
Privacy is an important consideration for any VPN, but at the end of the day, its usability comes down to speed. A slow service is frustrating to use and can make certain things like HD video streams impossible. To find out how fast Private Internet Access is, we ran it through a series of speed tests and compared it to our local ISP.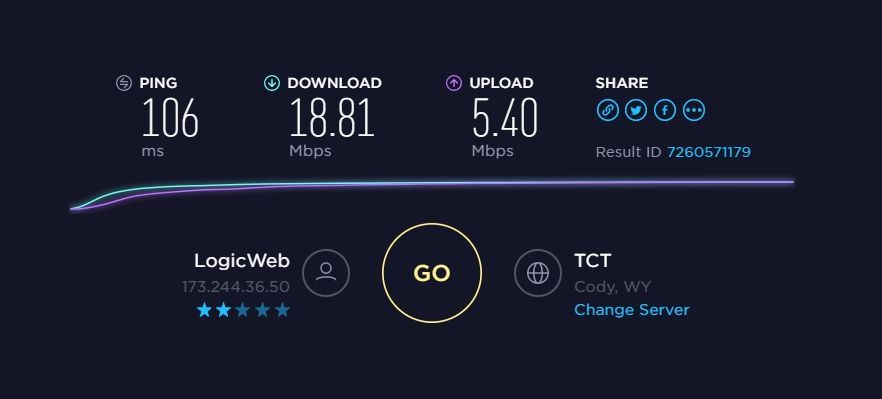 Speed Test Methodology
All VPNs will be a little slower than an unsecured, unencrypted connection to your local ISP. There's simply no way around this. That doesn't mean all VPNs have the same performance ratings, though. Faster VPNs do exist, which is why running speed tests on multiple servers and at various times throughout the day is a useful metric for gauging a VPN's overall speed.
With that being said, there are dozens of variables that come into play when it comes to speed tests. Location of the tester, hardware, network congestion, the list goes on. We eliminated as many as we could by running multiple tests on different remote servers using three different services. Your results may vary, however, which is why you should try the VPN out yourself to see how well it performs.
Overview of the tests we used:
VPN Speed Test #1 – We downloaded a series of files ranging from one to 16 MB in size. These were served by a content delivery network that automatically detects and adjusts location for optimal results.
VPN Speed Test #2 – A 10 minute test where we downloaded a single 100 MB file from the same server once every 60 seconds, then measured and charted the speeds.
VPN Speed Test #3 – A quick speed test that connects to a single server to record the best upload and download speeds.
Private Internet Access Speed Test – Results
Private Internet Access gave us evenly spread results over most of its speed tests, which is exactly what you want to see. There were no unexpected highs or disappointing lows, just a reliable connection through and through. The more servers we tried the lower the speeds became, which is expected, but once again these numbers didn't vary much between runs.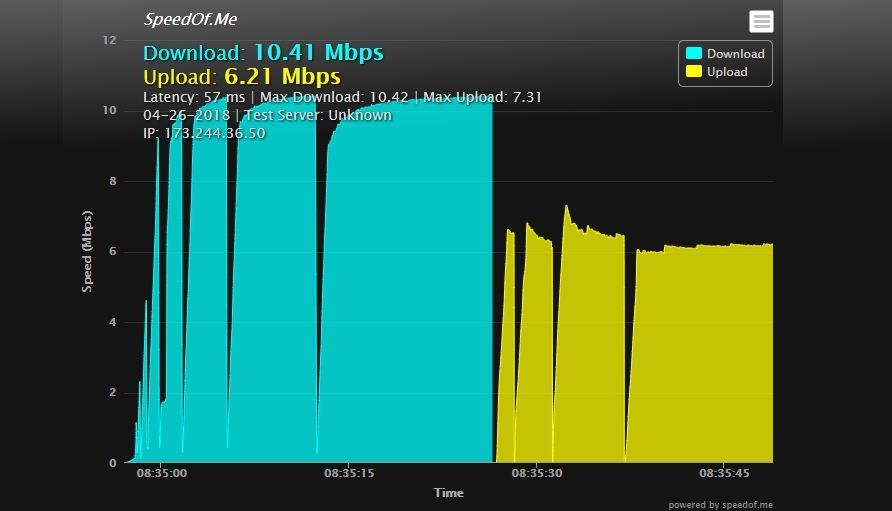 The tests below were performed using Private Internet Access' default encryption and handshake settings. Slightly higher speeds can be obtained by changing these through the settings page.
Multi-file download (Test #1):
Highest recorded ISP speed: 10.41 mb/s
Highest recorded Private Internet Access speed: 7.62 mb/s
100 MB repeated download (Test #2):
Local ISP – 8.27 mb/s (low) – 5.24 mb/s (high) – 7.18 mb/s average
Private Internet Access- 8.14 mb/s (low) – 5.21 mb/s (high) – 7.19 mb/s average
Single burst test (Test #3):
Best ISP speed (single server): 66.29 mb/s download, 5.75 mb/s upload
Best Private Internet Access speed (single server): 18.81 mb/s download, 5.4 mb/s upload
The results of this speed test are easy to interpret. Private Internet Access performs admirably well when it comes to raw download speed. It kept up with our local connection for both the burst and multi-file tests, and it scored surprisingly high on the repeated file download test. This makes Private Internet Access a solid choice for anyone who needs high speeds and reliable speeds.
Torrent Downloads
No matter what you use them for, downloading large files via BitTorrent is an extremely efficient way to get massive amounts of data onto your system. Some VPNs block torrents by default. Private Internet Access officially states it allows all torrent and P2P traffic, but just to make sure, we used a public domain test torrent to see if this was true.
There were no issues fetching torrent peers from the network with Private Internet Access connected. Download speeds were a little on the slow side, though this could just as likely be the fault of the torrent peers. In addition, Private Internet Access kept our IP address hidden while downloading the file, preserving our anonymity.
Private Internet Access' Security
VPNs exist to keep your data and identity secure. We took a detailed look at Private Internet Access's security practices to verify it can actually keep you safe online.

Logging Policy
A VPN's logging policy is crucial for establishing good online privacy. ISPs are known to keep unencrypted logs of your online activities, often selling or renting them to third parties without your consent. When using a VPN you want to avoid this breach of privacy, which is why it's vital for any VPN service to provide a strict zero-logging policy in as many areas as possible.
Private Internet Access has a comfortably comprehensive zero-logging policy that covers almost everything of concern. The only thing the company doesn't state its position on it bandwidth logs, which keeps track of how much each anonymous user downloads and is used to plan network upgrades and new servers. Relatively harmless as far as logging practices are concerned, allowing you to surf with a high degree of privacy.
Traffic logs – No
IP address logs – No
Timestamp logs – No
DNS request logs – No
Bandwidth logs – Unknown
Jurisdiction
A frequently overlooked feature of a VPN is where the company behind the service is registered. Every entity is bound by the laws of the country it resides in, meaning there could be potential loopholes in data logging that the service cannot divulge to customers. If a VPN is in a privacy-unfriendly country, for example, the company could state it keeps no logs, all while storing information and sending it to government agencies in secret.
Private Internet Access is operated by London Trust Media with branches in the U.S. and Iceland. The company reports these areas still respect user privacy and do not require data retention of any type. Private Internet Access reports it has not received any court orders to turn over data on particular users, but even if it did, there would be practically nothing to share, since the company operates with a strong zero-logging policy.
DNS Leak Tests
DNS servers hold a database of public IP addresses and their associated hostnames. Each time you connect to an ISP or a VPN you make use of their DNS servers to translate typed URLs into IP addresses. They're a necessary element of a functioning internet, but they can also cause trouble when it comes to online privacy.
DNS leak protection is a common VPN feature that ensures you always use the VPN's anonymous DNS service, never your ISPs. This can happen in the case of connection lag or accidental disconnect, or seemingly at random times throughout the day, as well. Exposing your local DNS connection means exposing your identity, defeating the purpose of using a VPN in the first place.
Private Internet Access offers DNS leak protection on all of its custom software. We ran it through a few third party DNS leak tests to gauge its overall effectiveness in keeping your identity hidden. In every case, the results came back positive. Private Internet Access' DNS leak protection feature works perfectly.
Kill Switch Protection
Automatic kill switches are featured built into VPN software that keep you safe from accidentally divulging your identity. They monitor your connection to the VPN and, if it drops out, stops your unsecured ISP connection from taking over. This is a vital feature in privacy-unfriendly areas and can be the only thing standing between you and complete online anonymity.
As is the case with most VPNs, Private Internet Access keeps their kill switch off by default. You can enable it from the Settings screen with just a few clicks, including on mobile devices as well. You will be able to manually disconnect from Private Internet Access with no issues, but if it's an accidental dropout, you'll lose all connection to the internet until Private Internet Access can re-establish a link.
Just to be sure, we tested Private Internet Access' kill switch by manually closing traffic on the port, simulating a random disconnect. The software instantly stepped up to prevent the unsecured ISP connection from taking over, and we were able to return to safe VPN browsing within moments.
Encryption and Security
Private Internet Access usually runs a standard 256-bit AES encryption on all connections. This is identical to what most VPNs offer, and it provides a great balance between speed and raw security. Unlike other VPNs, Private Internet Access gives you a wide variety of choices when it comes to customizing your encryption access.
To access Private Internet Access' encryption settings, go to the Advanced Settings button and scroll down. Mobile users can find this under the hamburger menu under Settings. Here you'll see three sections: data encryption, data authentication, and handshake. If you don't know what these mean, don't worry, Private Internet Access has spelled everything out nice and neat.
Below are the four main suggested encryption settings you should use with Private Internet Access:
The default blend of speed and security sets data encryption to AES-128, authentication to SHA1, and handshake to RSA-2048.
If you need maximum protection, set data encryption to AES-256, authentication to SHA256, and handshake to RSA-4096.
If you need more speed, set data encryption and authentication to "none" and handshake to ECC-256k1.
If you like to live dangerously, turn data encryption down to AES-128, authentication to "none", and handshake to RSA-2048.
These aren't the only options you can deploy, of course. For a full rundown of what each setting does, check out Private Internet Access's guide to data encryption. Be sure to do your research before changing these too much, as you could put your data in danger if you're not careful.
Defeating ISP Throttling
Another popular use for VPNs is to defeat ISP throttling. Some internet service companies are known to artificially slow down connection speeds when accessing certain sites, including streaming sources like Netflix or Kodi. By using a VPN you can bypass these restrictions, provided the ISP doesn't throttle VPNs themselves.
If you do find your VPN is slower than it should be, you could be the victim of ISP throttling. There are a few workarounds for this, but all require flexible VPN software that gives you powerful enough settings to bypass the blockade. Private Internet Access is just such a VPN.
Under the Advanced Settings menu you'll see spots for connection type, remote port, local port, and port forwarding. These allow users to specify a variety of settings useful for hiding from ISP throttling efforts and much more. Nearly half a dozen alternative ports are supported, including secure selections for UDP and TCP connections alike.
PIA MACE
Some VPNs package unique security features into their software. Private Internet Access does this with MACE, a unique safety measure that stops malicious ads and scripts before they have a chance to attack your device. Below we take a look at MACE and how it helps keep you safe.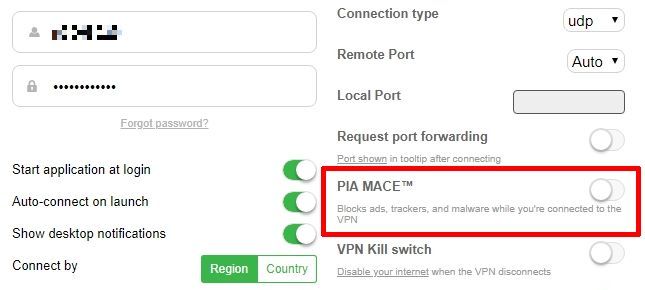 About PIA MACE
MACE is a security suite system developed by the Private Internet Access team to help protect VPN users from outside threats. Encryption alone goes a long way to preserving online anonymity and keeping data safe as it travels across the internet, but this doesn't make users invulnerable to attack. With PIA MACE in place, you're a lot safer than before.
MACE works as a DNS-level blocking system to stop malicious domains and phishing attacks before they take place. It essentially sits between your browser and the internet, watching incoming requests for suspicious domain-level activity. If a script from a potentially dangerous source is located, MACE kills it before it runs, keeping you safe from harm.
Let's look at an example. If you type in a URL like www.monkeysarefunny.net, your browser sends a request to the site for data. The site responds by giving your browser lines of code starting with the page's header. As your browser interprets this code, it fetches any scripts called for by monkeysarefunny.net. One of these could be from a malicious site, injected through an attack on the server or added by the site owner themselves. Normally this script would load bad content onto your computer, but with PIA MACE, it never gets that chance.
PIA MACE works a lot like the browser extensions uBlock Origin or Ghostery. But because it intercepts the request before your browser actually processes it, MACE has a slight advantage over these extensions. Better still, you don't have to update MACE, as Private Internet Access takes care of that themselves, along with updating the list of malicious scripts on a regular basis.
MACE on Mobile
PIA MACE is built into the company's mobile apps, as well. You can toggle it on from the settings screen and take advantage of the service on your smartphone or tablet. Since most of the heavy lifting is done by Private Internet Access' own servers, you could potentially see an increase in internet speed and a decrease in battery drainage with MACE switched on, as it prevents a lot of bad elements from eating up your bandwidth.
Testing MACE
Naturally, we were curious as to how effective MACE really was. To test it out we visited a few websites with known bad content, everything from nasty ads to some extremely suspicious scripts. We visited them first with our adblocking extensions on full-force, then disabled them, turned on PIA MACE, refetched the page, and waited for the results.
The good news is MACE works exactly as advertised. The scripts were detected and killed before loading, and a surprising number of advertisements were wiped out, as well. This was especially useful on the mobile version of Private Internet Access, as a lot of smartphone browsers don't feature reliable adblocking extensions, allowing MACE to pick up the slack.
PIA MACE is a lightweight and useful feature that requires practically zero processing power on your device. Switching it on is a good idea, no matter what.
Using Private Internet Access in China
The so-named Great Firewall of China is one of the world's most aggressive digital censorship efforts. The government mandates which services can and cannot be used from the mainland, blocking out hundreds of foreign services, news sites, social media outlets, and more. VPNs are another victim of this blockade. In some cases you can access a service's website but not use the VPN itself, while in a few others, you can grab the program and use it to surf the open web in private.
Private Internet Access has had a difficult time maintaining operations in countries like China and Russia, largely because the service has such strong roots in the U.S. and UK. At the time of writing the Private Internet Access website is inaccessible from China, meaning you can't sign up or download the VPN if you're in the country. Some users report occasional access through the VPN itself, but it's far from reliable. In addition, Private Internet Access was forced to remove its presence in Russia due to new laws preventing VPN access inside its borders.
Private Internet Access doesn't work in China, but this isn't an uncommon drawback, as most VPNs are blocked by the country.

Netflix Availability
Netflix blocks access to the vast majority of VPNs on the market. It does this by filtering out lists of known VPN IP addresses, automatically stopping any video streams if the user is seen with one of these IPs. They do this because of international content laws, and it's frustrating for everyone involved. VPN services themselves can do a few things to break through this blockade, however, which is why we test all of our services by trying out Netflix streams from different locations.
Private Internet Access gave us a little surprise when we started testing its Netflix availability: it worked right away. Normally we go through a handful of servers in an area before finding one that functions, but Private Internet Access delivered a working stream the moment we clicked "play". This was for a U.S.-based server, and the results for other American servers were largely the same.
Some of Private Internet Access's worldwide servers didn't fare so well against the Netflix blockade. At the time of testing we were unable to stream from several large countries, including Canada, Japan, and the UK. Not the greatest of results when it comes to non-U.S. Netflix access, but if you need a good American IP address for Netflix streams, Private Internet Access can certainly deliver.
It's worth noting that Netflix access can and will vary as time goes by. Certain IPs will be blocked, new IPs will open up. Private Internet Access showed it does stay on top of things when it comes to bypassing these region locks, despite the disappointing results at the time of testing.
Customer Support
Private Internet Access has a thorough support page filled with hundreds of articles. These answer just about every question you could come up with, from activation issues to setup troubleshooting to subscription queries. The company also maintains active support channels on social media sites such as Twitter, Reddit, and YouTube, along with a surprisingly useful forum.
If you can't get an answer to your question through standard means, Private Internet Access offers a way to submit support tickets for fast resolutions. There's no live chat option, but the customer service team often responds to inquiries within minutes, making it just as effective as a live agent.
PIA's Reputation
Private Internet Access is notoriously active in the privacy community. The company gives back to privacy causes and constantly promotes the use of encryption and VPNs as a way to stay safe on the internet. In 2017 the company took out a full-page ad in the New York Times, listing all of the U.S. Senators who voted in favor of stricter privacy regulations on the internet, effectively allowing the government to spy on citizens. Supporting companies like this is healthy for the future of online privacy, as well as your own personal security.
Private Internet Access – Pricing and Plans
The VPN market is extremely competitive when it comes to pricing structure. Even though free services are notably less effective (and safe) than paid VPNs, they still offer an alternative some users will turn to. Private Internet Access fights this by keeping its subscriptions extremely affordable. If you sign up for the full two year plan, you'll even get one of the least expensive VPNs around, all without sacrificing features, speed, or usability.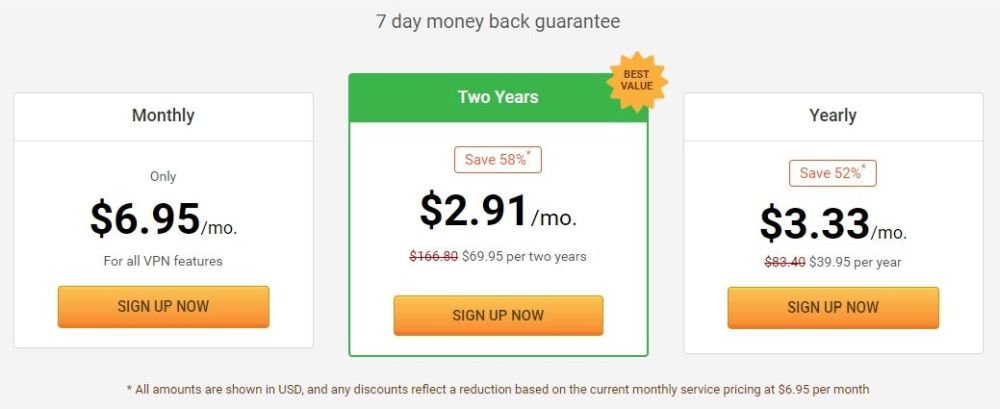 Below is a quick look at Private Internet Access' basic VPN plans. Note that these prices are subject to change at any time.
1 month – $6.95 per month
1 year – $3.33 per month billed at $39.95 every year (save 52%)
2 years – $2.91 per month billed at $69.95 every two years (save 58%)
Every Private Internet Access plan is backed by a 7 day money back guarantee. You can try the service for up to a week, then request a full refund if you're not satisfied with the experience.
Private Internet Access – What We Liked, What We Didn't
We spent a lot of time with Private Internet Access, running it through a variety of tests, using our devices with it active in the background, and messing around with the options and configuration settings. We've also tried most of the other major VPN services on the market, giving us a good frame of reference when it comes to overall usability. Below are our final thoughts about the Private Internet Access experience.
We liked…
Excellent mobile apps that make using a VPN on a smartphone easy and seamless.
Apps offer a good mix of power features and easy, quick access options.
Impressive access to Netflix from U.S.-based locations.
Great speed test results for servers around the world.
PIA MACE is shockingly effective.
We didn't like…
Software feels like it wasn't designed for desktop use.
Unable to select individual servers from the network.
Is Private Internet Access Right for You?
Private Internet Access is a superb VPN with very little in the way of drawbacks. It's fast, it's secure, it's user friendly, and it sneaks in a lot of smart and powerful features that let you customize the experience to meet your needs.
Everyone can get some use out of Private Internet Access, and we mean everyone. Install it on your family's computer for invisible VPN protection, or use it on your devices for customizable encryption everywhere you go. Private Internet Access adapts to meet your needs, making it a phenomenal VPN for everyday use.