We are reader supported and may earn a commission when you buy through links on our site.
Learn more
5 Best Alternatives to Torrentz that Work
Having your favorite torrenting site shut down – like torrentz.eu – can feel like a gut punch. Luckily, you're not alone; we've gathered together in this guide the best Torrentz alternatives still available in 2019. Before using any torrent site, however, take a look at our recommendations for the best VPNs for torrenting safe.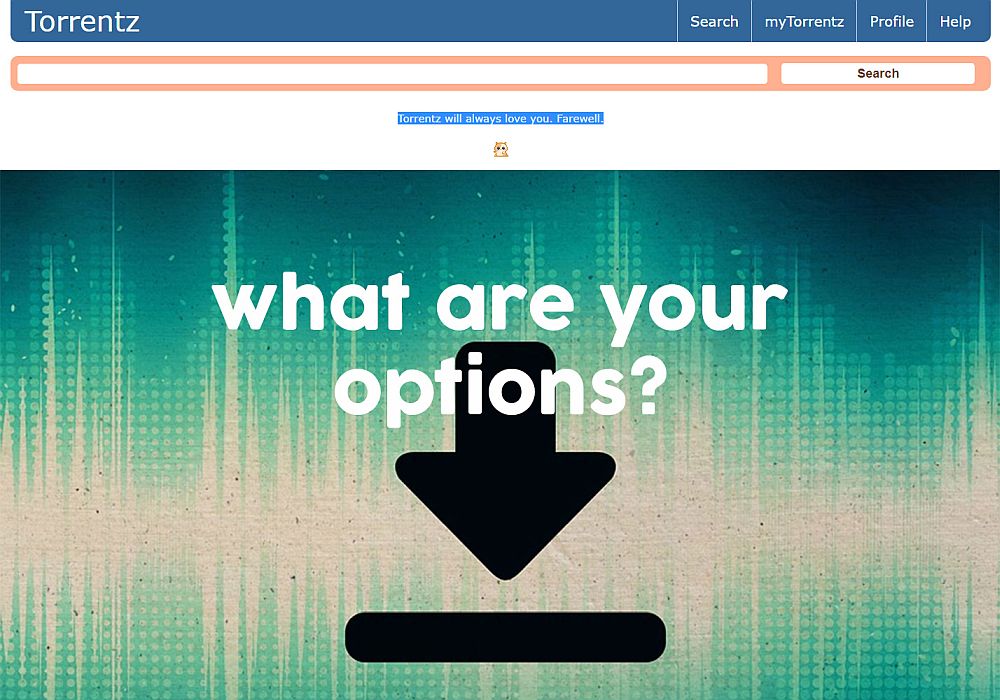 Torrentz.eu was one of the biggest and most popular torrent meta search engines, used by people all over the world to find the torrents that they could use to download video files or other content. Unfortunately, the domain for torrentz.eu was blocked last year and the website is no longer accessible. It's still not clear exactly what happened to the site as the operator, Flippy, has not given details of why they had to shut the site down.
When exploring new Torrentz.eu alternatives, keep your defenses up with these VPNs:
NordVPN – Best for Torrents – NordVPN offers the world's best P2P-optimized specialty servers, allowing you to search out a Torrentz alternative in complete anonymity.
Surfshark – Break through government censorship and surveillance with a thoroughly modernized VPN offering.
IPVanish – One of the most trusted names among the torrenting community. Great speeds, strong encryption, no logging.
It's an unfortunate reality that every torrent user knows: some of the most popular sites are likely to be shut down eventually due to legal disputes over the content that they host. But if you miss Torrentz and you're looking for an alternative source for your torrent files, then there are plenty of other great torrent sites out there.
RELATED READING: Alternatives to ExtraTorrent
Today we're going to share with you a list of some of the leading torrent meta search engine websites which you can use as the best alternatives to Torrentz for 2017. Each of these sites has similar content and functionality to the old Torrentz site, so you should be back to finding and using the torrents you want in no time. Read on for the full list of alternative sites.
30-days money back guarantee
If You're Going to Use Torrents, You Need a VPN
You probably know that torrents can be legally dubious, and using them over an unsecured internet connection is extremely risky. Although torrents can be and are used for legal purposes like distributing open-source software while saving on expensive hosting space, often times torrents are also used to illegally download copyrighted content.
Many ISPs will investigate torrent traffic if they see it on their network, and if they suspect that you are downloading illegal content, then they can dig in to your internet usage and history. If they see that you've been using torrents you could be liable for a steep fine, or even for prosecution.
The problem with torrenting is that technically, when you are downloading a file using torrents, you are also hosting that file for other users to download from you. This is a function of how torrents work, as they spread the load of hosting across multiple peer users (hence the name peer to peer or P2P downloading). While this system is technologically very clever, it can cause legal problems for users. While downloading copyrighted content is illegal and can be punished with a fine, hosting downloadable copyrighted content is a much more serious offence as it means you are distributing the content.
If you want to torrent safely, then it's essential to encrypt your web traffic. When you use a Virtual Private Network (or VPN) service, all of the data you send over the internet is encrypted before it leaves your system with encryption which is basically impossible to crack. That means that even if your ISP or a government agency looks at your internet use, they won't be able to see what you've been downloading.
Our Recommended VPNs
We select VPNs to recommend for torrenting based primarily on their security: do they have good encryption and a no-logging policy? We also consider ease of use factors like how many servers they have available, how fast their connection speeds are, and whether they have no caps or limitations so you can torrent freely.
With this in mind, there are three VPN providers we recommend for using with torrents: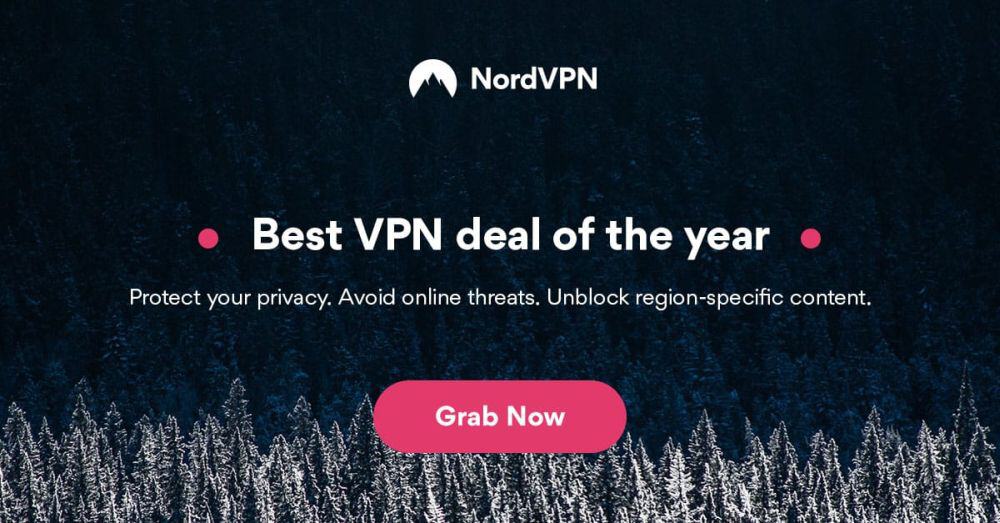 NordVPN is a venerable, trusted name in VPNs, with a focus on privacy shown through their use of 256-bit AES protection baseline on all servers (with other specialty connections including double VPN encryption and P2P optimized servers). Their other features include a no-logging policy, no data caps, the allowing of P2P downloads like torrents, and over 5,600 servers in 60 different countries.
Read our full NordVPN review.
Pros
Unblocks US Netflix, iPlayer, Amazon Prime and other streaming services
Most VPN servers with different IP addresses
Connect up to 6 devices at once
Extra-secure Double VPN for data encryption
24/7 Chat Support.
Cons
Apps can sometime be slow to connect.

Surfshark may be new to the VPN scene, but they're already one of the best providers for torrents. The reasons are manifold, but the core offering is extremely solid: highly efficient tunneling protocols (OpenVPN, IKEv2/IPSec, WireGuard) secured by 256-AES-GCM encryption. Even the NSA acknowledges this as an unbreakable combo, as they use it themselves on internal servers.
And speaking of servers, Surfshark has over 800 of them across 50 countries, and counting. This means you've always got access to fast connections so you don't have to sacrifice torrenting speed. If you happen to live in a highly censored country like China or Egypt, Surshark automatically beats restrictions with obfuscation and their special NoBorders method.
Finally, never fear for leaving a trace of your activities behind; Surfshark continually wipes their temporary databanks of any user metadata, and guarantees the process with a solid no-logging policy.
Pros
Unblock VoIP in oppressive regimes like WhatsApp, Skype, Discord, and more
One of the first VPNs to implement RAM-only servers
Unlimited simultaneous connections–Protect your whole family!
Favorable BVI jurisdiction guarantees no logs kept
Get help any time of day via email, phone, or live chat.
Cons
Connection speeds won't impress users of other high-end VPNs
Relatively young VPN still has to prove itself trustworthy over the long haul.
Read our full Surfshark review.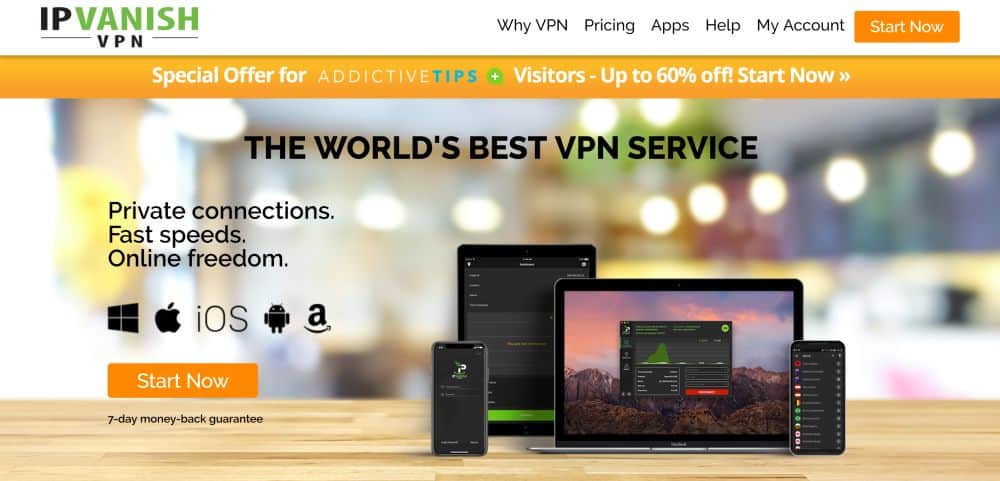 IPVanish are a favourite among downloaders, thanks to their fast connection speeds, wide range of 1,300 servers in over 60 countries, strict no-logging policy, and lack of bandwidth caps. They have no restrictions on file types and they encourage torrent users to feel at home with their service. Your traffic is kept safe using nigh-unbreakable 256-bit encryption to top it all off.
Read our full IPVanish review.
Alternative Torrent Sources
With a VPN sorted, let's move on to the sites where you can find torrents. The following 5 trackers currently have a good track record of uptime, reputable links, a rich array of content, and are publicly available. (You can also check out our guide to the best private torrent trackers as well).
torrentz2.eu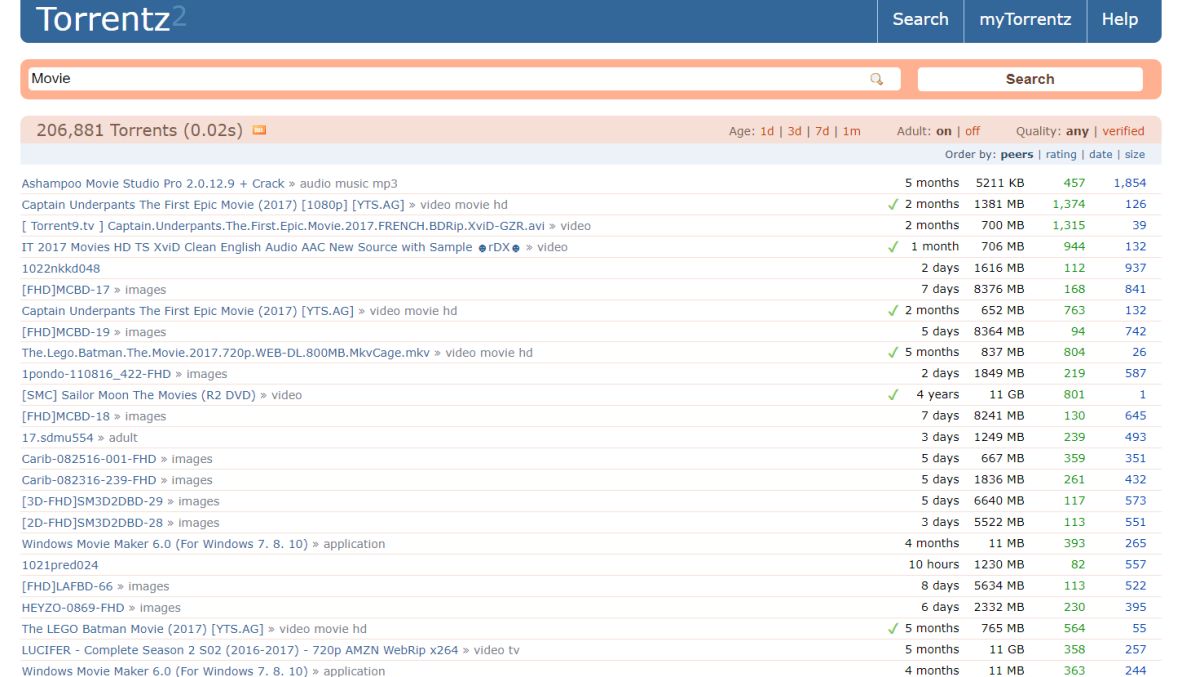 The closest thing to the original Torrentz site is a new version of the same site called torrentz2.eu. It has a huge selection of torrents available – currently the site is indexing 61,110,017 torrents from 256,249,764 pages on 82 domains – so you're very likely to find what you're looking for. It has the categories you would expect like movies, TV shows, music, and games, and it also has the option to view fresh popular torrents and the week's top torrents. The top torrents section is actually a good source of recommendations, as if there is a TV show, movie, or album that everyone is talking about you're likely to find it ranked here.
Another nice feature of this site is, like Torrentz, it ranks the torrent files it indexes for quality. Verified torrents are those which have been confirmed to contain exactly the content that they claim to, and good torrents are those which are fast and reliable, and have a decent-quality file that they link to. You can see a full list of the sites which Torrentz2 indexes at https://torrentz2.eu/help, including the well-known sites you would expect like isoHunt, 1337x, Seedpeer, MagnetDL, and many more.
You can find the Torrentz2 site at https://torrentz2.eu/
isohunt2.org
isoHunt has been a staple of online torrent searching for many years now, although it has had to go through several revisions, new versions, and new domains. Despite its legal problems, it has remained one of the best sources for torrents throughout the years. One thing that makes isoHunt stand out from other torrent sites is how quickly new torrents go up – if you are looking for a new episode of a TV show, for example, then isoHunt will often have the torrent available almost immediately after the episode airs. If you like to keep up to date with watercooler conversations about TV at work, then you'll appreciate this tracker!
The categories available on isoHunt include anime, software, adult, and books, as well as the usual movies, music, TV series, and games. The books category is a nice touch for those who like to read eBooks, as it has a large selection of recent releases which not all torrent sites have. On the front page of the website you'll find a list of the top torrents in each category, along with details on the age of the torrent, the size of the file, the number of seeders, and a score out of 10 for the quality of the torrent.
isoHunt is one of the oldest and the best, so it's always worth trying out. Its current URL is https://isohunt2.org/
kickasstorrents.to

We still miss KickassTorrents (KAT), the much beloved torrent file site that was one of the biggest in the world until it was shut down last year. After it shut down, a bunch of clones of the original site appeared. Some of them were dubious, however, and were pushing malware onto their unsuspecting users. Fortunately, the original developers of KAT revived the community by creating a new site with the same features and appearance of the original.
The site is distinctive for its clean, simple front page without any distractions. On the front page is only a search box, plus links to categories of movies, TV shows, games, music, and new additions. But if you prefer to see the old-style list of recent torrents on the front page, you can always switch to the alternative index page at https://katcr.co/new. Here you'll see a list of torrents plus information on their category, ages, the size of the file, the number of seeders and leechers, and links to comments so you can discuss the files in the forum.
The forum is a key part of what makes KAT special, as it has a very engaged and active community. If you're looking for somewhere to chat about the latest games or shows as well as get tips on downloading or file management, then check out the community links on the KAT page.
Find the site at https://katcr.co/
idope.se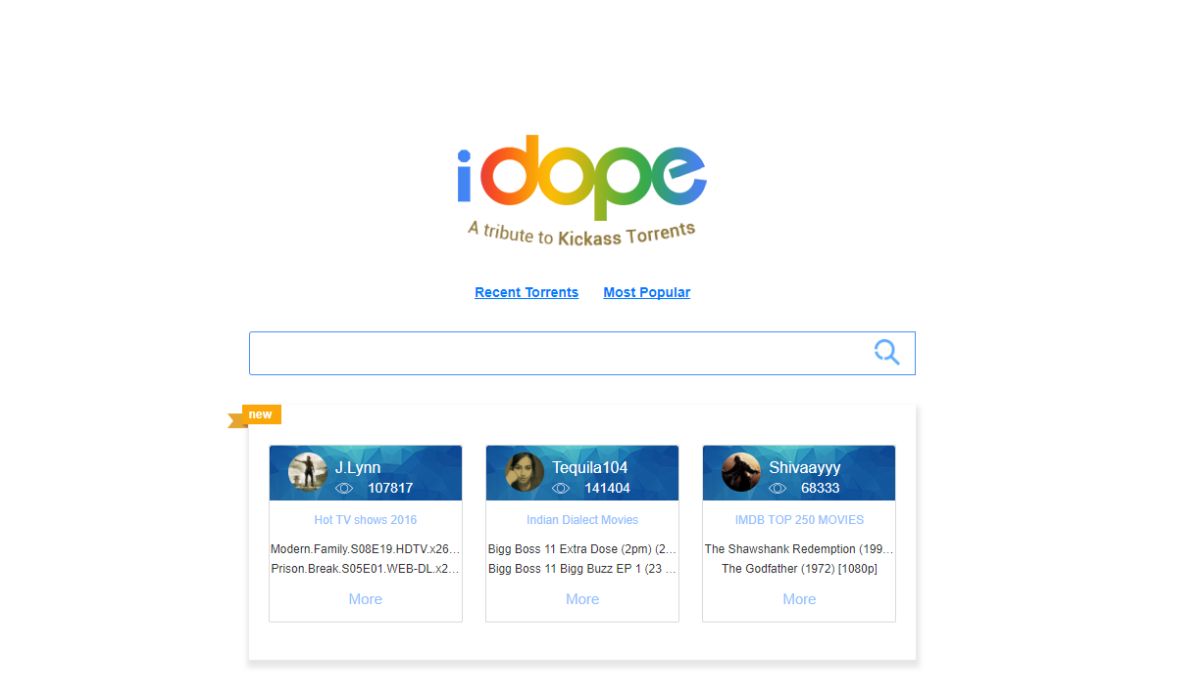 A newcomer to the torrent scene is iDope, which is notable for its security principle of not tracking the IP address of its users. If you've been worried about dodgy torrent sites tracking you, then you'll appreciate this privacy feature of iDope. Another unusual feature is that it does not have any popup ads on the site, and the creator has vowed that they won't put popups on the site in the future either. Given the number of torrent sites which have predatory or dangerous ad practices, this is a strong and admirable commitment.
The iDope website has a clean, simple interface free from clutter. From the front page you can search or see a list of the most recent or most popular torrents. There's also a box featuring three currently popular torrent collections – for example, currently there's a list of the top 250 movies on IMDB. These collections are great ways to find and download large amounts of content, as you only need to download one torrent file and it will allow you to download hundreds of video files. These collections tend to have very good-quality files inside them as well as neatly organised file structure.
If you've become bored with many of the traditional torrent sites which look similar and have similar content and you want to try something new, then iDope is absolutely worth checking out.
Find it at https://idope.se/
torrentz.ec

Torrentz.ec is a clone of the original Torrentz site, having the same appearance and the same features as the torrentz2.eu site. If given the choice between the two sites, we would recommend using the torrentz2.eu site rather than torrentz.ec as it is more reputable. However, you might have problems with accessing torrentz2.eu, as the site has been blacklisted in some countries for promoting pirated content. If you live in one of these countries and can't access torrentz2.eu, then you can try torrentz.ec instead. You should get all of the same content, but because the site is smaller and less well known, it's much less likely to be targeted by law enforcement or banned by ISPs.
You can find the site at https://torrentz.ec/
Conclusion
It's sad that Torrentz is no longer available, but fortunately there are plenty of alternative options to meet all of your torrenting needs. The site we generally recommend for users looking for an alternative to Torrentz is torrentz2.eu as it is closest to the original and it has a massive range of content available. However, if you are looking for a more feature-rich experience with different categories of torrents available and features like community support through forums, then you might want to look into some of the alternative sites that we have suggested.
Which of these torrent sites do you think is the best for finding content, and which has the best features? Or is there another alternative site to Torrentz or alternative torrent clients that you love but which we didn't mention here? Then let us know in the comments below as we'd love to hear from you!