We are reader supported and may earn a commission when you buy through links on our site.
Learn more
How to Unblock Messenger Calling in the UAE and Dubai
Anyone in the United Arab Emireates trying to make a call through Facebook's Messenger app will find that the service is completely blocked–leaving you stuck with inferior government-sponsored alternatives. However, by installing a VPN onto your device, you can unblock Messenger calling quickly and securely–even in Dubai.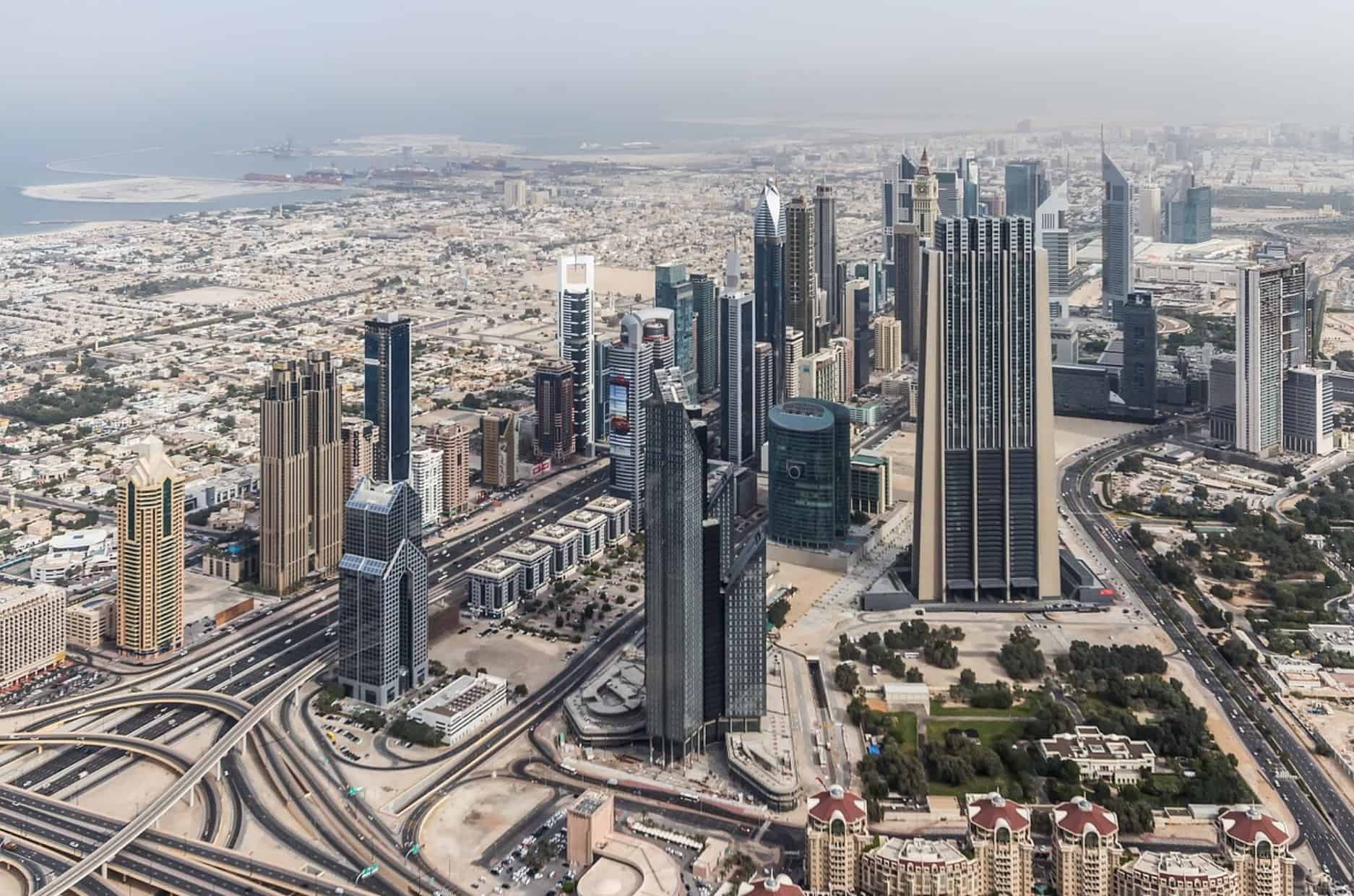 How to unblock Messenger calling from anywhere? We'll cover in detail the four best VPNs to bypass carrier blocks, but for those of you looking for a quick answer…
Our testing showed these to be the best VPNs for unblocking Messenger calling in UAE and Dubai:
NordVPN – Best option for UAE/Dubai – Best budget option. A good all-rounder that works well to unblock Messenger, streaming services, including Netflix.
Surfshark – Obfuscation on every server, unlimited bandwidth and simultaneous connections, modern cryptography to unblock anything in Dubai.
ExpressVPN – Reliably bypass carrier blocks (Messenger and Whatsapp calling) from anywhere in the world with no restrictions. Includes a 30-day money-back guarantee.
CyberGhost – Works well in Dubai, unblocks Netflix. Easy to use.
PureVPN – Great budget option, protects you well.
It's fair to say that messenger apps are the way to stay in touch with friends, family and work associates in the 21st century. Arguably the most popular app in this category is Facebook Messenger: an increasingly important part of the Facebook ecosystem. Over a billion people use the app to stay connected each month, and its features keep expanding to add new content types like stickers, GIFs, etc.
Unfortunately, not all governments are happy about services like Messenger. There are several reasons for this. First, some nations simply don't want their residents to communicate with outsiders or see certain types of content. Second, some nations have their own national messengers that they want people to use – sometimes in exchange for a monthly fee. Last but not least, Facebook makes it easy to have private, encrypted conversations via the "secret chat" feature. This is a problem for states that want to have open access to their residents' conversations and data.
One place that blocks off Messenger is the United Arab Emirates. If you live in Dubai or elsewhere in the UAE, there's just one way to use the app – and as you're about to find out, it's both legal and easy to use provided you know what to do. Below, we'll explain how to unblock Messenger calling, texting and more from inside Dubai and the rest of the UAE.
30-days money back guarantee
Unblock Messenger calling with a VPN
When using a UAE connection, you can't access Messenger without a VPN. We don't mean you can't just install the app, either. If you already have Facebook Messenger installed on a mobile device, the app won't work inside the UAE.
This isn't because Facebook wants to stop users from accessing the app. According to the company's President of Messaging Products, David Marcus, they'd love to offer the service in the UAE – but operators are blocking it. Specifically, the UAE's Telecom Regulatory Authority holds the position that only licensed operators – government-owned or government-backed companies like Etisalat – can offer VoIP calls inside the country.
Fortunately, a VPN can help you continue to make Messenger calls by giving you a foreign IP (e.g. a USA IP) while you're inside the UAE. This is both easy to do using the instructions below, and completely legal. A 2016 federal law amendment bans "false IP addresses … for the purpose of committing a crime or preventing its discovery". This means that while the word "crime" may be open to interpretation, using a VPN isn't illegal.
What makes a good provider?
Each and every VPN provider is a little different. Here are the key features you need to be aware of in order to separate the wheat from the chaff:
As we go through the best VPNs you can use in Dubai and the UAE, keep an eye out for specifics on each of the above features.
Top VPNs for unblocking Messenger in the UAE and Dubai
Below, we list the top 4 VPN providers on the market proven effective at unblocking messenger in the United Arab Emirates: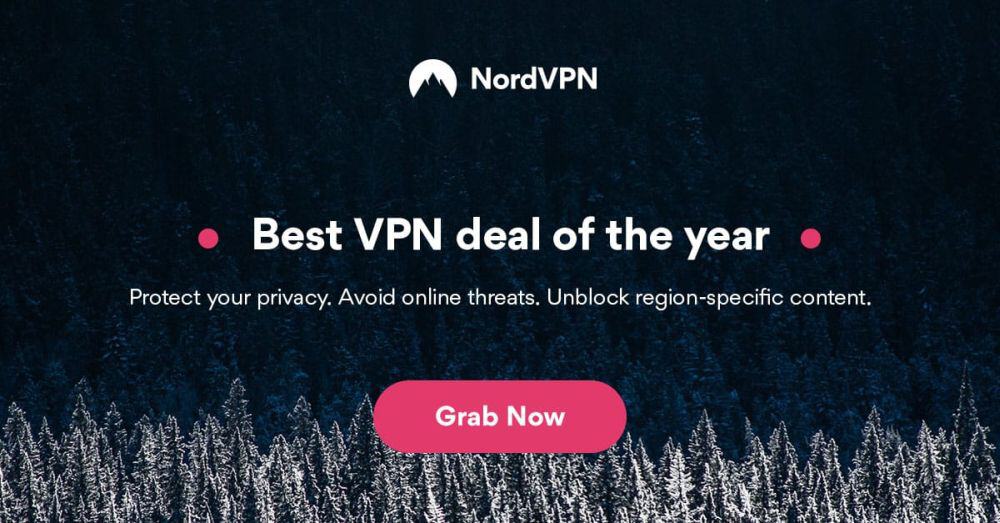 NordVPN is another excellent VPN that's very strong on security, with virtually unbreakable 256-bit AES encryption. It also offers a zero-logging policy for traffic, IP addresses, timestamps, bandwidth and browsing history. On top of these gold-standard features, it has a few that are rare or unique in the VPN industry. For example, you can use a double VPN to route traffic through two proxy servers to make sure nobody's hacking into your Messenger calls. You can also use an obfuscated server that hides the fact you're using a VPN if you want further peace of mind in the UAE.
NordVPN's large network of 5,500+ servers in 58 countries. You can use an IP address that's located close to the person you're talking to ensure high speeds and low latency. As a side bonus, NordVPN is easy to install across mobile and desktop devices – Windows, MacOS, iOS, Linux and Android – and convenient for accessing services other than Messenger.
Read our full NordVPN review.
Pros
Servers optimized for unblocking Netflix
No bandwidth caps
Strong encryption is used on all connections
Retains no metadata of your browsing
Money back guarantee policy.
Cons
Can't specify City or Province in App.

Surfshark offers some of the most modern privacy provisions on the market, and is more than capable of unblocking messenger calling in the UAE. In fact, getting past government censorship is something of a specialty for this scrappy young VPN provider–and it has some tricks up its sleeve you don't often find elsewhere.
For one, there are no specialty servers. Most providers limit censorship-busting methods like obfuscation to a few network nodes, but Surfshark has blanket coverage for each of its 800+ servers. These are located across 50 countries worldwide, and connect to your device via the unbreakable 256-AES-GCM cipher and your choice of OpenVPN, IKEv2/IPSec, WireGuard protocols.
But some restrictions are really harsh. In these cases, Surfshark auto-detects the type of network restrictions present, and reconfigures to beat them. Their trump card is undoubtedly the NoBorders method, which can even pierce the Great Firewall of China.
And with a strict no-logging policy, plus RAM-only servers, you never have to worry about leaving a trace of your Messenger calling behind.
Pros
Unblock 15 international Netflix libraries, including the US and Japan
Torrent safely on any server, no guesswork required
Unlimited simultaneous connections–Protect your whole family!
Favorable BVI jurisdiction guarantees no logs kept
24/7 live chat ensures maximum uptime.
Cons
Connection speeds won't impress users of other high-end VPNs
Relatively young VPN still has to prove itself trustworthy over the long haul.
Read our full Surfshark review.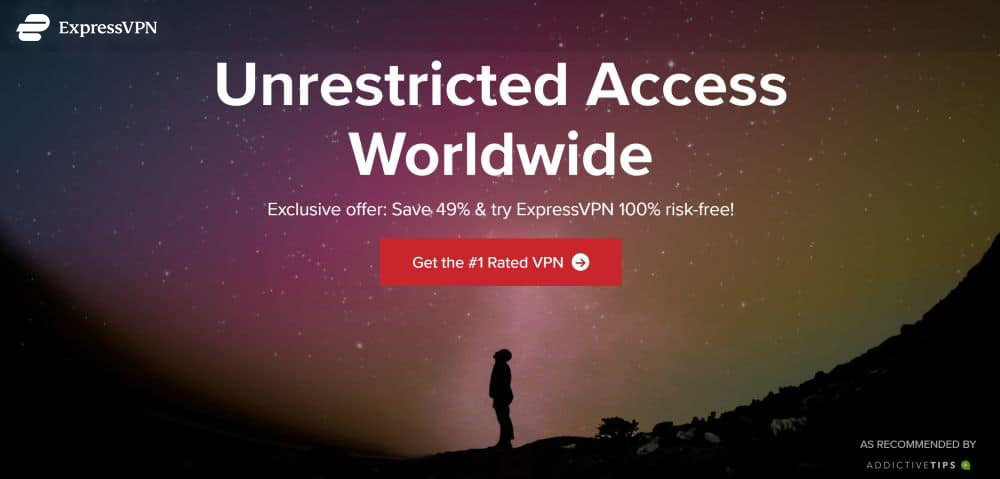 ExpressVPN is the best VPN you can use in Dubai. For starters, it's incredibly fast. When using Messenger through ExpressVPN, you can enjoy high-quality video, low-latency connections on voice and video calls, and otherwise use Messenger seamlessly. The service features over 2,000 proxy servers spread around 94 countries, which makes it the largest server network out of all VPN providers on this list – and ensures your connection stays fast no matter who you're talking to. Bandwidth is unlimited, so you can stay on calls for as long as you want each month with no restrictions.
ExpressVPN is strong in other ways, too. Their 256-bit AES encryption is so resilient; it'd take a supercomputer millions of years to crack it. Its 5 encryption protocols – UDP, TCP, L2TP/IPSec, PPTP and SSTP – give you plenty of security options. At the same time, installing the VPN on any device is intuitive and easy. Whether you're using a Mac, Windows or Linux device, or an iOS or Android smartphone or tablet, or even a Playstation, you'll be able to install ExpressVPN in just minutes by downloading the right app and following simple instructions. After that, you're free to use Messenger!
On the privacy side of things, ExpressVPN delivers with a zero-logging policy on traffic, DNS requests, and IP addresses. Along with encryption, both of these features help keep your data safe from prying eyes, allowing you to access blocked websites without leaving a trail of breadcrumbs behind. You also get DNS leak protection and automatic kill switch features with ExpressVPN's custom software.
Read our full ExpressVPN review.
Pros
Unblocks US Netflix, BBC iPlayer, Hulu and Amazon Prime
Superfast servers (minimal speed loss)
AES-256 encryption
Strict no-logging policy
Customer Service (24/7 Chat).
Cons
Month-to-month plan has high cost.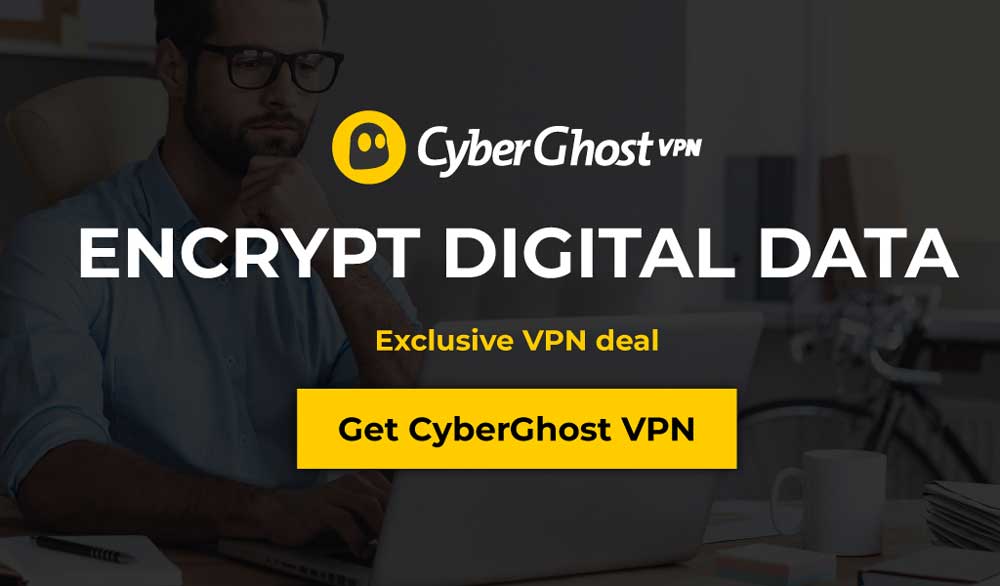 CyberGhost is a powerful VPN that's easy for anyone to install, no matter their experience level with computers and applications. For starters, downloading and setting up CyberGhost is easy no matter the device you're using. You can even get it on your router to protect your whole Wi-Fi connection! In addition to this, there are 6 intuitive configuration profiles like "surf anonymously" and "unblock basic websites". All in all, getting set up with CyberGhost takes just minutes, which makes it an excellent choice for anyone who wants to use Messenger without worrying about the details too much.
In addition to its VPN features, CyberGhost has convenient toggles for blocking malicious websites, blocking ads, improving speed and more. This means that in addition to encrypting your connections, you can use these extras to improve your user experience while using Messenger and other websites and services. Last but not least, CyberGhost's computer network, while a little smaller than ExpressVPN's and NordVPN's, has over 5,500 servers in 80 countries, meaning your Messenger calls will be fast and low-latency.
Read our full CyberGhost review.
Pros
LOW PRICE: 6 EXTRA free months (79% off - link below)
P2P allowed on any server except in US and Russia
GooglePlay users rating: 4.3/5.0
Zero logs
Reliable and knowledgeable 24/7 live chat support.
Cons
Doesn't work well in China.
PureVPN is perfect if you want a VPN that does more than unblock Messenger inside the UAE. It has an entire suite of features like app blocking, malware blocking, anti-virus protection and toggling all these extras is easy. You just install the app, start using the internet, and use the intuitive interface to activate any features you need.
PureVPN's server network is structured a little different than those of the other providers on this list. It has 2,000+ servers in over 140 different countries, which is less in terms of overall numbers, but more in terms of how many countries' IP's you can connect to. Like the other services on our list, PureVPN's servers come with 256-bit encryption and a zero-logging policy on virtually all traffic types. The result is a versatile, powerful VPN service that's also strong on protection.
Read our full PureVPN review.
What you should and shouldn't use VPNs for
First and foremost, you shouldn't do anything that can be constituted as a crime in the UAE while using a VPN. As safe as the services on this page are, you don't want to put yourself in that kind of danger. Outside of that, though, there are several other things you should and shouldn't use VPNs for while in the UAE.
What you shouldn't use a VPN for:
High-end gaming. Generally speaking, a VPN increases your latency and slows down your internet speed. This difference is negligible when you're making Messenger calls, but if you're playing bandwidth-hungry AAA game title, you may notice enough of a difference to negatively impact your enjoyment of the game.
Complete anonymity. A VPN's encryption and anonymous IP addresses go a long way towards erecting technical barriers between you and third-party snoopers, but they can't completely guarantee your privacy. Make sure you make use of an anonymous e-mail address, as well as safer browsing practices in addition to your VPN.
What you should use a VPN for:
Streaming music and videos. Many streaming services don't work inside the UAE. Others, like Netflix, are restricted to countries like the US. With a VPN, you can enjoy geoblocked streaming media with no buffer time.
Extra security. In addition to helping you use Messenger in Dubai and the UAE, the VPNs on this list can simply make your experience that much more secure.
A word of warning against free VPNs
As you do your research on different VPNs available on the market, you'll likely run into many free VPNs. To learn why these are dangerous, check our free VPN guide here – but the gist is this: Even though they don't charge you directly, "free" VPNs still need to make money somehow. Some do this by bombarding with you ads, while others go as far as harvesting your personal data, decrypting it and then selling it off to other companies. Our earnest advice is that you steer clear of free VPNs, and go for the affordable options on this page using the links above.
Conclusion
Now you know everything you need to in order to start making Facebook Messenger calls. With the VPNs on this list, you'll be able to stay safe; enjoy high-quality video and audio connections; enjoy streaming services and websites not usually available in the UAE.
We hope you found our tips useful. Is there anything you feel we could add to this page? Do you have any questions about using Messenger in the UAE? Then please leave a comment, question or tip below to let us know!