We are reader supported and may earn a commission when you buy through links on our site.
Learn more
Best VPN for UAE and Dubai: Top 6 Choices for 2021
Today, we'll show you how to bypass Internet restrictions in the United Arab Emirates? You'll learn everything you need to know about Dubai's VoIP restrictions, how to use VPNs to bypass these and other blocks, plus the legality of using such services. We'll also present the best VPNs for UAE and Dubai for the most private Internet.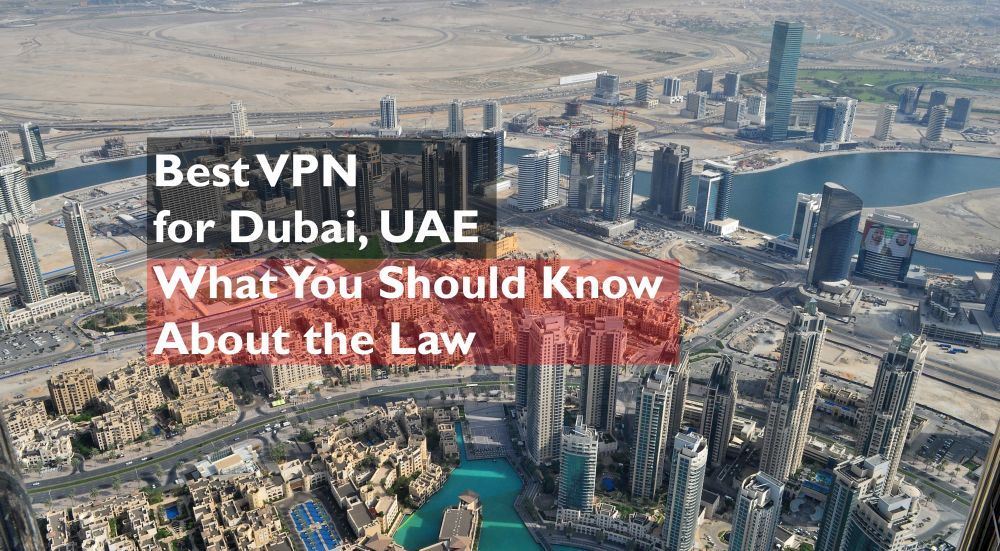 Keeping the internet open, safe, and accessible to the world has become a struggle in recent years. Governments and businesses are increasingly engaging in espionage and censorship, preventing people from viewing certain websites and keeping logs of their online activity. Your information isn't safe once it leaves your computer or smartphone, which can put you at risk every time you go online.
Bypass government censorship in UAE with these anonymizing VPNs:
NordVPN – Best for UAE – NordVPN addresses all the problems facing Emirati Internet users; from VoIP bans to geoblocks and government surveillance, this is the VPN you want to entrust protection of your digital rights to.
Surfshark – A relatively young VPN with a mature privacy package, available on the cheap.
ExpressVPN – Fast speeds, expansive network, kill switch, and rotating IPs.
PureVPN – Offers more choice of countries with spoofable IPs than any other.
IPVanish – The favorite VPN of streamers and torrents for many years.
VyprVPN – Extremely transparent logging policy, self-owned network and proprietary encryption.
The good news is that most of these privacy issues have workarounds, the most powerful of which is the virtual private network. VPNs deliver encryption along with the ability to change your IP address, unblocking censored websites, granting access to new streaming videos on Netflix or YouTube, and keeping your personal information secure while it travels around the globe. If you live in the United Arab Emirates, special considerations will need to be taken to find the most suitable VPN. Keep reading this guide for tips on how to find the best VPN for use in the UAE.
30-days money back guarantee
Is it Legal to Use a VPN in UAE?
There's been some confusion surrounding the laws in the UAE regarding the legality of using a VPN. The issue stems from a 2016 amendment to a federal law that forbids the use of a "false IP address or third party address … for the purpose of committing a crime or preventing its discovery". VPNs allow users to adopt third party IP addresses, which led many to believe they were against the law.
It's currently not illegal to run a VPN on your home or work devices in the UAE. This means you're free to use them to surf the web, check e-mail, stream videos, and connect to private business networks. The important part of the amendment above is how the VPN is utilized. If you use a virtual private network to commit crimes, both businesses and individuals may be held accountable. What exactly constitutes a crime is up for some debate, but simply operating a VPN isn't in itself a punishable offense.
Just be aware that accessing blocked services like Skype or visiting banned websites does constitute a crime, though a trivial one. It's up to you to tow that line: your VPN does offer strong protections and makes it technically difficult to crack your connection and spy on you, but then again if you're visiting unapproved sites there may be other ways in which you are caught doing so. Be smart about it, and when in doubt, operate within the boundaries of the law.
How to Choose a Great Provider
There are hundreds of virtual private network providers on the market today. Each one promises high security, fast download speeds, and unbeatable service. There are a lot more factors you can take into consideration when looking for a good VPN, including encryption strength, logging policies, and server distribution. It's easy to get tangled up in the details, which can delay your search by days or even weeks.
We've made the process of choosing a VPN a bit easier. Below are the criteria we used to select some of the best VPN services for users located in the United Arab Emirates. Each one finds a good balance between unbeatable encryption, fast speeds, and IP address availability, giving you plenty of room to explore the free and open internet in private.
Top VPNs for Internet Security in United Arab Emirates
Weighing the above factors, we tested out all the major players on the market. In the end, our results showed the following VPNs to be the very best for enhanced privacy in Dubai: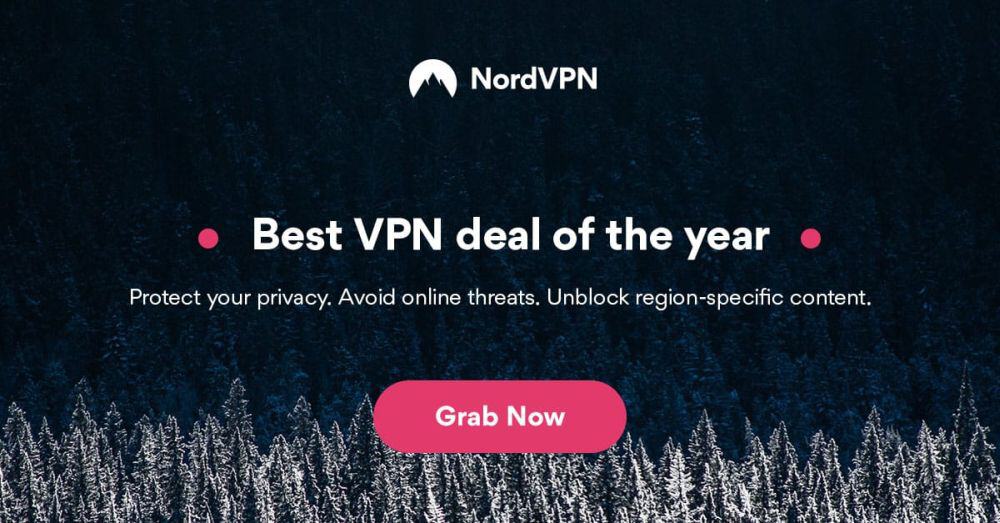 The biggest stand-out feature of NordVPN is the company's amazing double encryption process. All data that passes through the network is wrapped in unbeatable 256-bit AES encryption, code so strong that even supercomputers can't break it. This is backed by NordVPN's zero-logging policy, kill switch and DNS leak protection and unlimited bandwidth on all of its 5,100+ servers in 60 countries. It's a huge network, and it's perfectly tuned for speed and privacy.
Another thing NordVPN does that other VPN providers don't is configure its servers for different types of traffic. If you're downloading a file through bittorrent, for example, your data will likely be passed through a server specifically designed to handle torrent traffic, providing a speedier connection than on a general purpose server. This comes in extremely handy when trying to access streaming services like Hulu, HBO Go, or Netflix, all of which are available through NordVPN.
Read our full NordVPN review.
Pros
Unblocks US Netflix, iPlayer, Amazon Prime and other streaming services
GooglePlay users rating: 4.3/5.0
2,048-bit SSL keys and DNS leak protection
Based in Panama
24/7 Live Chat.
Cons
Can't specify City or Province in App.

Surfshark is absolutely uncompromising on your security, packing everything but the kitchen sink in terms of privacy provisions into a lightweight, affordable package. They've cut the fat from legacy VPN offerings, leaving only the best methods and policies in place to protect your rights.
The core offering consists of OpenVPN, IKEv2/IPSec, WireGuard, and Shadowsocks tunneling protocols, shrouded in NSA-grade 256-AES-GCM encryption. These connections link up to their worldwide network, numbering 800+ servers in 50 countries. Among these are static IP and multi-hop nodes, giving you incredible flexibility to determine the strength of your VPN. You can even assign certain settings to specific Wi-Fi networks–useful if you travel a lot.
Beyond these essentials, Surfshark also offers blanket obfuscation on every server, plus a robust NoBorders method for punching through the harshest censorship. You also get IP/DNS/WebRTC leak protection, a kill switch, and even adblocking. Finally, Surfshark keeps no logs, so what you do on their network you do in complete peace of mind.
Pros
Unblock VoIP in oppressive regimes like WhatsApp, Skype, Discord, and more
Unlimited server switching
VPN split tunneling available
Absolutely no logging of connection data, IP addresses, bandwidth used, or traffic
Support staff manned by actual human beings 24/7.
Cons
Overall, not much to complain about
Young VPN still has plenty of room to grow in terms of advanced functionality.
Read our full Surfshark review.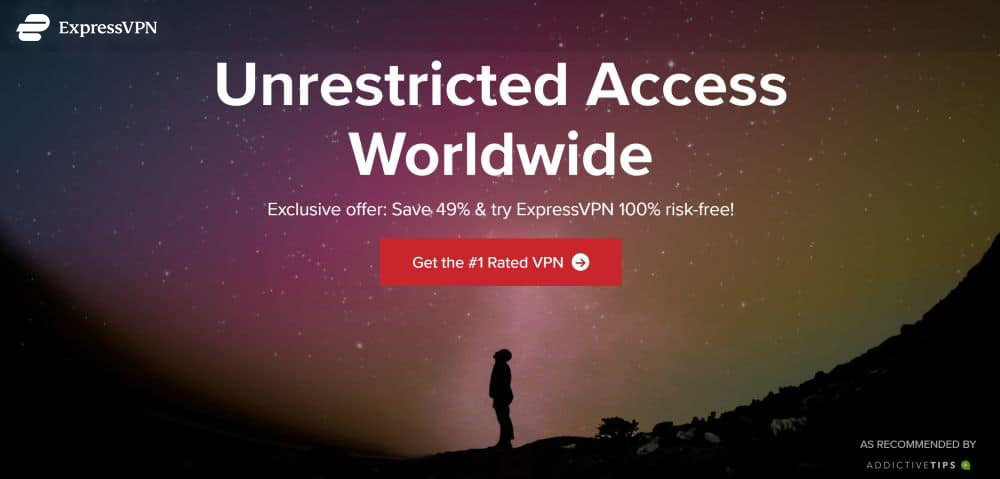 True to its name, ExpressVPN places an extremely high priority on speed. The company has a network of over 3,000 servers in 94 different countries, each configured for fast connections no matter where you're located. The desktop versions of the ExpressVPN software even feature a built-in speed test so you can check the connection and change servers if you need something faster. If keeping a high download speed is your top priority, ExpressVPN is the way to go.
ExpressVPN maintains all of its strong privacy features while focusing on speed. DNS leak protection and a kill switch are part of the mix, as is a zero-logging policy that helps keep users safe, even if they're in a country with strict censorship barriers like China or Turkey. There's also no restriction on file types, torrent traffic, or bandwidth, making it an excellent choice for streaming Netflix or Hulu movies and TV shows from around the world.
Read our full ExpressVPN review.
Pros
Unblocks US Netflix
Superfast servers (minimal speed loss)
AES-256 encryption
Strict no-logs policy for personal information
Great customer service via chat.
Cons
Slightly pricier than competition.
PureVPN was designed to help individuals and families get around restrictive internet policies. Reinforced encryption keeps privacy as a high priority, but never at the cost of speed. PureVPN's network includes 2,000 servers in 141 different countries, each with top notch encryption and a strict zero-logging policy. You'll also enjoy unlimited bandwidth, no file type restrictions, and get both DNS leak protection and a kill switch to make sure your privacy remains intact.
If you have a large family or just want to connect a lot of devices to your VPN at once, PureVPN is definitely the choice to make. The service starts with a high limit of five simultaneous devices, two more than the industry average. You can also try the new Virtual Router feature that turns Windows computers into wireless hotspots, bumping that five device limit to an impressive ten. PureVPN has some of the most straightforward plans you can find. They start with a basic one month subscription and move to up to a two year model, complete with a hefty discount.
Read our full PureVPN review.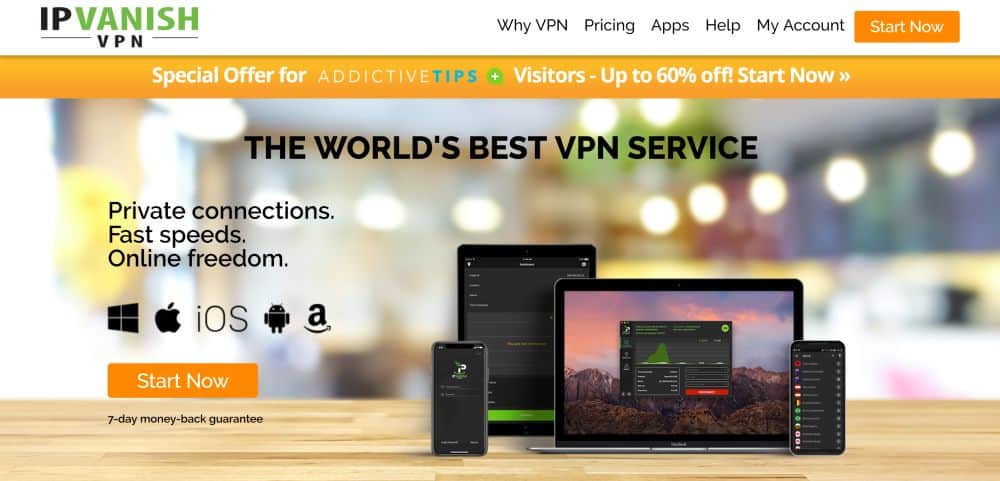 The IPVanish VPN network focuses on three simple promises: maximum security, lightning fast speeds, and zero logs. The IPVanish delivers on these ideals by offering 1,300 servers in 60 different countries, all of which are secured with 256-bit AES encryption and a zero-logging policy. The VPN's software also comes with kill switch and DNS leak protection for that extra level of privacy when you need to access blocked or censored websites.
Coupled with IPVanish's strong security features are a number of speed and traffic guaranteed. You'll have unrestricted access to the internet with IPVanish, complete with unlimited bandwidth, no file or traffic restrictions, and unlimited server switching. You can also connect up to five devices to the network at once, which is two more than most VPNs allow. For speed and security for the entire household, it's tough to beat IPVanish.
Read our full IPVanish review.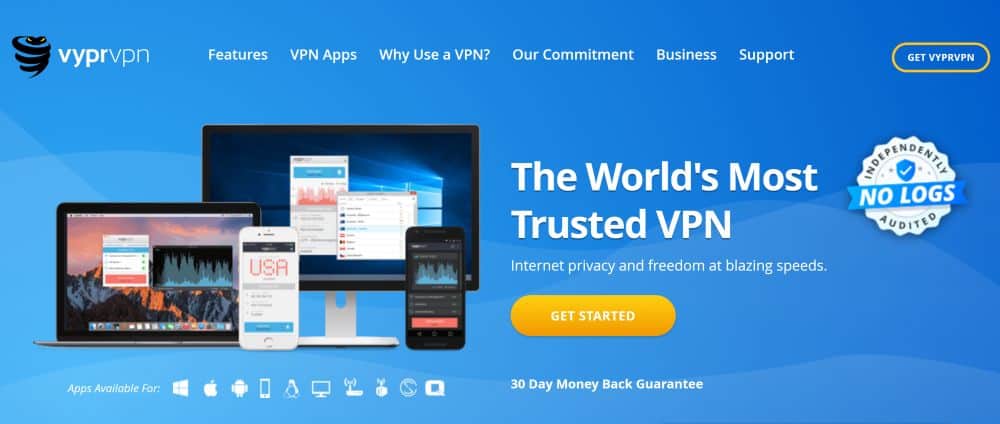 When privacy is the most important item on your VPN shopping list, VyprVPN is the choice to make. The company owns and operates its entire network of 700 servers in 70 different locations, which gives them an unprecedented level of control. Third parties never need to access their devices, and they can customize both hardware and software to meet the needs of users. Combined with a zero-logging policy, unlimited bandwidth, DNS leak and kill switch protection, and no file type restrictions, VyprVPN makes a strong case for one of the most privacy-oriented VPNs around. It even offers access in heavily censored countries like China.
Another strong feature of the VyprVPN service is the company's Chameleon technology. Internet service providers and websites such as Netflix are known to block VPNs, making it impossible to stream videos or even access certain sites with a VPN active. Some ISPs also throttle connections when a VPN is present, slowing your connection down to a crawl. Chameleon neatly sidesteps these issues so you can access the web as normal without giving up your right to privacy.
VyprVPN's subscriptions are a little different than usual. There are two main options, standard and premium. The former is less expensive but doesn't offer the Chameleon service listed above. You can get discounts on both plans by signing up for a longer period of time, and if you want to take advantage of strong privacy and censorship-beating technology, VyprVPN is the way to go.
Read our full VyprVPN review.
VoIP in the UAE with a VPN
Another point of confusion with using a VPN in the UAE are voice over internet protocol services, or VoIP. Programs like Skype, Snapchat, WhatsApp, and any other app that lets you video or voice chat with people around the world are under unique restrictions throughout the country.
Telecom regulations in the United Arab Emirates state that VoIP services can only be offered by local telecom operators such as Etisalat and du. Skype and other VoIP programs are considered outside providers and must coordinate with licensed UAE companies to make their services available to local users.
So can you use a VoIP app if you have a VPN? It's possible, yes, but it may constitute a violation of the UAE's laws and should be used with extreme caution.
Benefits of Using a VPN
VPNs have a lot of uses. They offer increased privacy and digital anonymity for all of your internet connected devices, but they also let you change virtual locations with the click of a mouse. Accessing blocked or restricted content is suddenly an easy task when you have a VPN. If you want to unlock the internet and surf more securely, you can't beat a good virtual private network.
Here are some of the benefits of using a VPN for everyday activities:
Encrypt data for privacy – Encryption is the backbone of internet privacy. Normally, information sent through the internet is passed along in a raw format. Anyone with the right tools can view it, which compromises your security. With a VPN, all of your information is sent in a scrambled form, readable only by yourself and the VPN that encrypted it. It's privacy made easy.
Hide your IP address – When you log into the internet, your local service provider assigns your device an IP address. This is used to deliver data to your computer, but it can also be used to track your location. VPNs switch out your local IP address with one from their anonymous servers. Data gets delivered just like before, only now it's much more difficult to trace back to your computer.
Access censored websites – Censorship is a growing problem in businesses and governments around the world. The practice can often be circumvented with a good VPN, however. If you can't access Google, Facebook, or any similar website, logging into a VPN will usually grant you immediate, private access.
Stop surveillance and tracking – A side effect of using public IP addresses to deliver information is that user activity can easily be traced. Every action you make on the internet is associated with an IP, and IPs can easily lead back to your city or home. VPNs help sidestep this issue by providing anonymous IPs that aren't associated with your location. Tracking and large scale surveillance become much more difficult behind this wall of encryption and anonymity.
Watch videos from other regions – Netflix, Hulu, BBC iPlayer, YouTube, and other TV and video streaming services often restrict content based on user location. If you're in the U.S., for example, you'll have access to a wider range of movies than certain other countries. With a VPN, changing your virtual location is as easy as switching servers. If a YouTube video is blocked in your country, simply change to a new server and try again.
What VPNs Can't Do
VPNs are wonderful tools that boost online privacy, help mitigate digital surveillance, and crack open the internet to make content free once again. They aren't a perfect solution for all of your internet issues, however. VPNs have a few small drawbacks and limitations you have to learn to work around. Keep the following points in mind when using your VPN.
VPNs reduce your speed – Most VPN services will be slower than your standard internet connection. This has a lot to do with the encryption used to scramble each packet of data as well as the extra distance information must travel to and from servers around the world. Expect a 10-25% loss in overall speed, less with VPN services that work hard to keep their speed scores high.
VPNs won't protect you from malware – Viruses are still a problem if you use a VPN. Malware passes through most VPNs like they don't even exist, which means firewalls and antivirus software are still recommended, even if you use a good VPN.
Devices aren't automatically protected – Running VPN software on your computer doesn't protect all of your devices. Each phone, tablet, laptop, gaming console, etc. that goes online needs to run connected VPN software to be able to use encryption and IP switching. You can work around this limitation by installing VPN software on your router, however.
VPNs won't make you completely anonymous – While the encryption and IP masking goes a long way to making your digital footprints disappear, VPNs aren't a fool-proof solution for becoming anonymous. Government agencies and skilled hackers can still trace your activity, though it's much more difficult with a VPN online and active.
You can't circumvent all network blocks or restrictions – VPNs are great at bypassing certain censorship and content blocks, but they can't get through every type of site restriction.
Websites and countries can block VPNs – Countries like China and Turkey have a reputation for blocking VPNs in an effort to maintain local censorship policies. Streaming video services such as Netflix often block VPNs, as well. While most of the providers listed above offer regular access through these filters, new methods are devised on a regular basis to keep VPNs out of the picture.
Free VPNs Can Be Dangerous
When you start looking for a VPN, the first thing you'll come across are free VPN services. These programs fill every app store and browser extension marketplace on the internet, each promising fast service for absolutely no cost. It seems like it's too good to be true. And, honestly, it most likely is.
Every business that operates a virtual private network has to bring in some form of income. If customers aren't providing a source of revenue, they need to make it up some other way. One common method is by injecting ads and pop-ups into user's browsers, which is both invasive and annoying. Another more dangerous method is to decrypt and sell the information they promised to keep safe, which directly violates your privacy.
While no-cost VPNs seem like a convenient and easy solution to bypassing censorship blocks, in reality they can lead to more problems then they solve. Always invest in a good, paid VPN service if you want your privacy protected.
Reach Out
Are you currently in the United Arab Emirates, or are you planning to be soon? What are your best uses for a VPN in UAE? Whether you're currently in Dubai or traveling abroad, it's good to have a plan for your security. Will our recommended VPNs feature in your plan? Let us know in the comments below.