Watch the 50 Best Sci-Fi Movies on Netflix Right Now!
Science fiction movies have their own appeal, and we're sure you love quite a few of them. In fact, if you're looking for new ideas, we put on a list of the 50 best sci-fi movies on Netflix! Sci-fi doesn't necessarily mean that it's going to feature aliens and interstellar travel, but other phenomena that don't have a clear explanation in science. It's an interesting genre as it comes with so many facets.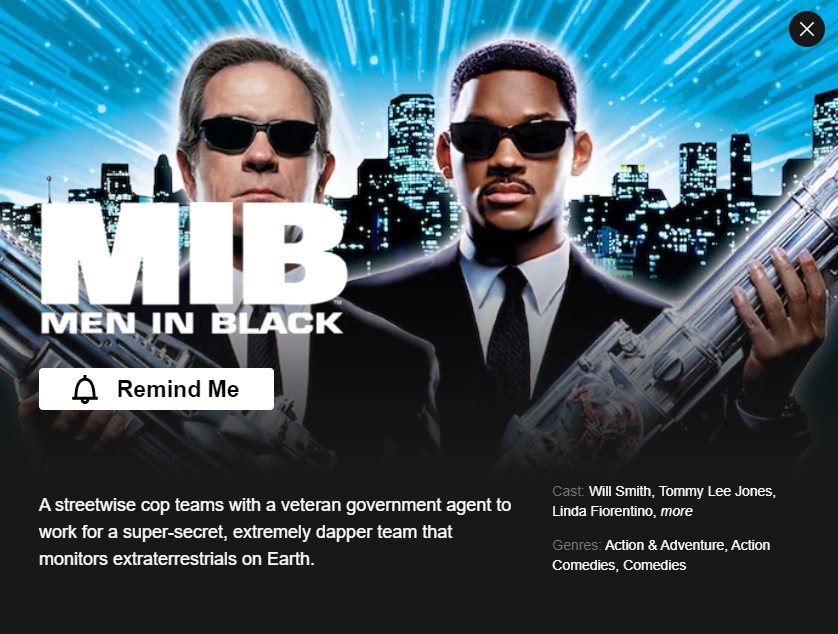 We've gone and scoured Netflix and found a ton of sci-fi movies. Then, we went and checked out IMDb, Rotten Tomatoes, and Metacritic in an effort to get a better idea of what score each title should have. The top 50 titles are on our list below, so go ahead and dive into it.
1. Mad Max: Fury Road – 8.78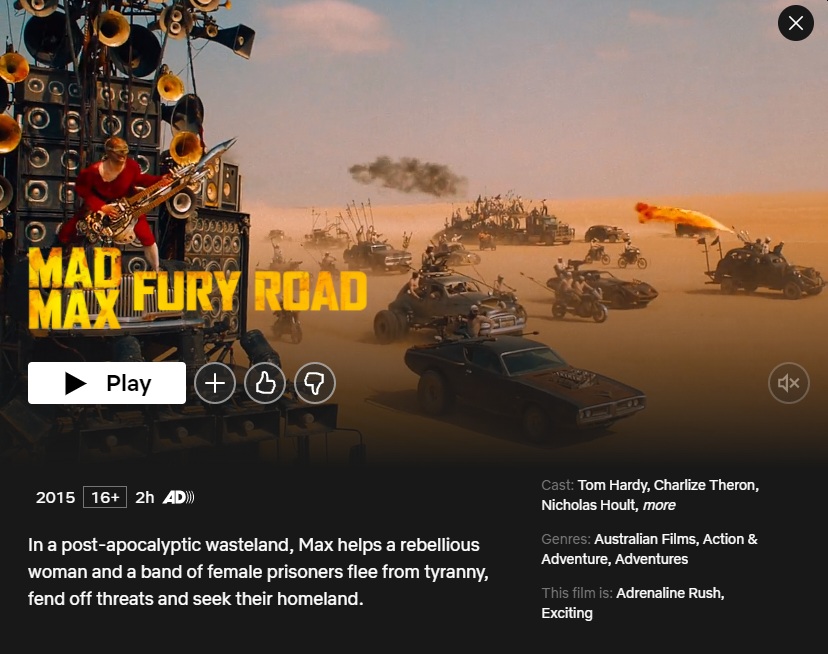 Released in 2015, Mad Max: Fury Road is an awesome movie that you must see if you haven't already. It may be a revisit of the Mad Max universe, but it's certainly one that deserves our attention. In this post-apocalyptic wasteland, Furiosa rebels against the tyrannical ruler and helps a group of female prisoners out. The movie stars Charlize Theron, Tom Hardy, Nicholas Hoult, Rosie Huntington-Whiteley, Zoe Kravitz, and plenty more. The movie won six Oscars and plenty others, totaling 104 out of 225 nominations.
Mad Max: Fury Road is available to watch on Netflix UK, and if you read through to the end, you'll learn what you need to do to make it work.
2. Her – 8.64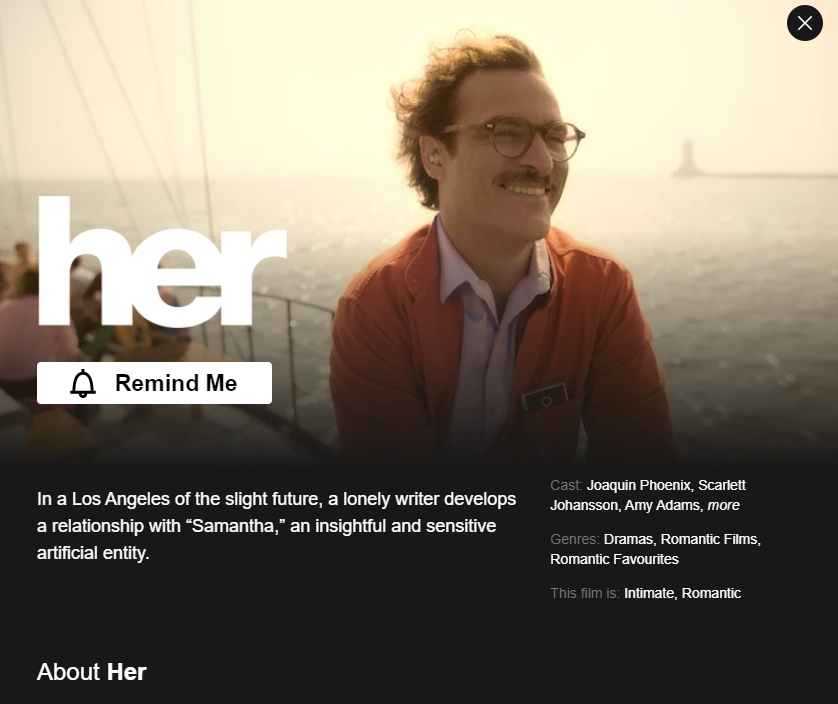 Up next, we have a sci-fi romantic drama that handles a peculiar topic. In the future, people can choose to interact with virtual assistants with Artificial Intelligence that have been designed to adapt and evolve. Over time, he shares more of himself with Samantha, the AI he chose, ultimately falling in love with her. The film stars Joquin Phoenix, Scarlett Johansson, Amy Adams, Rooney Mara, Olivia Wilde, Chris Pratt, Kristen Wiig, Bill Hader, and others. Her won the Best Original Screenplay at the Academy Awards and Golden Globe, as well as other shows.
3. Inception – 8.56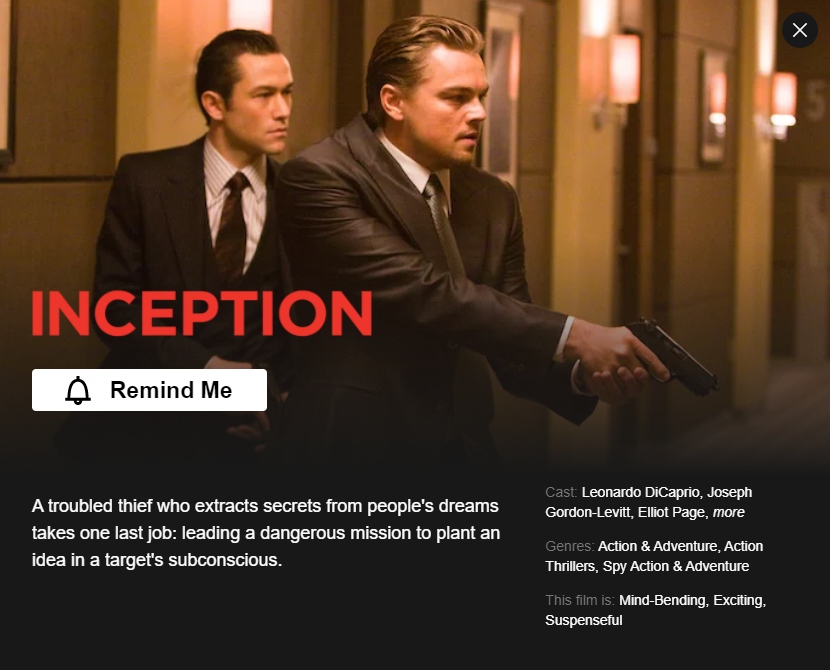 Inception is one of the movies that continue to have us questioning what really happened in the film, ten years after its release. Written and directed by Christopher Nolan, the film stars Leonardo DiCaprio, Tom Hardy, Joseph Gordon-Levitt, Marion Cotillard, Elliot Page, Cillian Murphy, Michael Caine, Tom Berenger, and Ken Watanabe. The film follows a professional thief who infiltrates the subconscious of his targets in order to steal information. When he's offered to implant an idea in a target's subconscious in exchange for his criminal background being deleted, things get complicated. This Christopher Nolan film had a budget of about $160 million but managed to bring in over $830 million at the box office. Inception went to win numerous Oscars.
Inception is not available on Netflix US, but you can find it over in the UK.
4. Star Trek – 8.5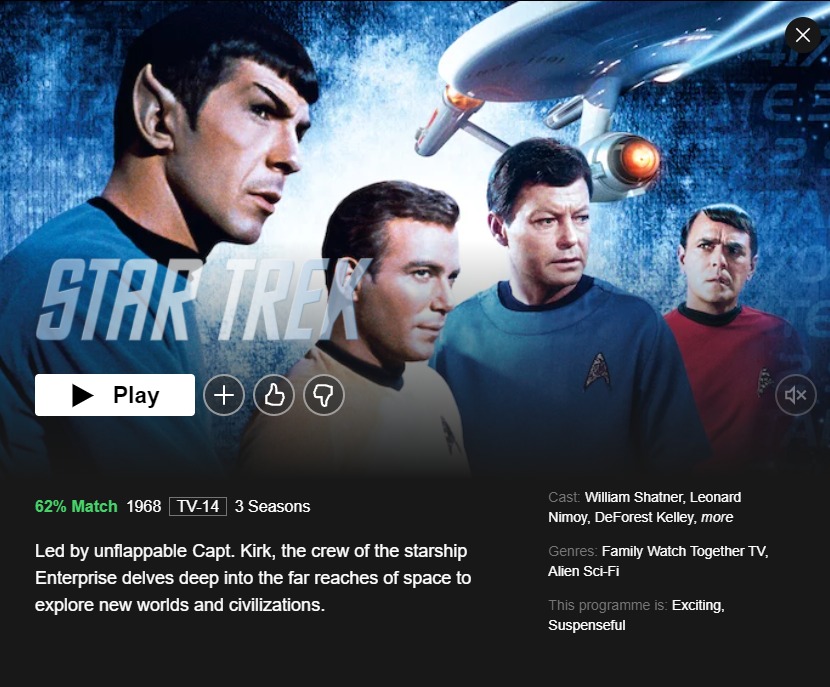 We continue with the 2009 Star Trek movie directed by J. J. Abrams. This time around, even though we have the main characters from the original Star Trek TV series, we have a new cast on hand – Chris Pine, Zachary Quinto, Simon Pegg, Zoe Saldana, Anton Yelchin, John Cho, Winona Ryder, Chris Hemsworth, and Eric Bana. The original Spock, Leonard Nimoy, is also making an appearance. Captain Kirk, alongside Mr. Spock, go on to fight against a Romulan from the future that keeps creating black holes in order to destroy the Federation. This is the first Star Trek film to receive an Academy Award.
Star Trek is not available on Netflix in the US, but you can enjoy it in the UK. Keep reading to find out how you can do this.
5. The Matrix – 8.46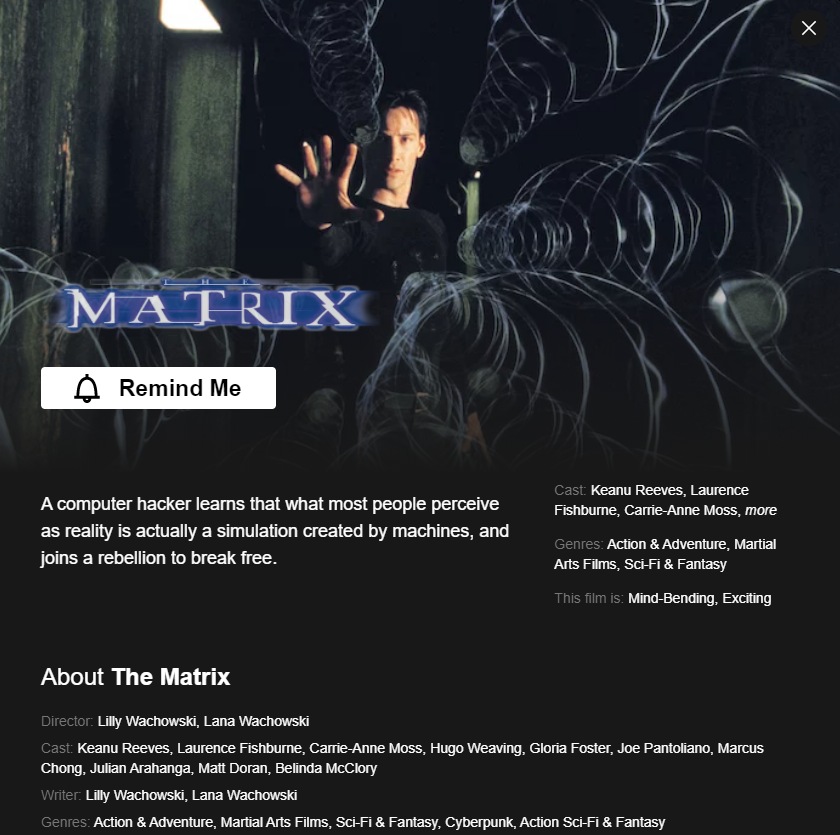 Matrix is one of those movies that has gone down in history, achieving cult following status in the years since its release in 1999. The movie stars Keanu Reeves, Laurence Fishburne, Carrie-Anne Moss, Hugo Weaving, and Joe Pantoliano, and was directed by the Wachowskis. Matrix follows a computer programmer going under the alias Neo who discovers the truth and is drawn into a rebellion against the machines. The movie won four Oscars.
Matrix is not available in the US on Netflix, but you can watch it in the UK.
Related: The Best 50 Crime Shows to Watch on Netflix in 2021
6. Jurassic Park – 8.4
If you love dinosaurs, then this phenomenal title is one you must not miss. Jurassic Park was released in 1993 and has made history, kickstarting one of the best franchises in the world. We follow the events from Jurassic Park, a theme park where things go crazy when the dinos run loose following a power outage. The movie stars Sam Neill, Laura Dern, Jeff Goldblum, Richard Attenborough, Samuel L. Jackson, and others. Directed by Steven Spielberg, Jurassic Park had a budget of just over $60 million but managed to bring in over $1 billion in ticket sales, especially following its 3D re-released in 2013. Jurassic Pak also won three Oscars, and plenty other awards too.
7. Spider-Man 2 – 8.36
Our list continues with the second Spider-Man movie, the one from 2004, featuring Tobey Maguire in the main role. The story is set two years after the first movie, and we follow Peter Parker having issues balancing his private life and his superhero persona. In this film, Spidey faces off with Dr. Octopus. The movie stars Tobey Maguire, Kirsten Dunst, James Franco, Alfred Molina, Willem Dafoe, Elizabeth Banks, and others. Spider-Man 2 had a budget of about $200 and made nearly 4 times as much at the box office.
Spider-Man 2 is not available on Netflix US, so you'll have to head over to the UK. Continue reading to find out how you can do this easily.
8. Clockwork Orange – 8.32
This 1971 Stanley Kubrick film remains one of those films that everyone should see. Clockwork Orange takes us on a trip in a dystopian Britain, a place where a sadistic gang leader ends up in prison and volunteers for a new conduct-aversion experiment. His life is affected by this when he is released, but not everything goes according to plan. The movie stars Malcolm McDowell, Patrick Magee, Michael Bates, Warren Clarke, John Clive, Adrienne Corri, Carl Duering, and others.
9. The Witch – 8.23
Next, we have a film that's filled with mystery and action; The Witch: Part 1. The Subversion. Our story features a young girl with amnesia and supernatural powers. As she tries to figure out what happened to her, things take a turn for the worse. The Witch stars Kim Da-mi, Jo Min-su, Choi Woo-shik, Park Hee-soon, Go Min-si, Choi Jung-woo, and others.
10. Hunger Games: Catching Fire – 8.18
We continue with the second installment of The Hunger Games series. The movie is based on the same-named novel from Suzanne Collins' trilogy. This time, we follow Katniss and Peeta after their return to District 12, and we start seeing how her actions in the Games have started inspiring uprisings. Once again, the duo is set to participate in the Games with other previous Victors. The film stars Jennifer Lawrence, Josh Hutcherson, Liam Hemsworth, Woody Harrelson, Elizabeth Banks, Lenny Kravitz, Philip Seymour Hoffman, Stanley Tucci, Donald Sutherland, and others.
The second Hunger Games movie is not available in the US, but you can find it in other countries on Netflix. Read on to learn how to watch it.
11. The History of Future Folk – 8.1
The list continues with a weird sci-fi that tells an exaggerated story about the origin of Future Folk, a bluegrass band from New York City. It's weird and funny, and it's full of music, so it certainly stands out from the crowd. The History of Future Folk stars Nils d'Aulaire, Jay Klaitz, Julie Ann Emery, April Hernandez, and others.
12. Interstellar – 8.06
Christopher Nolan is back with another movie on our list – Interstellar. This 2014 epic sci-fi follows a dystopian future where humanity struggles to continue. We follow a group of astronauts who pass through a wormhole near Saturn and find themselves in a weird situation. The movie stars Matthew McConaughey, Anne Hathaway, Jessica Chastain, John Lithgow, Casey Affleck, Wes Bentley, and others. Interstellar was nominated to multiple Oscars, and managed to win Best Visual Effects.
Interstellar is available on Netflix UK, missing from the United States. You can learn how to watch it by continuing to read.
13. Men In Black – 8.04
Sure, this may be a movie from 1997, but is there anyone who hasn't seen it and wanted to watch it again? Men in Black is a sci-fi movie that is full of funny situations and lots of action. The movie follows a brand new recruit in the MIB, an organization that deals with all extraterrestrial life and keeps them hidden from the population. Men In Black stars Tommy Lee Jones, Will Smith, Linda Fiorentino, and David Cross, to name a few. MIB actually won one of the three Academy Awards it was nominated for, namely for Best Makeup.
Men In Black is featured on Netflix UK, but missing from the United States, so keep reading to learn how you can watch it.
14. Spider-Man: Homecoming – 8.02
The next Spider-Man on our list is Homecoming from 2017. This time, we have Tom Holland in the main role. The movie follows the Battle of New York from The Avengers and we see Spider-Man face off Vulture, a man with who he has a personal connection. Spider-Man: Homecoming also star Michael Keaton, Jon Favreau, Gwyneth Paltrow, Zendaya, Donald Glover, Marisa Tomei, Robert Downey Jr., and even Kerry Condon and Chris Evans.
This Spider-Man movie is missing from the US, so you can't watch it without a little bit of help. Read on to find out how to watch it on Netflix UK.
15. Snowpiercer – 7.86
We're moving on to another sci-fi action film, namely Snowpiercer. This time, we're on the Snowpiercer train which travels around the globe with the last of the humans after the Earth turns into a snowball. When a new class system emerges, things get heated. The movie stars Chris Evans, Tilda Swinton, Jamie Bell, Song Kang-ho, Octavia Spencer, and others.
16. V for Vendetta – 7.66
Our next film is V for Vendetta, a 2005 movie that is set in the future where a neo-fascist totalitarian regime has taken over the UK. V, an anarchist, puts on a mask and fights for freedom, igniting a revolution. The movie stars Natalie Portman, Hugo Weaving, Stephen Rea, Stephen Fry, and others.
17. Total Recall – 7.6
This classic 1990 film stars Arnold Schwarzenegger, Sharon Stone, Rachel Ticotin, Ronny Cox, and Michael Ironside. The story follows a construction worker who turns into a spy on Mars. When it becomes difficult to figure out whether his memories are real or not, things go sideways. The movie was nominated for three Academy Awards and managed to win for Best Visual Effects.
18. Freaks – 7.54
This next 2018 movie follows a young girl who yearns to go outside her home as her father keeps her inside at all times in order to protect her. What secrets does he hide and what makes them all freaks, go watch the movie to find out. Freaks stars Emile Hirsch, Lexy Kolker, Bruce Dern, Grace Park, and Amanda Crew.
19. Hunger Games – 7.5
This is the movie that introduces us to life in Panem and the absurd Hunger Games where two tributes from all twelve districts fight to the death until there's only one survivor. Katniss Everdeen and Peeta Mellark go through a lot of traumatic events, trying to come out alive. THe movie stars Jennifer Lawrence, Josh Hutcherson, Liam Hemsworth, Woody Harrelson, Elizabeth Banks, Lenny Kravitz, Stanley Tucci, Wes Bentley, Donald Sutherland, and others. The movie may not have won any Oscars, but it did manage to bring in dozens of awards, including at the People's Choice Awards, Teen Choice Awards, and even the Grammys.
The Hunger Games is not available on Netflix US, but you can definitely find it over in the UK, so read on to find out how you can do this.
20. Mad Max – 7.42
The Mad Max world was introduced to us back in 1979. In this dystopian Australia, we follow a world where the norms of the society we know today are collapsing, and murder and revenge are the new norms. Mad Max stars Mel Gibson, Joanne Samuel, Steve Bisley, Hugh Keays-Byrne, and others. The film had a major impact on modern pop culture and references to the movies are in abundance online.
21. Bumblebee – 7.4
We're moving up to Bumblebee, a 2018 Transformers movie that follows the beloved character. This is the sixth Transformers movie and while it was originally supposed to be a spin-off and a prequel to the series, it became a reboot instead. The action takes place in 1987 when Bumblebee seeks refuge from his own world and finds it in a junkyard in California. When the transformer is discovered by a teenager, things take a turn. The movie features Hailee Steinfeld, John Cena, Jorge Lendeborg, Jason Drucker, Dylan O'Brien, Angela Bassett, Justin Theroux, and Peter Cullen.
Bumblebee is not available on Netflix US, but you can find it in the UK. Read to the end to find out how to watch the whole thing.
22. I Am Mother – 7.38
The next entry on our list is the disturbing I Am Mother. This 2019 movie follows the events from inside a bunker where humanity is supposed to repopulate. A robot by the name of Mother grows a human embryo and cares for her. When another human makes an appearance at the bunker, things start changing for the three. The movie stars Clara Rugaard, Rose Byrne, Hilary Swank, and others.
23. Midnight Special – 7.18
Midnight Special is a 2016 sci-fi movie that features a young boy with special powers. His father takes him and fights to escape from both the government and a cult. The movie features Michael Shannon, Joel Edgerton, Kirsten Dunst, Adam Driver, Sam Shepard, Bill Camp, and Jaeden Liberher.
24. The Matrix Reloaded – 7.12
Released in 2003, The Matrix Reloaded is the second film in the franchise. Now that Neo knows the truth about The Matrix, he continues to lead a revolt against the Machine Army. He is joined by Trinity and Morpheus as they use their skills to fight for a better world. The movie stars Keanu Reeves, Laurence Fishburne, Carrie-Anne Moss, Hugo Weaving, Jada Pinkett Smith, Monica Bellucci, and others.
The movie is not available in the US, but you can find it over in the UK if you want to watch it. You can learn how to watch from anywhere by reading on.
25. Cloud Atlas – 6.88
Our next entry is Cloud Atlas, an epic movie that was directed by the same Wachowski siblings, alongside Tom Tykwer. We follow multiple plots that take place during different eras in time, creating an impressive mosaic. The movie features some really great actors, including Jim Sturgess, Ben Whishaw, Halle Berry, Tom Hanks, Doona Bae, Jim Broadbent, Hugh Grant, Hugo Weaving, Susan Sarandon, and others.
26. Cargo – 6.86
We now have a 2009 film that takes place in the year 2267 when Earth is uninhabitable after the ecosystem suffered a collapse. So, whatever is left of humanity can be found in overcrowded space stations orbiting Earth. A young doctor seeks to reach Rhea, a distant planet, but since she's missing the funds, she takes on a job on a decrepit cargo ship. What the crew discovers may change their lives forever. Cargo stars Anna Katharina Schwabroh, Martin Rapold, Michael Finger, Claude-Oliver Rudolph, and Yangzom Brauen, among others.
27. Transformers – 6.8
Since we already had Bumblebee on the list, it makes sense to also have the film that started the franchise – Transformers. Released in 2007, this sci-fi action film was directed by Michael Bay, while Steven Spielberg served as executive producer. The war between Autobots and Decepticons comes to Earth and the future of the planet is in the hands of one teenager. The movie stars Shia LaBeouf, Megan Fox, Josh Duhamel, Tyrese Gibson, Rachael Taylor, Anthony Anderson, Jon Voight, and John Turturro. Transformers was nominated three times at that year's Academy Awards, but didn't win any of the trophies. The movie did manage to win several at other award shows.
Transformers can be enjoyed on Netflix UK, so you can learn how to watch it from the US by reading out.
28. World War Z – 6.78
If you were missing Brad Pitt, well, here's your chance to watch him. World War Z was released in 2013 and it's an impressive film. Sure, it's a zombie movie, but it's definitely different than other films broaching this topic. A former UN field agent has the mission to help find the origin of the outbreak as scientists believe the zombie pandemic is caused by a virus. In order to create a vaccine, the source needs to be located, but that's not an easy job when zombies are trying to bite you. Besides Brad Pitt, the movie also stars Mireille Enos, Daniella Kertesz, James Badge Dale, Ludi Boeken, Matthew Fox, and others.
World War Z is not available in the US, but you can enjoy it in the UK. Continue reading to find out more details on how to do this.
29. Men In Black 3 – 6.68
The third Men in Black movie takes us back to this wonderful world. When an old enemy travels back in time to kill Agent K, Agent J has to follow in his footsteps in order to save his partner. The movie stars Will Smith, Tommy Lee Jones, Josh Brolin, Jemaine Clement, Emma Thompson, Alice Eve, and even Bill Hader, Will Arnett, and Nicole Scherzinger. If you want to have an extra laugh, try to spot Justin Bieber, Lady Gaga, Yao Ming, and Tim Burton.
Men in Black 3 is available on Netflix UK, so you should learn how to watch it from abroad. You'll find all the details at the bottom of the article.
30. Superman Returns – 6.68
Next, we have Superman Returns, a 2006 movie that follows the DC Comics character. This is the last installment of the original Superman film series and we follow our hero returning to Earth after spending several years examining Krypton. Now that he returns, he must once more intervene to save humanity from itself. Superman Returns stars Brandon Routh, Kate Bosworth, James Marsden, Frank Langella, Eva Marie Saint, Sam Huntington, and Kevin Spacey. Even Marlon Brando makes a posthumous appearance, which was particularly impressive at the time.
Superman Returns is missing from the US library of Netflix, so you'll need to dig through the titles in the UK. Read to the end to find out how to do this.
31.Hunger Games: Mockingjay – Part 1 – 6.64
We return to Panem with the first of the two Mockingjay movies. Both movies are based on the same-named novel by Suzanne Collins, but given all the action taking place in the book, they decided to split it into two movies to properly tell the story. In the first movie, we see Katniss trying to save Peeta from President Snow and his Capitol army, as the uprising roars on. The movie stars Jennifer Lawrence, Josh Hutcherson, Liam Hemsworth< Woody Harrelson, Elizabeth Banks, Julianne Moore, Philip Seymour Hoffman, Stanley Tucci, Donald Sutherland, and others.
Once more, the movie is not available in the US on Netflix, but you can head over to the UK and watch it there.
32. Hunger Games: Mockingjay – Part 2 – 6.64
The last movie from the series follows next, and we finally get to see the final battle that will decide the future of Panem. Will President Coin take over from Snow or will things change even more drastically? The movie gives us the satisfying ending we all want, but it also highlights the difficulties and ugliness of war.
You can watch Hunger Games: Mockingjay – Part 2 on Netflix UK.
33. Real Steel – 6.62
Next up, we have Real Steel, a 2011 sci-fi sports drama. The action takes place, ironically, in 2020, a time when human boxers have been replaced by robots. A former boxer loses his robot in a fight, but finds another, an obsolete sparing robot that can take a lot of damage. With the help of his son, the new robot is brought back to life and goes up into the ring. The movie stars Hugh Jackman, Dakota Goyo, Evangeline Lilly, Anthony Mackie, and Kevin Durand. Hugh Jackman took home the People's Choice Award for Favorite Action Movie star for his role, but the movie didn't manage to win the Oscar for the Best Visual Effects.
34. Man of Steel – 6.62
The first time Henry Cavill put on the Superman suit was in Man of Steel, a 2013 flick that made quite a bit of money at the box office. Directed by Zack Snyder, the movie tells us the origin story of Clark Kent, as he learns that he's actually an alien from Krypton. He goes on to face General Zod in an effort to protect humanity. Besides Cavill, the movie also stars Amy Adams, Michael Shannon, Kevin Costner, Diane Lane, Laurence Fishburne, and Russell Crowe.
Man of Steel is part of the UK Netflix library, so you'll need to "travel" there to watch it.
35. Psychokinesis – 6.6
Our next film comes from South Korea and was released in 2018. It's a superhero film that follows a bank security guard who gains telekinetic powers after drinking from a mountain spring that had been affected by a meteor. Instead of battling some major supervillain, he goes on to fight for the future of his neighborhood from a construction company that seeks to demolish homes to build a shopping center. Psychokinesis stars Ryu Seung-ryong, Shim Eun-kyung, Park Jung-min, and Kim Min-jae.
36. War of the Worlds – 6.58
Coming from Steven Spielberg, War of the Worlds was released in 2005. Borrowing from the same-named novel by H. G. Wells, the film follows the life of a dock worker who finds himself having to keep his children safe as they seek to reunite with their mother after aliens invade Earth. War of the World stars Tom Cruise, a very young Dakota Fanning and Justin Chatwin, Miranda Otto, Tim Robbins, Gene Barry, Ann Robinson, and Morgan Freeman. The film was nominated for three Academy Awards, but didn't manage to win any due to King Kong taking home all of them.
War of the World is available on Netflix in the UK, so you won't be able to watch it from the US without a little bit of help.
37. MFKZ – 6.44
Our next entry is an animated science fiction film, a joint collaboration between French and Japanese artists. We follow Angelino, a young man who suffers an accident and then starts having weird experiences as he develops superpowers. The movie's original French cast includes Orelsan, Gringe, Redouanne Harjane, and Feodor Atkine, while the English cast stars Kenn Michael, Vince Stables, Dino Andrade, RZA, and Danny Trejo.
38. Spectral – 6.35
Spectral was released in 2015 and it's a military sci-fi film. The story follows a DARPA researcher who travels to Moldova where the US military is involved in an ongoing war. There, they show him footage captured with a series of hyperspectral imaging goggles, showing they're fighting more than humans there, but also something else, something that seems to be supernatural. The cast list includes James Badge Dale, Emily Mortimer, Max Martini, Bruce Greenwood, and Clayne Crawford.
39. Code 8 – 6.26
Our next film follows people who find out they have superhuman abilities, which leads the government to require all of those affected to register their abilities. Connor Reed is a young man who cares for his ailing mother with brain cancer. When he cannot pay for her treatment, he joins a group of criminals to make the money. Things aren't as easy as he hopes them to be. Code 8 stars Robbie Amell, Stephen Amell, Sung Kang, Kari Matchett, and Greg Bryk.
40. Killer Klowns from Outer Space – 6.22
Our next film was released in 1988, making it a classic sci-fi horror comedy film. Much like the title gives out, the movie follows a bunch of aliens that look like clowns come down to Earth and terrorize a small town. It's a ridiculous movie that will have you laughing at the absurdity of it all, while also giving you a scare of two. Killer Klowns from Outer Space stars Grant Cramer, Suzanne Snyder, John Allen Nelson, and John Vernon.
41. Ender's Game – 6.2
Based on the same-named novel by Orson Scott Card, Ender's Game was released in 2013. We follow Ender, a gifted child who attends a military academy in space in order to prepare to fight aliens as humanity prepares to launch an attack. Ender's Game stars Asa Butterfield, Harrison Ford, Ben Kingsley, Viola Davis, Hailee Steinfeld, and Abigail Breslin. The movie bombed at the box office and critics aren't big fans of it, but if you like the premise, go for it.
Ender's Game is available on Netflix UK, so read on to find out how you can watch it.
42. Black Mirror: Bandersnatch – 6.12
Created for Netflix, Black Mirror: Bandersnatch is an interactive film that is part of the sci-fi anthology series Black Mirror. While watching the movie, you'll make decisions for the main character, a young programmer by the name Stefan Butler. The movie stars Fionn Whitehead, Will Poulter, Asim Chaudhry, Craig Parkinson, and Alice Lowe, to name a few. The movie is extremely interesting as you get to make a lot of choices, but many believe more could have been done.
43. See You Yesterday – 6.12
The next sci-fi movie on our list, See You Yesterday, was released in 2019. The movie tells the story of a science prodigy who creates time machines as she seeks to find a way to save her brother who had been killed by a police officer. Time travel, however, is not without perils. See You Yesterday stars Eden Duncan-Smith, Dante Crichlow, Brian Brandley, Marsha Stephanie Blake, and Michael J. Fox in his last role before retirement.
44. What Happened to Monday – 6.12
What Happened to Monday is an awesome film that takes place several decades in the future when overpopulation is a worldwide problem. A strict one-child policy is enforced and all but the eldest children are put in cryosleep. When a woman dies giving birth to seven identical sisters, they are taken by their grandfather and named by the days of the week, to signal when they are allowed to leave the house. When Monday goes missing, the other sisters try to find her. The movie stars Noomi Rapace, Willem Dafoe, Glenn Close, and Marwan Kenzari.
45. The Amazing Spider-Man 2 – 5.94
Another Spider-Man movie, another Spider-man actor. This time around it's neither Tom Holland nor Tobey Maguire, but rather Andrew Garfield. Released in 2014, this movie follows Spidey investigating his parents' murder and fighting against Electro. Plus, he also has to deal with his childhood friend Harry, who is dying from a genetic disease. The movie stars Emma Stone, Jamie Foxx, Dane DeHaan, Campbell Scott, Paul Giamatti, and others.
46. Bird Box – 5.92
This 2018 sci-fi film mixes in a pinch of horror and a lot of thriller. Bird Box follows Malorie Hayes who has to navigate the world with her children, completely blindfolded in order to protect themselves from supernatural entities who are killing everyone who looks at them. Bird Box stars Sandra Bullock, Trevante Rhodes, Jacki Weaver, John Malkovich, Sarah Paulson, and others.
47. Time Trap – 5.8
The next sci-fi flick on our list follows a group of students who go looking for their missing professor. Their search leads them to a mysterious cave where time and space gets distorted. Time Trap was released in 2017 and stars Brianne Howey, Andrew Wilson, Cassidy Gifford, and Reiley McClendon.
48. Splice – 5.8
Are you up for another horror sci-fi? Well, Splice is a 2009 film that tells the twisted story of genetic experiments to introduce human DNA while splicing animal genes, resulting in human-animal hybrids. Splice stars Adrien Brody, Sarah Polley, Delphine Chaneac, Brandon McGibbon, and Simona Maicanescu.
49.The Wandering Earth – 5.78
The Wandering Earth is a Chinese sci-fi film released in 2019. We go on an adventure with a group of astronauts and rescue workers who are trying to guide the Earth away from the Sun while also avoiding collision with Jupiter. It's a movie with spectacular visuals, so you should buckle in for a couple of hours. The movie stars Qu Chuxiao, Li Guangjie, Ng Man-tat, Zhao Jinmai, and Wu Jing.
50. Divergent – 5.68
Last one on our list is Divergent, a 2014 dystopian sci-fi. People are divided into five factions when they reach 16 years of age, but some, like Beatrice Prior show equal attributes of all factions, making her a Divergent. Since the government can't control the Divergent, Beatrice tries integrating into Dauntless, but when things take a turn, her truth is revealed. Divergent stars Shailene Woodley, Theo James, Ashley Judd, Zoe Kravits, Ansel Elgort, and Kate Winslet.
How to watch Sci-Fi movies on Netflix from another country?
Netflix is present in almost all countries of the world and it has specific libraries for each country. Not only that, but each library is geoblocked so it can only be accessed locally. Due to these details, when you want to watch a specific movie that is not available locally, you need a VPN.
VPNs are cool tools that can route your Internet connection. By doing this, they make it appear as if you are in your newly selected country.
Our recommendation is to go for NordVPN, which is a tool with thousands of servers all over the world, and some cool features. It will also keep your identity protected and your data secure with top-level encryption.
Here's what you must do:
First, subscribe to NordVPN. Our readers can get NordVPN with 70% discount for the 2-year plan, making it $3.49 per month!
Then, you need to install the app and log into your account.
Look for a server in the country we indicated and connect to it.
Once the connection is established, you can load Netflix in your browser or relaunch the app on your device. Look for the title you want to watch and start streaming!
Please keep in mind that, unless specifically mentioned, the titles above are present on Netflix US. Of course, if you live in a different country, you can connect to a US-based server and enjoy them too. If they're not in the US, they're in the UK, as about half the movies on the list are in the British library instead.