Flask Is A Desktop & Mobile To-Do List Web App That Doesn't Need An Account
If you've ever just needed to create a quick tasks list – one that won't send you annoying email reminders, or desktop notifications, but that you or anyone else could add tasks to, without being bothered by complicated group sharing, or permissions – Flask is the web app to try out. It's a to-do list app that works perfectly on your desktop and mobile devices. You don't need to sign up for an account to use it, and can create as many lists as you like. The lists can then be edited by anyone you share them with. To save a list, you have to either bookmark it, or email its link to yourself. Tasks can be marked as done, and also distinguished from each other by assigning them one of the pre-set color labels.
To make your first list, simply visit Flask and start typing your first task. You will notice that the URL in the address bar of your browser changes when you add your first task to a list; you have now created a unique list. You can add more tasks to it and edit the name by clicking the pen button that appears when you hold your mouse over the title.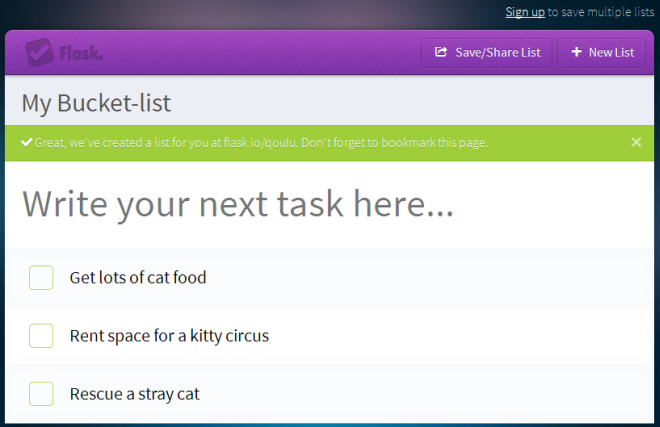 Tasks can be dragged & dropped over one another to rearrange them. Hold you mouse over a task, and a cog wheel button as well as a cross will appear. The the cross button allows you to delete the task, while the cog wheel button further opens a small color bar of labels that you can apply to it. Clicking the check box marks a task as complete, and it appears crossed out under the remaining tasks. Flask never removes a task from the list; you can simply uncheck a task and it will return to the group of things you have to get done.

To share a task or email its link to yourself (or anyone else), click the 'Save/Share List' button at the top. The only way to save a list is by bookmarking it or by email. Anyone with a link to the list can not only view the tasks in it, but also edit it. Lists can be embedded into other web pages as well. When you click on 'New List', you navigate away from the page to a new one and unless you've saved the previous one, you will have no way of finding it again through the service itself. You can still, however, find it in your browsing history, if you haven't cleared it since last visiting that list's page.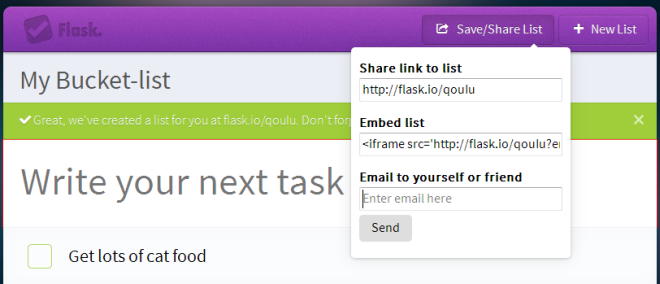 The app works just as well on mobile devices; you can use it from your favorite mobile browser. There's no mobile app for Flask, which means the app should be usable on both smartphones and feature phones with a good enough browser.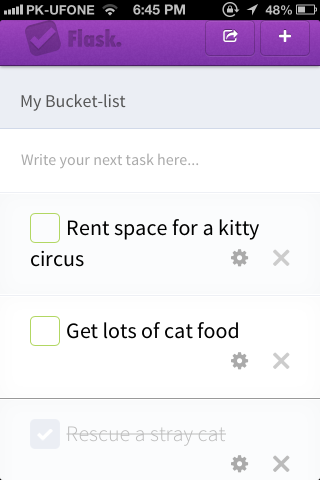 The developers of Flask plan to introduce accounts soon, so that you don't have to bookmark or email lists to yourself for the sake of saving them.