FolderSize – Check Windows Folder Size
FolderSize is small portable tool developed to check the size of the folders and the space they take up in your hard disk. It presents the result in graphical format. With this tool you can determine which folders are present in a specific destination and how much space they are taking.
Update: Disk Space Fan is a new tool which is more advanced and stable than FolderSize, check it out here.
You can see the complete folders and their sub-folders in a clear format. To use it, enter the path and hit Go. If you look at the screenshot below you will notice that some folders and their sizes are not appearing properly, this is because of the standard view. To view folder information in complete details scroll your mouse wheel to zoom inside.
Once you zoom in, the structure will be more clearly available. To return back to the standard view hit the right mouse button.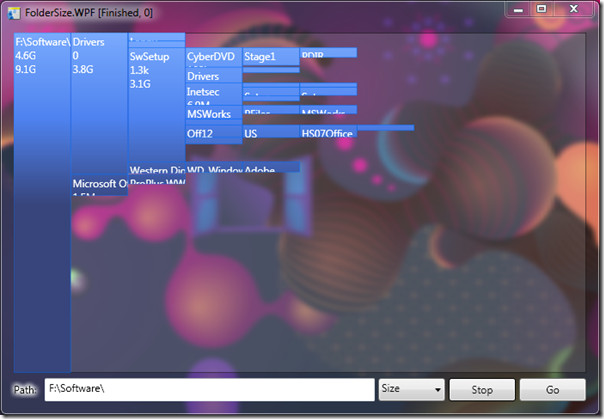 It is a simple app developed on Windows Presentation Foundation. WPF can be found in Windows XP SP2, Windows Vista, Windows Server 2008, and Windows 7.
Enjoy!