WiFi Protector: Secure Your WiFi Connection With 256 Bit Encryption & Change IP Address
When you connect to the internet using a wireless connection, you are always at the risk of a security breach. Someone with enough skill and knowledge can easily use the lack of protective measures and manipulate the connection to get access to your network and every device connected to it. An antivirus, too, only stops intrusions that are already available in its database, and cannot detect if someone is trying to hack into your system using a WiFi network. Other than hacking into your system, in the lack of proper preventive measures, you can also become a victim of identity theft. Keeping your network secure at all times is very important to avoid dealing with such issues. Today, we have a VPN service for you called WiFi Protector that allows you to keep your wireless network protected at all times. It is an extremely easy-to-use tool that protects your wireless connection using 256 bit encryption. No matter which network you connect to, WiFi Protector will hide your real IP, and allow you to visit websites and watch videos restricted in your region. More on WiFi Protector past the fold.
Once started, the program runs in the background and does not interfere with your regular work. You are able to access the websites in the same way and with the same browsing speed as before. Your IP address is changed by the application, allowing you to access websites and content blocked specifically in your region. The main interface is really neat and displays all the necessary information without going into different menus. When you run the program, it scans all the frequently accessed WiFi connections and allows you to protect the network that you are connected to. The left side contains information such as Status, Protection Enabled or Disabled and number of Trusted devices on the network, while the right side allows you to view the list of WiFi networks, and turn on protection for the current WiFi network.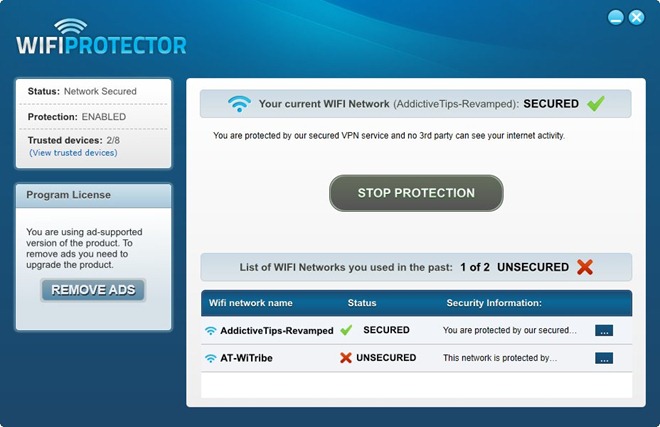 The View Trusted Devices button, available at the left side, allows you to view all the devices connected to your current network. You can select Trust this devices for all the devices that you know and trust. The network will be constantly monitored by the application and you will be notified about any new devices that are connected.
WiFi Protector works on both 32-bit and 64-bit versions of Windows XP, Windows Vista and Windows 7.