'Shutdown When Downloads Complete' Arrives In uTorrent For Mac
uTorrent is one of the most popular torrent clients out there and lots of people use it daily. For anyone who routinely uses uTorrent to download files, one practice is common; leaving the client running all night to let a download complete. There is sound logic behind this; the app can use maximum bandwidth, and since a watched torrent never downloads, this is the best way to stop yourself from constantly encouraging the download progress bar. While most users leave uTorrent running all night, only PC users had the option to shut down their systems once the download is completed. That option has now been added to the uTorrent for Mac.
The Beta channel is currently running version 1.7.6 and the auto shutdown feature was added in 1.7.4 as Extended Autoshutdown feature according to the release notes. When one or more downloads are in progress, you can check this option and your system will shutdown once the download has completed. The option can be unchecked anytime.
While the default option is to shut down your system when download completes, you can also have your system go to sleep. Go to uTorrent's preferences and in the  General tab and select Sleep in the Default shutdown action instead of Shutdown. This should be helpful for users on Lion and for users on Mountain Lion and its incurable tendency to sleep no matter what and only a terminal command that can stop Mountain Lion from snoozing, it might prove to be an even more welcome feature.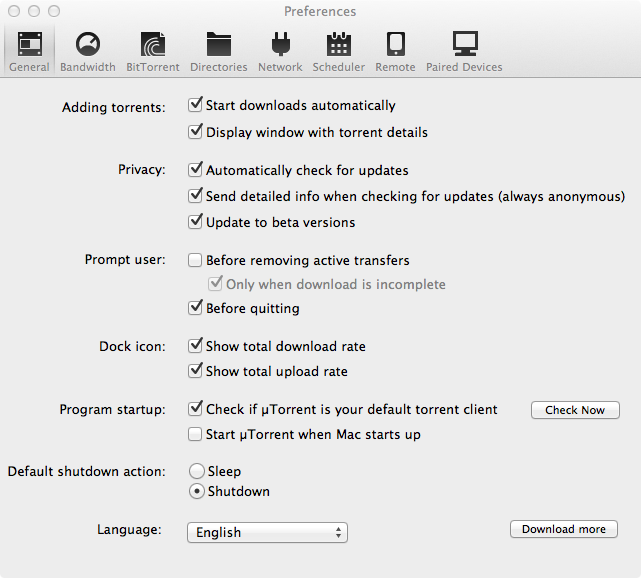 A word of caution though; no matter how good the app is, if you have little tolerance for apps that crash think carefully before you download them. No doubt the feature itself is enough to make a lot of users want to download it.
The feature had previously alluded Mac users and it was a easier to leave large files downloading overnight on a Windows PC. Two more Beta versions have followed version 1.7.4 so it might still be some time before this feature graduates to the stable version. Do you think it's worth a shot or do you plan on waiting it to arrive in the stable version?