Syncbox: Make Your Own Personal Cloud Storage Network On Your Hard Disk
When I talk to people about cloud storage, I usually get skeptical glances. Some people don't use it because they simply don't need it, while others remain silent, probably because they don't have a clue of what I'm talking about. And then a few keep complaining about limited free cloud space at disposal and that companies should find a way to provide them with more. Bigger is always better, they say. Obviously, you can opt for paid subscriptions if free account doesn't satiate your storage appetite, and all the major cloud services, including Dropbox, SkyDrive, Amazon Cloud Drive or Google Drive, offer paid storage plans. However, if you own a large hard drive and just want to access files placed on that drive from any place with internet connectivity, then Syncbox is a feasible solution. Contrary to other cloud services, it lets you create your own cloud – a server or central computer from where you are able to access and sync content using your notebook, Mac, Android or iOS devices. The procedure to setup the server and client is also straightforward, and the application provides two way syncing, as well.
Clients for Sycnbox are available for almost every major platform, but the server application is Windows only. To get started, first download and install server application on your PC. The developers have provided complete guidelines on how to set up the server on your PC, and the process doesn't require much effort. You'd be required to assign Syncbox ID and password to the server application in order to grant access to the client apps. It automatically assigns you a default ID, but you may substitute it with a custom one. If you opt for Quick Install, the application provides Syncbox ID, DDNS key and Data location on its own. Advanced users, on the other hand, can select Custom Install to manually set up everything from scratch.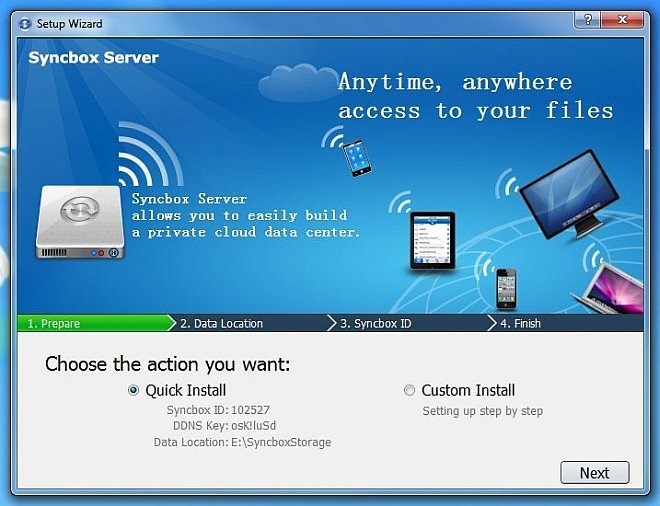 Once the initial configuration is done, the server resides on your system tray and hosts the selected drive location as cloud storage. From its right-click context menu, you can see your Syncbox ID, access Gallery and Event, open Syncbox Folder, as well open up Control Panel.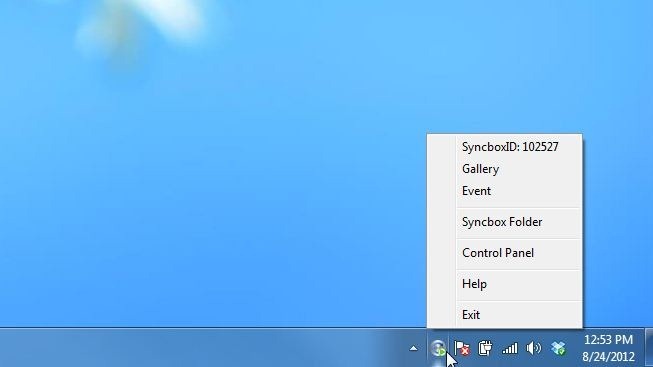 Control Panel allows you to change default Syncbox folder location, Reset Password and input a custom Port under Network tab.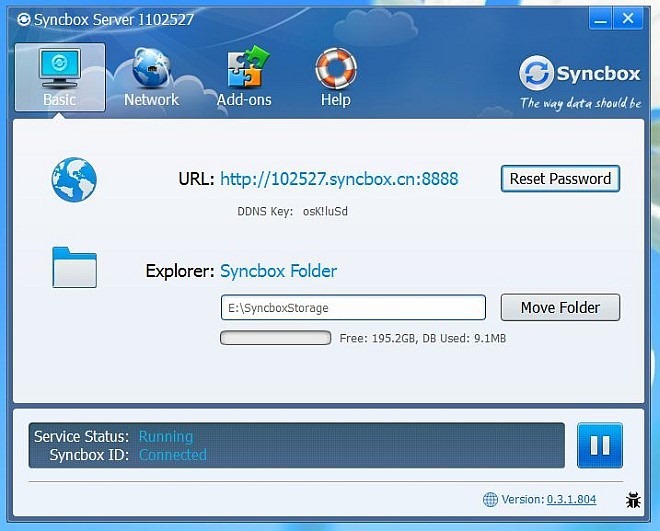 Client application for Windows doesn't require configuring any complicated settings. You just need your assigned Syncbox ID and password to connect both Server and Client to each other.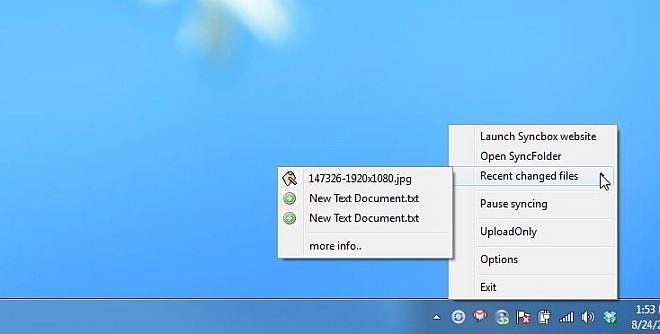 Synching files between Server and Client is no further than placing them in the Syncbox folder. You can use the default Public directory or create your own to keep everything organized. As mentioned earlier, the application provides two way synchronization, which means you can sync files from server to client and vice versa.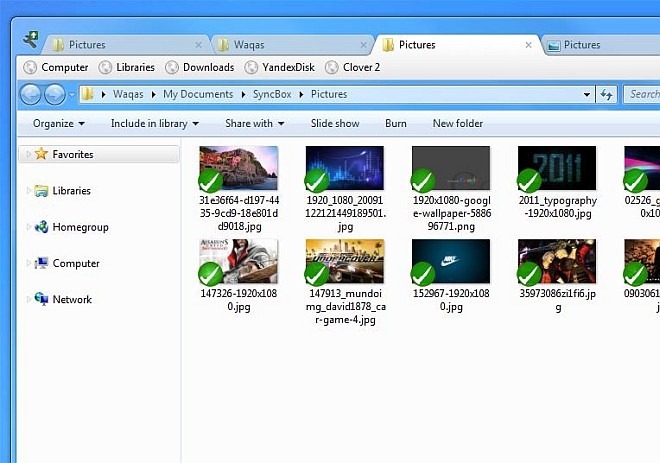 Syncbox is an excellent software to make your hard drive work as a cloud. Clients for the application are available on Windows, Mac, Linux, iOS and Android.