We are reader supported and may earn a commission when you buy through links on our site.
Learn more
5 Best Enterprise WordPress Hosting Companies in 2019
WordPress is the most popular content management system in the world. By various estimates, as many as 40% of the web runs on this venerable platform. This includes a large number of organizations who need enterprise-level features and support.
To meet these needs, a growing number of hosts are offering managed services wherein they take care of all your hosting needs and promise 24/7 uptime, fast load speeds, your data's cyber security, and more.
The problem is that with so many offers on the market, it can be hard to tell which providers are credible, and which aren't. This article will help you by covering 5 of 2019's best enterprise-level managed hosting services.
We'll go over what each provider offers, and also discuss why regular hosting isn't enough for most organizations. We'll also cover the advantages of managed hosting and how you can avoid regular hosting companies misrepresenting themselves as managed hosts.
Hosting types overview
There are 3 main types of hosting. One of them is self-hosting through a physical or virtual machine. This can be a convenient way to host a WordPress installation, but it comes with its own weaknesses and limitations. Specifically, you have to manage everything, and you're the only one responsible for your own uptime. This means you have to stay on top of updates, plugins, cyber security measures, patches, as well as your own content and website design. It also means that if anything goes wrong, you're on your own with zero backup. For this reason, it's rare for enterprise level publishers to self-host.
The other two types of hosting are shared hosting and managed hosting. Shared hosting is what brands like GoDaddy, HostGator, BlueHost, and others sell. It consists of a large number of users – from two to hundreds – sharing a single virtual or physical machine. The advantage of this kind of hosting is that it's very cheap. You can get a typical subscription for a few dollars per month. This is a wonderful price point, especially since most hosts promise you unlimited bandwidth, unlimited processing power, etc. The problem is that they can't actually deliver on these promises. When you're sharing a machine with other websites, you only get whatever power and bandwidth aren't already in use by someone else. Moreover, if something goes wrong with another user's installation, e.g. a DDoS attack or a virus, your data becomes at risk too.
The best alternative is to use managed hosting. In this scenario, you get your own separate machine. You also get a team of experts who help you manage your physical or virtual machine. The result is the cloud-based equivalent of a self-hosted server managed by a team of qualified specialists. This kind of thing would cost dozens or hundreds of thousands of dollars, but with a managed hosting provider, you can get it for a small fraction of that price. This is a perfect solution for enterprise clients who need outstanding servers and support. To understand why, let's get a little more specific about the problems with regular hosting in the next section.
The 4 problems with shared hosting for enterprise users
With shared hosting, multiple users share the same server. This is a good way to drive down costs, but it also has four primary problems, explained below.
No extras. A server can cost thousands of dollars per month to run. The average shared hosting plan costs about $7-8/month. To make a profit, hosting companies do two things. First, they give you absolutely no extras. If you want quality support, free SSL certificates, hands-on help, etc, you're going to be disappointed. Moreover, you're going to get a lot of upsells if you do want extras like migration, private domain registration, a CDN, etc. All of this is bad if you're a private user, and unacceptable if you're an organization.
Weak security. A shared host won't give you a free SSL certificate so you can get an HTTPS:// website. They won't backup your files for you, nor run automatic malware screenings on a regular basis. If you figure out that something's going wrong, you're not going to get timely help because serving you is low-priority from a shared hosting provider's point of view. Moreover, sharing a machine with others means that if someone else gets attacked or gets a virus, you may face downtime, data theft or loss, etc.
Limited resources. A lot of hosts tout "unlimited resources" plans that give you infinite bandwidth, tens of gigabytes of storage space, plenty of RAM, and so on and so forth. Since you're using a single machine and sharing it with up to hundreds of other websites, this is obviously not what you really get. What you really get is a very limited allocation of resources. If you attempt to exceed these, you get throttled with capped speed, limited processing power, etc. This often results in clients leaving, but in a certain light it works out in the end, as shared hosts are left almost exclusively with paying customers who use very little in the way of resources.
Everything is manual. With a shared host, you have to do your own backups, run your own updates, access the cPanel on your own, etc. This can be fine for solorepreneurs – but if you're an organization, you probably need a solution where someone else takes care of all these routing processes.
In the next section, we'll explain how managed hosting solves all of the above problems. The caveat is that many brands advertising themselves as managed hosts are actually shared hosts. We'll explain how you can tell the difference later on in this article, but for now, let's move on to the advantages of managed hosting.
How managed hosting is better
Managed hosting gives you your own virtual or physical server. It also gives you a team of specialists who help manage your installation. Here's how this helps solve all of shared hosting's problems.
No bad neighbor problem. Since you get your own resources, there's no way for a virus or a DDoS attack directed at another website to affect you. It also means that your own resources really are unlimited. If the machine assigned to you runs out of power, you can simply scale up and get a more powerful machine. You don't have to worry about getting throttled or downtime.
Security. A managed hosting provider takes care of all the small details you need to stay secure. They back up your data regularly, they update and patch your WordPress installation, and they run malware sweeps to make sure your data is safe. The best brands will even give you DDoS protection to help make sure your website is safe.
Support. With a good managed hosting provider, you're basically getting an A-team of IT specialists who're always on hand to help you out. Top brands even offer 24/7 support to make sure you get the help you need, when you need it, without having to wait.
Extras. Managed hosts tend to give you lots of cool extras. One common one is a Content Distribution Network, which speeds up your website by storing static data in a worldwide network of servers. Other extras include free SSL certificates, regular (automatic) backups, etc.
Next, let's take a look at the best enterprise managed hosts for 2019.
Top enterprise-level hosting plans
Large organizations like HTC, jQuery, and thousands of others are using managed hosting services to run their WordPress installations. But how can you know which brands you can trust for your own website? We answer the question below by going over some of the best managed hosts in the business.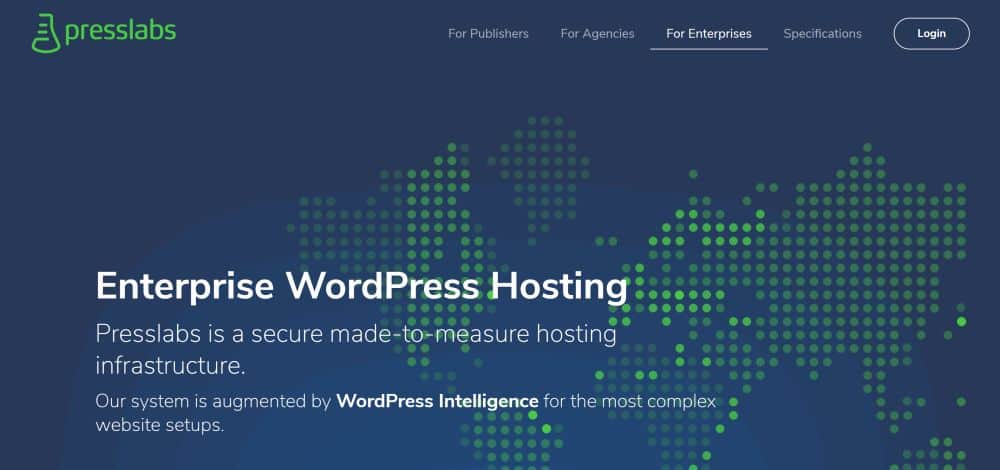 Presslabs is a rare managed hosting provider that combines attractive pricing with powerful performance and a rich feature set.
Let's start with the pricing. Presslabs lets you create a developer account for free. Taking your website online costs $599 plus $0.10 per extra 1,000 page views per month. This is very affordable for an enterprise plan, and you get a lot of bang for your proverbial buck in terms of performance.
In a 2018 industry-wide benchmark test by ReviewSignal, Presslabs excelled in multiple areas:
While serving up to 10,000 users in a 30 minute period, they only returned 56 errors (compared to 1,901 for Pressable and 786 for WP Engine).
Their average response time – 208ms – is among the lowest in the business. This means that with Presslabs, your users will virtually always load your website quickly and successfully.
Moreover, peakthroughput is high at 90.85 MB/s, meaning you can safely trust Presslabs to handle your audio and video content with no slowdown.
The total number of requests processed was over 2 million, beating WordPress.com's VIP service by over 14%.
Given Presslabs' low price point, these results are nothing short of incredible. But that's not all.
Presslabs gives you oodles of extra features. This includes a free SSL certificate that improves your website security and a CDN with HTTP/2 for 24/7 uptime for your static content. Incremental backups are made every 15 minutes: the best we've seen among all managed hosting providers.
The dashboard and work environment is beautiful, powered by ReactJS technology, and collaboration is easy thanks to a suite of agency and publisher features. Other hosting providers charge thousands of dollars for similar feature sets, so if you're looking for best-in-class enterprise-oriented brands, this is your best choice.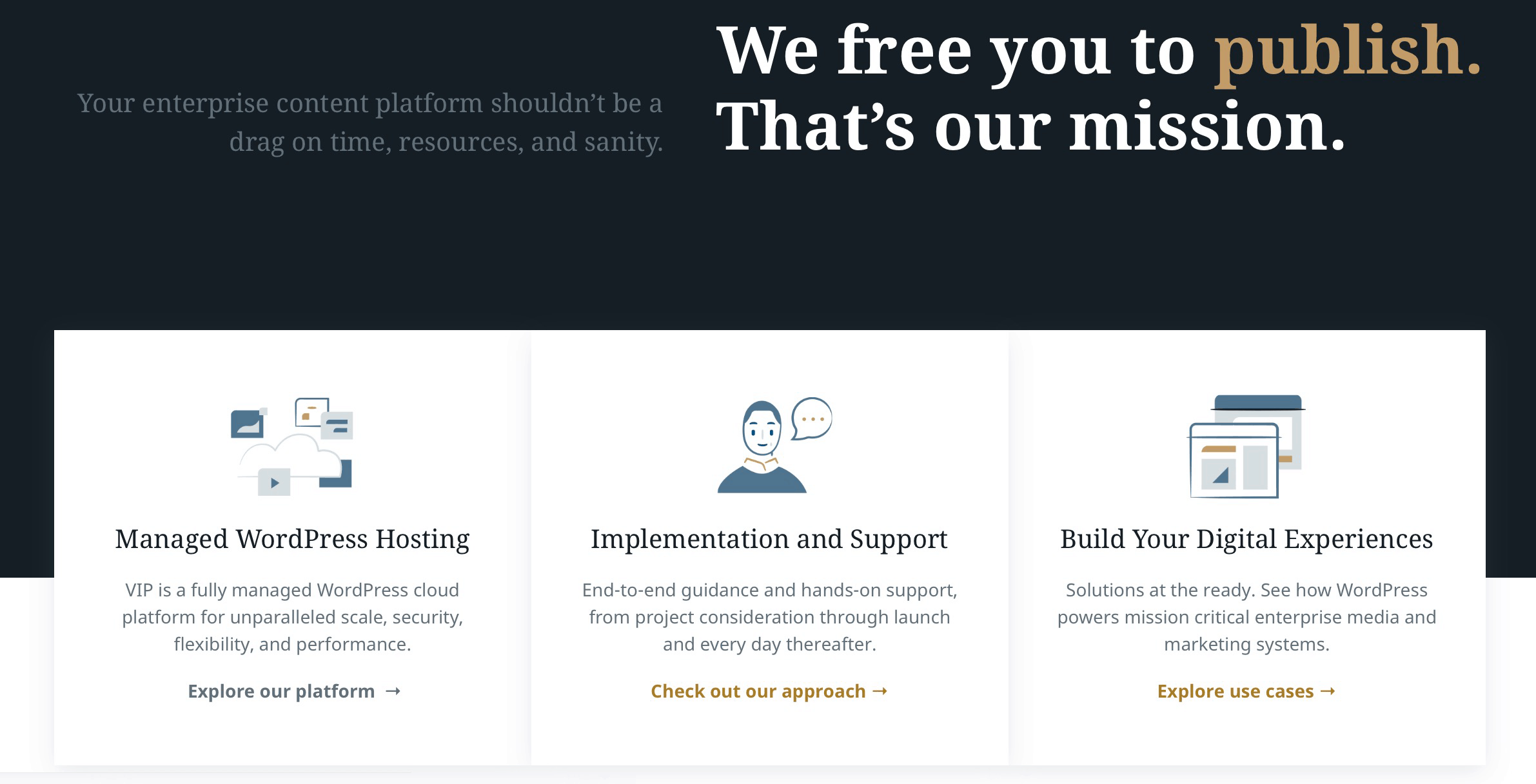 VIP was the first managed hosting provider for WordPress. Today, they've built on their years of experience to remain on top of the industry – especially for enterprise clients.
Let's start with the features. With WordPress VIP, you get a free CDN service. This means that your static content is delegated to an international network of servers that help speed up load times for users. As an extra advantage, if your main server goes down, page visitors will see all your static content anyway. In addition to this, WordPress VIP has a large number of extras. For example, hourly backups help keep your information and data safe. A turnkey infrastructure makes your website easy to scale. Support is available 24/7, meaning you can get the help you need, when you need it, without paying a cent over your monthly fee. An SSL certificate comes free with the service and is a prerequisite for taking your website live.
In addition to the above features, WordPress VIP was a top performer in the benchmark we referenced above. While they served fewer total requests than Presslabs, they're still a top-3 service in this department, with nearly 1.75 million requests in 30 minutes. Their peak throughput was high, at 118+ MB/s, meaning you can use a VIP WordPress installation to run video, audio, and other data-dense content. The total number of errors in serving 10,000 users was just 3, and with an impressive RPS of 1,400, VIP has a proven ability to serve large numbers of page visitors without sacrificing stability.
The only area where WordPress VIP is truly weak is pricing. Compared to Presslabs' $599/month, their starter fee of $5,000/month is exorbitant – especially when you factor in that getting started incurs a one-time $5,000 fee as well. It may make sense if you're a huge company – VIP's clients include MSNBC and Time Magazine – but for smaller enterprises, VIP is often too expensive to consider.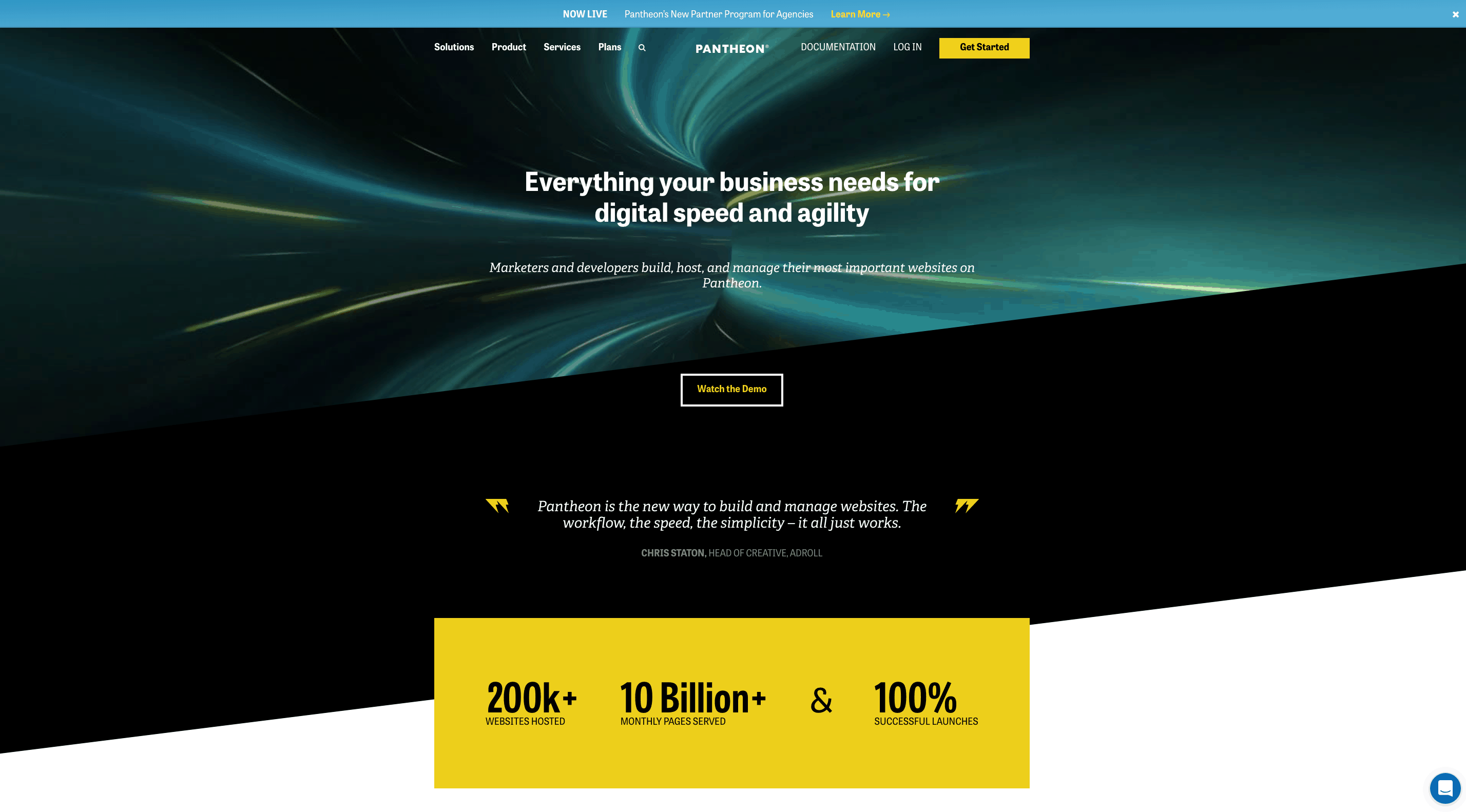 Pantheon is a feature-rich managed hosting provider with flexible pricing policies. They're particularly attractive to enterprises who want to get a managed host without going over budget. There are no set-up charges and no overage charges, meaning you can get started without worrying about money.
The feature set is both versatile and generous. Users get free fully managed migrations and up to 3 websites (including 3 free sandbox sites). Support is available around the clock, meaning you never have to wait for it. A free SSL certificate for your users' security comes with all enterprise-level Pantheon subscriptions. So does a global CDN network powered by Fastly: one of the most reliable CDN services on the web. There are no bandwidth limits, and the cloud infrastructure used is Google Cloud Platform: a stable, reliable system you can rely on.
Pantheon was a strong performer in the benchmark we referred to above. Their total errors in serving 10,000 users numbered at just 88: more than VIP and Presslabs, but still well under 1%. The total number of requests was on the low side (1.37 million), but given that you're unlikely to get over a million users in 30 minutes in real life, that's fine for most brands. Average response time was outstanding at just 154 ms, with enough peak throughput to run multiple 4k video streams simultaneously (85.72 MB/s).
In addition to all of the above, Pantheon is decidedly budget-friendly. While their cheapest (basic) subscription is unsuitable for enterprises, you can cobble together a solid plan for $500-$800, which is excellent. If you're a small company or strapped for money, it's hard to go wrong with Pantheon.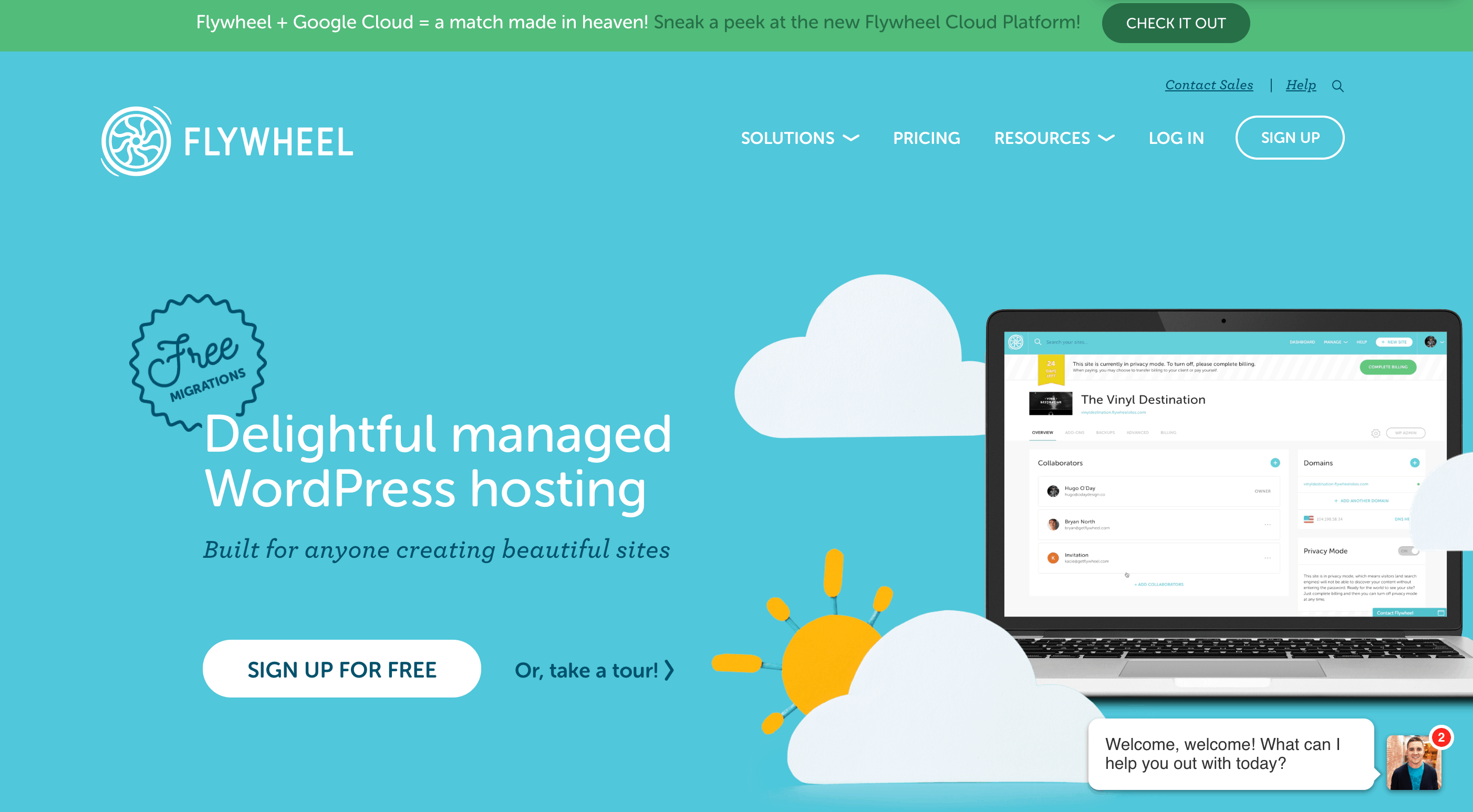 Next on our list we have Flywheel: a managed hosting provider with a price point only slightly above a shared host. To wit, you can get a plan that works for solopreneurs and professionals for just $69/month. As an agency, you can get a plan for $229/month. In both cases, you'll be hard pressed to find a better price point on the market, which makes Flywheel a natural choice for smaller businesses.
Despite being a budget choice, Flywheel is no slouch on features and performance. Their website staging environment is user-friendly and convenient. They offer users nightly backups, which means your data is safe in case of an attack, data loss, etc. Flywheel's Blueprint service makes designing high-level websites easy, and with their collaboration tools, you can easily collaborate with team members on design and development. There's even an option to speed up your website using a proprietary Flywheel algorithm.
In addition to the above, Flywheel has numerous features that improve security and speed. You can buy a CDN service from Flywheel, or use your own for free. This lets you improve your site's load speeds by caching static content with an international network of servers. SSL certificates are free for enterprise users, meaning your users can enjoy encrypted connections and improved security. There's a free malware clean-up service, and you can manually configure caching settings to further speed up load times. If you're looking to start with managed hosting on a very small budget, Flywheel's a solid choice. Just remember that if you decide to scale up, switching managed hosting providers can be a pain – so make sure Flywheel can do everything you need it to before making a decision.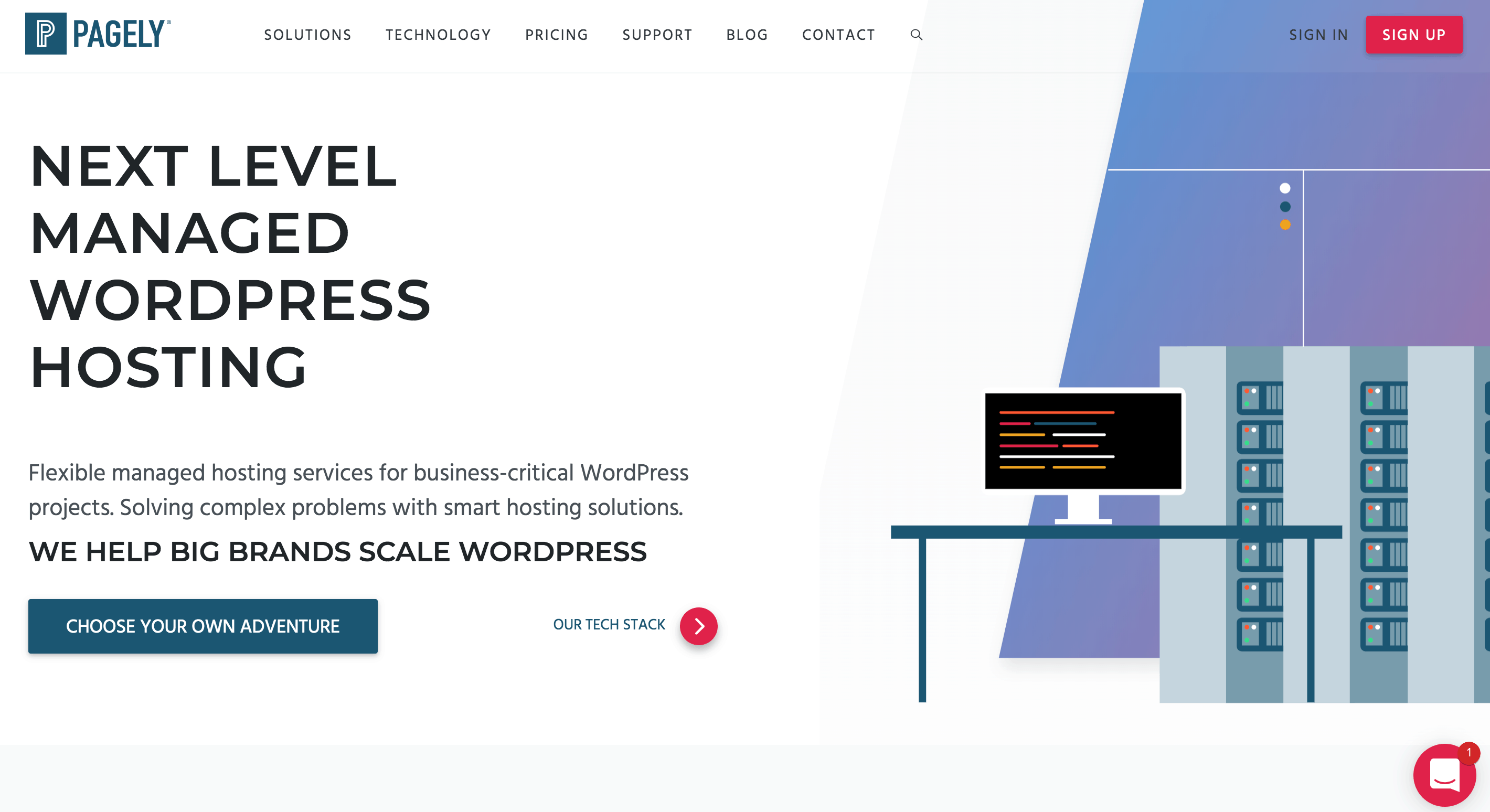 Last but not least, we have Pagely: a quality service that focuses on serving security-oriented enterprise clients. Their strength lies in their data security and user privacy features. For starters, all their data is hosted on Amazon Web Services: a service with extensive privacy and compliance rules. This means that breaking into your website and harming it in any way is immensely difficult when you're with pagely. Further, the service includes complete site scans for malware and DDoS attacks (among other things). This gives Pagely's customers extra peace of mind, removing a lot of the manual work that goes into cyber security. You also get a free CDN to make your website's static content available 24/7, even when your main server is under attack or otherwise unavailable (e.g. for maintenance). The total bandwidth for these CDNs is 2 TB, which is impressive to say the least, and another reason to choose Pagely.
In addition to all of the above, Pagely is rich in secondary features. For example, they use varnish caching: an advanced caching model that can reduce return visitors' load times to milliseconds. The support system is available 24/7, with knowledgeable support staff on hand to help you no matter what your question is. WordPress Core and plugins are upgraded automatically, with virtually no effort required from your side.
One thing that may turn some users off is Pagely's service model. Enterprise plans start at $2,500, which is quite expensive. At the same time, you have to be a little more hands-on with some aspects of your website than with other providers. You don't have to do everything yourself, of course, but Pagely will require you to be involved with minor processes, like plugin updates, which is a drawback for some organizations.
A word of warning about faux managed hosting providers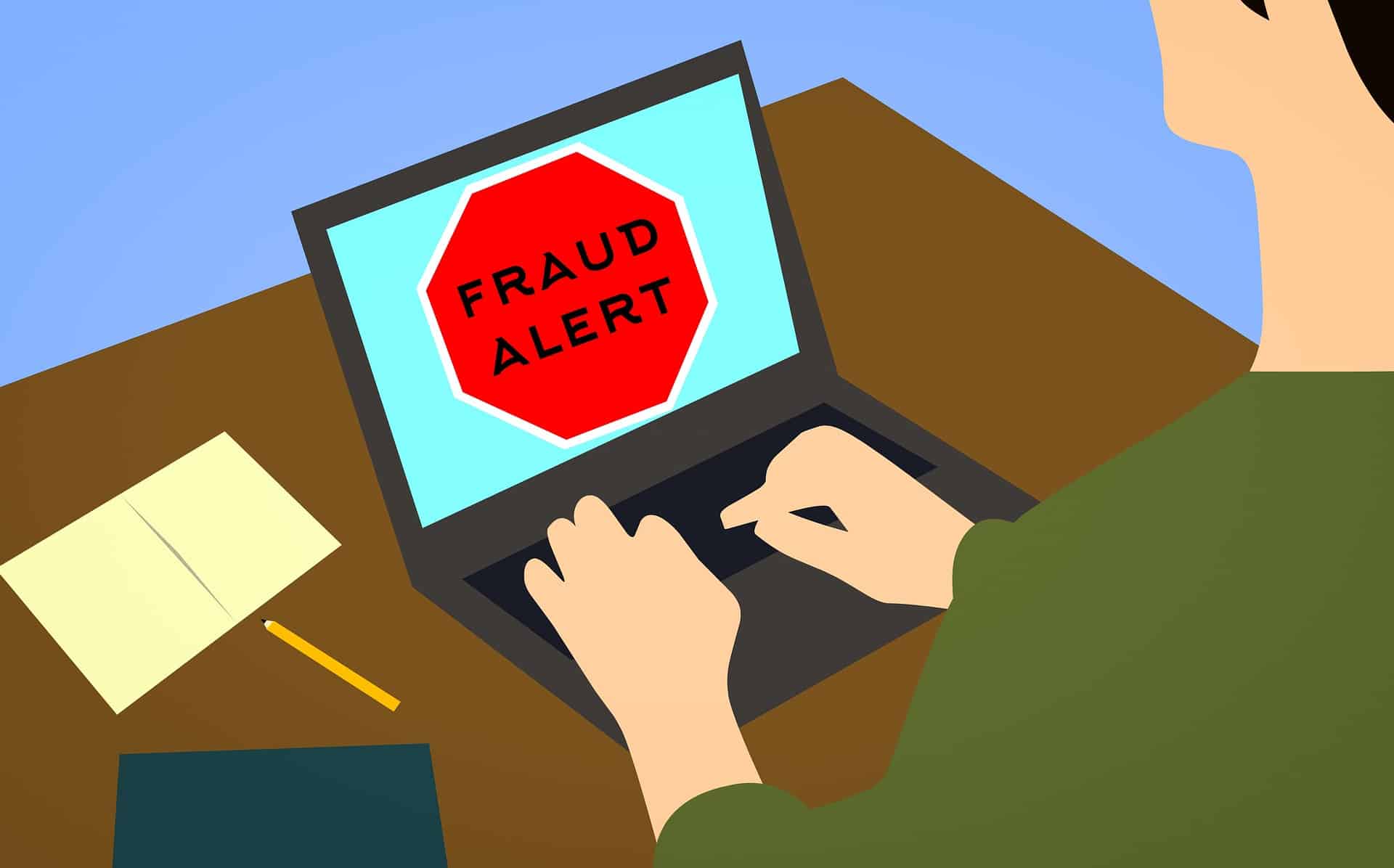 As more and more businesses understand the limitations of shared hosting, the market for managed alternatives is growing. Unfortunately, a number of shared hosting providers has started branding their offers as "managed hosting". What really happens, though, is that they give you a separate virtual machine on what is usually an overloaded physical server. The only difference from regular hosting is that you're in a separate digital environment; all the other problems are still there.
The solution is to make sure that any managed hosting provider you consider actually offers managed services. Look for providers who advertise regular back-ups, automatic WordPress core and plugin updates, as well as 24/7 live support. If a provider doesn't have these services, they're not really selling managed hosting. Furthermore, if a provider expects you to do most of the work in installing a CDN, getting an SSL certificate, etc, be careful; they're likely to be a shared hosting provider that's misrepresenting what they do.
Conclusion
Managed hosting can solve a lot of problems for your organization. It can guarantee 24/7 uptime, protect your data, increase load speeds, drive down costs, and more – all while helping you save time and money on internal WordPress management. It's easy to see why so many businesses are moving from self-hosting and shared hosting to the managed equivalent.
At the same time, it should be clear that managed hosting services aren't all created equal. Making sure you pick a quality provider is important, because making a mistake here can be costly for your website's performance and brand reputation. The last thing you want is to go with someone who diminishes your website's performance. You also don't want to go with a provider you have to leave later, as this can result in downtime and limited access for your page visitors.
Now that you know who the best providers on the market are, who do you think you'll end up going with? Leave a comment and let us know below. We love getting feedback and would be happy to hear what you have to say!