We are reader supported and may earn a commission when you buy through links on our site.
Learn more
5 Best Managed WordPress Hosting Companies in 2019
On the surface, WordPress seems like a pretty straightforward platform. However, managing a WordPress side can be tremendously tough if you're a serious publisher, business or blogger. While most web hosts focus on providing simple, affordable solutions, these are often sub-optimal for hobbyists and enterprise-level websites. As a result, an increasing number of websites are now run on managed hosting. This includes SoundCloud, HTC, jQuery and a variety of other household brands known to most people.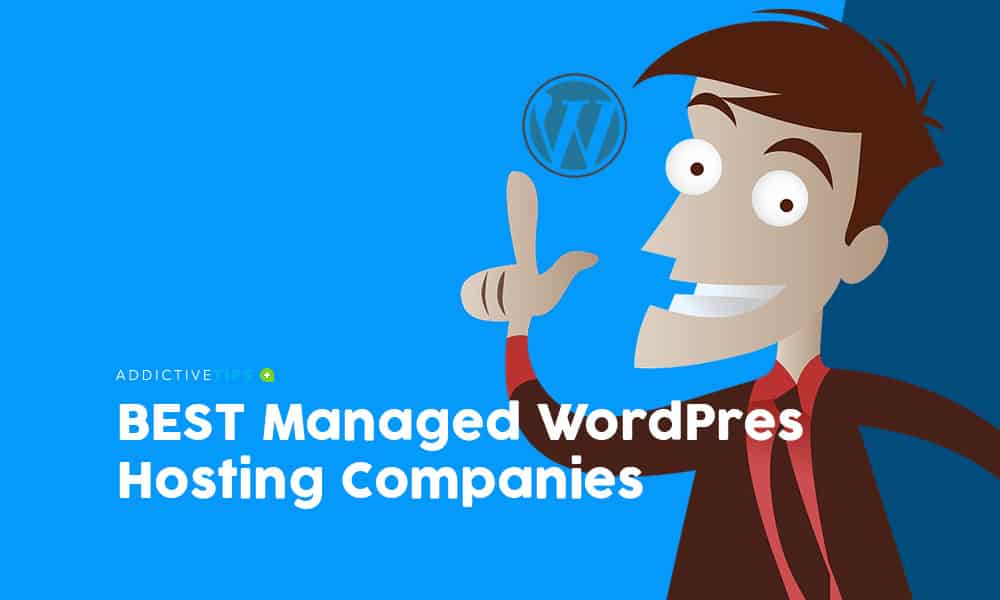 In this article, we'll explain why regular WordPress hosting is insufficient and problematic; what managed hosting can do for you; which managed hosting brands are the best on the market for 2019. We'll start by covering the main types of hosting available today and the ways in which they're different.
The 3 types of hosting explained
Before we cover specific hosting brands, let's talk about the 3 types of hosting available for WordPress websites.
SHARED HOSTING
First is shared hosting – which, as far as most people are concerned, is the standard form of hosting. The reason it's called "shared" hosting is simple: when a hosting company offers shared hosting, they're splitting a physical or virtual server between dozens, hundreds or even thousands of users.
This is the most common type of hosting available. The reason is that it's cheap and that the vast majority of WordPress installations really don't need all that much power. Sharing a single machine between hundreds of personal blogs or tiny business websites really isn't that big of a deal – and this way, consumers and brands can get websites for a few bucks per month. The thing is, larger publishers often don't want to share hosting with other websites. We'll cover the specific reasons for this below, but even at face value, it makes sense. A large corporation wouldn't want to share a campus and office space with another brand. The same is true for web hosting, and this is where managed hosting comes in.
SELF HOSTING
Second is self-hosting. These sites are hosted through a physical or virtual machine, and provide a high degree of user control. However, this is often a double-edged sword for most individuals and businesses, who might not otherwise have the time and resources to stay on top of updates, plugins, cyber security measures, patches, in addition to regular content production and website design. What's more, if something goes wrong, there's not a lot in the way of support to help you troubleshoot. For these reasons and more, you won't often see companies using a self-hosted website.
MANAGED HOSTING
Option #3, and the main subject of this article, is fully managed hosting. This is when you get your own private or physical machine and a team or professionals who manage your website. This is the most expensive option of the three presented here – but it's also by far the best and most reliable in terms of performance.
Before we continue onto our recommendations for managed hosting services, it's important to understand exactly why shared hosting, which is a perfect fit for tens of millions of people around the world, may not be the best solution for you.
As we mentioned above, with shared hosting, dozens or hundreds of websites use a single physical server. This lets many brands and people share resources and get quality Internet connections, disk space, and more for a tiny fraction of the regular price. The main problems with this are as follows.
In a perfect scenario, all the websites on a shared hosting platform can take turns using the resources a machine has. Unfortunately, real-life users and page visitors don't know or care about splitting server usage in a way that's convenient for website owners. They just come to the website they want, when they want to. What often happens at this point is that the shared server gets overtaxed and slow, or completely stops working. This is problem #1.
The second problem is that on a shared machine, all kinds of nasty things can happen. For example, if one website gets a virus or a malware infection, other websites can too. This is the "bad neighbor" problem, which is the second key reason shared hosting isn't optimal.
Here's how both problems manifest themselves on shared hosting:
Low speed. A server can contain hundreds of websites that share bandwidth, RAM, disk space, and more. When things get busy, individual websites can start working slowly or even fail to load at all.
Security breaches. If a single website falls victim to a machine-threatening virus or attack, everyone else is going down too. For example, let's say criminals are targeting a website that shares your machine with a DDoS attack. If they succeed, they'll also have taken out your website as collateral damage.
Limited resources. A lot of hosts tell shared hosting users that they're getting unlimited traffic, bandwidth, etc. This is, of course, not true. In the real world, there's just one machine that other websites also rely on, so "unlimited" actually stands for "very limited beyond a few thousand visitors".
Everything is manual. With your own shared hosting, you're responsible for updating WordPress, backing up your content and databases, creating your own designs, and more. This means you need to know PHP, MySQL, some HTML, and use your skills actively just to make sure everything works as intended.
How managed hosting is better
The first and main thing a managed host does for you is solve the "bad neighbor" problem. All but the cheapest managed WordPress hosting providers give you a separate virtual private server or physical server, meaning you no longer have to share resources with anyone else. This means you're less susceptible to viruses and criminal attacks. In fact, it all but eliminates the likelihood of a virus going from your machine to someone else's.
Moreover, a quality managed hosting provider will give you CDN (Content Distribution Network) functionality, meaning that even if you do get DDoS'd, some of your static content will still be available to users. All told, security gets a big upgrade when you go for managed WordPress hosting.
Another major factor is expert support and maintenance. With managed hosting, an A-Team of experts will handle some or all of your upgrading, maintenance, and cybersecurity needs. It's like having your own internal team of WordPress wizards, only without all the extra costs. This is the second way in which managed hosting is a serious upgrade over shared hosting.
Next is speed. With a managed host, you get your own device with all the resources that entails. You don't have to share bandwidth, RAM or anything else. This means your website is significantly faster. The CDN functionality mentioned above further boosts your speed by using multiple international servers to deliver data to your users faster. Then there's the fact that with a dedicated server, you're going to get the versions of MySQL, Apache, and PHP that work best for you. As a result, anecdotally, a good managed hosting provider can reduce load times by 2 seconds or more. Given that a 1-second delay could cost Amazon $1.6 billion per year, this is a major deal for publishers and businesses.
Last but not least there's the question of management. With managed services, all you need to do is tell your provider what you want. They'll take care of everything else, including backups, updates, and more. Top providers also guarantee uptime no matter what happens. All of this is a major benefit since it saves you from a lot of work, and makes sure that you don't have to worry about extreme circumstances – like a sudden influx of traffic or a criminal attack.
Now that we've explained what the limitations of shared hosting are, and why managed hosting may be better, let's talk about specific providers that are best for 2019 (and beyond).
Top managed services providers for WordPress
Before we start our countdown, we should make one thing clear. This is a list of the best managed hosting providers in 2019. This means we did not include a few types of brands on our list. For example, we didn't include many businesses that offer "managed hosting" at price points of below $30 because these brands are really just shared hosting with fancy marketing.
Instead, we focused on real managed hosting providers with top-quality equipment, knowledgeable teams, and a comprehensive approach to managing your WordPress installation(s) for you. Number one is…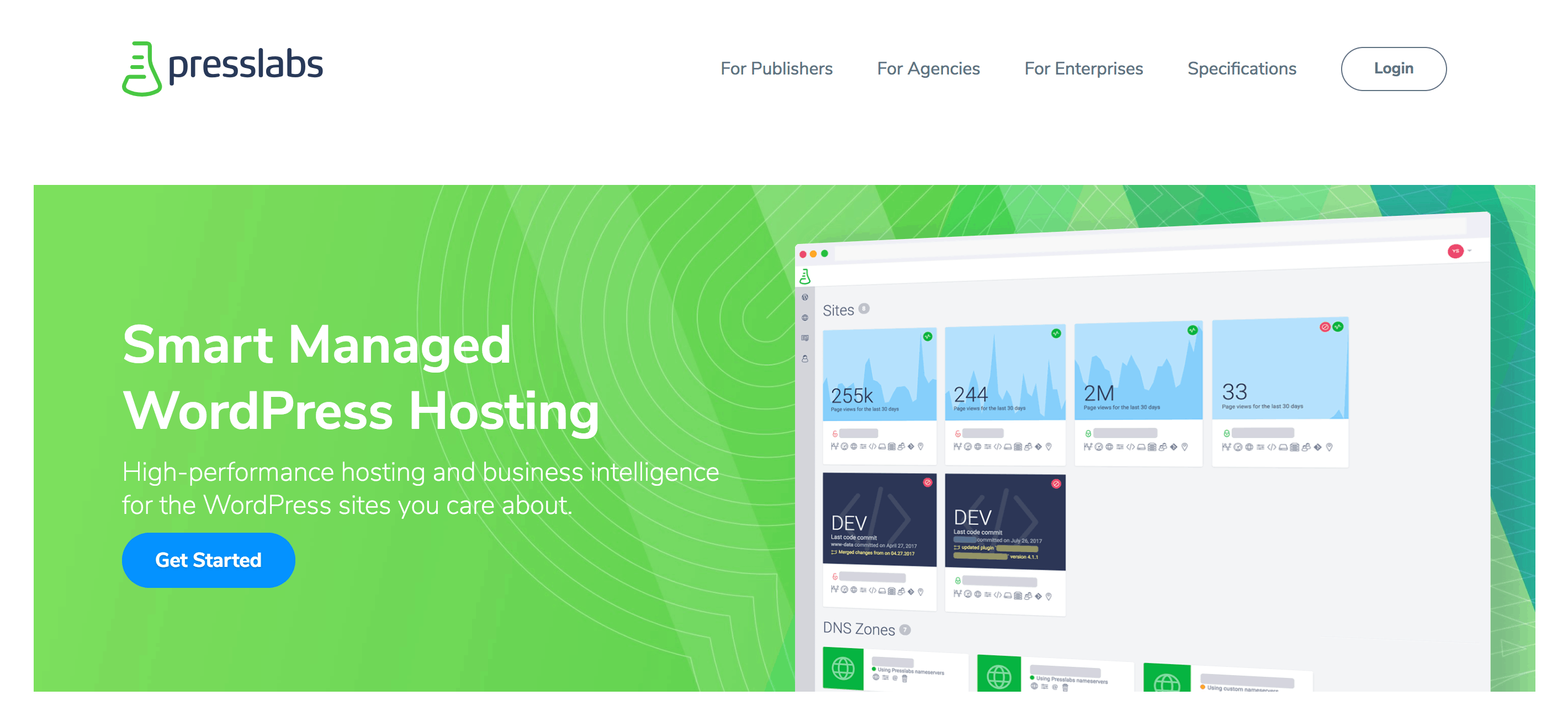 Presslabs is our overall #1 managed hosting provider for 2019 for a number of reasons. For starters, there are raw numbers. In one benchmark test, a website tested how WordPress performed with up to 10,000 users over 30 minutes. Presslabs had one of the smallest total error numbers at only 56 (compared to 1901 for Pressable). Average response time was consistently outstanding at 208 ms, and peak throughput was also high at 90.85 MB/s. Based on these numbers alone, Presslabs is one of the fastest, most reliable managed hosting providers in the whole business.
In addition to bare numbers, Presslabs has a strong feature set. E-mail and phone support are both 24/7. No matter what you need or what's happening to your website, Presslabs is literally always there to help. For non-urgent questions, there's a Git-driven environment for development, and a suite of collaboration features for managing your website. Whether you want to upgrade, change something or load new content. Working with Presslabs' team is easy.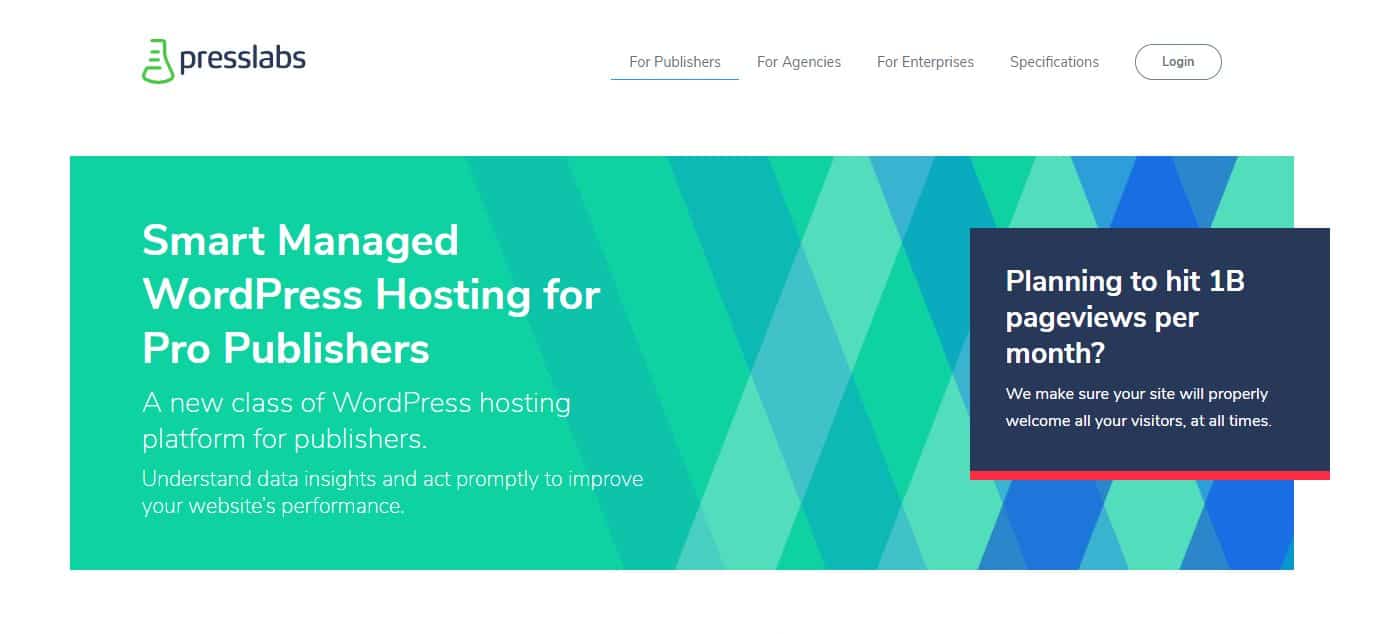 But where Presslabs really stands out is in its generous extra features. For example, the service gives you a free CDN with HTTP/2, making your WordPress website as fast as humanly possible. You also get free SSL certificates and free backups every 15 minutes, meaning both you and your users can have peace of mind.
Even the pricing is excellent, with plans starting at $99 per month with $0.30 extra per 1,000 pageviews, and a Developer Plan that comes completely free. Larger clients get to choose between the PLUS and PRO plans, starting at $299 or $599, respectively.
Between the high performance quality, the extra features and a responsive dashboard made using ReactJS, it's plain to see why Presslabs is #1 for 2019. When you get this service, you're getting a fast, secure, reliable host that does an outstanding job of managing WordPress installations. The only possible downside is that there's no micro plan for businesses with very little traffic – but so long as your business isn't just starting out, Presslabs is your best choice.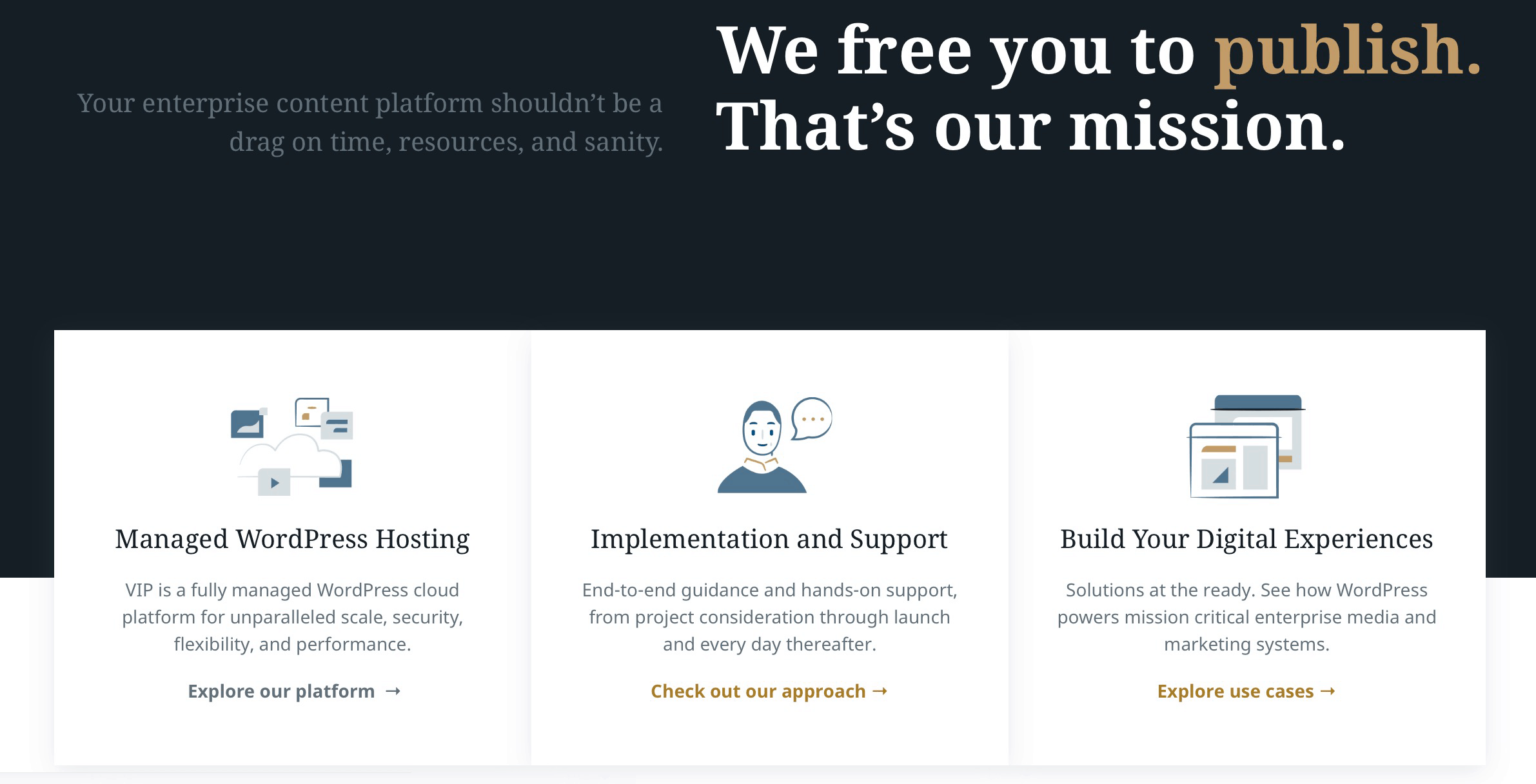 VIP was the very first managed hosting provider for WordPress websites. It's served such notable brands as MSNBC, Time Magazine and TechCrunch. In terms of numbers and performance, it's one of the very best providers on the market. In the same benchmark we referenced earlier, VIP had just 3 mistakes while serving 10,000 users in 30 minutes. Average response times were low, and while the total number of requests served was less than Presslabs', it was still very high at nearly 1.75 million. As far as pure performance goes, WordPress VIP is, as the name suggests, one of the best offers on the market.
The service's feature set is impressive, too. Support is 24/7, meaning you can get the qualified help whenever you need it. Moreover, WordPress is a large brand, meaning you're unlikely to have to wait on the line at any point. Backups are significantly less frequent than with Presslabs (every 60 minutes), but still very frequent to the point that you don't have to worry about them. CDN functionality is readily available, meaning your website's going to work a lot faster when it comes to static content. Security is strong, with every VIP website getting an SSL certificate and built-in anti-DDoS protection.
The one glaring weakness with WordPress VIP is their pricing policy. On one hand, there's a flat fee that gets you unlimited traffic, bandwidth, and storage with absolutely no hidden costs or upgrades. On the other hand, fees start at $5,000 per website per month, with a $5,000 setup fee. This means that WordPress VIP is only a viable option for enterprise clients, large publishers, e-commerce websites, and so on and so forth. The service may perform well – but unless you're really big, there's no point even thinking about it. It doesn't make financial sense.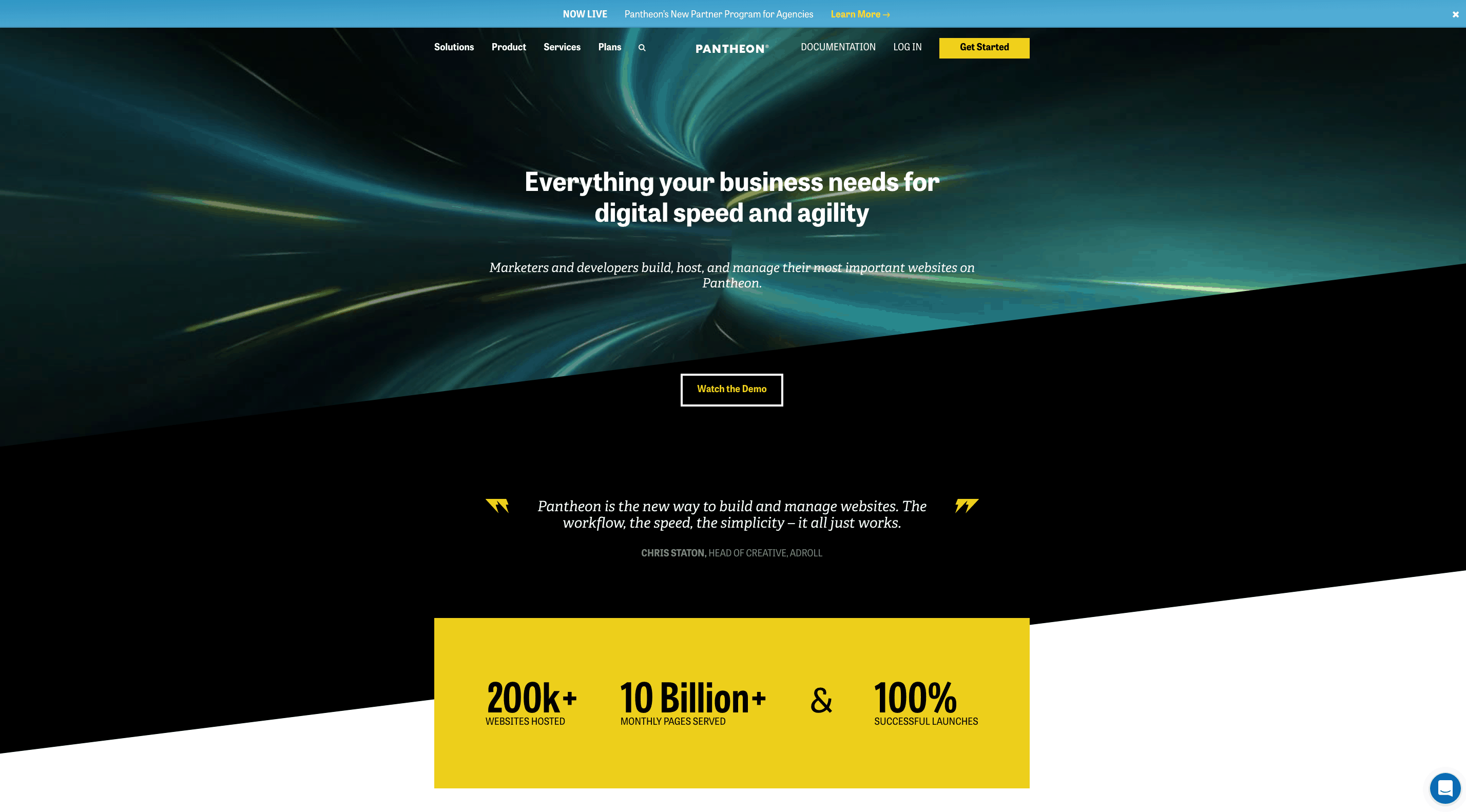 Pantheon is a little different in that it focuses on 2 CMS systems: WordPress and Drupal. As an indirect result, they have a powerful suite of developer tools that's an excellent fit for anyone who wants full control over their website and content. To wit, Pantheon is popular with techy brands like Dell, Cisco, IBM, and others. At face value, the brand is a little weaker than Presslabs and WordPress VIP. For example, their peak throughput was benchmarked at just 85.72 MB/s, and their total error number was fairly high (88 in 30 minutes and 10,000 users). However, Pantheon has its own advantages.
Specifically, Pantheon has 3 work environments: dev, test, and live. These environments make it easy to preview the changes you want to make to your WordPress installation on a deep level (i.e. far beyond the usual "preview" feature). The service has a guaranteed uptime SLA of 99.95%, which corresponds to no more 4 hours of downtime per year; an impressive number. A global CDN is included in every price package, as is site migration. Last but not least, Pantheon works with both Drupal and WordPress and runs on Google Cloud Platform, which makes it excellent for brands with multiple digital assets.
In fact, Pantheon has just a couple of weaknesses. The first is that it's expensive; getting a starter account with servers that let you run several websites is going to cost you $15,000-20,000 per year. The packages are generous – you can run up to 33 WordPress websites with 100+ GB of disk space – but given how high the service costs, that's to be expected. The silver lining is that there's no setup fee, but given that you have to pay more as your needs grow and evolve, Pantheon is still extremely expensive, which is why it only ranks as managed hosting provider #3 for 2019.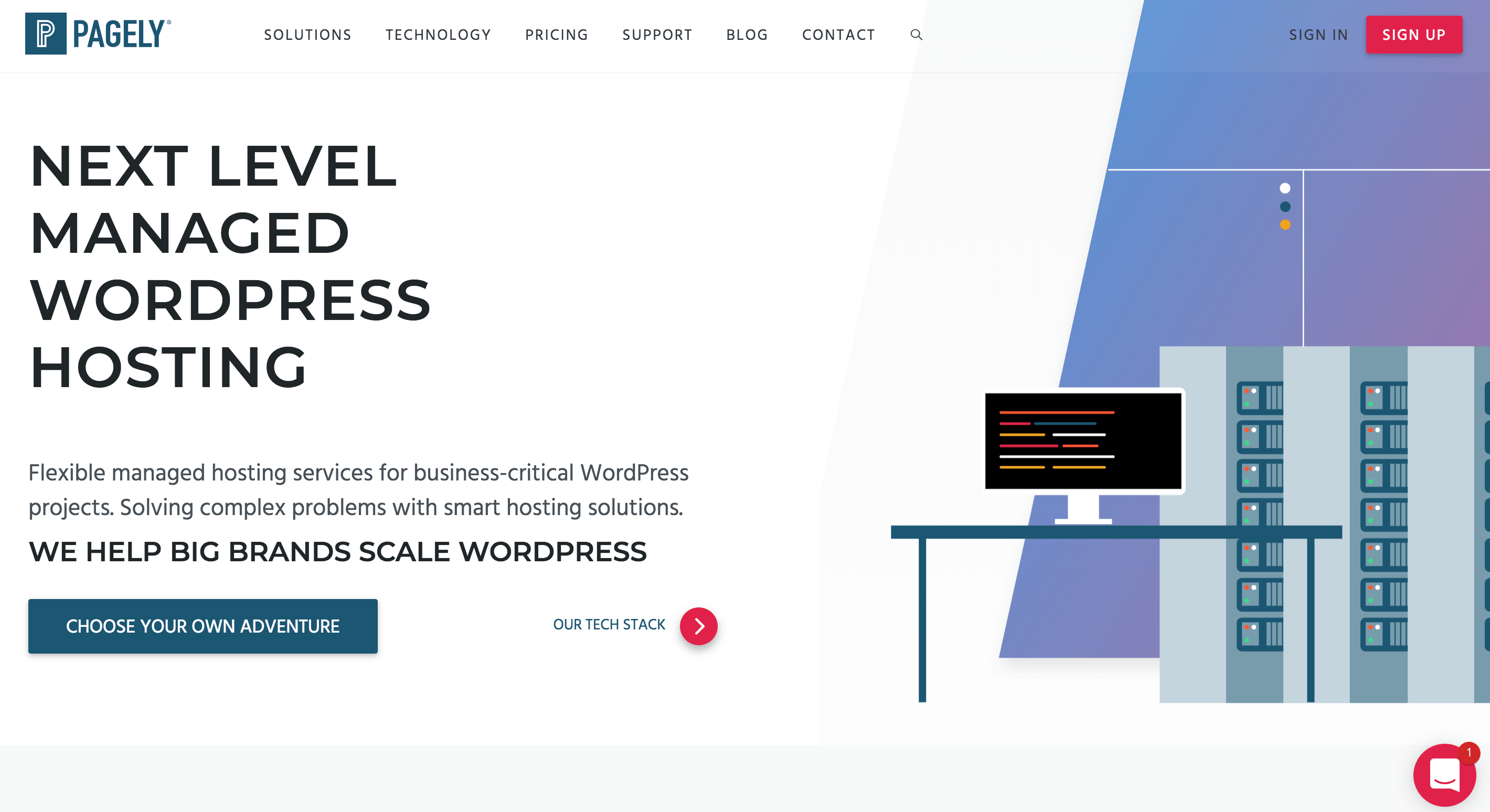 Pagely is a security-first WordPress managed hosting provider that's also strong on fundamentals. It does absolutely everything to make sure your website is safe. First, you get automatic WordPress Core and plugin updates so any vulnerabilities are patched as soon as they're discovered. Backups are made daily, which may be a little sparse for some websites but is overall decent. There's also a proprietary PressArmor WordPress security feature that protects you from criminals, automated DDoS attacks, and more. Malware and virus protection happens in real-time, meaning security threats are dealt with the second they arise.
All these features come at an incredibly attractive price: just $499 per month for an entry-level account with up to 200 GB bandwidth and up to 30 WordPress installations. Despite the low price point, support is 24/7 and there's a broad self-serve knowledge database to help you find answers to questions quickly. There's even a 30-day money-back guarantee so you don't have to pay for Pagely if you're not happy with their service a month in.
Outside the above security features and the attractive pricing, Pricely is excellent in terms of features. PRESSCDN functionality starts at just $9 a month and helps you increase your website's load speed. So does varnish caching: a technology that can reduce load times for returning visitors to milliseconds. The servers are optimized for fast load times, reliability, and 24/7 uptime. If you're ready for a "serious" managed hosting provider but don't want to pay thousands of dollars per month, Pricely just may be the perfect service for you.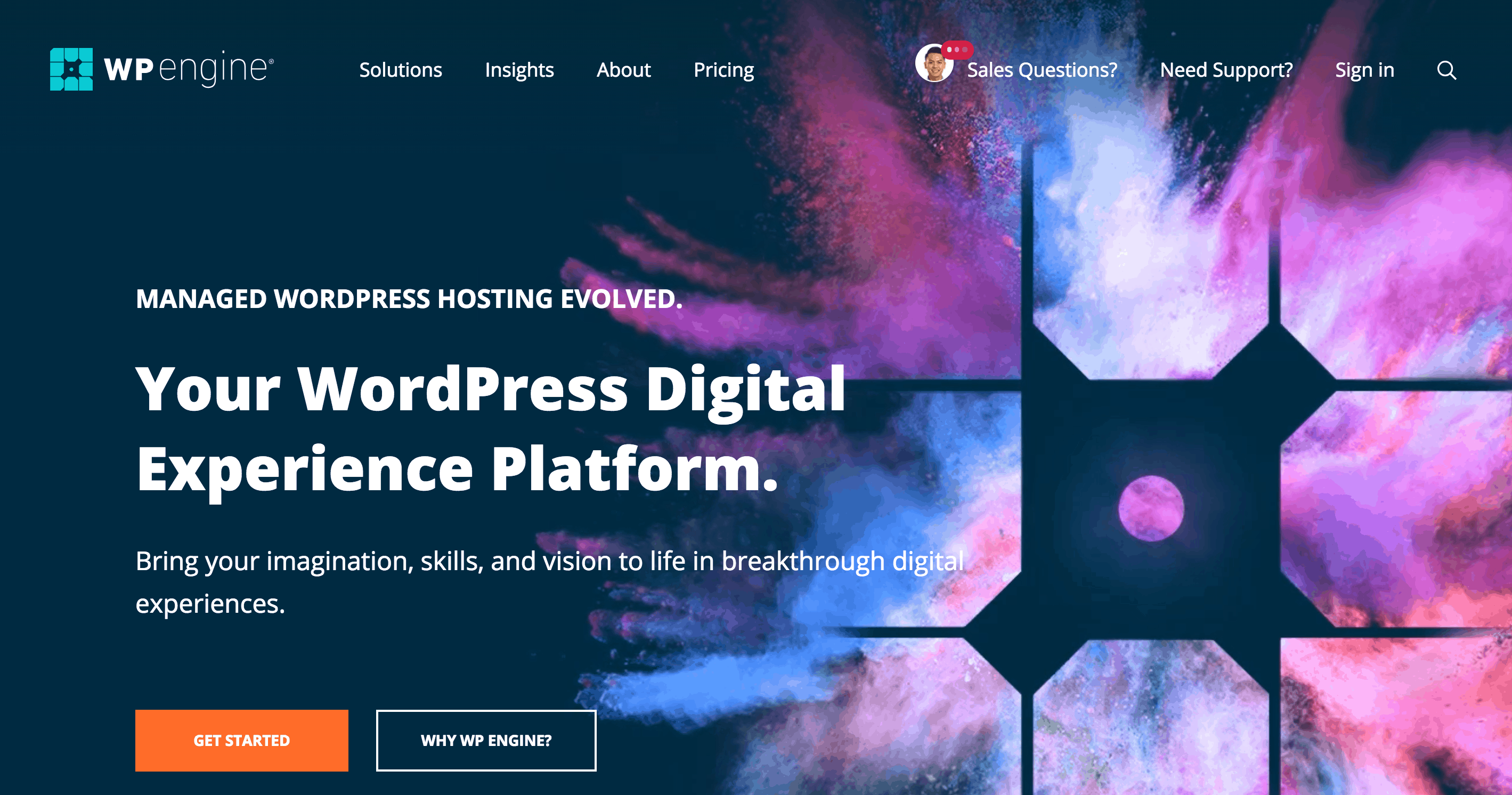 WPEngine is another budget-friendly managed WordPress hosting provider. Memberships start at just $99 for a personal plan. You'll be hard-pressed to run a business website without the Business plan feature set, which costs $249 per month, but if you want your own server for blogging, the cheaper option is nice to have. Impressively enough, customer support is 24/7 year-round despite the low pricing. WP Engine has even won 3 Stevie Awards for best customer service, which lets you know how seriously they take your problems and questions.
Performance-wise, WPEngine is solid if not outstanding. In the benchmark test we referred to earlier, total mistakes made in serving 10,000 users in 30 minutes numbered at 786. This is a little on the high side, but not bad by any means. Average response time was decent at 509 ms, with an excellent maximum throughput of over 90 MB/s. All in all, WPEngine may be a cut below Presslabs or WordPress VIP – but given the low price tag for entry-level plans, that can be an acceptable compromise for some.
Feature-wise, all the standard features (and a few extras) are available here. SSL certification is free. Any WordPress installation is CDN-ready, and – starting at the Business plan – automatically enabled. Backups are made daily, as is a threat scan that checks for viruses, malware, etc. Last but not least, the service uses solid structures that optimize your WordPress site's speed, performance and load times. If you're looking for an inexpensive way to start using managed hosting, WPEngine is a great choice.
In conclusion
There are many reasons to want a managed hosting provider. Having said that, no 2 providers are alike – so it's important to know exactly what you want to get. That way, you can choose the specific providers that are capable of serving your needs. For example, Pricely is wonderful if you want to save money, but not if you need peak results. Presslabs, our overall #1 choice, is excellent on all fronts – but only if you can afford to spend a few hundred dollars on improving your website's performance, speed, and user experiences.
Most importantly, make sure to plan your choices for the long haul. With shared hosting, it's fairly easy to migrate from one provider to another. With managed hosting, moving from one brand to another can be tremendously difficult because it requires some manual work. The best thing you can do is make sure you make a good choice to begin with, avoiding any possible problems and moves ahead of time. Now that you've read this article, you know which providers are best. Just make sure to discuss your specific needs, see some demos, and meet the team that'll be managing you ahead of time.