Display Downloads In Menu Bar Instead Of Separate Window In Firefox
Firefox is no doubt a great browser but that annoying thing about opening bookmarks and downloads in a separate window can really get to a user. As far as your bookmarks are concerned, you can access them from the bookmark bar, the download window too can be hidden but then how would you know how many files are downloading and whether or not your download has started. DownloadsInMenubar is an extension for Firefox that adds 'Downloads' as an option to the menu bar. It displays the number of files currently being downloaded and can be clicked to open the download manager and negates the need of having it open just to monitor the files being downloaded.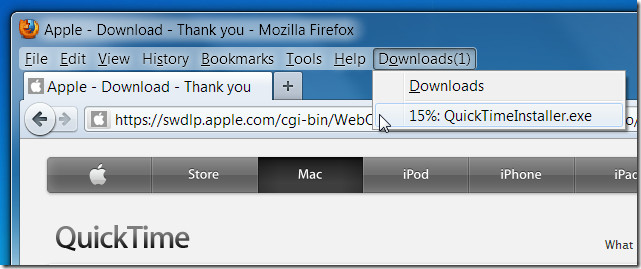 Since the extension adds an option to the menu bar, you have to have the menu bar visible in your browser to see the option. The download option will tell you the total number of files being downloaded and their download progress. The number is updated automatically and when a download completes, the desktop notification appears. The extension is just an easy way to view downloads in cue without having the download manager open.
Install DownloadsInMenubar For Firefox