How To Convert Text To Speech Online For Free
Ivona Online is a free online service that lets you easily create a voice from any text. All you have to do is to enter the text and click Play button, and it will start reading the text line by line automatically. There is no limit on the number of words you can enter. If you are a webmaster or a blogger, you can use it to give your visitors a choice to listen to your posts.
You can select the voice which you want to use in the speech, there are currently five different voices available: Jennifer(USA), Eric(USA), Jacek(Polish), Ewa(Polish), Carmen(Romanian). I prefer Eric since his voice is louder and clearer.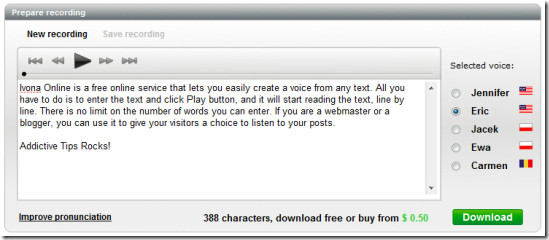 When typed in English language the text will be read according to the grammar rules, but sometimes when using foreign names and language the pronunciation is not very accurate. You can improve it manually by clicking Improve Pronunciation link and adding the word and it's  pronunciation.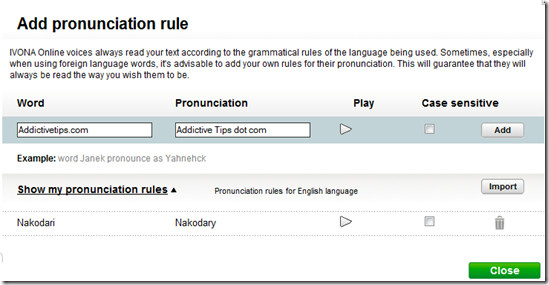 Once your text is ready, click Download. You can either download without registering or register first and download later. Registration is free and gives you additional benefits, such as, Project History, Bonus Packages, Access to API, etc.
There are three types of packages Free, Non Commercial, and Commercial. The free version has some advertisement and a little background music in every file, but it's ok since you can remove them using Audio Editor 2009. Select the free version, the recording format, and click Buy Now to download the file for free. If you want to share it with friends or co-workers, you can also host it on Ivona's servers. Enjoy!