Have iOS 7 Disable Alarms When Media Is Playing Or Power Is Connected
The modern smartphone has replaced many gadgets, including but not limited to the music player, the personal diary, the pen and paper to-do list, the low-end scanner, the GPS navigator, and the conventional alarm clock. I don't remember the last time I saw anyone set an alarm on anything other than their smartphone or tablet.
Now, the iOS 'Clock' app comes with good but basic Alarm functionality. You can set multiple alarms, set them to repeat after a certain period, give them different labels, different alarm-tones, and turn Snooze off or on, but there's little to no 'intelligence' involved with this digital alarm clock app. You set it to ring at a certain time, and it rings at that certain time – plain and simple. AlarmRestrict7 is a new tweak available for iOS 7 that aims to change that by adding just a tiny bit of smarts to the dumb Alarms functionality. We discuss it in more detail after the jump.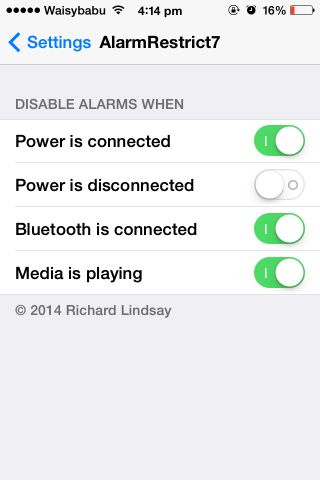 Developed by Richard Lindsay, AlarmRestrict7 allows you to disable your alarm clock in situations when:
Power is connected
Power is disconnected
Bluetooth is connected
Media is playing
These are rather limited at the moment, but we are hoping they will expand in the future.
I tested AlarmRestrict7 on an iPhone 4S running jailbroken iOS 7.0.4. I set it to disable Alarms when media was playing, and it did just that. While 'Sweet Disposition' was playing in the background, the alarm set for 4:19PM didn't ring, and was automatically turned off.
The usage of this tweak depends on how you use alarms. If you use them solely for waking up and you live alone, then the idea of disabling alarms while music is playing makes sense. After all, if you are already up, what's the point of ringing the alarm for waking up?
The other situations for disabling the Alarm, however, don't seem to make sense to me. If I want to be woken up at 7AM by my iPhone, I would like it to do that no matter if it is being charged or not.
I myself will not be using this tweak since I live with my family who may, at the time, be using my iPhone to play media while I am asleep in my room, assuming that the alarm will ring when its time for me to wake up.
AlarmRestrict7 is available for free from ModMyi repo on Cydia.
You may have a use for AlarmRestrict7 that I could not come up with, so be sure to let us know about it by leaving a comment below.