Camera+ For iOS Updated With Front Flash, Horizon Level, Live Exposure & More
I don't know about the rest of the AddictiveTips team, but Camera+ is my favorite photography app on the iOS. It offers a bunch of awesome features like separate focus and exposure, stabilizer mode for taking the clearest photographs, and powerful post-processing options including various filters, cropping, borders, "scenes", etc. that improve photos taken on iPhone.
Now, in the v3.6 update of the iPhone/iPad app, they've added in useful new features like a front-facing flash, "Horizon Level" to ensure your photos are horizontally level, Live exposure for reading exposure parameters in real-time and much more. We've discussed them in more detail after the jump.
If I received a dollar for every pixel in photos taken by my iPhone 4S' front-facing camera, I'd still be very poor.
It's an established fact: front-facing cameras in today's smartphones are simply terrible. Their primary purpose – besides video chat – is to take what is called a "self-shot", and they are disturbingly bad at it, thanks to low sensor resolution and small lens that can't take in enough light for good low-light photos.
Camera+ can't fix the low pixel count, but they have come up with a way to improve low-light performance with a feature called Front Flash. It works in a straightforward manner: when you tap the shutter button, your iPhone's screen goes completely white to artificially improve lighting. The difference between photos taken using front-facing camera with and without flash in a completely dark room can be seen below: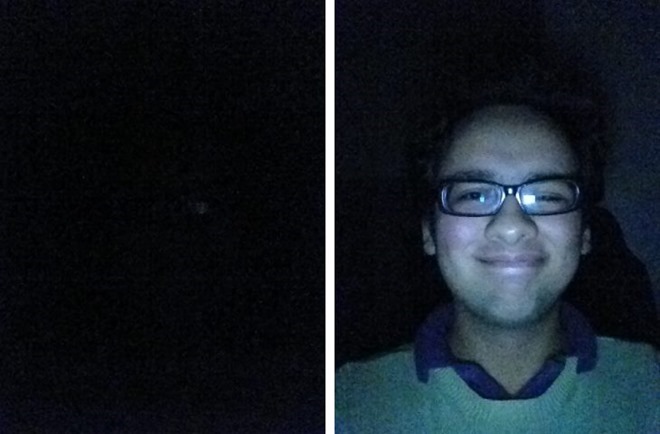 Hardly my most impressive self-shot.
The other major new feature is Horizon Level. It uses the iPhone's gyroscope to judge how you are holding your phone. The result is a simple white line that helps you straighten your photos for a more pleasing result.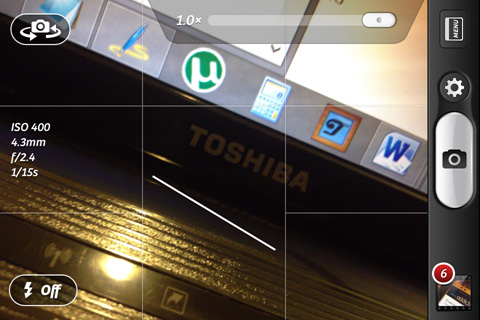 Live Exposure presents you with exposure parameters such as ISO setting, shutter speed and aperture opening in the shutter view. As a casual photographer, I don't really need this information on my screen, so I won't be using it. However, for those who do, this is better than having to manually open up your photo's EXIF data after you transfer it to your PC.
For iPhone 5 users, Camera+ removes viewfinder cropping present in the stock Camera app so that the photo you shot that one day looks exactly like you took it.
These are the only new features explicitly mentioned by tap tap tap in Camera+ 3.6's changelog. Other things include over a dozen little "improvements" to the Camera, and multiple bugfixes.
Camera+ 3.6 is a free upgrade for existing customers. The rest can buy it from the App Store for a very reasonable $0.99.