CBS Connect App For iPad Offers TV Show Extras & Social Chatter For Fans
When you take a look at the TV shows that have been popular among a wide range of audiences in past years, you are bound to find a considerable majority that has been created under the banner of CBS, including the likes of How I Met Your Mother, CSI and The Big Bang Theory. The network now seems to be planning to expand its domain to the world of mobile technology with their new CBS Connect app for the iPad. The app offers program schedules, bonus content, show clips and a discussion forum for fans of the shows. You won't be able to watch full episodes for every series, but CBS Connect is meant to be used as a companion app for when you're watching shows from the network, and in that capacity, it does pretty well.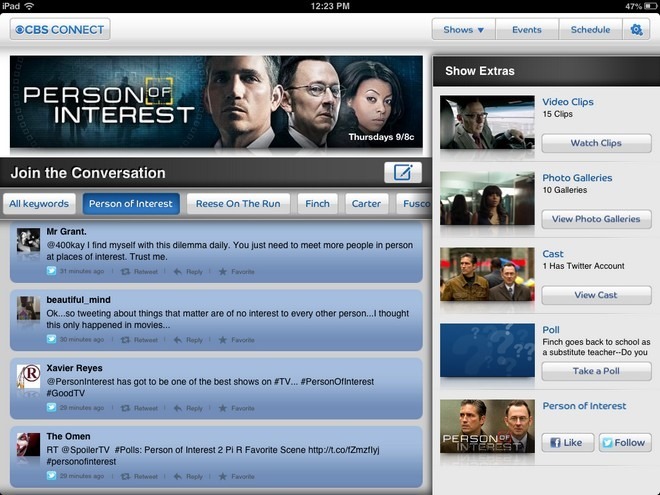 The app welcomes you with a screen showing all TV shows scheduled for the current day. On the app's home screen, featured and upcoming shows are displayed at the top and can be sifted through with sideways swipes. The complete list of CBS shows is compiled the 'Shows' drop-down. A major portion of the home screen is occupied by a 'Join the Conversation' section. CBS Connect fetches tweets and Facebook updates related to different keywords that are associated with its shows. You can contribute to the chatter after connecting your social network accounts with the app.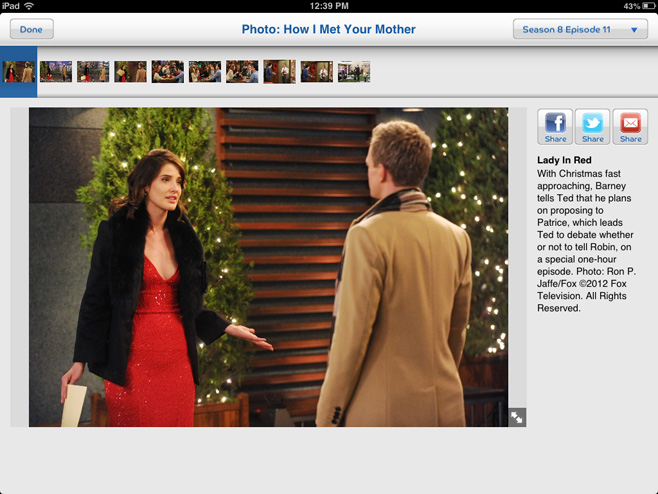 Each series' dedicated page lists its related photos, video clips, cast details and links to Facebook/Twitter pages. You can even see the number of cast members who have Twitter accounts and follow them on the social network from within the app.
Some shows also have a 'Poll' section where you answer a question about the series or any of its characters, and you are shown the responses of other people. Photo galleries can focus on a particular character or an episode. As for clips, if you are lucky, you might come across a full episode, but that is a rare occurrence, since most of the videos contain behind-the-scenes action and news reports about the program.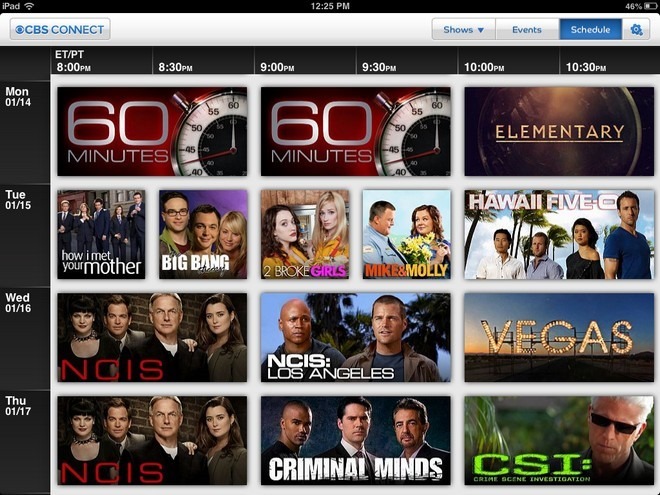 Arguably, the most good-looking part of CBS Connect is its 'Schedule' section. Users are shown the timings for their favorite shows in the form of a grid. To add an upcoming episode's reminder to the Calendar app, tap its tile and select the 'Add to Calendar' option.
The app is new, so you might come across unexpected crashes, especially while playing video clips. You can download it for free from the App Store via the link provided below.