iOS 6 Jailbreak Tool evasi0n Updated To 1.1 With Long Boot & Weather App Fixes
With so many devices, firmware versions and variations of installed apps and configurations, it is essentially impossible to release a jailbreaking tool that is completely bug-free. Team evad3rs' evasi0n is no exception. The recently released tool that comes with support for all 22 variants of iOS devices running iOS 6.0, 6.0.1 or 6.1 has three such bugs or errors, which we have discussed over the past couple of days.

The first bug that was discovered was how the stock Weather app ceases to work when you jailbreak using evasi0n.
The second is a lockdown error that seems to randomly pop up when using evasi0n. This too can be fixed in two simple steps, as discussed in our post on how to fix iOS 6.1 Jailbreak Lockdown Error.
The third bug that many users are facing is a long boot issue, which causes iOS devices to be stuck at the Apple logo during booting unless you enter DFU mode and then press the Power button. If you're already jailbroken, you can fix the Weather app and long boot issues by updating the UIKit Tools & evasi0n 6.0-6.1 Untether Cydia packages.
If you haven't jailbroken yet and were waiting for these errors to be fixed in an update to the tool, you need not wait any longer
Team evad3rs has released fixes for both issues in the form of an update to evasi0n – now numbered version 1.1. Download the latest version of evasi0n from their official website (linked at the end) and jailbreak your iOS device using that, while following the same procedure discussed in our guide on how to jailbreak iOS 6 & 6.1 untethered.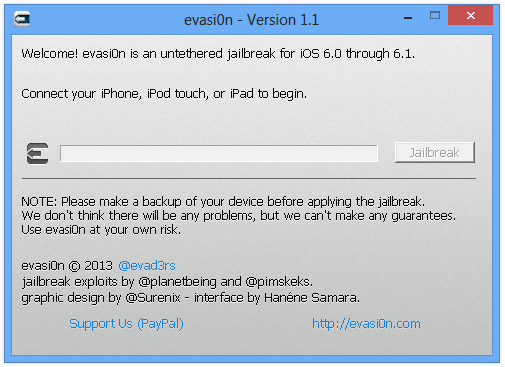 For any other issues, we recommend the usual three steps: backup your iOS device using iTunes or iCloud, restore to iOS 6.1 from iTunes, jailbreak using evasi0n (be sure to launch it "as Administrator" on Windows or using an account with administrator privileges on OS X), and restore the backup you took earlier.
If that still doesn't fix the issue, leave us a comment below or contact @pimsheks @planetbeing @pod2g @MuscleNerd – members of team @evad3rs – on Twitter.