Facebook Camera For iPhone Joins The Photo Sharing Foray With Instagram-ish Filters & Batch Upload
When Facebook acquired Instagram a few weeks back for a whopping $1 billion, speculation was high as to what the social networking giant would do with the famous and viral photo sharing service. While it remains, frankly, to be seen how Instagram will fare in the long run, Facebook seems to have taken a leaf out of the latter's book with the release of their fresh iOS app, Facebook Camera. A fresh entry to the iTunes App Store for iPhone and iPod touch (not a universal app, at least at the time of this writing), Facebook's latest release brings easy sharing and viewing of all the photos from your timeline and newsfeed on your iOS device. The app focuses solely on photos, and other than supporting batch sharing of snaps from your iPhone's camera roll, you can also consider it as a photo-only viewer for your Facebook profile, including those that you were tagged in, those that were shared by your friends, and those that you uploaded. On the sharing front, you even get a very decent set of nice looking filters and effects, some of which even put Instagram to shame. Despite the app's rather-restricted App Store description, it packs a pretty decent offering, and we take you on a guided tour just past the jump.
As soon as you launch Facebook Camera, it will check if you already have a Facebook account associated on your iPhone/iPod touch in the form of any other Facebook app. If yes, you will automatically be logged in (although the app will seek confirmation for the account that you wish to use). In order to operate correctly, Facebook Camera will require access to your device's Camera Roll and location services, so please ensure that they're enabled.
The first screen that greets is a hybrid of the photo stream from your Facebook profile, appended by a preview of your Camera Roll at the top. This puts the choice in your hands; should you wish to just view the photos that have been shared by your friends (or yourself, for that matter), just swipe up on the viewer, and the stream will start flowing. Swiping down will reveal thumbnails for all images from your device, allowing convenient access to the edit and upload area. Completing this area of the interface, subsequently referred to as Home, are a refresh button on the viewer, a settings cogwheel, and two panes that let you switch between Me (listing photos that you uploaded or were tagged in) and Friends (photos shared by your Friends). The Settings panel has nothing except Log Out, Help Center and Privacy & Legal options.
First, lets take a look at the viewer. To be honest, the interface didn't impress me as much as I'd hoped. For one, it's nothing except a scrollable photo-only viewer, displaying thumbnails as you would see in the official Facebook app for iPhone. What put me off particularly was the fact that the images didn't adjust proportionately, so you're likely to experience a lot of bloated image previews. Simply tapping an image will open it in a theater-like viewer, complete with the options to tag, like or comment on a photo. Remember those Facebook stories that say someone added multiple photos to one album? Well, for those, you can side scroll the images to see the new additions (first screenshot below). An image being viewed in full screen mode will list the caption at the bottom, along with the total number of likes and comments the photo had received. When tagging an image, it will pull matches from your Facebook friends, but you already guessed that, didn't you?
Oddly enough, the viewer stream is strictly portrait oriented, but individual photos in full screen mode follow the rotation of your device for landscape. That's pretty much there is to the viewer part.
Coming to photo sharing aspect of Facebook Camera, the app does impress. You already get a preview of your Camera Roll at the top of the Home screen, and as I mentioned earlier, a swipe down on this screen will bring forth a fully-scrollable version of your iDevice's image gallery. The first button that sports a camera icon is, obviously, for snapping a fresh image, while the rest are thumbnails with check marks for batch selection. The bottom bar houses navigation back to Home, view toggle between all images and only selected ones, and a last compose button to create a fresh post with your selected images. A counter on the New button shows how many images will be uploaded in the current batch.
When selecting an image for uploading, tapping it will preview it in full screen, along with the editing controls. To that extent, you get a crop control for adjusting the image anyway you want, and a filter bar with an impressive array of effects. What I liked most about Facebook Camera here is the fact that, despite having borrowed the idea from Instagram (at least that's how we feel), none of the filters conflict with what the latter has to offer, and are pretty decent and unique. This sets both the apps apart from each other, and perhaps indicates that Facebook, indeed, does not intend to kill the mobile photo sharing service that Instagram is.
Coming back to the app, once you've applied a filter and/or cropped your photo, hit the tick mark in top right corner to add it to the batch, or the bottom right New button to straight away compose a new post with the selected image. If you already had some images in the batch before you started editing, they will still be there even when you hit New from this screen. As far as the compose panel is concerned, no bells and whistles; it's exactly like the one in the Facebook app itself, letting you add a caption to your post, tag friends and location, and define the visibility of the post.
Since the app allows snapping an image directly from the device's camera as well, it'd only be fair if we skim through that as well. The viewfinder is pretty basic – no real time filters or effects – and houses just the flash and front/read camera toggles. Touch-to-focus is, however, available here.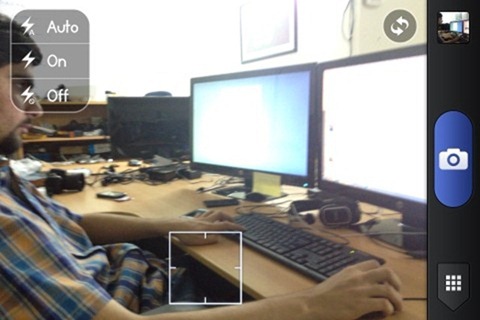 That's pretty much all there is to Facebook Camera. The app has true potential – mainly owing to its bulk photo uploading and filters – and since it comes from Facebook itself, we can expect much more to come in the months to come (anyone remember the Facebook app from even a year back? It was a nightmare!). It is available in the US App Store (for sure, as we are not entirely certain about others; it was missing in a couple others) for free, and would serve well on an iPhone or iPod touch (no iPad version as of now). On the requirements front, you'll need to have iOS 4.0 or higher on your device.