Fix iOS 6 evasi0n Jailbreak Weather App Crashing & Long Boot Issue In A Few Taps
Evasi0n has to be the easiest jailbreaking tool to use since comex's JailbreakMe. All you need to do to get Cydia on your iOS device is to connect said device to your PC, click on "Jailbreak" in evasi0n, and tap on the "Jailbreak" icon from your iOS device. No need providing IPSW files or going into DFU Mode. However, some users are facing multiple bugs post-jailbreak like the lockdown error that can be fixed through the method we talked about yesterday, and of course, the issue of the stock Weather app crashing incessantly, and that long reboot error that causes iOS devices to be stuck at the Apple boot logo. Well, there's good news: fixes for both issues have arrived!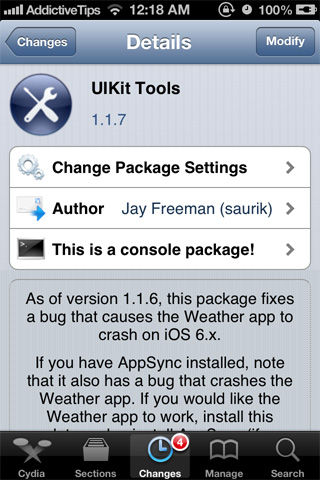 Those of you who have already jailbroken their iOS device: launch Cydia, wait for it to update its database (or hit Changes > Refresh to do so manually), go to the updates section and update the UIKit Tools package to fix the Weather app bug, and similarly, update the evasi0n 6.0-6.1 Untether package for fixing the long boot issue. Once you're done, restart your iOS device.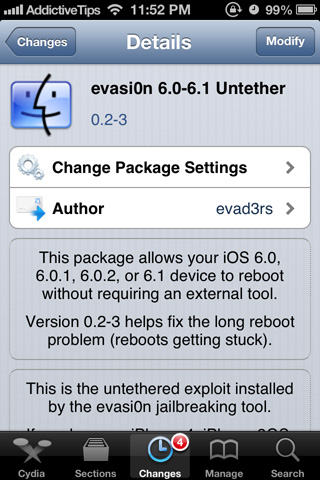 The Weather app bug is still not 100% fixed, though, as @MuscleNerd notes using an incompatible tweak like AppSync will prevent the fix from working.
Those of you who are not currently jailbroken can jailbreak using the current version of evasi0n – version 1.0 – using the same procedure in our guide on how to jailbreak untethered iOS 6 and 6.1 and then update to the latest version of the above mentioned Cydia packages. Either that, or you can wait for an update to the evasi0n tool, which is expected in the very near future.
In any case, please be sure to take a full iTunes and/or iCloud-based backup as well as a complete manual backup of all your media including photos, videos and notes, before going ahead with the process.
For any other issues, we suggest sending out a tweet to @pimsheks @planetbeing @pod2g and @MusleNerd – members of Team evad3rs, the folks behind the evasi0n jailbreak tool. If it is a real issue, they will come up with a solution either in the form a temporary fix, or an update to the evasi0n tool or Cydia package.
Now that you have successfully jailbroken your iOS device, why not go through our list of the best free iOS 6 jailbreak tweaks that have been confirmed to be working on iPhone 5 and iPod touch 5G? After that, you may want to read our Top 50 Cydia Tweaks & Apps for 2012 to find more cool ways to use your iOS device!