How To Fix Low Brightness Issue After Respring On Jailbroken iOS 6 Devices
iOS 6 hasn't been Apple's smoothest mobile operating system release. To date, it has faced issues like reduced wireless connectivity, unexpected battery drain, Auto Brightness unreliability, and a security bug that allows you to bypass the lock screen to get complete access to the Phone app. More recently, it was discovered that jailbroken iOS 6 devices are facing their own display brightness issues. Thankfully, a fix for it has been released on Cydia. Check it out after the jump!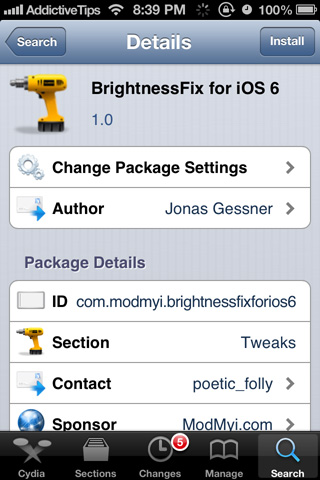 The display brightness issue in question is caused by certain tweaks that kill SpringBoard in a process known as respring. Doing so causes display brightness to be decreased to the lowest available level upon respring, after which users have to adjust brightness manually. In case you don't know much about respring, it is basically a soft reboot of sorts that restarts many key processes including SpringBoard, and is useful for system changes to take effect without restarting the device.
Most of the popular tweaks and apps that cause this problem have been updated, but there may be some that require attention from their developers. Developed by Jonas Gessner, BrightnessFix solves this problem by preventing outdated apps from killing Springboard. Your display brightness is maintained through resprings. It's a very simple, one-trick pony of a tweak that does not add any menu or an app icon after installation.
Besides going to Settings > Brightness & Wallpaper and dragging the brightness slider, you can use tweaks like SBSettings or NCSettings to adjust display brightness in a couple of taps. This is obviously not very convenient.
There is an easier way to get your normal display brightness back without installing BrightnessFix. All that is required from you is to lock and unlock your device. We've read only positive reports regarding this workaround.
If you'd rather not lock and unlock your iOS device each time you need to do a respring, BrightnessFix is the way to go. For people who'd like to know what this 3.3 KB piece of code does before they install it, the tweak is open-source, and it's inner workings may be understood by examining its source code at github.
BrightnessFix is available for free from Cydia under the ModMyi repo.