Get A Proper Bookmarks Bar Below The Omnibar In Chrome For iOS
When Google Chrome was new to the App Store, Cydia tweaks kept getting released to take the browser closer to perfection. The flow has been somewhat stemmed now that the app has been around for quite a while, but that doesn't mean there is no room for improvement. The Chrome app resembles the desktop variant of the browser a great deal, but there are still some fairly obvious omissions. The bookmarks bar, for example, is nowhere to be found, and whenever you have to access your bookmarks, you either have to move away from the current page, or open a new tab to get to them. Wouldn't it be just perfect if Chrome gets a bookmarks bar that is visible everywhere, but still isn't overly intrusive? While the feature might get added to the app officially in a future update, you can get it right now if you have a jailbroken iPhone. BMarks Bar – Chrome is a new Cydia tweak that adds a customizable bookmarks bar to the Chrome app. Not only does the bar have all your bookmarks, but it is even capable of showing folders below the address bar at all times.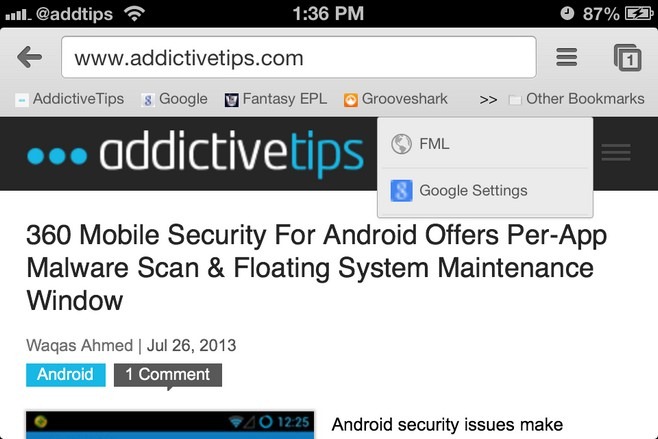 BMarks Bar – Chrome comes into action right after you install it from the jailbreak store. Sure, there are plenty of options in the tweak's menu but even without them, the bar is added to the browser quite optimally. As you would expect, the bookmarks bar becomes visible just below the address bar but unlike Chrome for desktop, it doesn't disappear whenever you open a webpage. If there are folders among your bookmarks, BMarks Bar – Chrome handles them pretty well. You can either tap a folder to navigate to its contents, or drag your finger over it and choose a subfolder/URL with a single swipe.
BMarks Bar is capable of pulling bookmarks from multiple sources. If you are signed into your Google account within the Chrome app, desktop bookmarks can be placed in the bar, otherwise 'Mobile' is the default option. This choice can be made by heading to the tweak's menu in the stock Settings app. You can also choose to toggle the pan gesture for folders and the visibility of 'Other Bookmarks'.
When it comes to adjusting the visual aspects of BMarks Bar, there are many options available in the tweak's menu. Everything including the sizes of text, bar, folders and icons is customizable. You can also change the position of the bar, or revert to the tweak's default values if things go awry.
BMarks Bar – Chrome costs $1, and can be found in the BigBoss repo of the Cydia store.