Grid Combines Easy Project Management & Scrapbooking On iOS
If a task consists of multiple steps, it is always a good idea to start by writing down each phase of the project, and then work in a systematic manner. There are two ways of performing this sort of streamlining of a project: you can either go the visual route using an app like xPlan, or rely on multilevel lists made popular by Basecamp. Grid, however, is an iOS app that demonstrates the possibility of combining these two project management methods together in perfect proportion. The app can be used for mere note-taking, creating to-do lists, making workflows, storing images and even collaborating on tasks with people you know. Grid, as the name implies, consists of multiple blocks, which are moveable. You can combine as many blocks as you want to have full control over the size of your grid, and then place items like photos, locations, notes and even contact cards in each slot.
Grid allows its users to start using the app without signing up for an account, but registration is necessary for those wishing to perform collaborative tasks. Creating a new account just requires specifying your email address and full name, and choosing a password. Grid displays an interactive tutorial to ease users into the experience of using the app, since the plethora of available features can get a bit overwhelming.
In addition to the tutorial, Grid also offers a few sample projects on its main screen. If some of your friends are already using the service and have shared some projects with you, you can view them by hitting the second icon in the bottom bar or swiping to the right of the main screen. To view an existing grid, simply tap its tile once. Depending upon the type of grid you are viewing, the layout of the project can differ greatly. If you want to make any changes, just tap any item once. This way, you can replace it with a new object, drag the block to a new location in the grid, or change its size.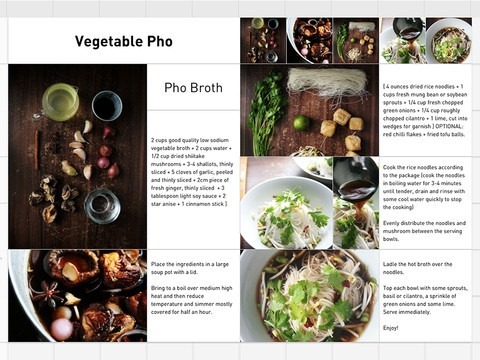 Creating a new grid of your own is pretty easy, as there is an option for doing that available on the main screen. Once inside a blank grid, you can begin by choosing the size of the first block. This can be done by tapping a square once, and then dragging it to encapsulate other boxes around it. Next, simply swipe inside the box upwards to view the options that can be used to populate the grid. There are four available options including location, photos (both from camera and local library), contacts from the address book, and text. Formatting options available for each item. For instance, you can choose the font, alignment, color and size of the text, photos can be resized, and the location can be found via searching or navigating to a particular point on the map. For contacts, the option to make a call or send a mail right from within the app are displayed on the box.
For shared projects, you can choose multiple collaborators by entering their name (if they are in your address book) or email addresses in the recipient field. People you name in the sharing list have full read/write access over projects.
Grid is a free and universal app, and can be used for a variety of purposes, so we are sure a lot of people are going to find it pretty useful. Give it a go by heading to the following link.