How To Enable/Disable Effects In The Messages App In iOS 10
When Apple showcased all the new features in iOS 10 at WWDC, the Messages app was demoed in great detail. A lot of new features have been added to this app that seemed to fare well with the WWDC crowd. The thing is, as of iOS 10, the Messages app is no longer the sensible, simple, texting app that it was. I personally loved the app because it was a no non-sense texting and that's what made it great. Apple feels differently and has added all sorts of effects to the app to make messages more 'expressive'. These effects come in the form of confetti or balloons raining down over your message, or your message jiggling or appearing bigger to show you're happy or excited. If you do not like the effects there is a simple way to turn them off. If you love the effects but can't get them to work on your device, here's a little setting to turn Off to fix the problem.
Users who are annoyed with the effects might search the Messages app and its settings for a way to turn it Off. The thing is, Apple hasn't added a specific 'Off' switch for the animated effects. Instead, they are tied to motion effects on your iOS device just like the Parallax effect introduced in iOS 7. Like with the Parallax effect, you can turn these effects Off by enabling 'Reduce Motion'.
Open the Settings app, go to General>Accessibility and turn 'Reduce motion' On. If you've been having trouble getting the effects to work, it's probably because you have Reduce Motion enabled. Turn it Off and your problem should be solved.
What this tells you, above everything else, is that the Messages app effects will tax your battery. The effects will continue to show as little lines of text e.g. it will tell you that a friend laughed at a message. Turning the effect off not only means that you won't see the effects play out on your device but also that long pressing the 'Send' button will not bring up the menu to send an effect.
Play Message Effects With Reduce Motion Enabled
This works for users on iOS 10.1 and above. In iOS 10.1, open the Settings app and go to General>Accessibility>Reduce Motion. Turn on Reduce Motion and the newly added 'Auto-play Message Effects' option.
What this does is reduce the battery consuming UI effects of iOS but still allows you to see Effects play in the Messages app. If you turn 'Auto-Play Messages Effects' off, the effects will no longer play.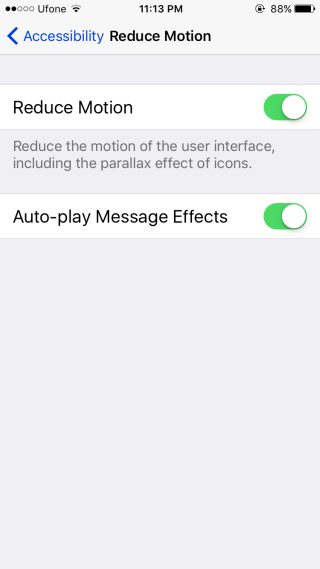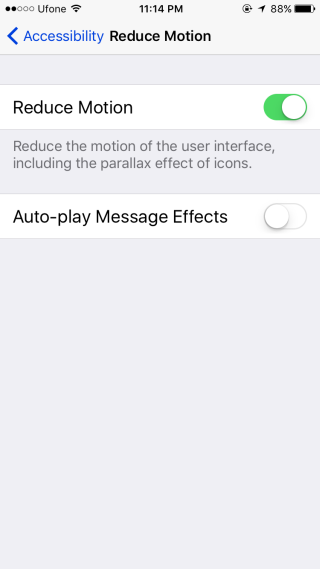 This setting will improve your battery life, however, the 'Effects' feature will still have an some impact on how long your battery lasts. This new setting is a reasonable half-way measure that lets you reduce the unnecessary effects of iOS but keep this one visual effect.
If you turn 'Auto-play Message Effects' Off while 'Reduce Motion' is On, the effects your friends send you will not play in the Messages app. You can still send messages with effects even if the auto-play option is Off.
With the addition of this new setting, it is no longer possible to disable effects completely as they will always be active on your end. In iOS 10, you could disable them for messages sent and received by turning Reduce Motion On.