How To Send Handwritten Notes In The Messages App In iOS 10
Handwritten notes is one of the new feature introduced in the Messages app in iOS 10. It's possibly one of the lesser known ones because there is no obvious way to access it. Unless you know about the feature you won't really look for it. The feature is similar to the digital touch feature in that it lets you 'write' a message. Unlike digital touch, your recipient receives the final message you've written. It isn't played out like a digital touch message. The writing itself looks like ink to give it  more handwritten look, hence the name. It comes with a few preset messages that you can send but you're free to compose your own. Here's how it works.
Make sure the orientation lock on your iPhone is turned Off. You can turn it Off from the Control Center. Swipe up from the bottom of your screen, and tap the lock icon at the top right to toggle orientation lock. If the icon is red, it means orientation lock is On.
Open the Messages app and rotate your phone to landscape mode. It should automatically switch to handwritten notes mode. You get a canvas for writing your note. At the bottom are preset messages. Tap a message to enter it. You can add more to the message by scrolling right. To do so, tap the arrow on the right. The handwritten note mode has an 'Undo' button that will undo the last stroke you made.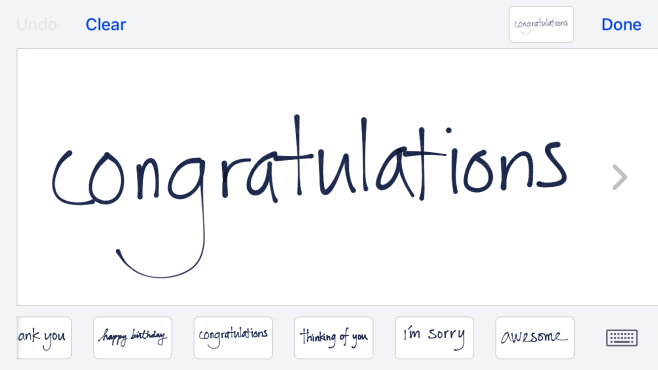 Once you're done writing your note, tap the 'Done' button to send it. If you just want to type a text message in landscape mode, tap the little keyboard button at the bottom right. Handwritten note mode does not apply any correction to your handwritten note. If your handwriting comes out poor, it's going to look exactly like that when you send it.
If you don't enter Handwritten Note mode when you rotate your device, and instead get the keyboard, tap the button next to the 'Return' key to switch to handwritten note mode.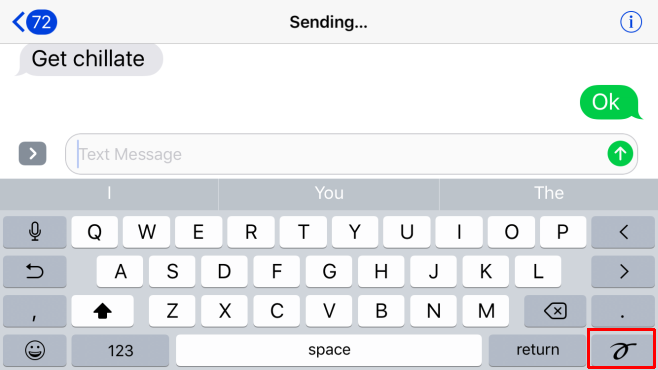 Handwritten note mode is not pressure sensitive. It has only one thickness for the ink and one color.