What Are iOS 6 Shared Photo Streams And How Do They Work?
Photo Stream was among the most controversial features in iOS 5, as a lot of people had trouble understanding its usage, and many of them ended up inadvertently sharing inappropriate or embarrassing photos via iCloud. While Apple soon resolved that issue by allowing users to delete photos from their stream, the feature did leave a bad taste in many mouths. Redemption is on the cards now, however, as iOS 6 brings the awesome Shared Photo Streams to the mix. Once you start using Shared Photo Streams, you are not likely to need any other photo sharing service for your iPhone or iPad ever again!

The new sharing feature lets users push photos from their iDevice to other iDevices, or even to non-iOS users by simply making their stream public and then sending its link via email or SMS. The best thing about Shared Photo Streams is that no photo gets through to it automatically, and you get to choose each photo that is to be shared.
As you must have guessed already, it is necessary to turn on iCloud before you can make use of the new Shared Photo Stream feature. Once you have done that, go to the stock Settings app and enable Shared Photos Streams from the menu dedicated to the Photos app. While Shared Photo Stream has to be toggled on from Settings, everything else about it has to be done from the Photos app. The app will get a new tab named "Photo Stream". There is already one stream present there, titled "My Photo Stream", and it will only come into action if you turn on the old-fashioned Photo Stream. To create a Shared Photo Stream, hit the '+' button in this new tab, and assign a name to your stream. After doing that, you can add the people you want to invite as subscribers for your album. If you want to make the stream even more public, toggle on the option named Public Website, and through that, users can share the link to your shared stream just like for any other file sharing service.

Subscribers of any stream, who are also iOS 6 users, will get push notifications whenever a new photo is added to the stream. There is even a badge on the Photos app to indicate the arrival of new photos in your subscribed streams. If you want, you can comment on any photo in a public stream (or the one to which you have been invited to). The option to like photos is available in the viewer as well.
If you really get into using Shared Photo Streams, multiple albums will appear in the Photo Stream section of the Photos app on your iPhone or iPad. Tapping any listed album will let you view all the photos in it, and the stream even marks the photo after which unviewed ones start. The option to view a stream in the form of a slideshow is offered by the Photos app, just like any other album in your phone. If you are subscribed to a public stream, you can share its photos (or the whole stream) with others users, or simply save images to the camera roll of your iPhone or iPad.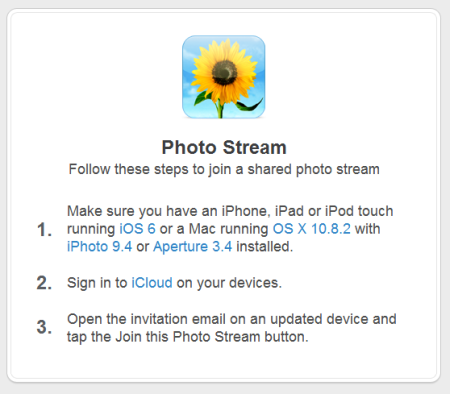 As evident from the screenshot above, you can also subscribe to shared Photo Streams on a Mac, where the OS requirements stand at at least Mountain Lion 10.8.2, with either iPhoto 9.4 or Aperture 3.4 to accompany. Kind of highlights the beauty of Apple's ecosystem amongst their own devices.
Streams for which you have enabled public sharing can be viewed on the web by anyone you choose to share it with. The invitation to subscribe to a public or private stream can be sent via email or SMS. You can't subscribe to a stream unless you have iOS 6 or a Mac with the requirements stated above, but you can still view public stream photos in the iCloud web viewer, even without an iCloud account. Public stream invitation messages include a link to the view the album online.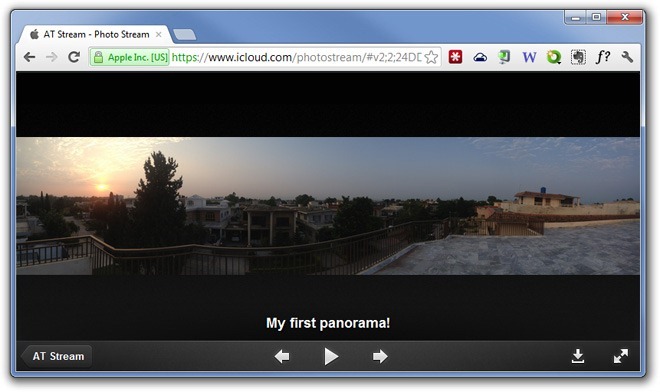 The web viewer for Shared Photo Streams is pretty good. It has a slideshow mode (to be initiated by hitting the play button in the bottom bar). Other buttons available in the viewer include a full-screen icon, a download button and the back button that will take you to the album's main view.
Shared Photo Stream is a feature of iOS 6 that has the potential of becoming all the rage for Apple fans, so you'll do well to get into the habit of using the streams to share your photos with friends.
---
This guide is a part of our guide to new features in iOS 6, which covers the following topics:
Shared Photo Streams (Currently viewing)