How To Move Multiple App Icons At Once In iOS 11
iOS 11 does't have any major new features. There are improvements both minor and mediocre but nothing that is particularly noteworthy. If you're on an older iPhone or iPad model, chances are the next iOS version means even less to you. That said, the minor improvements are neat. One such improvement allows you to scan QR codes in the Camera app in iOS 11. It's minor and iOS users weren't exactly starved for this feature but it's good to have a default option. One other minor improvement in iOS 11 is that you can now move multiple app icons at once.
Moving app icons was never difficult in iOS. It was so easy, a child could figure it out but it was slightly tedious. If you wanted to reorganize the icons on your home screens, you had to move them one by one. iOS 11 now lets you move them as a bundle. At the time of writing, iOS 11 is in beta. The stable version will arrive in September/October 2017.
Go to the home screen page that you want to move icons from. Tap and hold an icon and wait for it to start wiggling. Drag one icon out from its current position but don't release it. With your finger still holding down the one icon, tap another one of the wiggling icons. It will be added to the icon you were holding down. You will have a bundle of sorts with a number badge that indicates how many apps you're holding.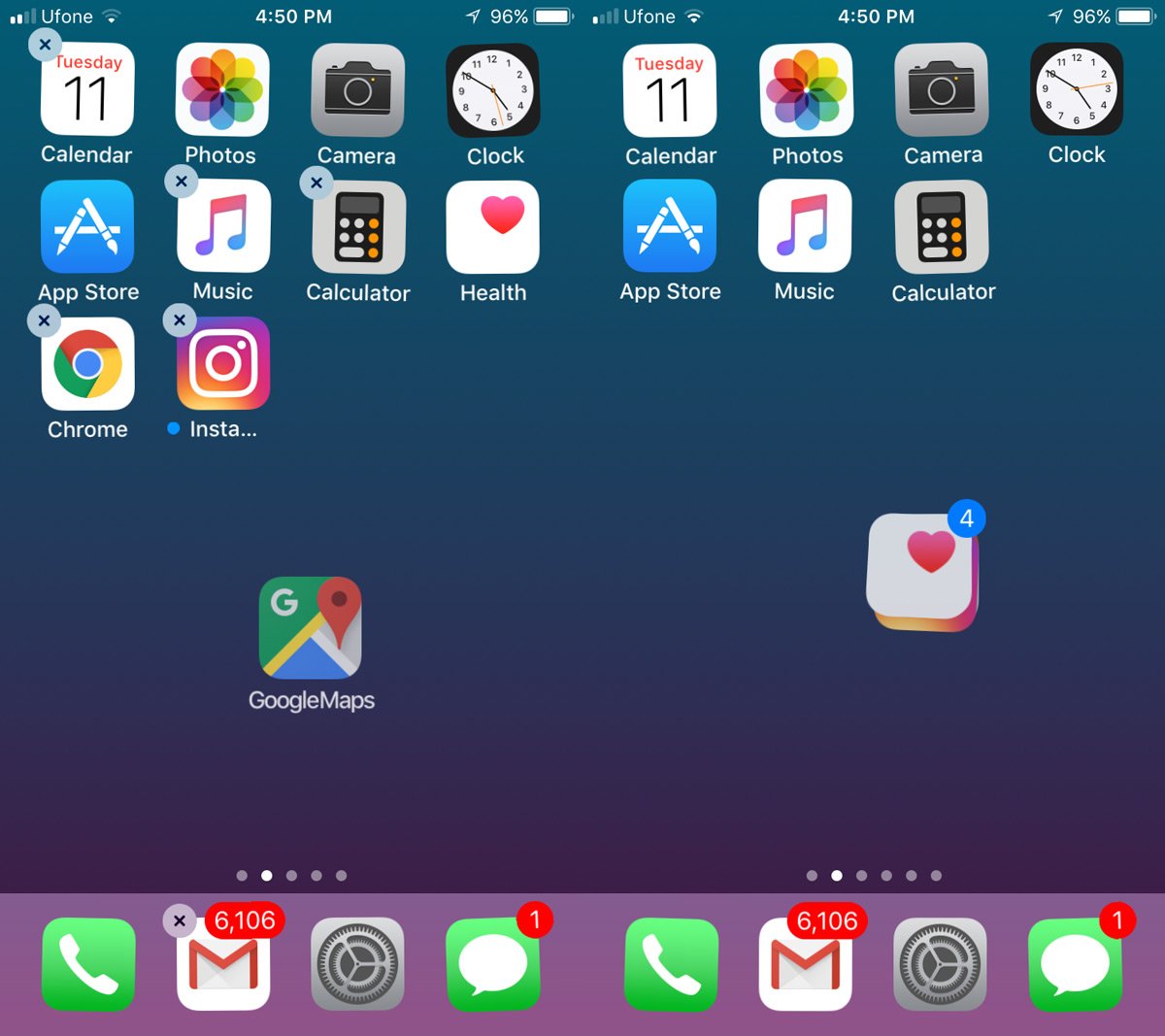 You can move this bundle to any screen. Release it and the apps will snap into their grid.
It's unclear how these apps chose their new place on the home screen when you release them. They aren't snapped in alphabetical order and they aren't snapped in the order they were selected. It appears to be random although, given this is iOS, it's highly unlikely that it is. It seems the last app icon that you add to your bundle is the one that is added first, followed by the second last app that you added.
You can drag & drop bundles onto folders, however, you cannot create bundles that include folders. It doesn't matter if you start out by moving a single app icon or by moving an app folder. You simply cannot add a second folder to the bundle. You can only move multiple app icons at once in iOS 11, and not multiple folders, or folders and app icons.