Directly Open iOS 7 Notification Center To A Tab Of Choice With NCObey
There are plenty of Cydia tweaks based on ideas that are seemingly a bit too simplistic, but there can be no denying their usefulness in an iPhone's everyday usage. NCObey is a new Cydia tweak that you always subconsciously wanted to have, without really knowing it. With the revamped iOS 7 Notification Center garnering a lot of praise from everywhere, a few people were quick to note that it gets a little annoying when you want to see notifications, and the NC opens up to show the 'Today' view. It would have been cool had Apple made the Notification Center a bit more intelligent, so that it showed up the relevant tab depending upon the status of your pending notifications. NCObey does just that and much more for the iOS 7 NC. The tweak lets users choose a default tab, and also has the capability to make the NC open up on the tab you really want, by monitoring the gesture used to launch the Center.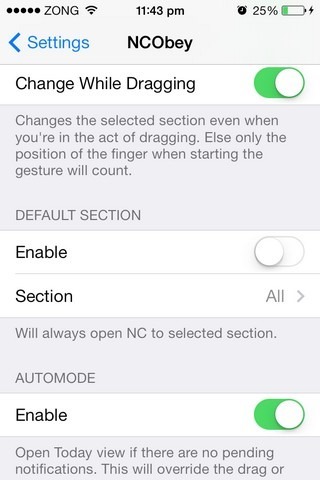 NCObey has a few different modes, and you can use each one independently. The most prominent, and arguably the most useful one is the dragging one. If you choose to keep the tweak's default settings, NCObey launches the relevant section of the Notification Center based on the area from where you start dragging down on the status bar. From the first toggle in the tweak's Settings menu, users can even configure NCObey to display the tab of their choice even if the course of the finger is changed halfway through dragging downwards.
If you are not a big fan of gesture control, NCObey still has some tricks up its sleeve for you. For one thing, users can choose a default section of the Notification Center to make sure that the 'Today' screen is no longer the first thing you must see every time the NC is launched. To make the Notification Center even smarter, there is the 'Automode' toggle that overrides all other options offered by NCObey. With Automode, the Notification Center opens on the Today section by default, but if there are any pending notifications, the 'All' tab shows up.
NCObey works in a very subtle way, which is an added advantage of the tweak. Give it a go even if you are happy with the default behavior of the Notification Center, as NCObey is sure to eventually grow on you. The tweak is available in the BigBoss repo of the Cydia store as a free download. You can download NCObey on any iDevice running iOS 7, including the iPhone 5s.