New Siri Capabilities & Commands In iOS 7
Siri might not have managed to become a part of many people's daily life, but the talking assistant hasn't exactly failed either. To make it more useful, Apple keeps improving it with every iteration of iOS. Although iOS 7 hasn't brought as much new stuff to Siri as iOS 6 did, the additions are still pretty exciting. A lot of changes are related to Twitter, and Siri is now also capable of performing web searches without requiring the launch of Safari. Some other seemingly routine yet important tasks can now also be handled by Siri. You can make it check your emails, read out their subjects, and then start composing a reply, all through voice commands. The UI is also more in sync with other changes in iOS 7, and Siri is finally more than simply a microphone icon.

The only change in the Siri section of the Settings app is a new 'Voice Gender' entry. Unlike before, you don't have to change an entire language or accent to get a male voice; this choice can now be made independently.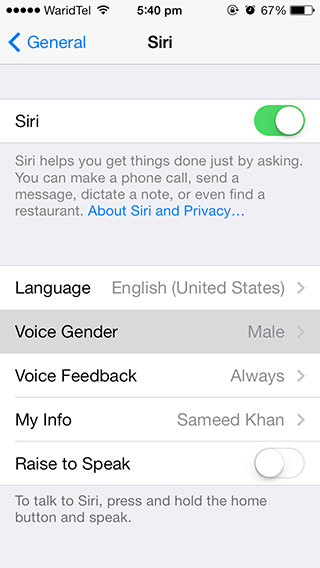 Siri's default female voice has been fine-tuned a little as well, making it much clearer and human-like than it was before. Visually, the talking personal assistant now displays a pulse that represents the intensity and volume level of your voice as you speak. This pulse then loops to create the familiar microphone while Siri thinks of an answer.
Search
Until iOS 6, whenever users hit the 'Search Web' button in Siri, Safari was launched and you were taken off the assistant's screen. Now, it is possible to use Bing within Siri's own interface. You can tap search results, view images, or read webpages without any need of an app. Queries that yield Wikipedia entries are now much more concise, and you can even ask Siri to read them for you in full.
System Controls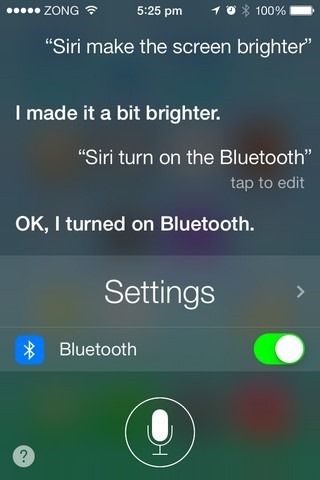 It was a big deal when Siri gained the ability to launch apps, but it is even more useful that you can finally ask it to change your settings for you. Saying stuff like 'Turn the Bluetooth on', or 'Make the screen brighter' instantly makes the changes and also displays a control toggle/slider on the screen to controll them manually.
Twitter
Say "Siri, what's trending right now" and you will see the latest worldwide trends from Twitter right within Siri's own UI. It is also possible to search Twitter for different keywords. Curious what the Twitter-verse is saying about the new iPhone? Just ask Siri! There is also the option of asking Siri to fetch tweets from a particular user, as long as you can get their name or handle right.
Email
Ask Siri to check your mail for you, and it'll show the previews of all the recent messages received on any email account synced with your device. If you want, the subject lines and the time of reception can be read out loud for you – just say the word! To answer these mails, say "Reply" and start dictating.
On top of all this, Siri can control iTunes Radio with amazing comprehensiveness. You can read more about that in our post on iTunes Radio. There might be some other minor changes in Siri as well, which we are sure will get discovered with the passage of time, but we are sure we have already discussed the headline grabbers.
This post is one part of a compilation. For info on other major new features and changes introduced in the latest iteration of Apple's mobile OS, check out our complete iOS 7 guide.