Official Reuters News App For iPhone & iPad Impresses With A Great UI
Reuters has been among the world's leading news agencies for quite a long time. It is not just an important name for the business and media sector, but is often the first to break many important news stories as well. Having said that, it is impossible for users to always be in front of their TV screens or on a news service's website to catch the latest happenings from around the world. That is where news apps become really important. Reuters has had a presence on iOS for quite a while, and the organization has just launched a new official app for iPhone and iPad. The app has a beautiful interface that you can navigate using easy gestures. Besides keeping you up-to-date with the latest news from around the world, he app also lets you create a custom watchlist for the stock market.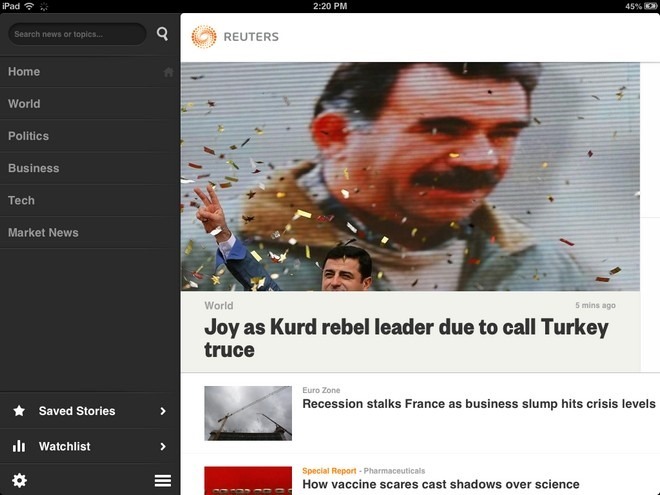 The 'Home' page of the app shows the latest news stories that are most important. The articles listed here are from different categories, but you can read news pertaining to a specific topic as well; just swipe across the article to view its category, and then tap the keyword to read other similar posts. Another way of filtering down news items is to head to the app's menu, and choose one of the predefined topics. Thanks to the app's search menu, you can look for the exact keyword you are interested in.
While reading a story in the Reuters app, swiping down load the next article, while a rightward swipe takes you back to the category you came from. The sharing menu for each article lets you share it over Facebook, Twitter and email. You can also save a story for offline viewing. If you want the Reuters app to be ready for you all the time even when you are offline, you can enable the app's offline mode so that top stories get downloaded in the background whenever you are on Wi-Fi.
Apart from being a wonderful news app, Reuters can also be used to keep an eye on the stock market. Head to the 'Watchlist' section, hit 'Edit' and start adding the companies you are interested in. The app shows the current stock price and past changes in share values of all the added companies all on one screen.
The Reuters app gets new stories pretty regularly, but the only thing that's missing is a section where you can combine all your favorite news topics or categories (just like the Watchlist feature but for news items rather than stocks). Overall, the app's interface and gesture are quite intuitive, and certainly merit a download. Give this universal app a try by heading to the following link and grabbing it for free.